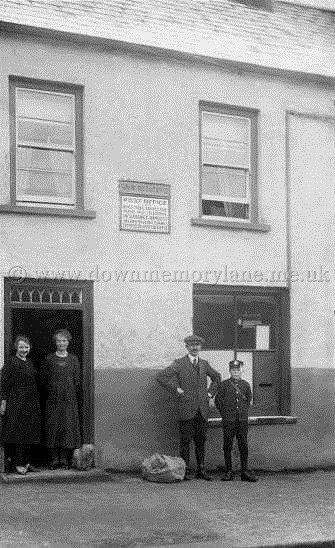 POST OFFICE 344
The first woman is called Mabel Walker and Her mother Mrs.Walker.
First man unknown and telegraph boy was called Joe Gibb and he worked all his life at the Post Office.
The Notice says: Crumlin Post Office.
Post Office for
Money Order, Savings Bank, Parcel Post, Telegraph, Insurance, Annuity, Inland Revenue Stamp, & Express Delivery Business.
Date of this photograph is unknown.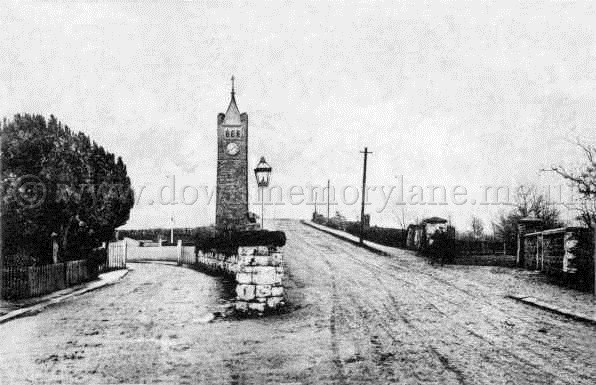 PAKENHAM MEMORIAL MOMUMENT 381
This was erected by the friends of the Rev.Arthur H. Pakenham, J.P. of Langford Lodge, to commemorate is many acts of kindness and generosity in 1907.
The Postmark on the card is Crumlin 3pm 7th August 1924.
To: Miss M. Walker Post Office Downpatrick.
Thanks so much fo card. Very lonley without Sambo and Bubbles. Hope you are having a nice time.
Love from all, S.Armstrong.
PRESBYTERIAN CHURCH 379
The photograph was taken in Crumlin early 1920's
Postmarked Crumlin 3rd September 1924.
To: Miss M. Walker, c/o Mrs Preston, Sionfin, Fintona, Co.Tyrone.
Just a card today as I have'nt any more news yet. Mrs F is going to ask you if you will wear your hat up at the side.
She came at us last night, what do you think of that.
Love Euen.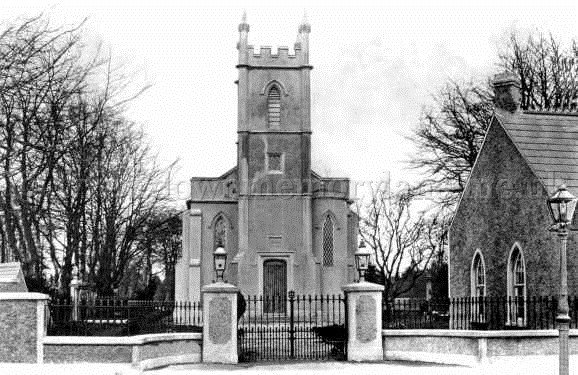 JEAN PARKS 2311
Sitting outside her home at Rathuara in Crumlin is Jean Parks.Jean had just taken her rollers out for the photograph. When Jean married she had to only add an S to her surname. Her husband was F.W. Parks a photographer who had shops in Whitehead and Larne.
A DAY OUT 2478
Here we are in Crumlin back in the 1920's and enjoying the lovely day are the Parks sisters with their mum Jeanie who is at the back. While in front on the left we have Annie, then Jean and finally Bevan.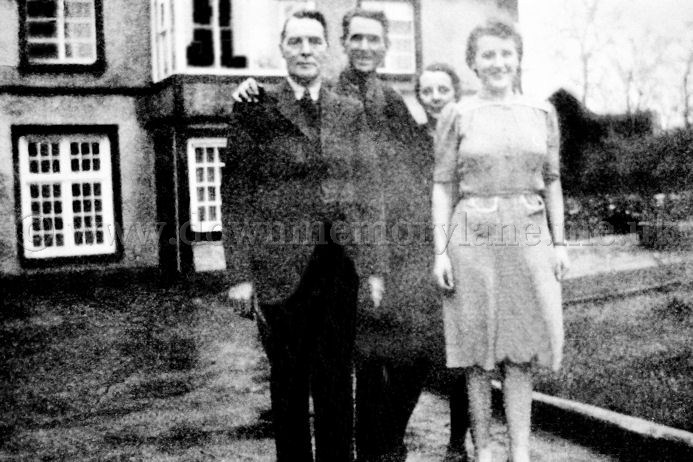 PARKS FAMILY 2484
Standing outside the Parks home in Crumlin we have from the left Mr Lowery, F.W.Parks, Jeannie Parks and Jean Parks.
PARK'S GIRLS 2488
Out for a walk to enjoy the summer sun are the Parks girls. At the moment I only name of the smallest girl, her name is Liyia Jean Parks.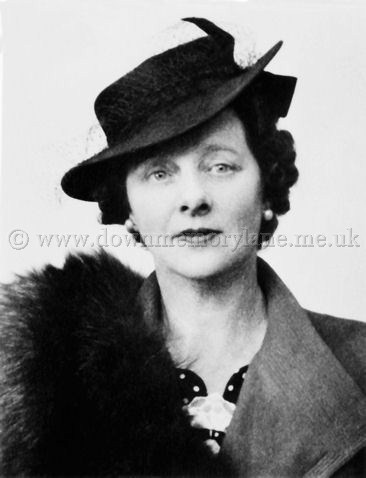 JEANNIE PARKS 2489
This is Jeannie Parks and the photograph was taken during World War Two.
Jeannie was up to date with the fashion of the day with her pearl earings, the familar white spotted dress and over her shoulder a fur stole, my mum had a fox stole.


LIYIA JEAN PARKS 2312
All smiles for the camera is Liyia Jean Parks at Poplar Hill Farm out at Crumlin.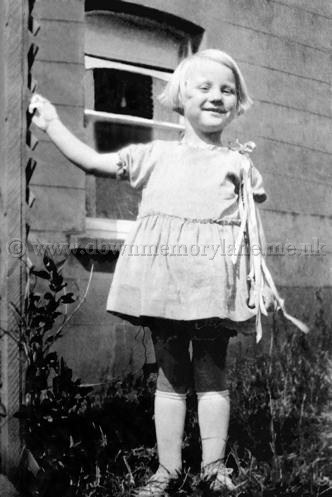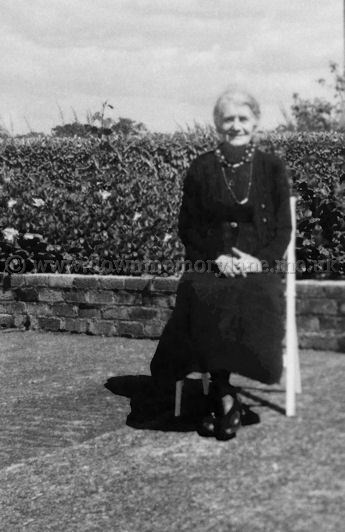 MRS PARKS 2485
Sitting out and enjoying the warmth of the sun in her backyard is Mrs. Parks.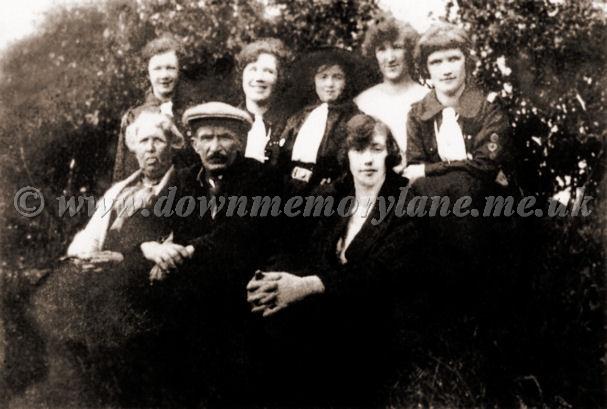 GUIDES AND BROWNIES 3324
It's 1929 and here we have Mrs Rebecca Prichard (nee Farr) and her husband Thomas Prichard showing off the Guides and Brownies in their family.
At the back on the left is Annie Prichard then Bella Prichard, Isobel Hanlon who later in life became a McDowell, Edie Prichard and Emmy Prichard.
The girl seated next to Thomas Prichard is at the moment Unknown.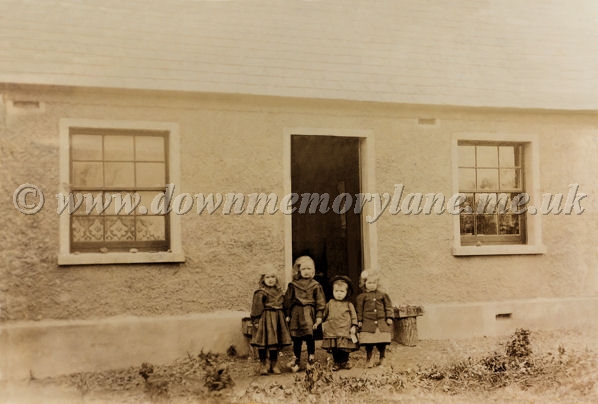 PORTRAIT PHOTOGRAPH 3339
This lovely portrait photograph taken in 1908 at Crumlin shows the photographer has great skill with his lighting methods.
Seated is Sarah Farr who was single then and standing next to her is young Emily Prichard.
FRIENDS 3340
This studio photograph was taken in Crumlin around 1925 going on my mother's old photos when she was 19.
On the left is Edith Prichard with a friend whose name is unknown at the moment.
PADDLE SISTERS 3342
Taken in 1925 these Prichards sisters Bella and Edith with their dresses tucked up into their unmentionables are all set for a paddle in the Crumlin river behind them to cool down. Remember back then summers were warm and seemed to last forever.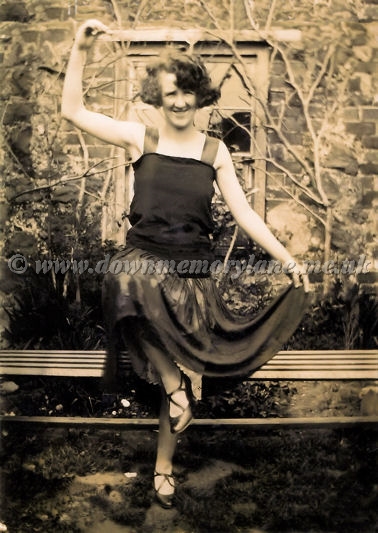 CRACK DANCER 3341
This is Edith Prichard showing off her skills as a crack dancer in the garden behind the Hanlon's workshop in Crumlin.
PRICHARD HOME 3338
This is the home of Thomas and Rebbeca Prichard and their family, because Thomas was in the Army is was a soldier's home and was situated in the townland of Ballytromery near Crumlin. These are their children Emma, Ettie, Thomas holding on to his feeding bottle with milk in it and finally Bella has her eyes closed but has a large round white flower in her hair.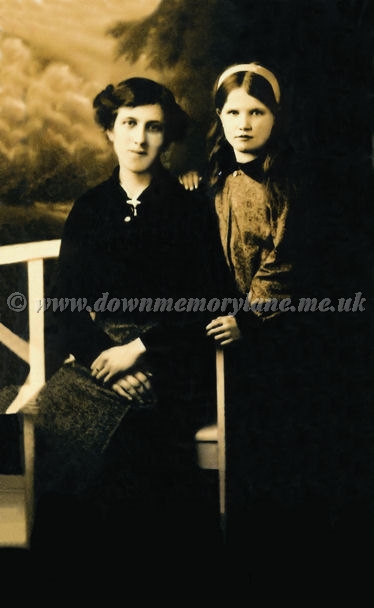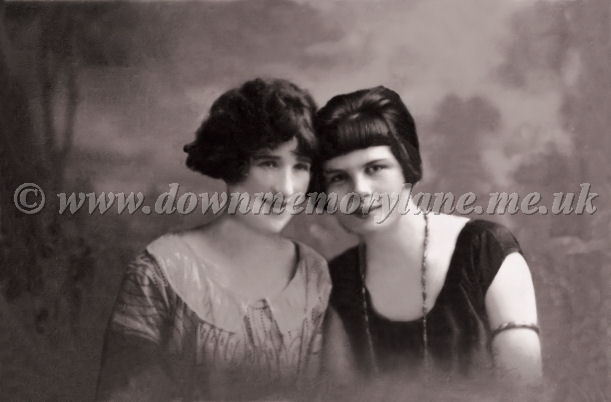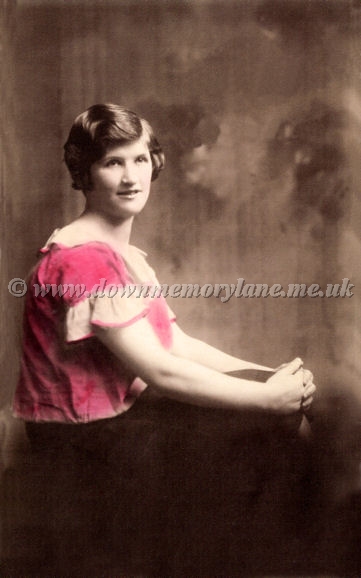 PRICHARDS AND HANLONS 3346
On the left seated outside the Handlon worksop is Emmie Prichard holding Maud Hanlon in her arms. Standing next to her is her sister Annie Prichard holding Emily Hanlon, is must have been cold even though Emmie is in a dress while Annie has a big coat on and the twins well wrapped up. Some one from the workshop has brought burning coke and left it beside Annie probably to try and take the chill of the air.
Sadly a year later little Maud went home aged just one year old from pneumonia.
MRS MAILEY 3343
This is Mrs Mailey nee Emily Prichard in 1920 having her photograph takenand as you can see the photographer has hand coloured her blouse.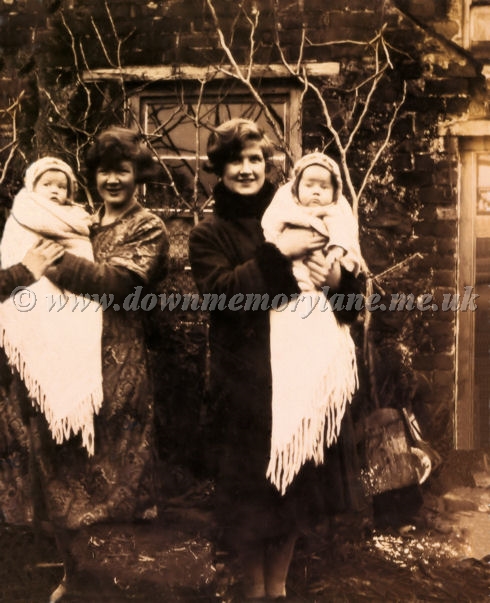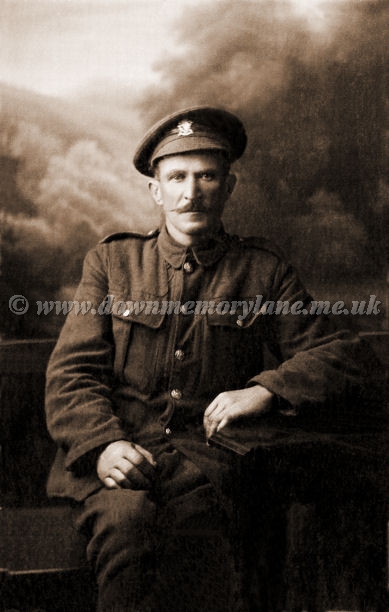 TOM PRICHARD 3347
This is Tom Prichard from Crumlin in 1915 having his photograph taken for most likely his wife Sarah.
Tom volunteered to sign up and was in the 36 Ulster Divison, Tom survied the Great War with no injuries to his body but like many others who came back they could never forget the horrors they had witnessed.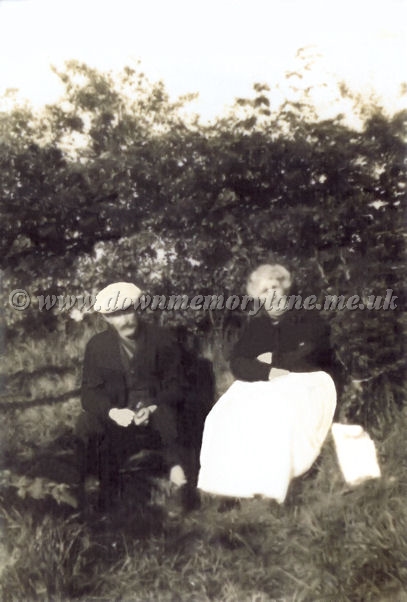 PRICHARDS 3348
Having a bit of peace and quiet together at the bottom of their garden in 1932 is Tom Prichard who served and came home safely from the First World War.
Beside him is his second wife Rebecca Prichard nee Farr and between them they had five children. At Rebecca's side is a newspaper so they have been there a while when they are disturbed by the person with the camera to catch the moment and by the look of Rebecca you could imagine her saying " Well are
you going to take all day".
Now Rebecca is a Heroine for one time a little boy was on fire and without hesitation Rebecca whipped off her big white apron wrapped it round the boy and quickly dunked him in a barrel of water thus saving the boy's life. What a truly remarkable lady.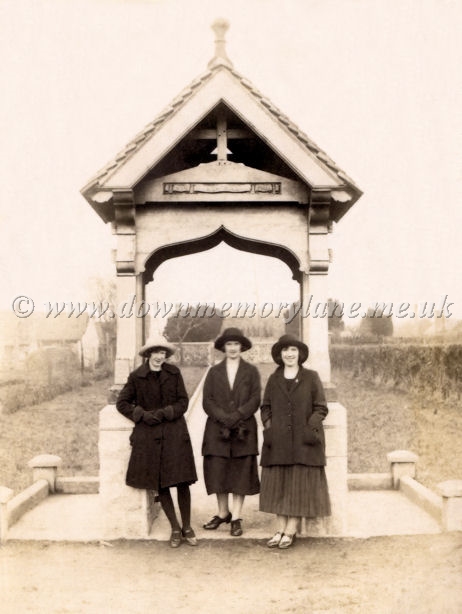 PRICHARD GIRLS 3355
Here we have three of the Prichard girls Annie, Edith and Bella standing at the bottom of Crumlin Memorial Park and of to their right along the pathway is the captured German cannon from World War One.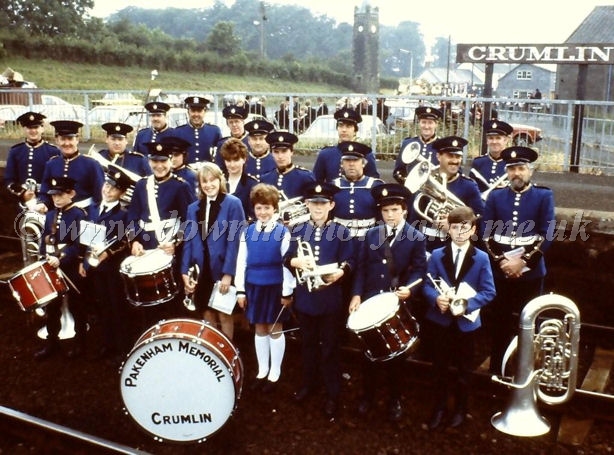 PACKEMHAM MEMORIAL BAND 3576
Many of the photographs in this week's edition of Down Memory Lane come courtesy of Noel Yarr, a former native of Crumlin who now resides in Germany. Noel's many and varied pictures give a colourful snap shot of life in the town back when it was still a village. This particular shot, of the Packenham Memorial Band date back to the 1980's.