Pages:

.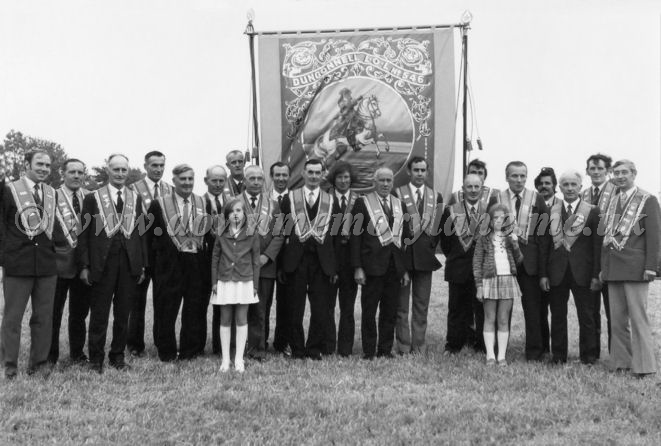 DUNGONNELL L.O.L No 546 3145
This Dungonnell L.O.L. No. 546 having their photograph taken in the 70's
Reading L - R they are Mervin Rea, Andy Craig, Abbie Park, Albert Campbell, Harry Rankin, Alexander Wilson, Tommy Thursby, John Rea, Alex McGivern, Alex McCord, Wilfred Campbell, Fred Campbell, Jim McCord, Willie Rea, John Hume, Robert Brown, Sammy Brown, Steen Kirkpatrick, George Scullion, and Albert Hemmings. The two young ladies are unknown perhaps if they are still around Antrim they will get in touch.
Thanks to Mrs Sammy Brown for confirming the names.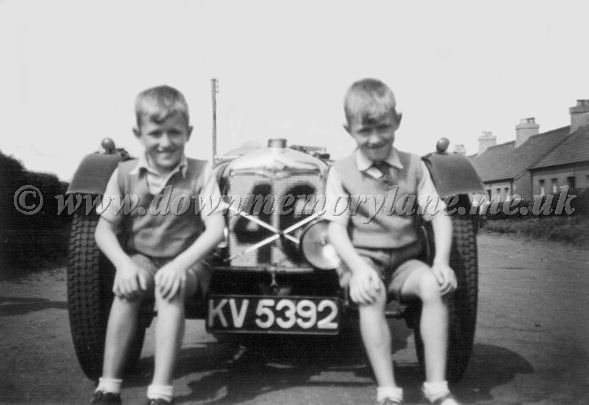 BROTHERS 3314
These are the McDowell twins Samuel and Douglas seated on the front of this Riley sports car back in 1947 at Alexander Terrace Crumlin.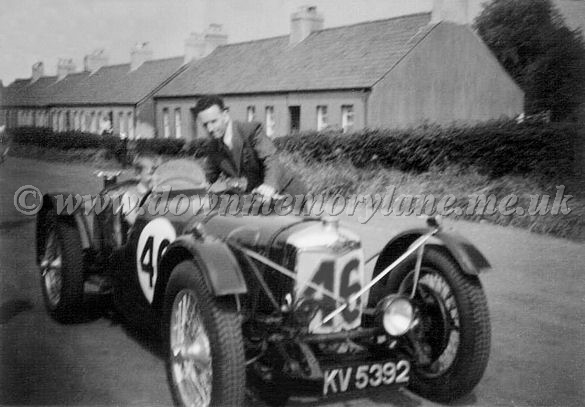 IAN CAMPBELL 3313
This is Ian Campbell in August 1947 bending over his Riley Brooklands sports car in the road at Alexander Terrace Crumlin.
Seated behind the wheel and wishing he could drive is Douglas McDowell. Ian Cunning was racing it in the Ulster Trophy Race on the Ballyclare circuit which was the last time it was held there before moving permanently to Dundrod. Ian was a good friend of Fred McDowell for having served at Aldergrove together, Fred was in the Royal Air Force while Ian was a Rolls Royce representive.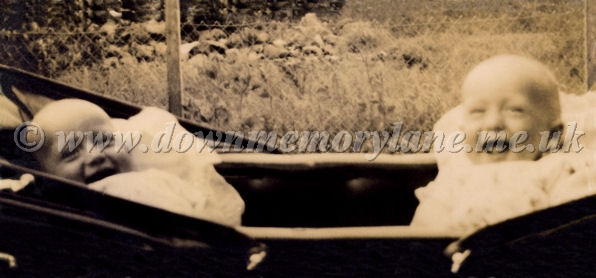 McDOWELL BOYS 3331
Out in the fresh air enjoying laughing at the camera at a year old are twin boys Peter & Douglas McDowell in 1940.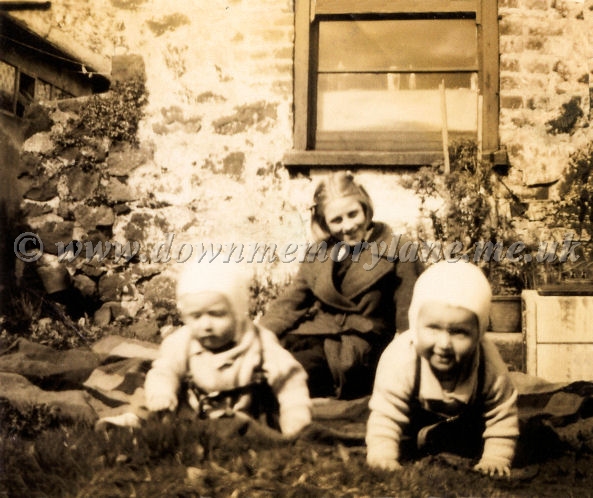 BABY SITTING 3335
Sitting relaxing while keeping a sharp eye on the twin boys Peter and Douglas McDowell in the back garden and what appears to be not a summer's day in
1940 is Emily Hanlon. The boys parents are Isabel Hanlon who married Fred McDowell who was in the R.A.F. at the time.