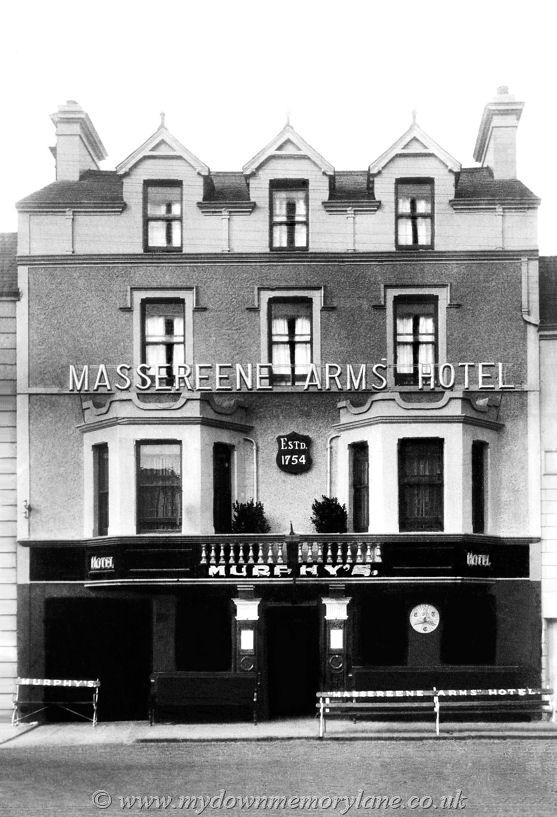 MASSEREENE ARMS HOTEL 857
How splendid the Hotel looks in May 1931 and sitting outside on the cane furniture are two ladies, one is reading a paper, is it the Antrim Guardian? The gentleman is looking at the camera and obviously a tourist, above his head is a sign advertising Bass Blue label. Just down from him is a weighing machine for the health conscious and in the window they are advertising tours round Ireland for four pounds, six shillings and no pence. The shop to the left of the ladies is Peter Conway's and in the stand he has china goods for sale, you can also see postcards hanging up. Now if you were
the person that took this photo, as long as you left it into Peter before 8pm you could collect it the next day by 6pm and printed on Kodak paper.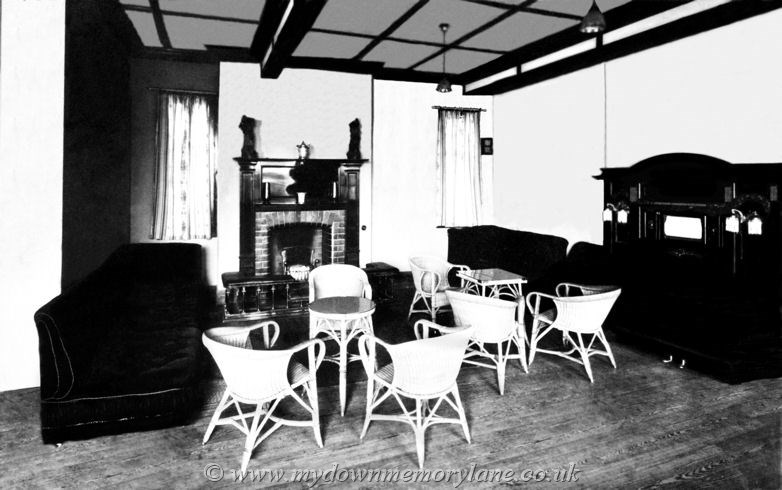 MASSEREENE ARMS HOTEL 195
This was part of the dance area and over to your right you can see a piano which has lights on it. Next to the fireplace on the wall is a black spot this is a push bell to summon a waiter.
In front of the fire place is a padded fender which was lovely to sit on next to a warm fire on a winter's night.
Date of the photograph is unknown.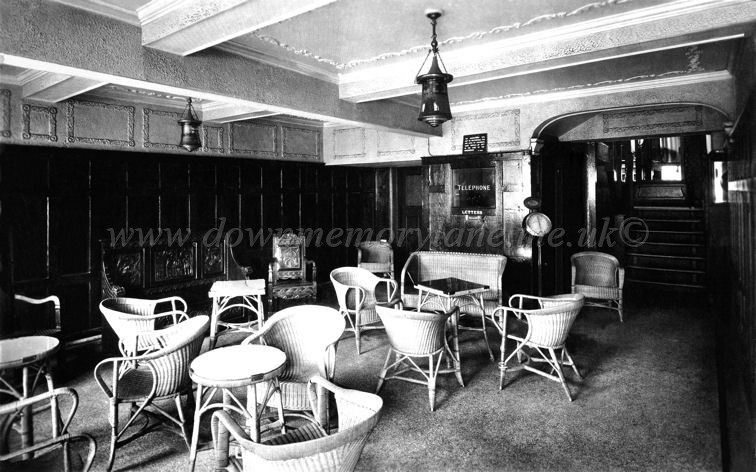 MASSEREENE ARMS HOTEL 194
This is the lounge area and you can see that cane furniture must have been the in thing.
The walls were covered in oak panelling and over to the left against the wall you can see a beautifully carved bench and chair. Moving on round to your right there is the Telephone Kiosk and also a Letterbox to post your cards and letters. Next is a weighing machine and moving up the stairs you will see a very large full length mirror.
Date of the photograph is unknown.
MASSEREENE ARMS HOTEL 858
The Hotel was opened in 1754 and then was regarded as the finest hotel of its kind in Antrim. After all they had room to stable eight horses whereas the Kings Arms Hotel had only four post horses. It was also used by the military officers as their headquarters during the Battle of Antrim in 1798. When the photograph was taken Murphy's bar and lounge was on the grounf floor.
The year this photograph was taken is unknown.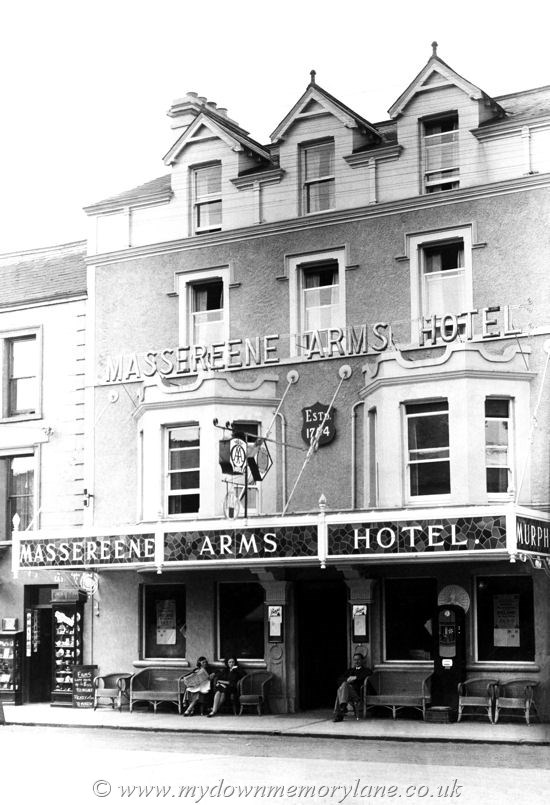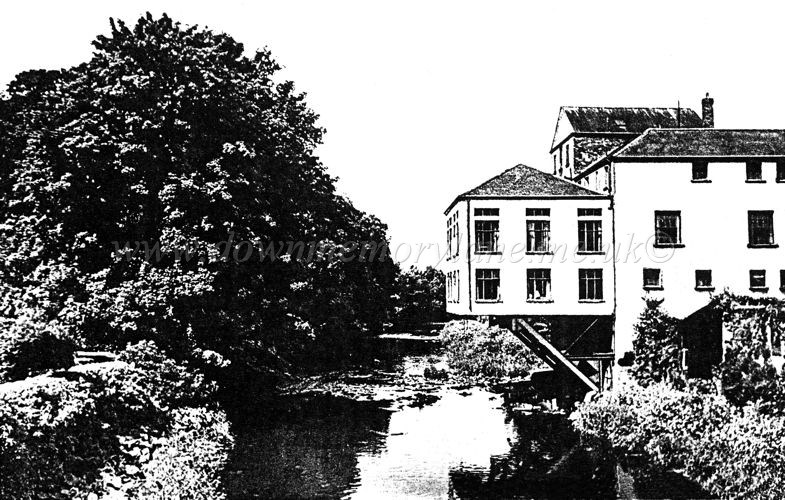 MASSEREENE ARMS HOTEL 674
The view of Masereene Hotel shows a section jutting out over the Sixmilewater river.
This was apparently the band and dance room area, the year is unknown.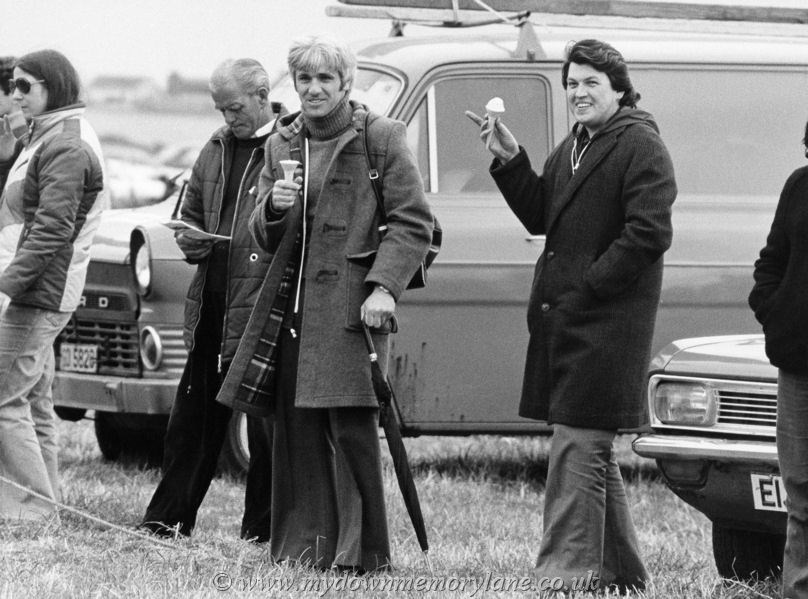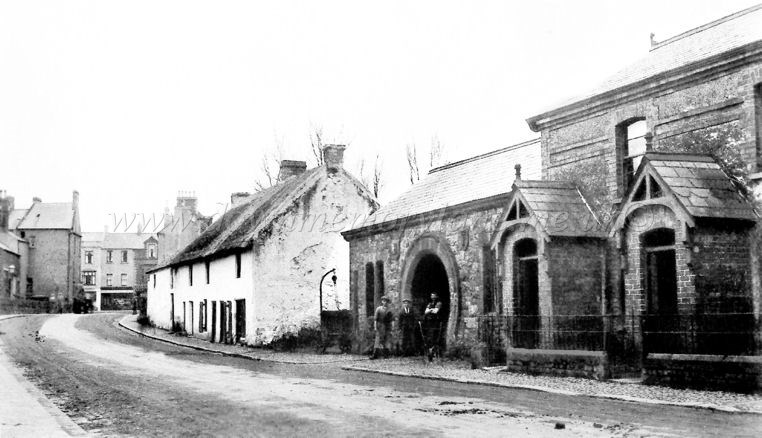 A DAY OUT AT THE RACES 2649
Out for the day at the races and enjoying themselves are Brian Murphy and David Ceaser.
I hope Brian didn't get the weather he was expecting with his umbrella, Duffell coat and polo neck jumper. The one thing I do love and it brings back memories, the "Flares!"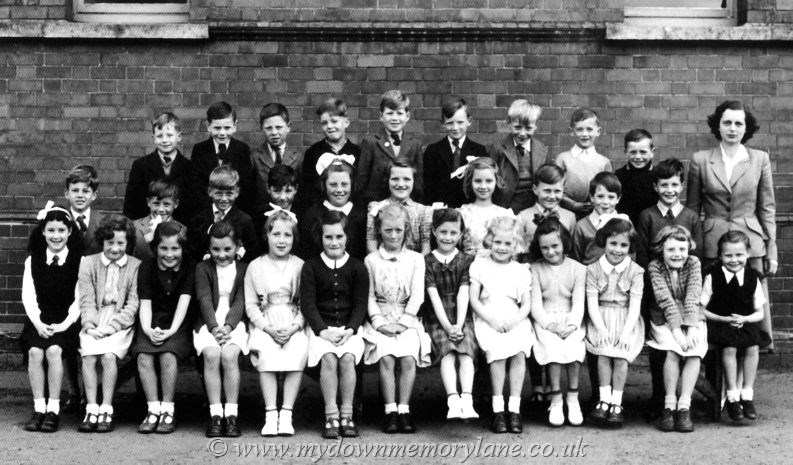 MASSEREENE NATIONAL SCHOOL 799
Here we have the class of 1952 at Massereene National School decked out in all their glory for the annual summer photograph. In the back row we have Ivan Topping, Alan Molloy, Ronald Nicholl, Unknown, Francis Jackson, Unknown, Leslie Wallace, John McElrea aged 8, and Walter Coles.
All smiles in the middle row (from left) Unknown, Unknown, Brian Steele, Unknown, Edith McCullough, Irene Barnes, Mary Crosson, David Costello, Unknown, Unknown and Mrs.Wilson (Teacher).
Looking all coy and shy in the front row (from left) are Audrey Keith, Evelyn Dawson, Teresa Kelly, Betty Nicholl, Betty McCrum, Carol Magee, Audrey Dunlop, Edna Allen, Pat Cummings, Joy Charters, Colleen Tether, and Hilary Hanlon.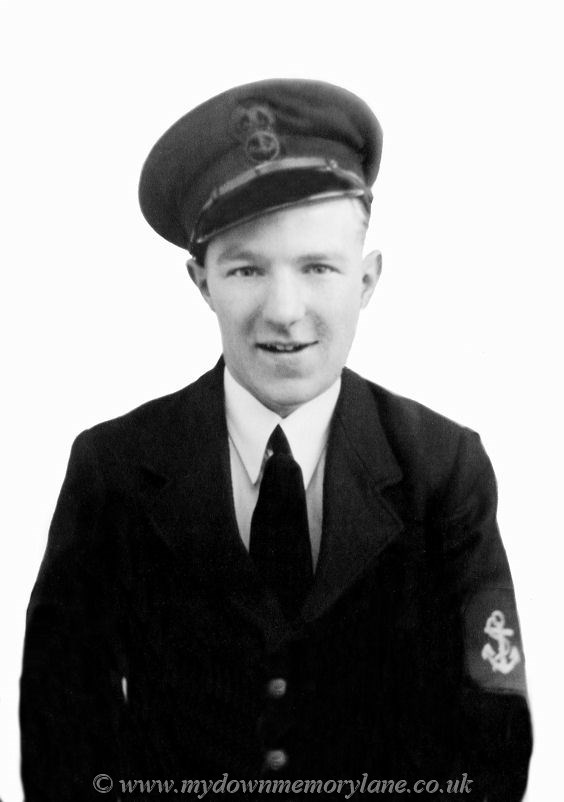 Mr MAGOWAN 2599
The Merchant Navy, God Bless them for without them during the war we would have starved and had no weapons to defend ourselves, the Merchant Navy men too had no weapons to defend themselves. Mr Magowan is one of these brave young men who survived while others paid the ultimate sacrifice.
Did you know that say they were in the Atlantic sailing to America when they were sunk but survived and were lucky enough to get rescued and taken to America. They then had to get back to England and find another ship to sign on and this could easily take a month. Now from the time their ship was sunk till the time they signed on to another ship, they got no pay! The reason for no pay was that as far as the companies were concerned you were not working so no pay. Did that stop these brave Merchant Navy from going back to sea? NO, as far as they were concerned they were serving their country.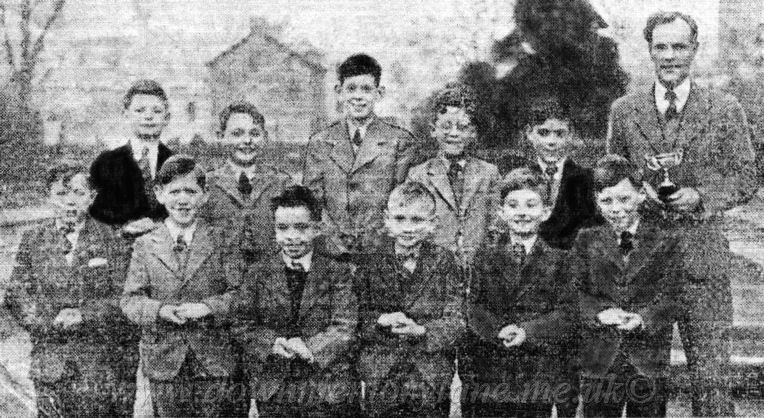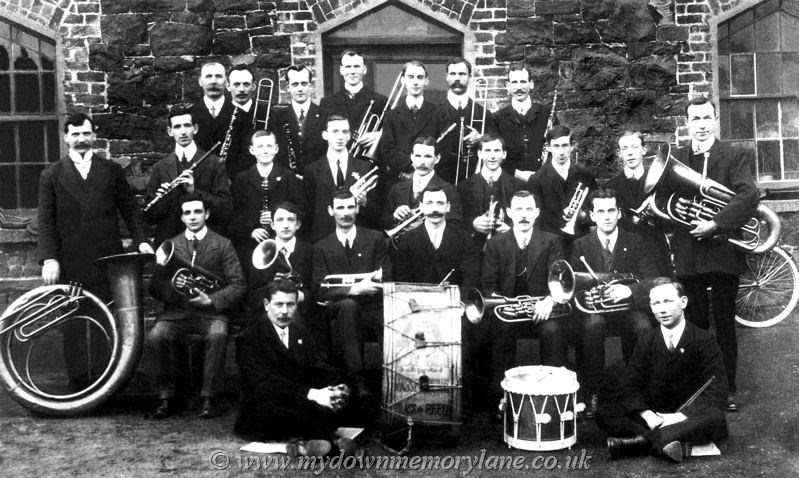 MASSEREENE BRASS AND REED BAND 175
At the moment no one recognizes any of the members but I do have a list of names and the instruments they received.
Bob McKeown - 1 Clarinet. James Johnston - 1 Flute, 2 Piccolos. John Murphy - 2 Clarinets. Thomas Johnston - 1 Clarinet. John Albright - 2 Clarinets. Fred Moffet - 1 Clarinet. Mr.Reid - 1 Clarinet. Mr.Brennan - 3 Clarinets, 1 Alto Clarinet, 2 French Horns, 1 Cornet, 1 Bassoon. V. Clarke - 1 Cornet. J.Dougall - 1 Cornet. H. Dougall - 1 Cornet. Mr.Clarke - 1 Cornet. Mr.Harkness - 1 Cornet. W.Burnett - 1 Cornet. W.McDonnely - 1 Cornet and 1 Horn. Mr.Burrowes - 1 Horn. Mr.Moody - 1 Silver Plated Baritone, 1 Side Drum. J.Carson - 1 Baritone. B.Reid - 1 Baritone. E.Johnston - 1 Baritone. Mr.Simpson -1 Valve Trombone. Stephen Rainey - 1 Slide Trombone. James Wilson - 1 Slide Trombone. Mr.Dougall - 1 Bass. Mr.Duekey - 1 Double Bass. Mr Burrowes - 1 Double Bass. L.Thompson - 1 Bass Drum. Mr.Quigley - 1 Side Drum. They also acquired 19 Band Stands. The date of the photograph is around 1913 and was in the Antrim Castle Gounds near to their band room.
MASSEREENE BRASS AND REED BAND 68
Photographed at the back of Orr Memorial School in High Street in 1919.
Back Row: Harry Brennan, Willie Baird, Bertie Reid Snr, Tommy Simpson, John Murphy, Willie Donnelly, Henderson?
Middle Row: Willie Dougal, Jim Johnston, Bertie Thompson, Willie Burrowes, Johnny Dougal, Hutchy Dougal, Jimmy Hanman, Billy Wallace, Jim Wilson.
Front Row: Bob Baird, Henry Burrowes, Nat Clarke, Willie Bell (Band Master), Jimmy Carson, Willie Reid.
Ground Row: Tommy Thompson, Willie Quigiley.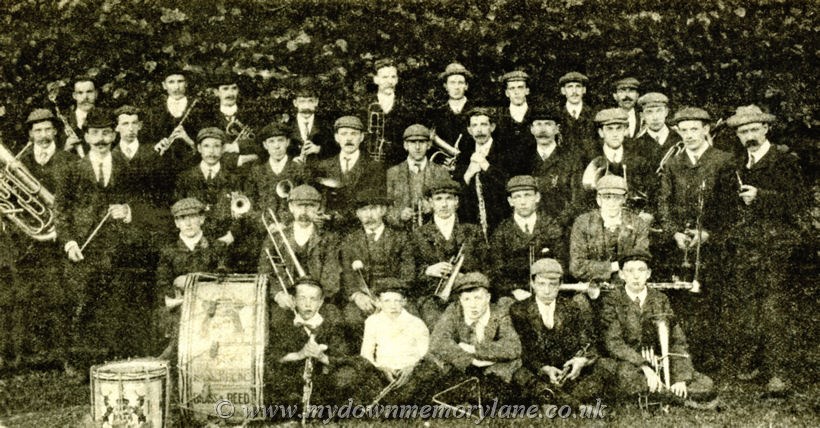 MASSEREENE NATIONAL SCHOOL 975
Standing proud and all hands clasped we have from Massereene National School in 1950 the Junior Boys team who have just won the Craig Challenge Cup for team speaking at Ballymena Festival.
At the back are Unknown, Alan Gillespie, Gavan Rea, Harry Clarke, Noel McKee and the teacher holding the cup Mr. Giffen.
In front are Unknown, Bobby Paisley, Arthur Walsh, Raymond Lynn, Brian Crawford and Sammy Wallace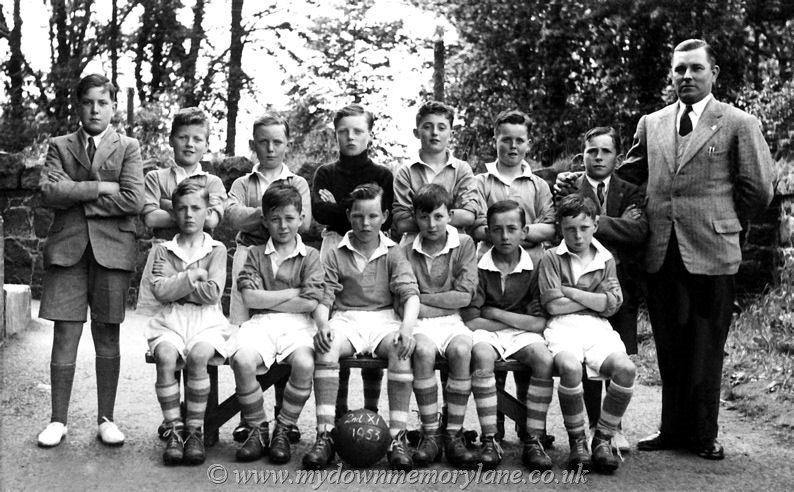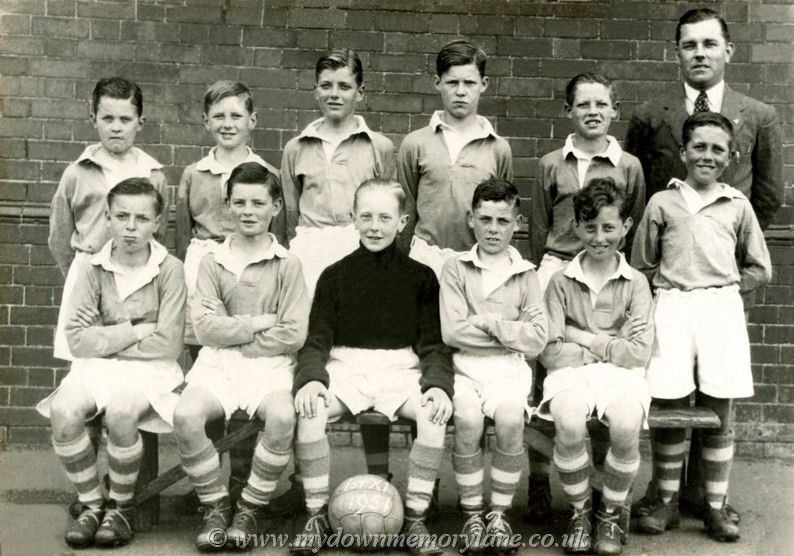 MASSEREENE NATIONAL SCHOOL FOOTBALL TEAM 161
This is the first team eleven in 1951.
Back Row: Sammy Ferguson, Norman Young, Bobby Pasley, Unknown, Billy Patterson and Sammy Coyle.
Front Row: Noel McVeigh, James Patterson, Derek McCabe, Noel McKee and Fred Charters. James Patterson was also a School Boy International Player for Northern Ireland.
This information was supplied by Wendy Patterson.
The School Principal was Mr.W.E. Charles, I have been told from one who had experienced this first hand that he was a very good at caning, he could flick the cane while he was caning you !
MASSEREENE NATIONAL SCHOOL FOOTBALL TEAM 401
Here we have Massereene National School football team of 1953.
Standing are Harold Marcus, Mervyn Cummings, Roy Jackson, Sammy Wallace, Crawford Carson, Herbie Napier, Henry Jones and Mr. Charles
Seated we have Dan Barnes, John Kelly, Sammy Young, David Bolton, Alec McDonald and Harry Kelly.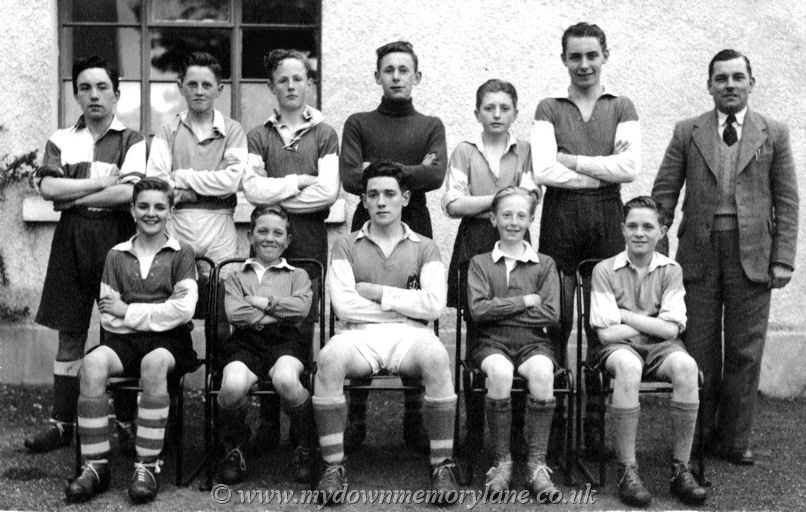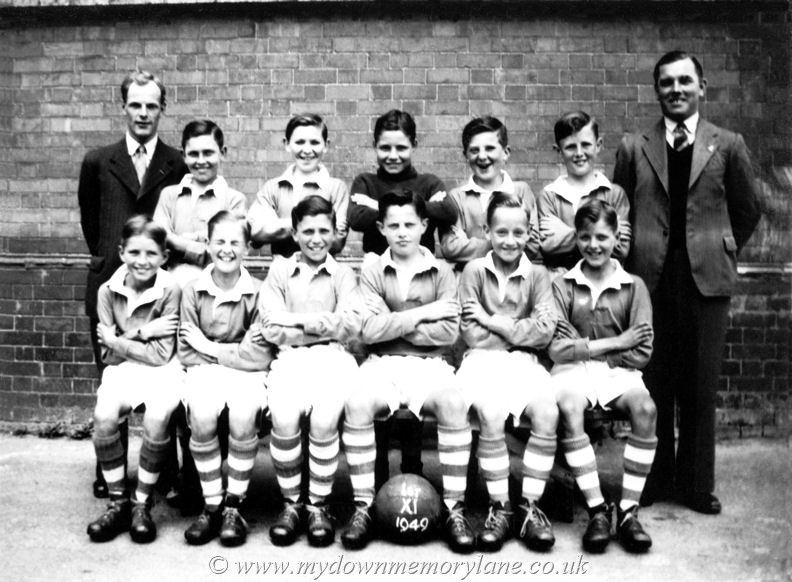 MASSEREENE NATIONAL SCHOOL FOOTBALL TEAM 277
This photograph was taken in 1949 at the front of the school.
From the left back row: Master Griffen, Hugh McDonald, Norman McComb, George McFadden, Norman McCraig, Walter Chambers and the school Principal Mr. W.E. Charles.
From the left front row: Ian Christie, Bobby McVeigh, Henry Herron, Sidney Quinn, John Myles and Sammy Ferguson.
MASSEREENE NATIONAL SCHOOL FOOTBALL TEAM 402
This photograph was taken in 1950.
B.Row: Rick Craig, Cedric Blackbourne, Chambers, Matt Quigley, Unknown, Bersford, James Bersford and the School Principal Mr.W.E.Charles.
F.Row: McVeigh, Kyle, Jim Purdie, Derek McCabe and unknown.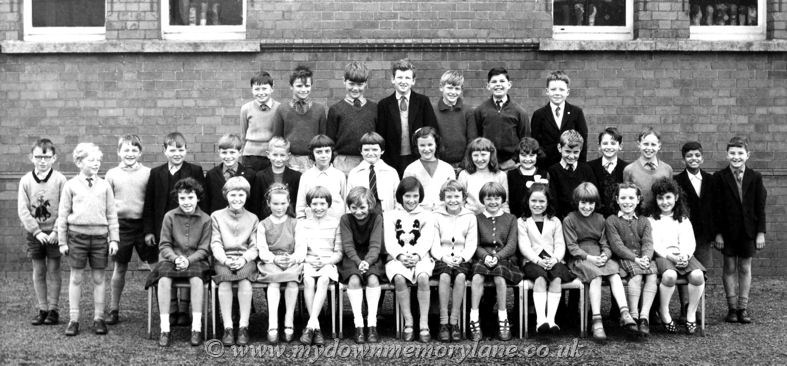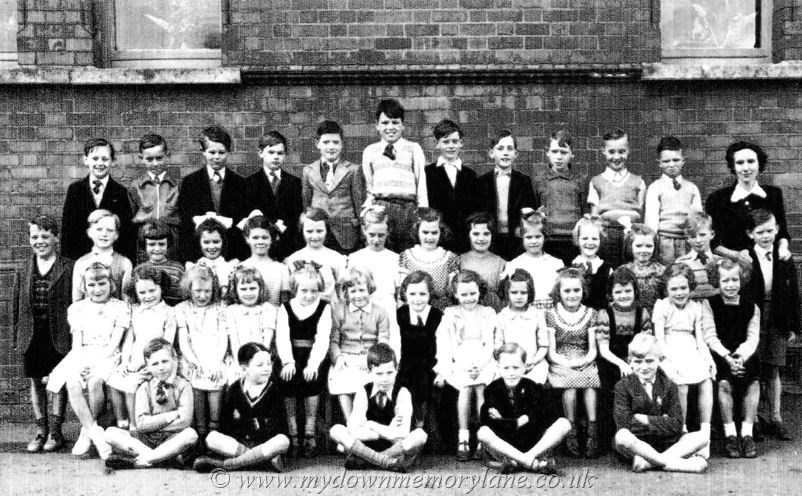 MASSEREENE NATIONAL SCHOOL 403
At the moment the Teacher, the pupils and the year are unknown.
MASSEREENE NATIONAL SCHOOL 976
These are the pupils of Miss Bell's class in 1953 from Massereene National School.
At the back are Neill Hill (who went to America), Alex McDonald, Eric Rea, Billy Honeyford, - - - - - - -Unknown, Kenneth Stewart, Kenneth Rea, Sydney Collins, Tom Craig, Raymond Fulton, - - - - - - - - - - - - - - - - - - - - - - Derek McKinney and teacher Miss Bell. - - - - - - - - - - -- - - - - - -In front are Michael Quinn, Thompson Cummings, Unknown, Elvina Keith, Unknown, Ruby McBride, Marlene Allen, Ethel McKee, Jennifer Allen, Barbara Mathews, Mabel Paisley, - - - - - - - - - - - - - - - -- - - - - - - Jacqueline Wallace, Alan Crawford and Unknown. - - - - - - - - - - Seated we have Stella Lynn, Joan Mercer, Margaret Baird, Hetty Kelly, Valerie Fulton, Joane Matthews, Unknown, Eva Molloy, Unknown, Wilma Boyd, Norma Coulter, Dorothy Young and Mary Boyd.
The boys on the ground are as follows Jim Wallace, Unknown, Unknown, Brian McCabe and Stanley Lynn.
MASSEREENE NATIONAL SCHOOL 520
- -Smiles all round from the youthful class of 1964 at Massereene National School. There are - ---many familiar faces in this school portrait - many of whom have since brought up their own ----------------------------- ------ ----------- families in Antrim! -------------------------------------------In the back row we have David Hulme, Jackie Mawhinney, Andrew Gleghorne, Kenneth Grey, - - - - - - - - - - - - - - - - -- Carl Preston, Forbes Meldrum and Billy Long - - - -- - - - - - -- - -Pictured in the middle are William Doole, John Buckle, Unknown, David Hemmings, Michael Phillips, John Harkness, Jean McMeekin, Joyce Hunter, Valerie Whiteside, Rosemary Gourley, Margaret Cameron, John McKee, Stuart Duckett, David "Mush" Marsh, Sunile Treon and Neil - - - - - - - - - - - - - - - - - - - - - - - - -- - - - - - - -Allen. - - - - - - - - - - - - - - - - - - - - - - - - - -- - - -The young ladies seated in the front are Rosemary Steele, Unknown, Joyce Dunlop, Janine Marks, Sylvia Grey, Joyce Grey, Wilma McMeekin, Yvonne Pierce, Rosannie Williams, Veronica Kane, Sheila Peoples and Jeanette McIlroy.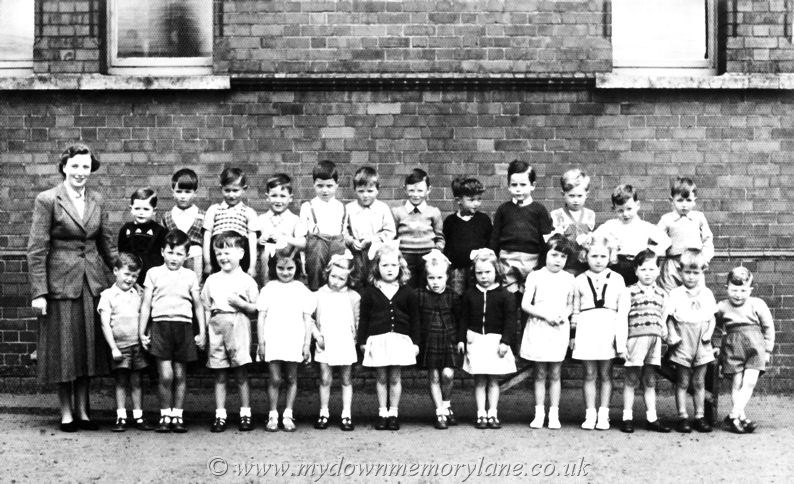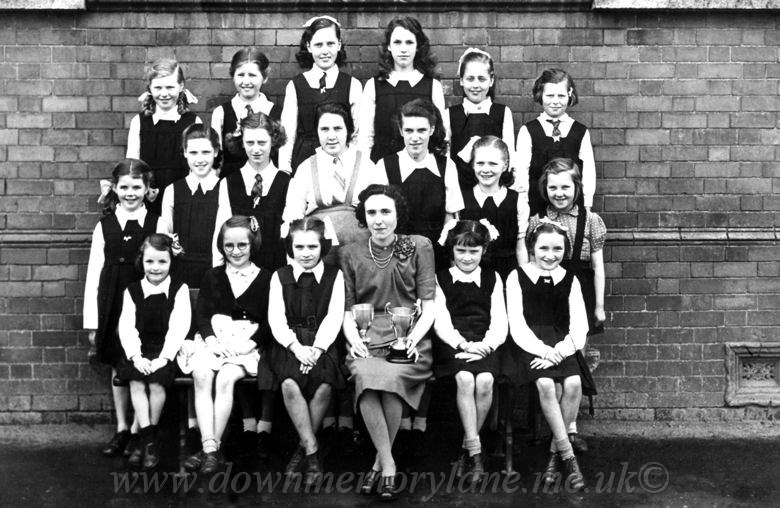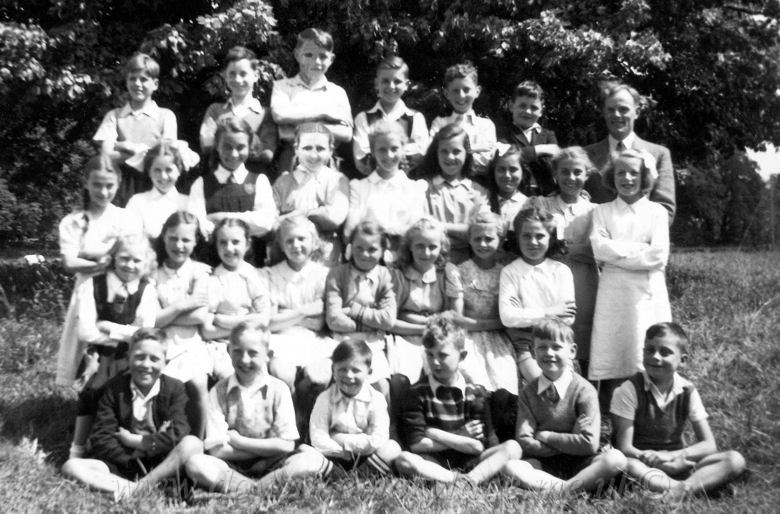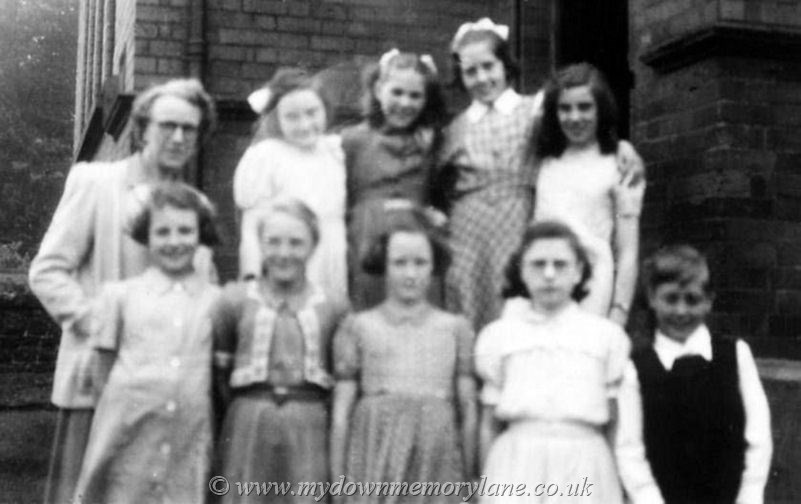 MASSEREENE NATIONAL SCHOOL CHOIR 935
Looking very proud of themselves and so they should be for these are the girls of Massereene National School Choir 1946 and they are the first choir to bring back from Ballymena the Ballymena Weekly Telegraph Cup! Smiling in the back row are (from left) M.Fleming, M Christie, M.Fleming, F.Harron, R.Fleming and M.Reid. Then in the middle row we have N.Napier, I Alexander, M.Reid, N.Clark, I Allen, P.Kelly and M.McCaig.
In front seated are Unknown, Unknown, M.Kelly, Miss Violet Bell, J.Kelly and G.Moffett.
MASSEREENE NATIONAL SCHOOL1040
This photograph taken in 1950 along the Lough Road was of a class from Massereene National School.
The boys in the back row are Unknown, John McClean, William Blackburn, Bobby McVeigh, Unknown, Alan Gillespie and the Teacher Mr. Griffen.
The girls in the next row are Eileen McMillan, Marian Blackburn, Margaret Walsh, Catherine Fleming, Eve Deveny, Margaret McCaig, Martha McDonald, Jean McKee and Molly Allen. Seated with their arms folded are Emily Rankin, Eleanor Wallace, Barbra Fleming, May Wallace,Matidla Moffett, Unknown, Unknown and Unknown.
Finally seated on the ground we have Sammy Coyles, Jim Baird, Lindsey Peacock, Brian Crawford, Brian Speers and Harry Kerr.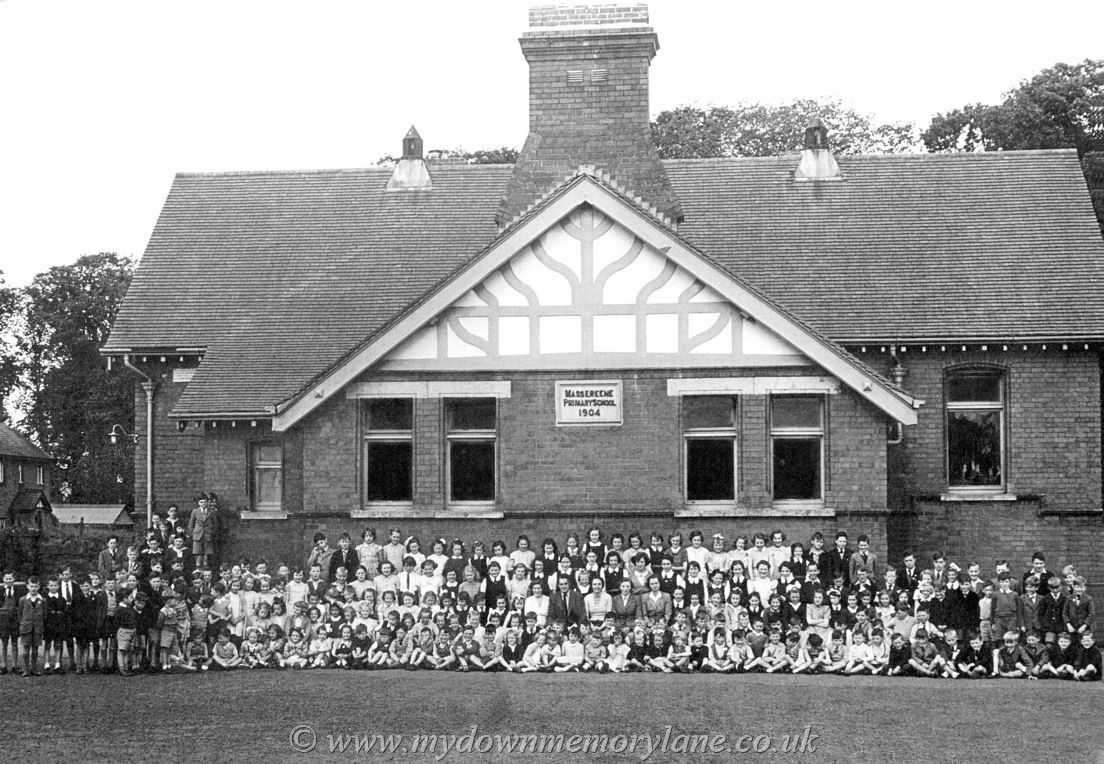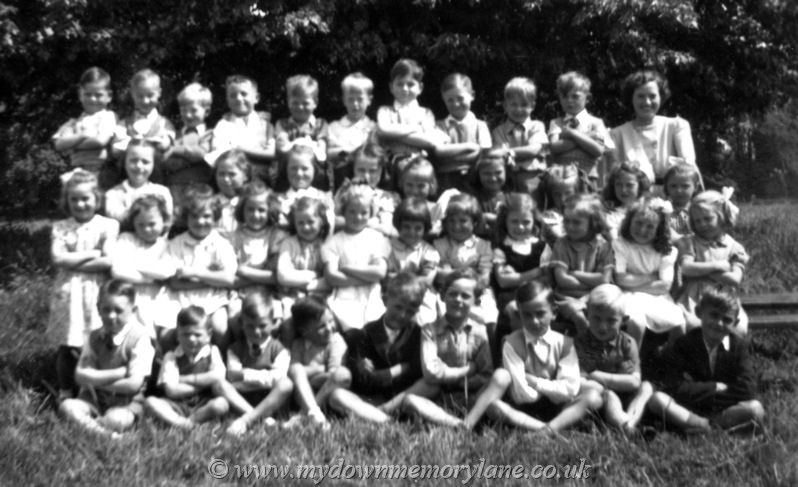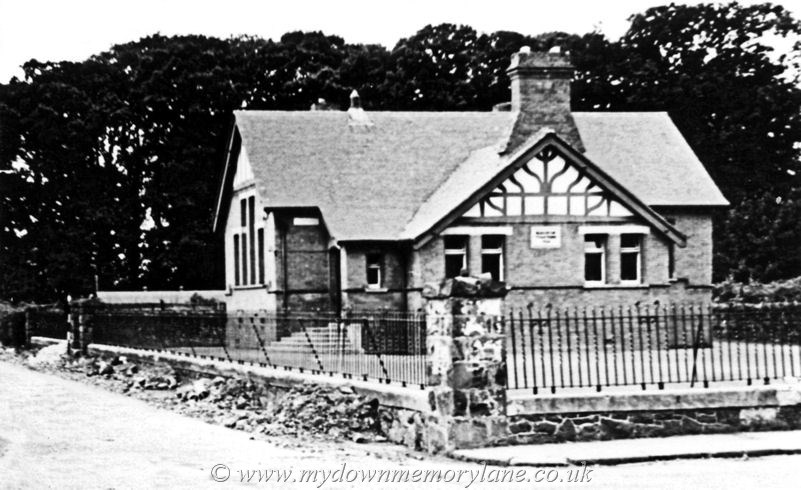 MASSEREENE NATIONAL SCHOOL 398
This is the all the pupils of the school getting their photograph taken in 1952. Teachers: Mrs.Bell, Mrs. Wilson, Mr. Leslie, Miss Bell and Miss Anderson.
Pupils: Marlene Allen, Mary Allen, Dan Barnes, Eileen Bell, Jim Boyd, Beulah Brownlees, Harry Clarke, Tom Craig, Alan Crawford, Mervyn Cummings, Pat Cummings, Doris Fleming, Olive Fleming, Jean Fleming, Valerie Fulton, Alan Gillespie, Dessie Gillespie, Joyce Hamilton, Hilary Hanlon, Norman Jackson, Roy Jackson, Lila Jamison, Hetty Jones, Albert Jones, Hetty Kelly, Teresa Kelly, Austin Knapper, Kathleen Kyles, Stanley Lynn, Stella Lynn, Raymond Lynn, Kathleen Lynn, Harold Marquess, Philip Martin, Patrica McClure, Alec McDonald, Ethel McKee, Derek McKinney, Bobby McVeigh, Stanley Mollay, Eve Mollay, Alan Mollay, Olive Moore, Brenda Morrow, Ronnie Nicholl, Alice Nicholl, Joyce Nixon, Doris Paisley, Frankie Peacock, Roy Peacock, Marie Sharp, May Steele, Kenneth Stewart and Dorothy Young.
MASSEREENE NATIONAL SCHOOL 776
The year is 1950 and it must be the Summer Holidays as there is no sign of life.
Going by the rubble against the school wall perhaps they were doing up the Lough Road.
MASSEREENE NATIONAL SCHOOL 378
Here we have the class of 1950 from Massereene National School pictured in the Castle Grounds with their teacher Miss Bell.
In the front row from the left Alan Molloy, Unknown, Unknown, Unknown, Kenneth Rea, Alex McDonnald, Stanley Lynn and Desmond Gillespie.
Second row from front from left has, Stella Lynn, Joan Mercer, Jennifer Allen, Ethel McKee.
Other children who known to be in the picture include Walter Kyles, Kevin Rea, Doris Paisley and Margaret Baird.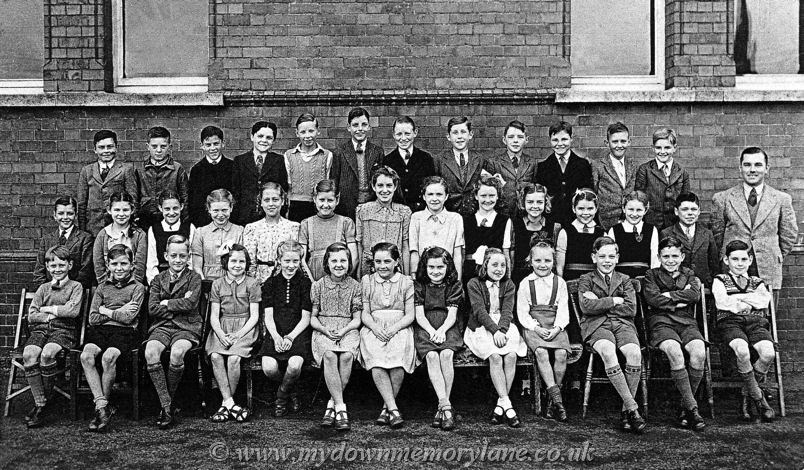 MASSEREENE NATIONAL SCHOOL 351
Taken on the steps of Massereene School this is a Sunday School Class in June 1946.
B.Row: Unknown (teacher), Unknown, Unknown, Francis Herron and Unknown.
F.Row: Unknown, Anna McCabe, Edith Buick, Sadie McCabe and Unknown.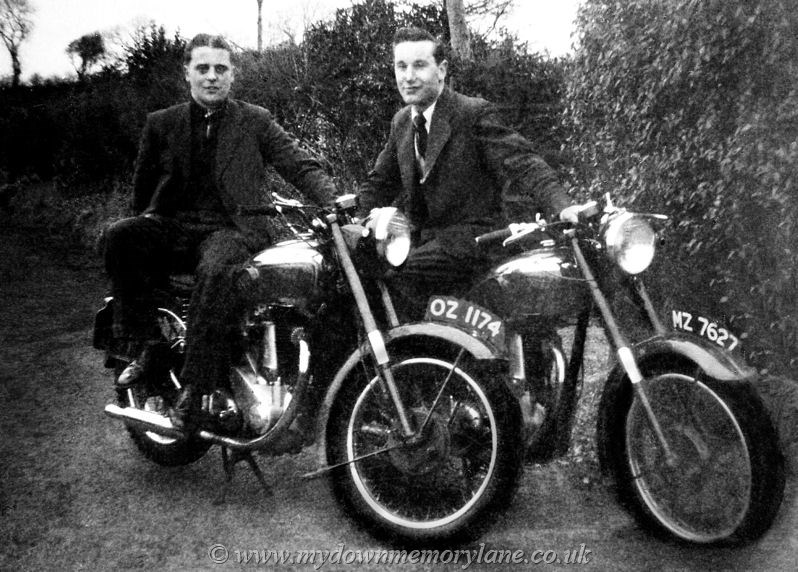 BIKERS 2383
Stopped for a break along the road and sitting on their bikes we have Harry Ireland and David McMeekin.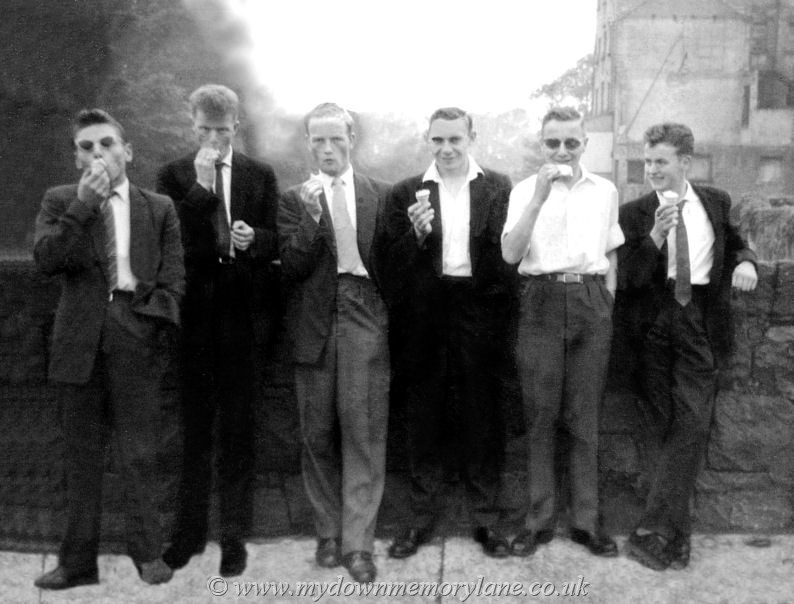 MASSEREENE BRIDGE 825
The local hard men of Antrim leaning against Massereene Bridge in 1958 caught on camera eating icecream, the cameraman had to run for his life!
Seriously though these young men are Harry Cochrane, Andy Blair, Berty Cummings, Charlie Clarke, Leslie Martin and Herbie Napier.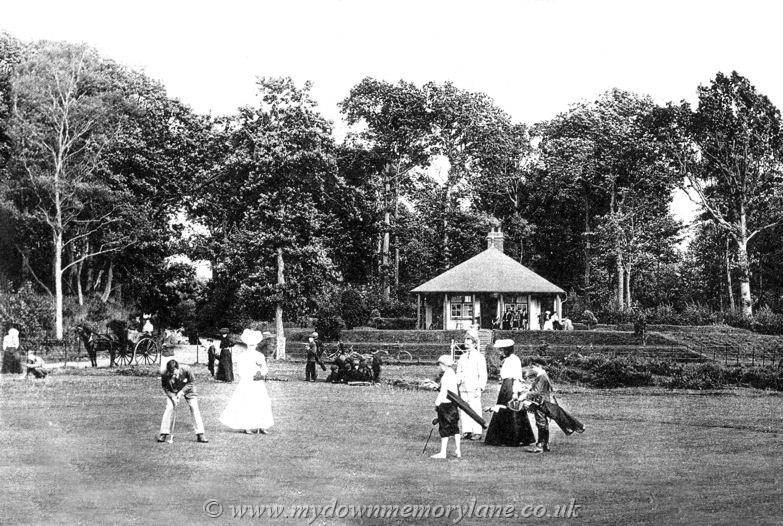 MASSEREENE GOLF CLUB 636
In the early days of the 20th century, golf was the 'in' thing for fashionable Victorians - and Antrim was no exception. This lovely picture taken in 1911 shows ladies and gentlemen taking to the greens at the newly opened Massereene course. Class was an issue, however, as only the 'well to do' could afford to play. And while women were permitted to play on certain days, the bar was strictly men only - a ruling that persisted in many clubs until recent years. Looking closely at the picture, it could not have been easy to swing a club in those flowing gowns. Perhaps the lady watching the games from the comfort of her horse drawn carriage has the right idea!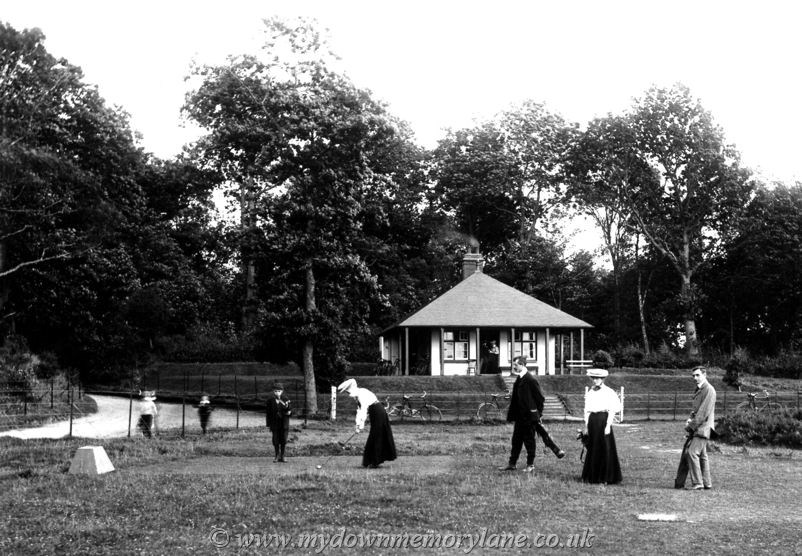 MASSEREENE GOLF CLUB 638
Getting ready to tee off is a lady golfer outside the club house, the year is around 1911.
I wonder are the ladies playing against the men? Also as I can see are bicyles, did they cycle here?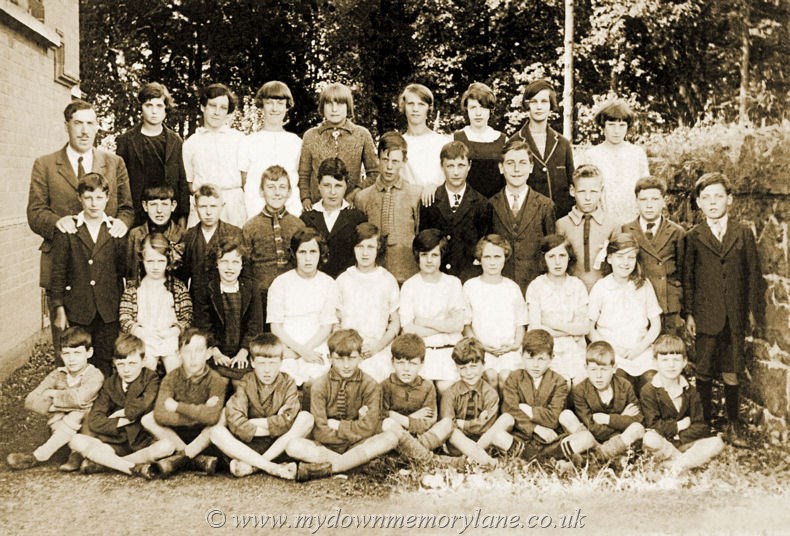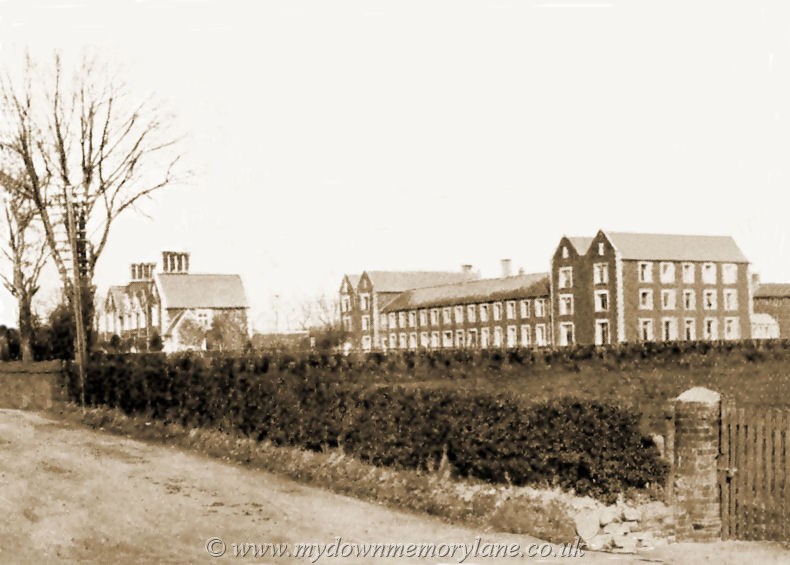 MASSEREENE HOSPITAL 151
Originally the Workhouse it was built 1843 in the wake of a Cholera Epidemic which was in 1839 in the town. Entire families died, The Rev. Robert Magill lost his wife, son and forty members of his congregation. The victims were quickly buried in ' Spittle Field ' which was situated between Greystone and Moylena roads. The front of the building which was the fever section was not finished until 1847 and it accommodated forty with a further forty-five in the ' Fever Sheds '. During its first decade they admitted 7,274 paupers of which 1,051 of them died there and they were buried in the Paupers' Graveyard the field as seen next to the Workhouse where Tesco's car park is.
MASSEREENE NATIONAL SCHOOL 2671
The year of this Massereene School Photograph is unknown and sadly only the teacher and two pupils are known.
The teacher is Mr Collins then Billy Allen 4th from the left in the middle row who in later years was an ambulance driver and finally 5th from the right is the teachers son Percy Collins.
MASSEREENE NATIONAL SCHOOL 265
Must have been taken at the school holidays looks empty.
The Plaque on the wall tells us that it was built in 1904. The school used to be on the old Lough Shore Road and was sited where the Royal British Legion Club is now.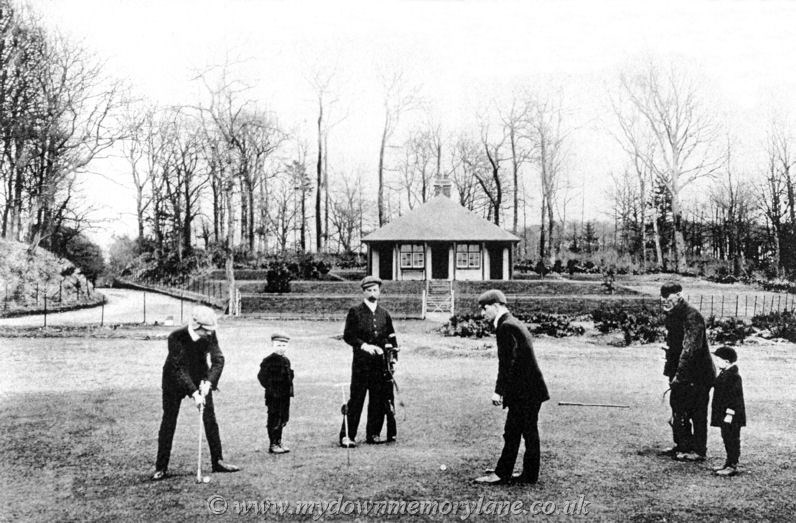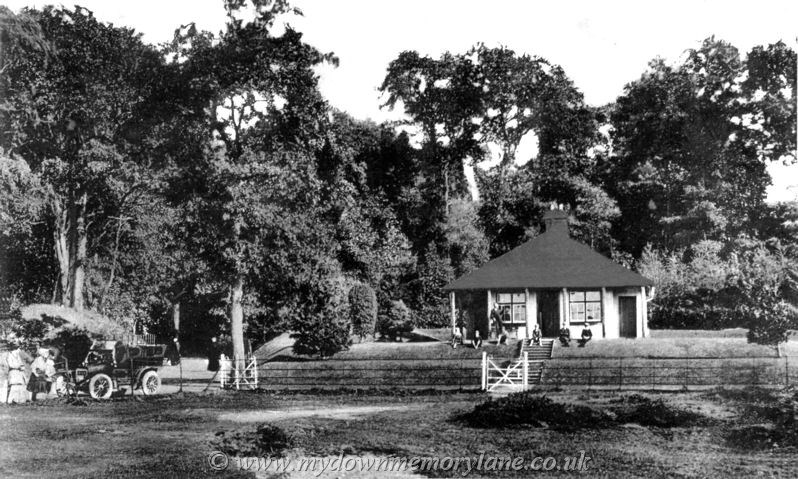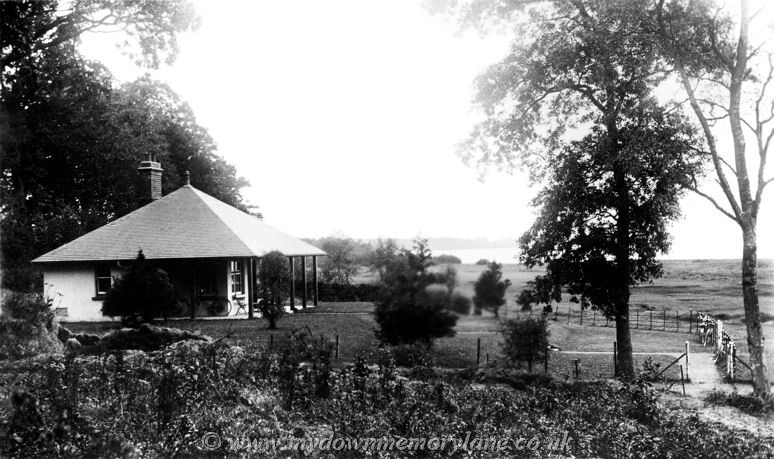 MASSEREENE GOLF CLUB 637
These gentleman are pictured practicing their putting at Massereene golf club back in 1911. The posture of the chap on the left perhaps confirms that Tiger Woods was still several decades away! The skills may be somewhat dubious, but the young lads are certainly watching the game intently. The older man to the right appears to be carrying something, so perhaps he was a caddy for the day. Also of note, of course, is the clubhouse itself which is considerably more 'cosy' than its multi-million pounds modern counterpart. I have been told that the game was invented in Scotland and the word is a abbreviation of 'Gentlemen only Ladies Forbidden'
MASSEREENE GOLF CLUB HOUSE 616
This is Antrim Golf Club house with a view to Lough Neagh in 1914. As you can see no cars only bicycles. The photo was taken from a postcard postmarked Antrim 7.30am, 10th May 1915. It was addressed to Miss McGrath, 26 Riverside, Antrim. there was no message only signed T.T.
MASSEREENE GOLF CLUB 642
Sitting on the grass in front of the club house enjoying the view, some time after it opened in 1895 for the course has not been started.
On the left is an open topped car with people having a good look at it.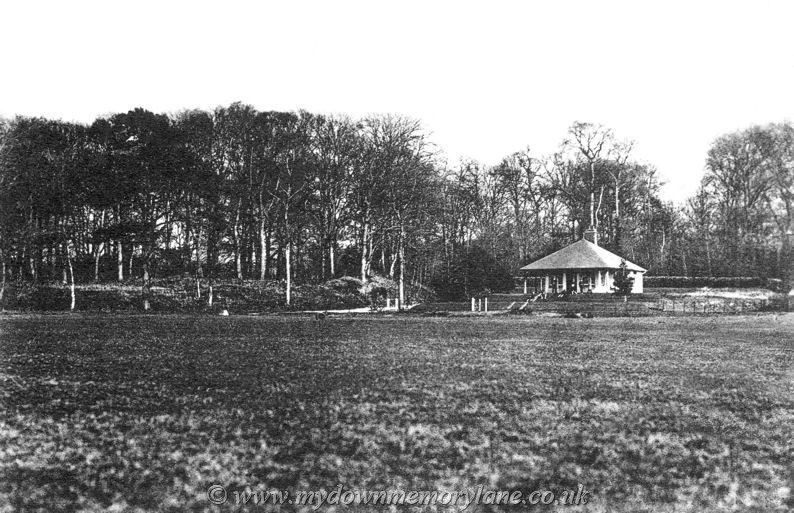 MASSEREENE GOLF CLUB HOUSE 635
This is the club house and there are a few people standing outside it. It must be after 1911 for you can see the white marker for the first tee.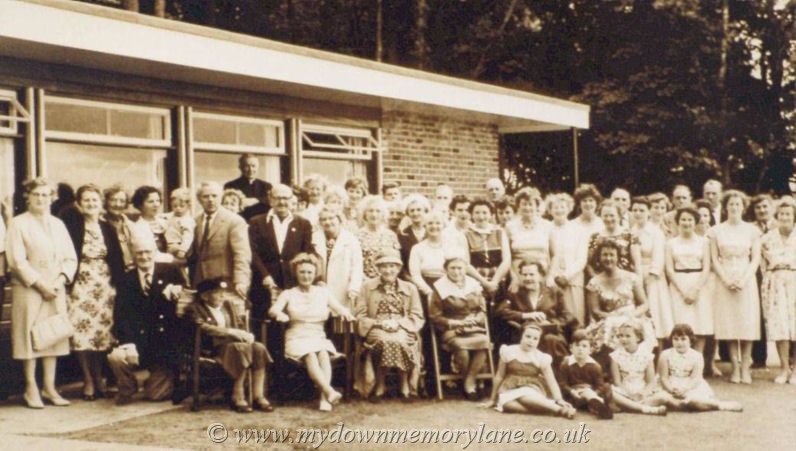 MASSEREENE GOLF CLUB 181
Here are members of Massereene Golf Club along with their friends and Family on the 26th June 1961.
In the back row, Unknown, Unknown, Unknown, Joan Anketell, Unknown, Unknown, Unknown - - - - - - - - - - - - - - - - - - - - - - - - - -and Crawford Rea.- - - - - - - - - - - - - - - - - - - - - -In the middle we have Unknown, Unknown, Unknown, Unknow, Joan Simpson, Mr.Kane, John Kirk, Unknown, Mrs Wilson, Maud Baird, Mrs McDonald, Mrs Reid, Sadie Wallace,
Ria Craig, Mrs Kane, Mrs Crawford, Mrs Rea, Mrs Clarke, Unknown, Unknown, Unknown, - - - - - - - - - - - - - - - - - - - - - - -Unknown, Harry Rankin and Miss Fraser. - - - - - - - - - - - - - - -In front are Norman Kirk, Mrs Holmes, Mrs John Kirk, Unknown, Unknown, Miss L.Entwistle, Joan Wilson Mrs Collis and Mrs N.Kirk. the children are unknown.
MASSEREENE FORGE 153
This is Bridge Street and you are looking towards High Street.
The white washed houses to your right have thatched roofs and look at the height of the doors, you would need to bend your head going into them. Next door we have the most photographed building in Antrim town, the forge. Which later became a shop and known locally as the ' Horseshoe Shop '.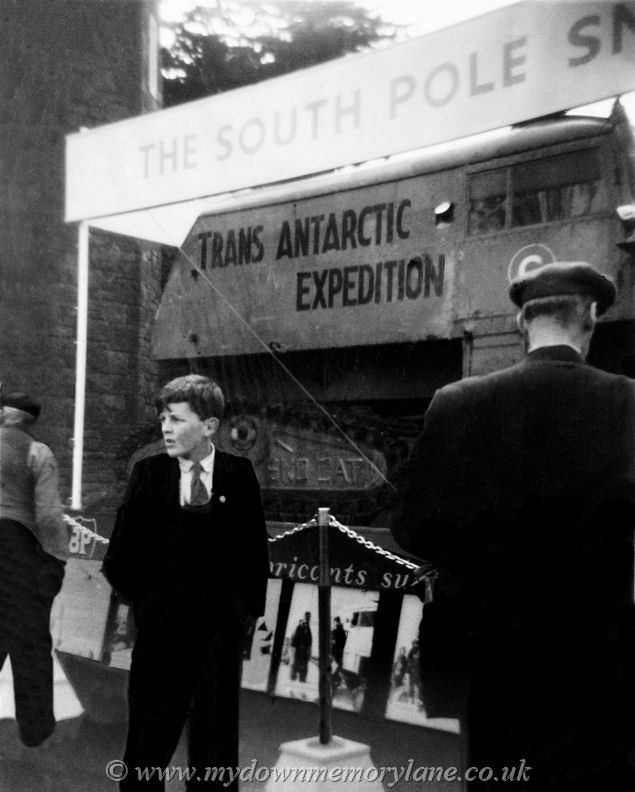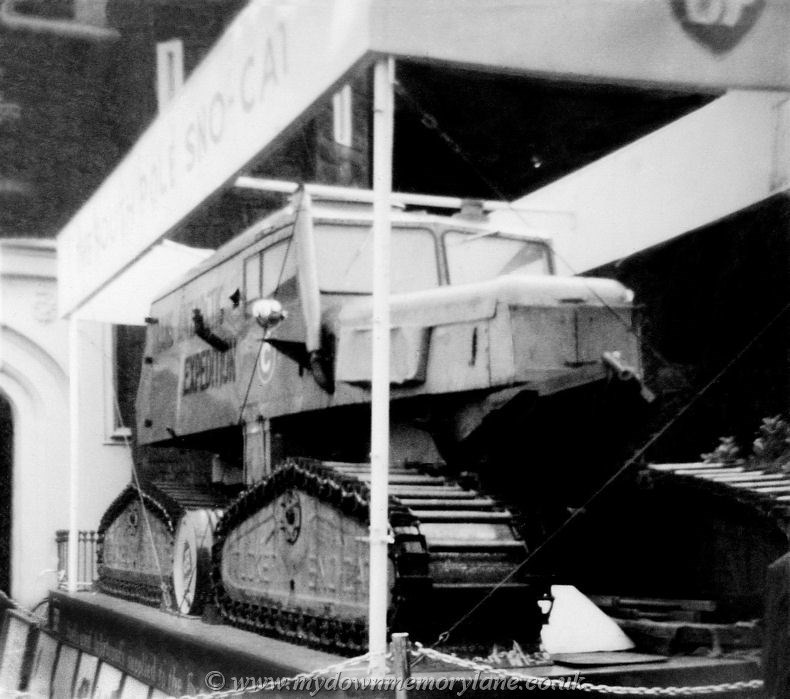 MARKET SQUARE 2572 and 2573
Here we are in Market square in the 1960 next to the Barbican gate which you can see in the background, the trees have gone but the railings are still here.
Everyone was so excited for here they were standing in front of a SNO-CAT and being able to touch it. The reason for this excitement was that is was used for the first surface crossing of Antarctica via the South Pole, the 1955–58 Commonwealth Trans-Antarctic Expedition was a camping trip of epic proportions, with government funding from four countries and the Queen as patron. On 2 March 1958,under the overall command of the British explorer Dr Vivian Fuchs and company completed the 99-day trip by reaching Scott Base, having travelled 2,158 miles. Fuchs was knighted by Queen Elizabeth II the same day.
Commonwealth Trans-Antarctic Expedition (TAE) in 1955-58, under the overall command of the British explorer Dr Vivian Fuchs.
The Commonwealth-sponsored expedition successfully completed the first overland crossing of Antarctica, via the South Pole, on 2 March 1958.
The New Zealanders supported the expedition by setting up Scott Base, and laying food and fuel depots for the British crossing party.
Then, against the instructions of the Ross Sea Committee, Hillary led a 'dash to the pole'. On 4 January 1958 they became the first party to reach the South Pole overland since Scott in 1912, and the first to reach it in motor vehicles. Now does anyone know this young lad, if you do please let me know.

Pages:
MASSEREENE NATIONAL SCHOOL501
- - -What a happy and relaxed looking bunch of children from the class of 1947 at Massereene - - -National School. Judging by the girls sandals, it appears that this photograph was taken - - - - - -- - - - - - - - - - - - -- - - - - - - - - -- during the summer. - - -- - - - - - - - - - - - - - - - - - - -At the back are Hugh McDonald, Norman McCaig, Harold McCormick, Matt Baird, Elmer Bates, George Ferguson, Jackie Baird, Unknown, Liam Blackbourne, George McFadden, Victor Fulton - - - - - - - - - - - - - - - - - - - - - - - - - - - and Bobby McVeigh. - - - - - - - - - - - - - - - - - - - - - The middle row has Sam Ferguson, Margaret Chubb, Charlotte Paterson, Margaret Fleming, Laura Fleming, Marlene Christie, Ethel Marcus, Pasty Kelly, Unknown, Margaret McVeigh, Norma - - - - - - - -Napier, Unknown, Cecil Hannan and the Headmaster W.E.Charles. - - - - - - - - Finally, seated at the front you can see Robert Paisley, Ian Christie, John Myles, Marian Blackbourne, Eve Devanny, Margaret McCaig, Mattie Kelly, Jean Kelly, Jessie Molineaux, Violet Lynn, Robin Fleming, Henry Harron and Norman Fleming.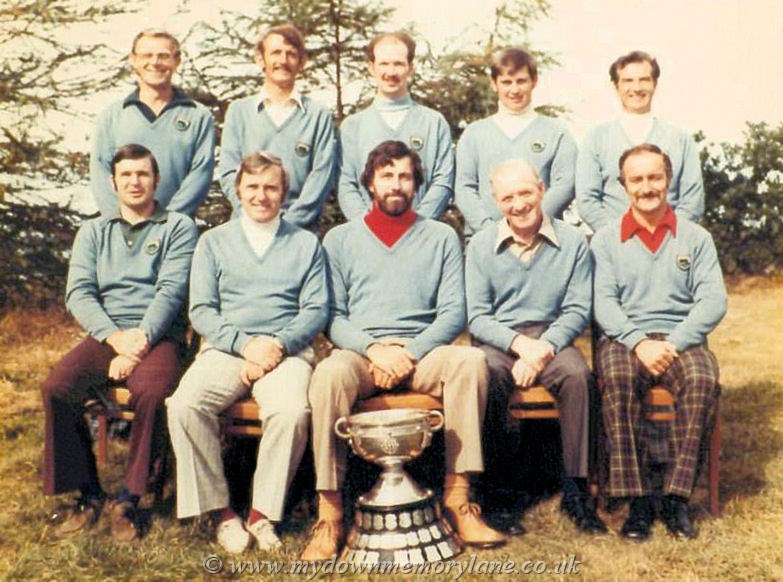 MASSEREENE GOLF CLUB 216
This is the winning team in 1976.