RAILWAY STATION 26
Waiting for passengers in 1935 is a fine coach and a horse and Jaunting Car from Bairds.
In the background you can see two porters either side of a lady with her bicycle.
The Belfast and Ballymena Railway Company started running trains to Antrim in 1848.
RAILWAY STATION 651
The year is 1933 and the station has'nt changed much over the years.
The posters on the wall to your right advertising Antrim Technical School for classes. Also one's about the sale of Small Farms and Farms of Land.
RAILWAY STATION 182
When you look at the Station it really has not changed much from this photograph.
Date is unknown.
RAILWAY STATION 183
This is engine No.14 an NCC Class V 0-6-0 pulling goods Southbound on the 26th June 1937.
RAILWAY STATION 31
The train is called " Dunluce Castle " and was built in 1942 by the North British Locomotive Company of Glasgow. Seen here at Antrim railway station in 1958. When it was withdrawn from service in 1963 it had completed 1,135,484 miles. You can still see this train, as it is on permanent display at The Ulster Folk and Transport Museum at Cultra.
RIVERSIDE 2184
Here we are in Riverside and having a great time on the slide is Pamela Selfridge back in 1974

RODGERS WEDDING 2303
It's the 2nd June 1979 and here we are at the old council offices to photograph a wedding.
It's the wedding of Keith Rodgers to his lovely bride Margeret Rodgers nee Todd. The best man is Ian Yarwood and the bridesmaid is Sandra Todd.
Keith says it seems like only yesterday and Margaret is still as lovely as ever.

MUCKAMORE ABBEY 2703
Enjoying a break from her duties at Muckamore Abbey when a colleague snapped this photograph of Jennifer Rantin.

CHRISTMAS 2755
It's Christmas morning and like all good children it's very early and still dark out but Jeffery Wright is all smiles for he got what he had asked Santa for,a cowboy outfit, slippers and a new bike with stablizers! Jeffery's that excited dosen't even see the biscuits on the table.

RIVERSIDE 2756
Here we are back in 1970 down Riverside at the prefabs and standing having his photograph taken is Bertie Neill. In the background behind him is All Saints' Parish Church spire.
TOMMY ROBB 2807
Sitting astride his 175cc M.V. Agusta at Lurgan Park in 1956 is Tommy Robb.
TOMMY ROBB 2808
Total concentration as Tommy Robb on his 250cc N.S.U. starts off in the Temple 100 in 1959.

My thanks to Ed Cunningham now of Ontario, Canada for this photograph.
My thanks to Ed Cunningham now of Ontario, Canada for this photograph.
REA'S WHITE MILL 2871
Here we are inside Sam Rea's White Mill which back then was situated on the Station Road, at the moment none of the men are known.
In the foreground is a router machine and another one over to the left. The man staing next to it I would say is the man in charge for he is wearing a tie.
Now the item they are making was used quite a lot for it is the wooden section of a whitewash brush.
Back then every wall was whitewashed inside and outside the homes so they were constenly in great demand.
REA'S WHITE MILL 2872
This is inside Sam Rea's White Mill which back then was situated on the Station Road, at the moment none of the men are known. The machine that the man in the foreground is working is unknown to me. The reason he is blurred is back then you had to stay very still for the camera exposure could be a couple of minutes, even more for an indoor photograph like this one. At the moment none of the men are known.
Now who is the little girl? Did she get bored and run off or did the camera catch someone no one else could see?
TOMMY ROBB 2810
Hurtling round the race track at Daytona in England is Tommy Robb on his 750cc Honda back on the 15th March 1970.
REA'S WHITE MILL 2873
We are just off the Station Road in Rea's White Mill storage yard where this photograph is being taken.
At the moment only one person is known in the photograph and that is Harry McCormick 2nd from the right in the front row. I would say that the two men either side of the work force are the managers.
The men are showing some of the items that they make like small brushes to yard brushes and also holding some of the tools they use like files and chisels.
In the background on the right is Mill House which was built to Sam Rea's directions for the family.
SAM REA 2877
This is Sam Rea having his photograph taken by Abernethy the photographer by Royal Appointment to the late Queen Victoria at 29, High Street Belfast
Sam owned a sawmill business which he first started in Crumlin on Cider court Road and called it Cider Court Mill.
He then moved to Antrim, built a family home, a row of terraced houses and his sawmill on the Station Road which he called White Mill.
INGLEREA HOUSE 2874
This is Inglerea house which Sam Rea had built for him and his family on the Station Road, standing at the doorway are relatives which are all unknown.
The building in the background is Sam's White Mill and around it are tree trunks waiting to be machined.
MILL HOUSE 2876
Here on the Station Road in Antrim is the Mill House which Sam Rea first built next to his saw mill.
Standing in the doorway is possibly grandma Rea and is holding a black cat in her arms.
SAM REA 2875
The reason the picture looks posed is that they had to stay still while the photograph was being taken but at least they are all smiling. It is a very relaxed picnic for the staff are sitting with the gentry and being offered a cake from one of the male gentry.
Seated in the cane chairs is Sam Rea of the White Mill in Station Road with his wife who is getting milk poured into her cup.
The lady kneeling in the centre facing the camera and getting ready to slice the loaf of bread must be the housekeeper for she is wearing a nurses watch and also a pair of sissors in a breast pocket. At the moment the only person known is Sam Rea.

RIVERSIDE TEXTILES LIMITED 2894
Here we are in Riverside Textiles Ltd down Riverside in the late 60's and discussing the colour display problems is on the left
Mr Norman Perry Works Chemist, then Dr. Gisa Gewing, the firm's Chemist colourist from Austria and finally Mr Ken Collins the Manager.

RIVERSIDE TEXTILES LIMITED 2895
These ladies are working away in the Stitching department of Riverside Textiles Limited.
RIVERSIDE TEXTILES LIMITED 2896
When Riverside Textiles Ltd was at its peak they were producing over 50,000 glass clothes a week.
This is Mary Rankin from Muckamore and is one of the girls employed to cut the continuous stream into individual clothes.
RIVERSIDE TEXTILES LIMITED 2897
All smiles on the left is Mr Collins and beside him is Max Weber the Swiss engineer who installed this Swiss Buster textile printing machine.
Looking on, on the other side is Matt McCullough, Sean McClaron and Samuel Craig.

RIVERSIDE TEXTILES LIMITED 2898
Here in Riverside Textiles Ltd watching the newly printed glass clothes as they now go into the automatic dryer are James McKelvey, Foreman George McMaster and Winston Young.
RIVERSIDE 145
Formerly known as Mill Row, during the 18th and 19th centuries Riverside became the industrial district of Antrim. The sixmilewater river provided the power they needed and a paper mill was here as early as 1776. Later in 1807 a brewery and then a corn mill in
the 1800's. There used to be here a House of Correction and stocks and this is where the brewery was built. By 1850 it had become the centre of the linen industry when Boals of Ballymena built a linen mill on the site of the paper mill. Taken over by the Lamonts also of Ballymena who operated it into the late 20th century. Now the mills are no more, but you can see them in this picture. The year is unknown.
RIVERSIDE 804
This was taken down in Riverside, the boy is called Noel Patterson. The lady, the girl, the year and the house are unknown.
REV ROBERT IRWIN 1059
This is the Rev Robert Irwin who was a former minister of Grange Presbyterain Church.
The year is unknown.
ROSE COTTAGE 435
This is Sarah Beresford standing with the Rev. William Mitchell who was the minister of High Street Presbyterain, High Street and had conducted the wedding of her daughter Lily Beresford to Bob Murdock that day.The photograph was taken in 1941 at Rose Cottage just off the Steeple road.
REA STUDIO PHOTOGRAPH 2763
All smiles in the studio for the photographer we have at the back Crawford Rea on the left and Sam Rea on the right of Rea's sawmill in Castle Street.
Seated are David and Marta Rea and standing in between them is the charming Meta Rea.
RIVERSIDE 917
These two lassies are enjoying a break from work and loving the sunshine.
They work in The Antrim Weaving Company down Riverside and they are Grace Clark and Ruth Hamill in the 50's.
RIVERSIDE 818
Wizzing down Riverside on the moterbike in August 1955 we have Charlie Clarke and his chum Andy Blair.
RENTON'S SHOP 879
Standing outside their shop in High Street 1925 we have Belle affectionately known to locals as 'Bella' with her sister Nan Renton. The shop was a confectioners, a cafe and also sold postcards. A sign in the window tells us that you could buy a Shilling's worth of Nippy Tobacco!
RENTON'S 877
Standing in the backyard of Renton's shop which was on High Street. We have next to the Sixmilewater River Ellie Brown - behind Ellie you can see the ruins of a cottage and the houses in Riverside - the year is unknown.
RENTON'S 885
This proud looking man is Robert Renton standing with his charming wife Ella Renton in the backyard of his shop in High Street. The year is unknown.
ALAN REFORD 2322
This is Alan Reford relaxing in his living room, the house was on the Moylena Road. Alan was Nellie Reford's Grandfather. Alan went home in 1950.
RAF 23MU 958
Standing proudly at their completed display which was made at RAF 23MU Aldergrove in the spraying department of the Maintenance Unit are seated Sam Meehan and Jim Costella and standing in front of them are G.McCullough, J Anderson and Giles Mombay.
The year is unknown.
REV. McJURY 427
Rev. MCJury of 1st Antrim Presbyterian Church.
RAF 2041
These two fine young men enjoying the summer's day are RAF maintainence crew.
The one on the left is unknown but the chap on the right is Dennis Butterfield who married a Randalstown lass.
RANTIN PORTRAIT 2465
This delightful protrait photograph of Angela Rantin with her baby sister Dawn taken a number of years ago shows the girls have not lost their good looks!
FRANK REFORD 2326
This is Frank Reford who used to attend to the graves in the Quakers graveyard where this photograph was taken.
By the way you must be a Reford to be buried there.
ROBINS 2448
These smiling boys faces belong to the Antrim Robins which is a section of the Boys Brigade back in 1971. At the moment the five boys at the back are all unknown. In the next row from the left Colin McVeigh, Gary Brown, Darrel Steele, John Grey & Paul Nelson.
Finally the two lads at the front are Trevor Taylor and Master McVeigh. Their leader is a well known lady around the town called Betty Steele.
GEORGE RUSSELL 2428
This photograph is of George Russell who lived in New South Wales, New Zealand. He was a pen pal to Nellie Reford who lived here in Antrim. That was when you sat down and wrote a letter to someone else in a far away place. This was a big thing back then and even schools encouraged the pupils to have pen pals. This not only helped the pupils learn about a different land and their peoples but unknowningly helped improve their hand writing skills.
ROBINS 2518
Having their photograph taken is the Antrim Robins in 1971.
At the back is their leader Betty Steele and in front of Betty is David Moore, Paul Peoples, Raymond Elliott, and Adrian Mitchell.
In the front are Master McVeigh, David Steele, Trevor Taylor and John Gray.
RAF 23MU 107
The three men standing are unknown but seated on the display lorry are Cecil Johnston, Artie Kirkpatrick and Samuel Steele who were joiners.
Samuel along with his two friends built the model Phantom jet in the wood shop section of RAF 23MU in 1968.
RAF 23MU 108
In this photograph taken at RAF 23MU in 1968 you can see the Phantom jet model working. The RAF pilot sitting in plane's seat every so often would press a button which made smoke pour out of the back of the plane. This was made for the Lord Mayor's Show in Belfast but it turned out to be that popular that it was used at other events. Sammy Steele by the way is second from the left the rest of the men are unknown.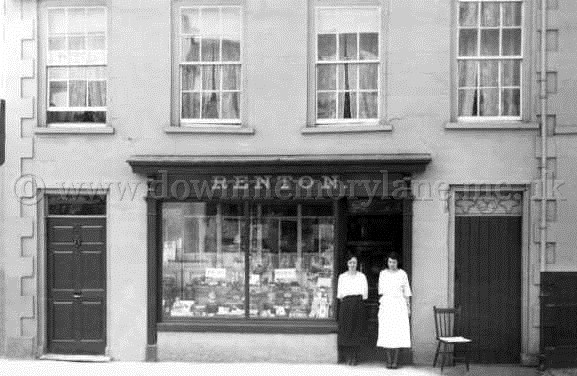 RENTON'S SHOP 871
This vintage shot shows you Renton's shop with the window filled with all types of Ladies and Gents boots in 1912 with Robert Renton the owner in the shop doorway. In front of him are his two daughters Nan and Bell Renton, the boy to the right is unknown but how ironic that he is in his bare feet!
The doorway next to him not only led to Renton's back yard and the river but also a side door into Quinn's pub! On the left with the sign above the doorway saying 'Upstairs' this was the 'Central Hairdressing Salon' and upstairs there were Hair cutting rooms and Shaving rooms.The part of a building to the extreme left is of Orr School - so that lets you know where Renton's shop was in High Street.
RENTON'S SHOP 872
This Renton's shop in 1925 which was in High street with the daughters Nan and Bell Renton standing outside.
It is now a Confectionary shop and cafe - in the window are lots of different shaped jars filled sweets
that would make your mouth water, also two signs saying Teas and Minerals.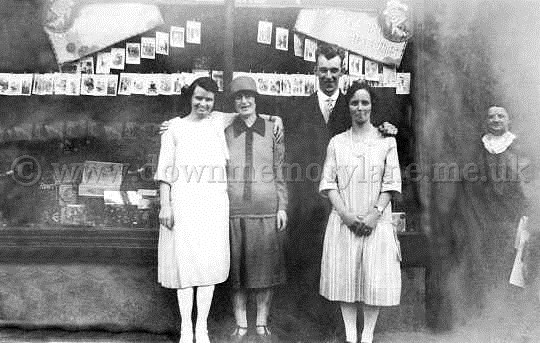 RENTON'S SHOP 875
Posing outside Renton's shop in 1930 which seemed to sell everything from McVities biscuits, boxes of cigars to funny postcards that you can see hanging up - we have from the left Belle and May Renton - Eddie Brown and his wife Nan and in the shop doorway Grannie Renton.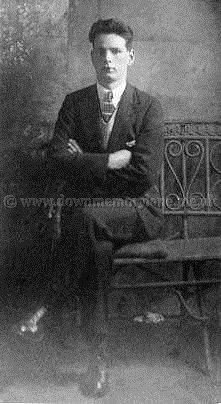 BILL RENTON 884
This is Bill Renton when he was 30 years old sitting for his portrait.
The year is unknown.
ROUND TOWER 30
The photograph dates from 1920 and as you can see the " Witches Stone " is not there it was moved to here from further down in the grounds at a later Stage. The tower is regarded as one of the finest in all of Ireland and is dated around the 6th century.
ROBERT KISSETT 640
This is Robert Kissett of Muckamore who was in the Royal Flying Corps aged 20 in 1916. They were very brave men to fly because they did not have parachutes! This was not that they had been invented it was because the top brass thought that if they had a parachute rather than keep on fighting they would bail out if things got too tough.
Robert had gone to Belfast to Reid Bros Photographers to get this photo taken for Caroline Mitchell to whom he had just got engaged.
Two years later they got married and Robert came home safely from the war.
ROUND TOWER 418
This is the Round tower known locally as the 'Steeple' the date of this photograph is unknown.
" On Lough Neagh's Bank as the Fisherman strays,
When the Clear cold eve's declining,
He sees the round towers of other days,
In the wave beneath him shining."
By Thomas Moore.
ROSEGIFT COTTAGE 1257
Standing outside her cottage called Rosegift in Antrim we have Margaret Neeson in 1940 enjoying a good chinwag with her neighbour who is unknown and the little boy.
RIVERSIDE 817
Here we have Noel Bain aged 15 in 1949 and his chum John Henderson
all ready for a bicycle ride. Seeing them off is Noel's dad Jock Bain and they were in Riverside where they lived.
RIVERSIDE 823
Standing at the top of Riverside in 1954 we have Charlie and his chum Andy Blair.
Andy's trousers are held up with the good old snake belt while Charlie has an ordinary one.
ROSEGIFT COTTAGE 129
Standing outside Rosegift cottage in 1922 is Miss Annie Neeson.
ROBERT BROWN 941
At eight minutes to nine at night on the 7th November 1956 we have Robert Brown of New Lodge Road, Muckamore.
Robert apparently was a great fiddler and when he started playing not only could you not get him to stop but your feet as well. For he was well known throughout Antrim as the man who could make a fiddle talk! Now he just didn't play them he made them as well and his fiddles were in great demand.
ROSEGIFT COTTAGE 130
Seated proudly in front of her cottage which was called Rosegift at the Grange is Mother Maggie Neeson in 1932. On her left is George Neeson, then Annie Neeson, Unknown and finally Gordon Neeson. When the cottage was bought it had an earthen floor which stayed that way until Gordon joined the Enniskillen Fusiliers, earned enough money to get a brick floor put in for his mother.
RIVERSIDE SOUTH BANK 717
This is the back of Riverside with All Saints' Parish Church in the background. By the look of the clouds the four boys two kneeling down at the waters edge better get home before they get wet. The year is unknown.
RIVERSIDE SOUTH BANK 210
This is Riverside photographed from the opposite bank, it shows the thatched cottages of Mill Row and a pathway to the river.You can even see the washing hanging out on the line.
In the centre you can see All Saints Parish Church and over to the left you can see the back of High Street Presbyterian Church. Date is Unknown.
ROSEGIFT COTTAGE 131
Standing outside their Mother's cottage in 1932 up at the Grange which was called Rosegift we have on the right Annie Neeson and Gordon Neeson.
As you can see with the rabbit in his arms Gordon loved animals. One day he came home with an egg and put it under the Goose with its other eggs. His mother shouted at him that it wasn't a Goose's egg but Gordon took no notice. Eventually the eggs hatched including Gordon's which turned out to be a Swan!. Well the swan grew up thinking it was a goose and just waddled around and never tried to fly and when it was hungry it would stick
its head through the cat-flap. By the way Gordon gave it a name Swannee!
RIVERSIDE 822
Pictured outside their house at Riverside in 1948 we have Sidney McClure looking proudly at his big brother Billy McClure and next to them is Charlie Clarke.
RIVERSIDE SOUTH BANK 268
In the foreground to your left is a young girl with her hand on her hip and two little boys standing next to her. Across the river you will see the thatched cottages of Mill Row and out the back is the washing hanging on the line. It looks like either sheets or blankets an in front of the washing next to the small wall is a child. What looks like a shed is just an overhang and there is a coat hanging up underneath it. If the clock in the Church is working then the time when the photograph was taken was 1.30pm.
RIVERSIDE SOUTH BANK 143
This is riverside photographed from the opposite bank, it shows the thatched cottages of Mill Row and a pathway to the river. In the centre you can see All Saints Parish Church and over to the left you can see the back of High Street Presbyterian Church. The year is unknown.
RIVERSIDE 821
Deep in thought is Charlie Clarke in August 1955 outside his house in Riverside. Perhaps he is thinking he is racing along the Dundrod circuit.
RIVERSIDE 2368
Here is Hettie Lennon outside her home in Riverside.
Hettie was just on her way to work in High Street at F.T. Smith's Chemist shop.

RAMSEY WEDDING 2375
Pictured after their wedding at St. Patrick's Church of Ireland in Kilrea back on the 10th June 1959.
Here we have the groom Ernie Ramsey from Rasharkin and his lovely bride Pearl who came from Kilrea in one of the Eglinton Hotel's rooms where they held their reception. They then moved to Antrim where Ernie became a breadman and Pearl worked in Marquess Meats for nearly 30 years before retiring. Pearl was 16 when she worked as a sales assistant in a shop called Hunters, it was there she met Ernie who was 24 and had started delivering groceries for them. Sure enough it wasn't long before they were officially going out and the rest is history.