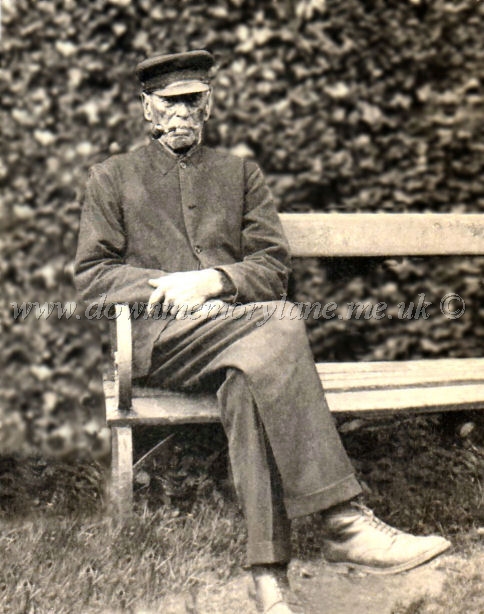 JOHN JOHNSTON 0106
This is John Johnston aged 84 relaxing in the sun at the Gate house on the Randalstown road in 1935 and enjoying a puff on the pipe. In his younger day he was the gamekeeper up at Tardree when it was part of the Antrim Castle Estate. Later in life he was put in charge of the utilities at Antrim Castle such as the water and gas, for by then they were using gas to light the lamps.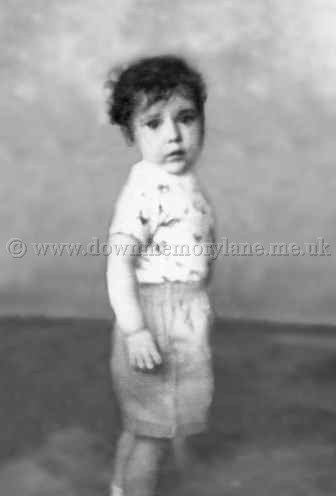 JACKIE JENKINS 1436
This delightful wistful little girl from Antrim is none other than Jackie Jenkins back in 1962.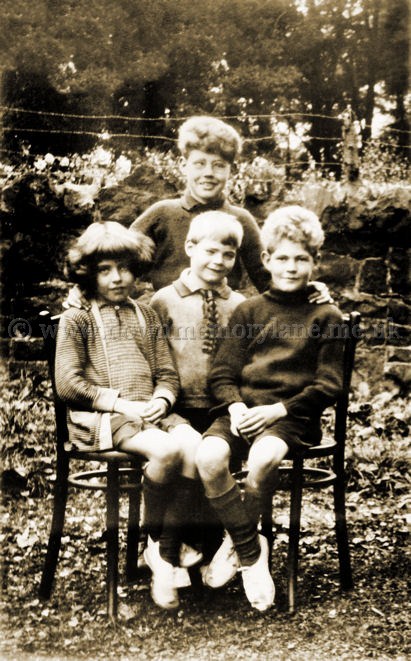 JARDEN CHILDREN 2670
Here we are at the side of Muckamore National School, today is the annual school photograph, but because there four pupils from the same family ther are
getting an extra photograph taken of just them. These are the Jarden children who at Bloomfield house in Fountain Street, Desmond, Eric, Billy and Annie.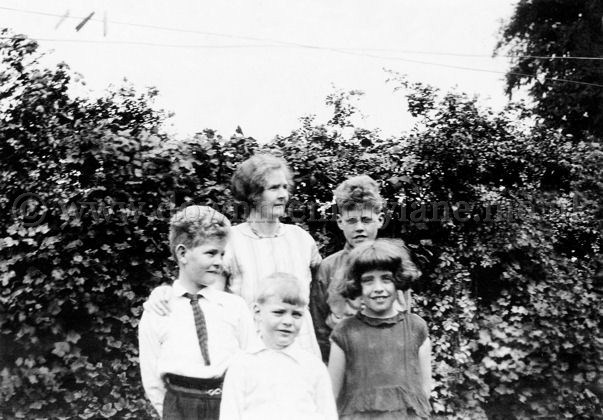 FAMILY GATHERING 2742
Here in their back garden at Bloomfield house in Fountain Street, the Jarden children, Desmond, Eric, Billy and Annie are having their photograph taken. Behind them is the clothes line and on it are the old long wooden pegs.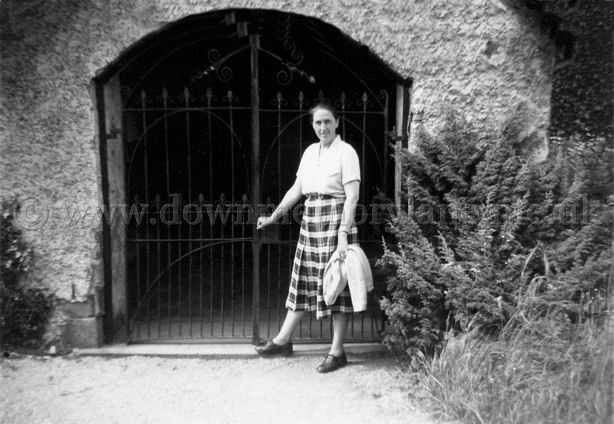 JANE 2743
This is Jane back in 1956 having her photograph taken at these gates.
Now can anyone tell me, her last name and where Jane was that day?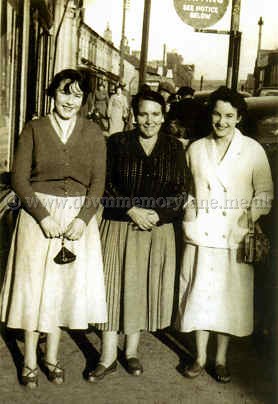 JACKSON OUTING 1145
Down at Larne for the day we have out along the sea front Joe and Sadie Jackson from Antrim in the 1930's
JENKINS FAMILY 1434
This is the Jenkins' family and from the left are Margo then their mother Bridget and Hillary.
They have come from Antrim to Ballymena to do what all ladies like to do Shop!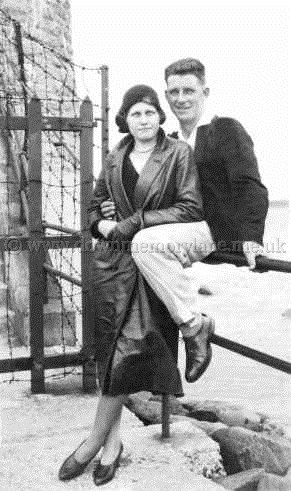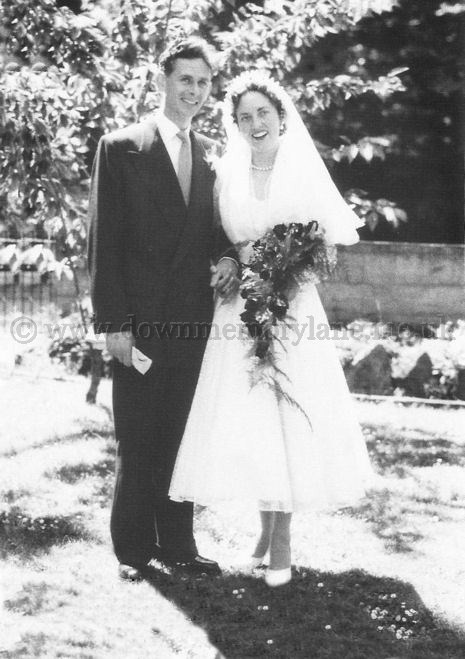 JONES WEDDING 3032
It's not only a beautiful sunny day but a memorable one for this happy couple after their Wedding in Antrim Parish Church on the 9th July 1955.
The happy Groom is Roland Jones and his Bride who captured his heart is May Jones nee Fleming.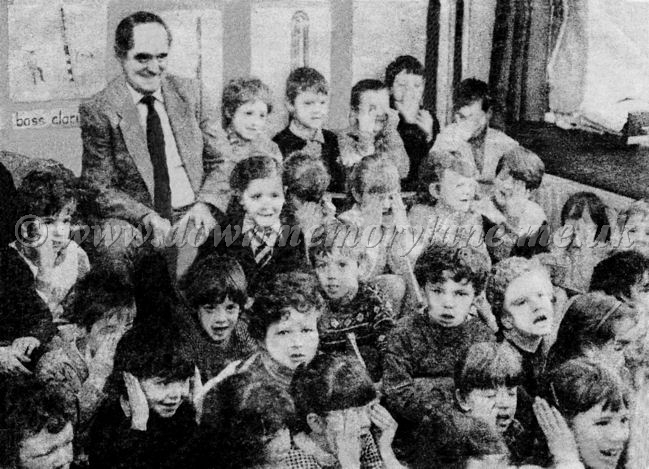 St. JOSEPH'S PRIMARY SCHOOL 3239
A bit too big for St. Joseph's Primary School Music department is the then Minster of Education Dr. Brian Mawhinney who was visiting the school. Now if you recognize yourself please let me know.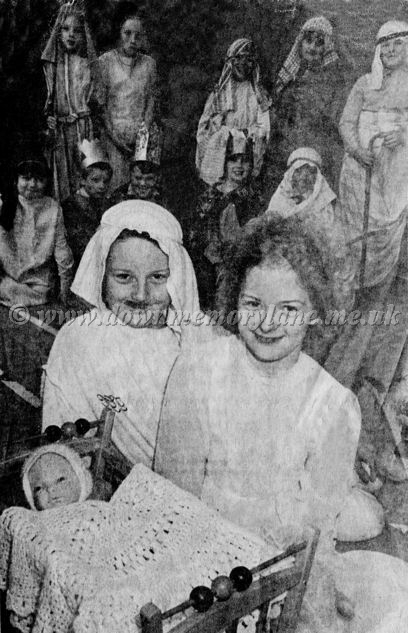 MARY and JOSEPH 3240
All smiles during rehearsals for their nativity play are Darren Waring (Joseph) and Joanne McLean (Mary) and behind them other members of the cast.
JAMESON WEDDING 3283
What a beautiful Wedding photograph definitely the Groom and Best man are only extras, this could be Hollywood instead of Antrim in the 1930's.
Seated on the left is Best man Joe Jameson the Groom's brother, the Groom James Jameson and now his beautiful bride Una Jameson nee Rea. Una is wearing a Pill box hat with Gypsophilla or also known as Baby's Breath. Her bouquet is made up of Gladoli with ferns, the wedding dress seems to be made of lace from the waist down. The Bridesmaid with her 'Gloria Swanson' look is the Brides sister Eva Rea also holding a bouquet of Gladoli. Did you know for I didn't the flowers Gypsophilla's meaning is 'Lover of chalk' referring to the soil it grows in. The Gladoli has a few meanings: 'Sincereity', 'Strength'
also 'Natural Grace'. They are named for the shape of their leaves, gladioli – from the Latin word "gladius," meaning sword, symbolizing strength and moral integrity, gladioli also represent infatuation, with a bouquet conveying to a recipient that they pierce the giver's heart with passion.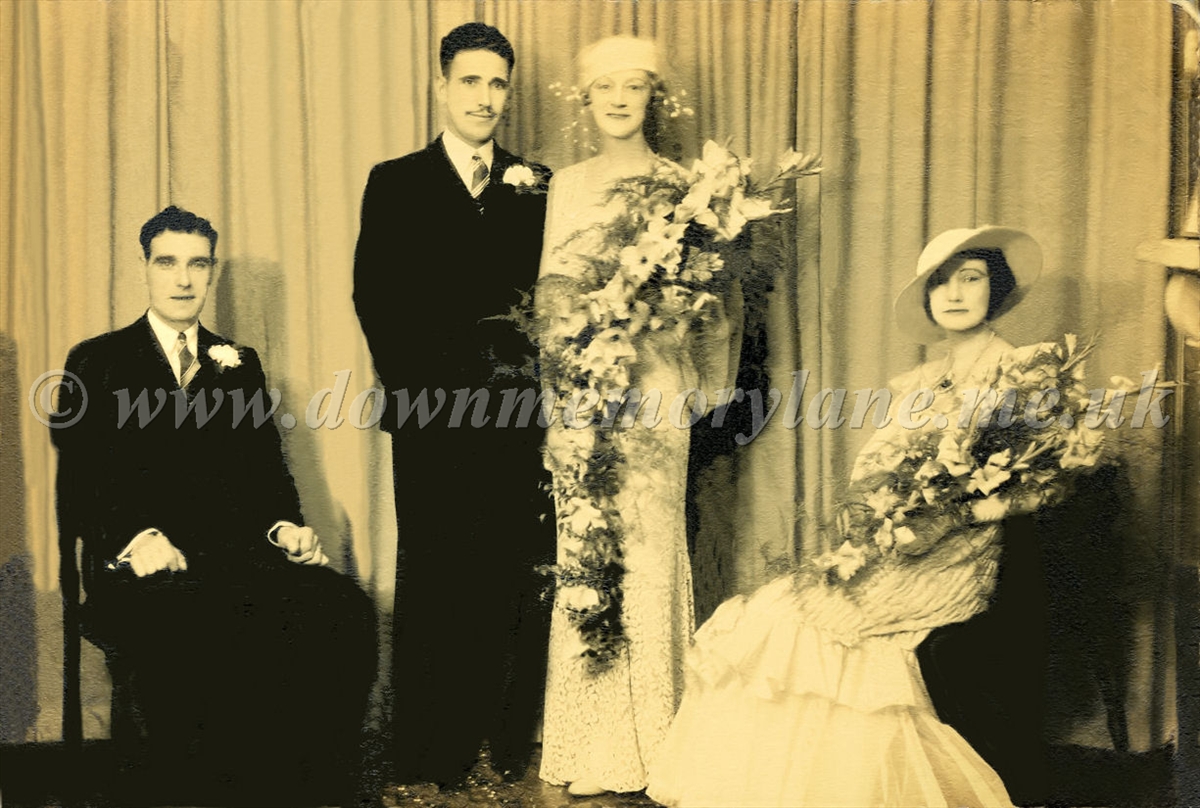 MARY JACKSON 1140
This is Mary Jackson with the pram outside the house at Balloo. The Year is unknown.S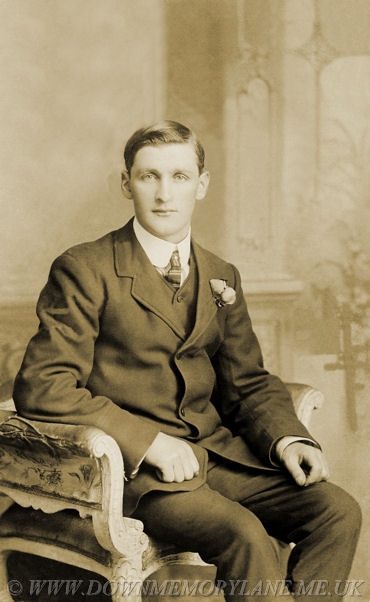 JIM 3364
This smartly dressed young man in a three piece suit with a rose in his lapel is called Jim that is all I know. Now the photograph has been made into a
postcard which he didn't post. On the back in the address section he has written " To Miss Kelly" and on the communication side Jim has written, the first word is squiggle and can't be made out but the rest is" you know your-self From Jim". Now that's a cryptic message and no mistake.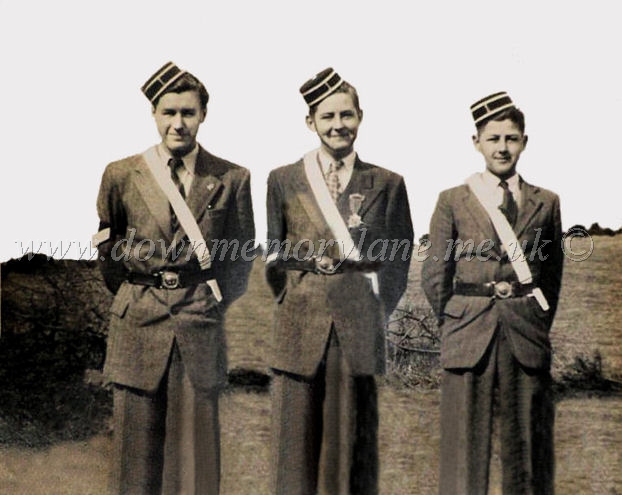 JOHNSTON 3290
This is a 'Band of Brothers' the Johnston's and they belong to the 1st Lylehill Boys Brigade. From the left we have Reggie, George and finally Drew.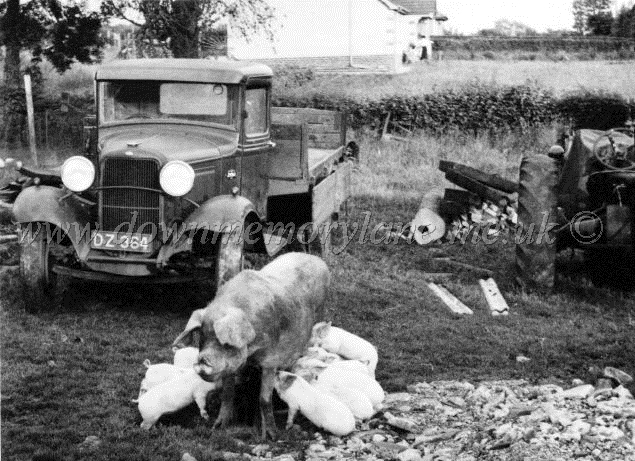 JACKSON 1138
This amusing farmyard scene was taken at the Jackson farm, Nib lock.
Just look at the lorry in the background, straight of Walton's mountain and dear help the pig not a minutes peace also the year is unknown.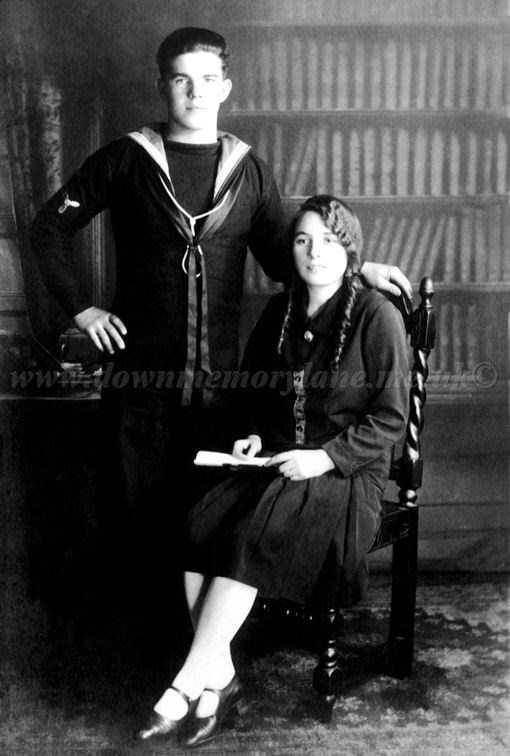 NAVAL WEDDING 1458
This portrait photograph is of Jack and Bridget Jenkins on their wedding day in 1929.
The propeller badge shows that Jack was a Submariner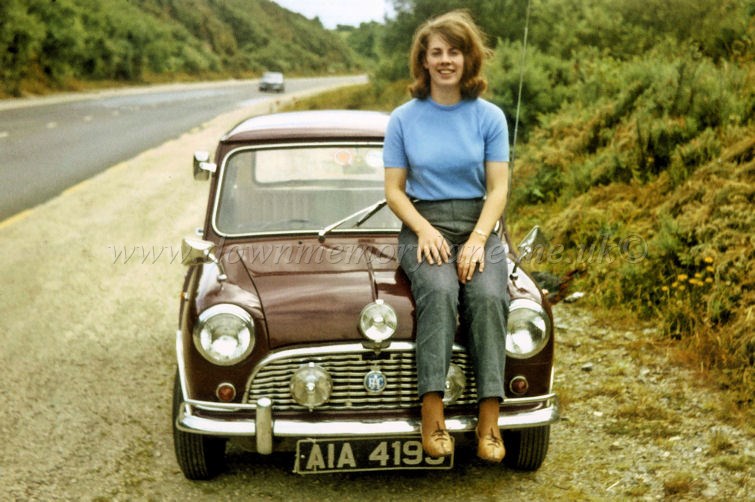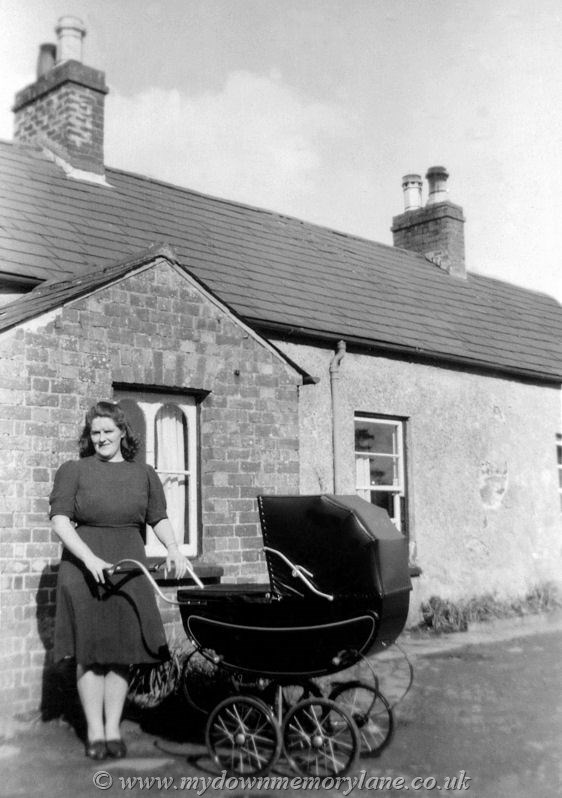 MINI 1784
Seated on a true mini at the side of the road is Meta Johnston nee McCabe.
Meta was returning home from Dublin to Antrim with her husband where they had spent their honeymoon.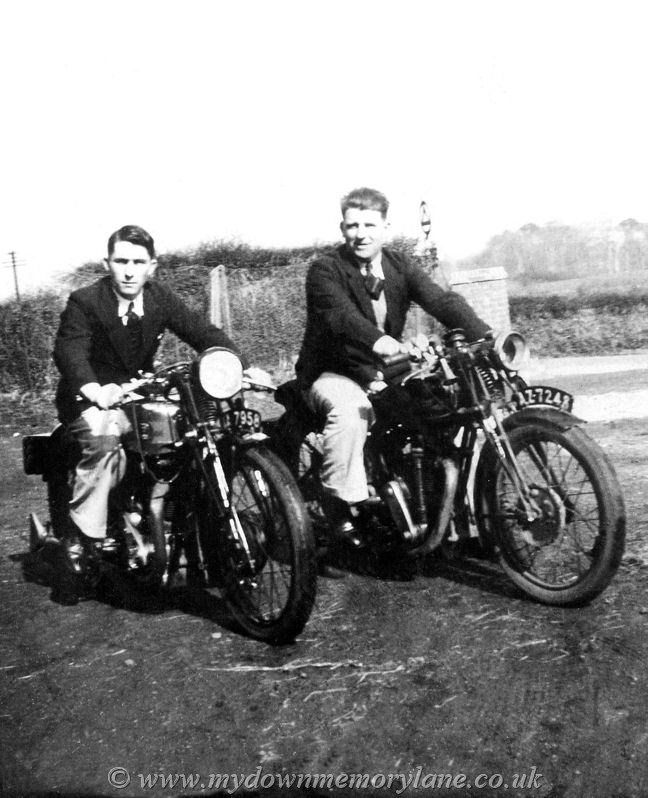 MOTORBIKE PALS 1148
Getting ready to go for a spin in 1944 we have brothers Jimmy and Joe Jackson.