OUT for a DANDER 456
Out for a dander along the Ballymena Road in 1950 we have in the back row: Norman Clarke, O. McConnon, L.Ferguson, P.Connon and Terry Wilson.
Front Row: Frankie Corrigan, Billy Harron, Sammy Kyle and Desmond Adams.

ON THE ROAD AGAIN 2229
You would think Willie Nelson's song 'On the Road Again' had been written especially for Christine O'Neill as she gets ready to roar off down the road.
OUT FOR THE DAY 2277
Out for the day and now having a rest and enjoying the summer's day.
On the left we have Margaret White, then John O'Hagan (with his Bobby Darran look) and finally Rachel Kingsbury. The person taking the photograph is Margaret White's boyfriend considering the grass is flattened next to her.
OULTON PARK 2804
Here we are at Oulton Park on the 1st October 1966 and checking out the bike are Joe Ryan, Ralph Bryans and Ian Macgregor.
OUT FOR THE NIGHT 1496
Out for the night and by the looks of things having a good time at the Deerpark Hotel in 1969.
From the left we have Charlie Gallagher, Sean Kelly, Maurice Cullen, Jimmy McClintock, Dick McKendry and Bertie Brown.
OLD FRIENDS 1674
Standing outside their old school in 1970 reminiscing about the Good/Bad old Days are these two old friends Charlie Butcher and Joe Duffin.
OUR UNCLE 1513
Holding hands with their Uncle Nathaniel White in 1945 are Jim Knox and his sister Anne Knox.
Taken in their back garden in Church Street Nathaniel who was known locally as Thannie was in the A.B.D. Memorial Pipe Band.
ON HOLIDAY 1280
Portrush the holiday destination for most people and this was the case for these young girls from Antrim in 1953. Relaxing getting their photograph taken are Margaret Johnston, Rita Agnew, Margaret Young and Annie Ross. Annie has her own camera with her a Brownie box camera that you had to hold very still so you got a sharp photo.
ON HOLIDAY 1422
Out in the wilds of Donegal and all the way from Antrim is little Pauline McCabe in her Arran sweater and Anna Steele like any other lady holding on to a handbag. The donkey is unknown and also the year.
ON THE SUMMIT 1306
Here on the summit of the Cave Hill in 1928 despite what they are wearing the ladies from Antrim made it to the top.
Agnes Scott who is on the left at the back is the only one known, Agnes four years later married Jack McElrea.
ORR'S GAELIC FOOTBALL TEAM 3500
This is Orr's Gaelic Football team showing off their hard earned silverware.
Sadly at the moment I do not know any of the team's names or the year it was taken.
ORIEL LODGE 2505
This is Oriel Lodge back in 1961, it was used by the contractors for meetings on the construction of the Enkalon Plant, which you can see in the background.
ORR MEMORIAL SCHOOL 348
Children from Orr Memorial School in Antrim pictured at High Street back in 1948 - and there are many familiar faces in the crowd! Included in the Back row are Mr. Killough, H. McLenaghan, D.Huston, K.Rodgers, R.Peoples, R.Mailey, S.McCracken, J.Esler, F. McNeill, G.Currie, A.Kelly, I.Baxter,
A Beresford, R.Allen, L.Houston, W.Creighton, J.Creighton, Miss Smith and Miss Johnston. In the next row you can see G.McCabe, M.Kelly, M.Cummings, G.Doole, G.McKeown, M.Kelly, E.Dewart, M.Alexander, A.Nutt, M.Rainey, O.Boyd, M.Houston, M.Wilson, M.Mayberry, M.McCabe, A.Dewart, M.Allen and L.Beattie. Next up we have S.Houston, S.Knox, L.Cochrane, M.Cochrane, M.Nutt, M.Francey, M.Jackson, J.Kelly, B.McClean, A.Logan, S.Forsythe, B.McCabe, R.Allen, A.Boyd, G.Smith, S.Roberts, M.Molley, J.Beattie, B.Cummings, L.Kane,
P.Flemming, M.Flemming and M.Allen. Finally, along the front are N.McCabe, L.Dewart, T.Cummings, H.Cochrane, D.Franley, B.Jenkins, J.McKeown, D.Carson, J.Francey, B.Cummings, J.Hannan, J.Dewart, M.Cummings, C.Roberts, A.Creighton and J.Hume.
ORR MEMORIAL SCHOOL 434
This picture of Orr Memorial School in Antrim dates back to 1927. The only two children known to me are Norman Beresford third from the left in back row - and Lily Beresford is seated third from the left. The rest of the smiling faces names have eluded me so far.
ORR MEMORIAL SCHOOL 977
Getting photographed against the school wall we have Orr Memorial School Seniors of 1926 who are aged ten and over.
In the back row are Sam Wallace, Edgar Beresford, Jim Allan , R.Nicholl and two boys unknown. Standing with Mr Gault the Teacher in the middle row are David Rea, Sam Hood, Paul McNielty, Gary Jones, Toni Dobbin, Master Hamill, Geo Hardy, Robert McNally and Jim Charlton.
As the nursery rhyme goes ' and pretty maids all in a row ' we have seated Mary Nutt, Masie Cummings, Meta Rea, Dorothy Rea, Eveline Surgenor, Margaret Fletcher, Mary Harrison, Beth Mawhinney and Miss M.Hannon.
ORR MEMORIAL SCHOOL 158
Back Row: Douglas Cooper, G.Reid, Bob Loughlin, Campbell Young, Jimmy Jones, Bobby Hill, Gualt and Aubrey Harrison.
Middle Row: Jim McBurney, Anna McCabe, Hannah Surgeoner, Jeannie Beresford, Ema Creighton, Stewart, MaggieMcNally, Susie Hannan, Margaret Barclay nee Mrs.Murphy, Douglas Cooper and Gualt.
Front Row: Lily Hannan, Mary Jones, Anne Dobbin, Molly Rea, Nancy Graham, Donna Harper and Aggie McDowell.
Date is 1924
ORR MEMORIAL SCHOOL 159
The only pupils known are seated from the left are Mary Rea of Rea's Sawmill, Nancy Graham of Graham's Orchards, both of these girls are wearing plain dresses with Mary Rea's has got circles near the neckline while Nancy Graham's neckline hem has spaced white stiching and also at the end of her sleeves. Then Anna McCabe of McCabe's the butchers dress has a flower stiched at the front. You may also notice that the girl 4th from the left is wearing a woolen dress and they are all wearing laced leather boots. Sadly the rest of the pupils are unknown.
Date is 1920.
ORR MEMORIAL SCHOOL 450
This photograph was taken at the back of the school in 1921.
F.Row: Susie Hannan, Cis Allen, Jean Young, Mr. Gault, Ruby Baird, Mary Hamill and Molly Loughlin.
M.Row: Eileen Paisley, Freda McCay, Jessie Burrowes, Sadie Holmes and Kathleen Stewart.
B.Row:William Gault, Hugh Creighton, Jack Watt, Billy Allen, David McNally, Alex Allen, Sam Graham & Sam Gleghorne.
ORR MEMORIAL SCHOOL TEACHER 3
The date of the photograph along with the teacher's name is unknown.
On the desk in front of her you can see the school bell and books piled either side. In the background you can see a map of the world.
OUTING 1067
All set for the wedding in 1943 we have Mrs McCreedy, Mrs Annie Nesbitt, Mr James Nesbitt holding his son Roy and on the end Phyllis McCreedy.
Standing in front and all eager to go are Joan and Beatrice Nesbitt.
ORR MEMORIAL SCHOOL HEADMASTER 156
This is Mr. Gault and his wife, someone must have died in the family as he is wearing a black armband.
Date is Unknown.
ORR MEMORIAL SCHOOL MONITORS 157
Standing: Bessie Hill, Bob Surgeoner, Ina Officer, Jean Young and Bertie Reid.
Seated: Anna Young, Mr. Gault and Mr. Boal.
Dated 1920's.
My thanks to Ed Cunningham who has gone home of Ontario, Canada for this photograph.
OULTON PARK 2818
Here we are at Oulton Park on the 1st October 1966 and checking out one of the bikes from the left are Tom Finlay, Ian Macgregor. Ralph Bryans, Joe Ryan and Unknown. What a difference from todays top racers, these guys are working out in the rain an old toolbox and a footpump was there gear.
Look at the mode of transport, a car with a roof-rack to carry their luggage, but they didn't care for they just loved racing.
My thanks to Ed Cunningham who has gone home of Ontario, Canada for this photograph.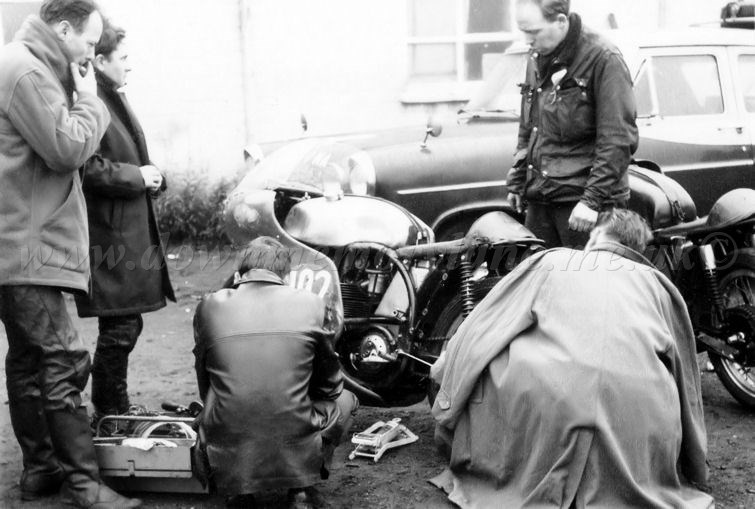 ORR NATIONAL SCHOOL 2946
I'm sure Jame's parents were well proud of him that day, they lived in Parkhall House on the Birch Hill road.

MIKE O' ROURKE 2959
Full concentration on the face of Mike O'Rourke on his M.V. Agusta in the 1956 North West 200.
My thanks to Ed Cunningham who has gone home of Ontario, Canada for this photograph.


Pages: