MARKET SQUARE 856
It's early morning on Market day in 1927 and business is brisk. To the right is part of the Ulster Bank and in front of it is a baker's cart selling bread. Moving over we have a group of men with a couple of young lad with them having a discussion, have you noticed no one is bare-headed. The first stall is selling hardware goods, you can see pairs of Garden Shears hanging up. The second stall we can see is actually a small truck with a flat back and is selling poultry, rabbits ect. You may have noticed that some of the people are blurred, that is because back then the cameras were big and had a very slow exposure and any movement caused a blurr. To give you an idea the two men at the corner of the Court House have a camera mounted on a tripod.
MARKET SQUARE 1263
This is the Courthouse in the middle of Market Square in 1948.
On the left is the Bluebird café, next Tommy Thompson's and Rainey's barber's shop and that brought to the market yard. Over on the right is High Street.
MARKET SQUARE 732
Here we have paddy Smyth's bar on the corner of Castle Street and Market Square in the mid 70's. Next we E.Craig's shoe shop, further up is the Citizens Advice shop and then The Silver Dollar, perhaps the lorry owned by W.J. Hanna is delivering potatoes to it.
MARKET SQUARE 731
Taken in the mid 70's we have the Court House and behind it many buildings that
that were demolished to make way for the Castle Arcade.
McILROY WEDDING 1857
The marriage took place in the Church of Ireland at Templepatrick on the 7th August 1970 and here they are pictured at the Skyways Hotel, Aldergrove
before their reception. They had nine boys and four girls in the family, one more brother here and the title could have been " Seven Brides for Seven Brothers".
From the left we have Samuel McIlroy, his wife Jean; Sidney McIlroy, his wife Rita; Norman McIlroy, his wife Henra; Groom Thomas McIlroy,
his Bride June nee Devlin; Robert McIlroy, his wife Eileen and David McIlroy with his wife Elsie.
MOTORBIKIN' 2190
Out for a spin on his BSA Bantam motorbike is Joe Young. His passenger and mate is Jimmy Kirkatrick.
MOTHER AND BABY 2690
Once more a lovely photograph with sadly no names and the mother had gone to the trouble of travelling to Belfast to have their photograph taken at C.H. Pidduck Royal Studio of 79 Royal Avenue Belfast. Can anyone help to bring this photograph to life and perhaps return to a loved one.

MERIDETH PORTRAIT 869
This charming portrait is of Granny Merideth dressed in all her refinery. The year is unknown.
MERIDETH PORTRAIT 868
This delightful portrait taken in Garfield Street, Belfast in 1938 is Miss Martha Merideth with a waist to die and came from Dunadry
MISS YOUNG 925
Sitting up and looking every inch a lady like she is today is Elizabeth Young in 1963. Nothing but the best for our Elizabeth - for the pram is a 'Silver Cross' the Rolls Royce of prams back then. In the background the car belonged to Sammy Whiteside and it was parked oputside their prefab in Belmont Park.
MILKMAN ? 302
Could this man be a milkman or not? The initials on his cap badge are C. M. S.
MUCKAMORE CRICKET CLUB 2249
In the background is Muckamore Cricket Club and here is one of their teams from the 40's having their photograph taken.
Standing at the back are J McQuilken, V Hamil, B Marrs, J Graham, J Shaw, L Graham, A Francey and J Stewart.
Seated we have B Millar, T Millar, T McFadden, S Henderson, S Young, E MulHolland and J McIlveen. Finally seated on the ground are A Maitland and T Hawkins.
Now for cricket enthuslatsics: Muckamore had just played Ophir. Muckamore scored 84 - Ophir scored 6.
V Hamil 5wk for 1. B Marrs 4 for 4 and No Balls 1. Ophir never played another match.
MENIN ROAD 1022
Here we are at the back of her house on Menin Road Antrim in 1940, is Alice Corrigan.
As if Alice didn't have her hands full looking after her sons Frankie and Seamus, she has the two greyhounds as well!
MERIDETH PORTRAIT 867
This family portrait taken in the 1920's is of Eddie Merideth and his wife who's name is sadly not known.
MILL ROW 144
Photographed around 1907 the workers from the nearby linen mills lived in the thatched cottages.
In the distance as always towering above the skyline is All Saints Parish Church.
McVEIGH 432
This is William McVeigh in 1918 aged 26, he looks quite dapper here.
Perhaps this was before he got married, you can see him in the the photograph of Pogue's Entry with four of his children.
McCALMONT PORTRAIT 1010
This portrait was taken while the First World War was raging in Europe in 1915.
The mother is Annie McCalmont, on her knee is her son Jack McCalmont and to her side is her daughter Rachel McCalmont button boots - no laces!
Take a look at the mother's hat and you will see a large hat pin in it, this was designed to keep the hat on your head.
MUCKAMORE TENNIS CLUB 2248
Here we are in the late 40's at Muckamore Tennis Club for a group photograph.
At the back in the 4th row from the left are Jimmy Tweed, Eddie Smith and Unknown.
3rd row has Betty Holmes, Maeve Harrison, Unknown, Unknown, Eileen Leitch, Margaret Craig, Unknown, Unknown, Unknown and Unknown.
2nd row consists of Unknown, Unknown, Unknown, Iris Maitland, Vera Clarke, Audrey Bullock, Anne Harrison, Betty Caulfield, Meta Gleghorne, Essie Jardine, Unknown and Unknown.
1st row has Eric Rainey, Bill Jardine, Sally Gray, Alan Abercrombie, Eileen Young, Keith Petch and Edith Petch.
In front we have Patterson Craig, Raymond McMaster, Raymond Baird, Unknown, Unknown, E Petch, M Petch, Unknown, Jim McMaster and Unknown.
META DAVINSON 999
Here we have Meta Davidinson standing in their orchard at Dunadry which eventually became part of the Dunadry Hotel complex. The year is unknown.
McELREA'S WEDDING 772
This is the Wedding of Jack McElrea and his Bride Agnes Scott on the 7th September 1932.
The best man was Agnes's brother Joe Scott while the bridesmaid was Jack's sister Sadie McElrea.
Sadie tells me that the photographer told her off for smiling ! and then put a steel rod at her back to stop her moving.
McATEER FAMILY PORTRAIT 848
This wonderful portrait of the McAteer family was taken at the start of the Great War in 1914.
Included are proud mother Mary and children Kay (left) and on her knee is Joe.
Patricia (Kay's daughter) fondly remembers when they had a shop at 33 Church Street which acted as a confectionary, a tobacconist and a cafe.
When the delivery man called with supplies his horse would put his head through the shop door and stay there until the granny gave it a Paris bun.
McNEICE PORTRAIT 1035
This portrait was taken back in 1942 and is of Samuel McNeice and his baby sister Margaret.
McCLURE WEDDING 397
The wedding took place in the 1940's at All Saints Parish Church by the Rev.Kerr.
The Groom was Fred McClure and the Bride was Ann McCright
The Best Man was Freddy McCreight and the bridesmaid was Mary O'Rea
MACKEAN ACCORDIAN MEMORIAL BAND 1872
Standing getting their photograph taken in 1953 we have the Mackean Accordian Memorial Band. From the left are Sammy McQuillan, Freddie McCreight, Adam McFadden, Dan McGrubb, Norman McCaig, Bobby McGrubb, Tommy McCreight, Ella Bamber, Tommy McQuillan, George Bell, Jim McCaig, Elsie Boyd, Davy Bell, Jim Carson, Margaret McCaig, Albert Heming, Robert Bell & Bob Nicholl.
Kneeling are Rubin Reid, Billy Davis, Dennis Hunter and Bobby McVeigh.
MUCKAMORE TENNIS CLUB 2247
This group photo just shows you how popular the Muckamore Tennis Club was back then in the late 40's
At the back we have Patricia Wilson, Eileen Leitch, Ross Morrrison, Eileen Young, Sally Grey and Unknown.
Next row has Unknown, May White, Unknown as well as his child, Margaret Craig, Unknown, Eric Rainey, Cyrie Morrison and Billy Williamson.
Next row are Eric Jardine, Unknown, Unknown, Unknown, Joan Montgomery, Unknown, Audrey Bullock, Marie Abercrombie, Lily Ross and Jean Graham.
Seated we have Betty Holmes, Miss Entwistle, Essie Jardine, Alan Abercrombie and Eddie Smith.
At the front are Archie Campbell, Stewart Coulter, Jim McMaster, Billy Jardine, Jimmy Tweed, Unknown, Patterson Craig and finally Raymond McMaster.
McCABE'S 232
This was taken in the 1890's and standing behind the horse is the owner Eddie McCabe. Standing in the doorway is his wife Elizabeth McCabe with two of their children, as you can see by her dress this photograph was posed as I don't think she would be working behind the counter with this dress on. The two children names as well as the two other men in the picture are unknown.
This was in Church St. and the shop to your right was Pender's fancy goods shop and the white building to your left was the Ulster Bar.Edward McCabe married Elizabeth McCabe nee Kilpatrick on the 16th May 1873 at All Saints' Parish Church in Antrim.
McCABE'S 053
This wonderful picture of McCabe's Butchers in Church Street - Antrim in December 1910. This fantastic display would probably be greeted with horrified disbelief by the Health and Safety Officers today, it was traditional for a 'victualler to display their wares during the 'season to be jolly'. If you look closely enough you can see chickens, turkeys, pigs, and great sides of beef - more than enough for any festive feast. But just to tempt you more the table is full of all sizes of duck! Pictured in the shadow of this meat mountain are Eddie and Nellie McCabe (his second wife), with Eddie holding the hands of his sons Samuel and Bertie. To the left, with his arms folded is Jimmy McCabe. The large display was on the instructions of Lord Massereene.
The shop to the right belonged to Pender's who sold jewellery, fancy goods and toys. Take a close look and you can see hanging up outside a small wooden horse on wheels, above it is a gun with sucker darts and target, right at the top side by side are small prams to catch the eye of the local childrenas the 'big day' approached.
McCABE'S 052
This photograph was taken in December 1900 in Church Street.
Here you can see Mrs.Elizabeth McCabe and to her side her husband Eddie McCabe.
On display you can see Chicken, Duck, Turkey, Pig, Sheep and a great side of beef.
McCABE'S 1618
Now you will be saying Len has put in two photos the same, well he hasn't, they are different. Remember when taking a photograph back then you had to stand still for two or three minutes. There are four differences if you think you know put your cursor over the place in the right hand picture.
McCABE'S 354
This is Grandfather John McCabe with his daughter Nora McCabe wearing an Australian frock in the back yard behind Church street. The year is unknown.
McMASTER 594
This is Johnny McMaster, who for many years was a popular barber in Antrim, pictured outside his shop on High Street in 1927. He is accompanied by his younger brother Stewart, who was an apprentice at the time. The shop stood next to High Street Presbyterian Church but sadly it was demolished in 1979 on the very day they laid Johnny to rest.
McCABE'S 349
This is the back yard of McCabe's butchers and the men are John , Herbie and Ernie McCabe. The two children are Herbie and Anna McCabe. The year is 1938.
MUCKAMORE TENNIS CLUB 2246
Here are some of the members of Muckamore Tennis Club having their photograph taken.
Standing at the very back from the left are Trevor Herbinson, Dennis McCrum, Noel McCurry and David Clement. The next standing row has Marie Johnston, Unknown, Brian McGunn, Maureen Herbinson, Harry Latimer and Norman Craig. Seated we have Unknown, Pat Bartholomew, Nigel Gould, Mr Ferguson Grainger, Lily Ross, Joan McCrum and Denise Johnston.
Kneeling are Audrey Whiteside, Judith Whiteside and finally Isabel Gaston.
McCABE'S 343
Taken in the back yard behind the Butcher's shop in Church Street.
This is Herbie McCabe looking real swank and his mother Annie McCabe nee Taggart.
The year is unknown.
MAY QUEEN 1109
It is May 1946 in Milltown and the little lady all in white in the centre is Elvina Keith the May Queen.
Holding up her train is Josephine Woods and on her left is Norma Napier. The rest of the children are unknown. Elvina Keith when she grew up became a Beauty Queen !
MAY QUEEN 1038
This is Castle Park down the Randalstown Road in 1950 and here we have some of the children dressed up for May Day.
In the back row are Mabel Paisley, Emily Rankin and Doris Paisley. At the front with her hands on her hips and shy smile is Helen Francy, then the May Queen herself Anne Hannan, also dressed up is Joan Mercer, then Edna Francy and Elizabeth Peoples.
MAXOL SERVICE STATION 1113
Antrim beauty Queen Elvina Keith filling up the car at the Maxol Service Station on the Ballymena Road which Elvina has just officially opened in 1963.
Personally I don't blame her, take a look at the price of the petrol that works out about 31p a GALLON !! The name of the Maxol attendant is unknown.
MAXOL SERVICE STATION 1112
Here we have Adam Erwin along with a representative from Maxol and the Council and cutting the ribbon to officially open the station which was on the Ballymena Road is Antrim's lovely Elvina Keith in 1963. Today the station the no longer exists.
MASSEREENE GOLF CLUB 2244
It's 1995 and the Centernary clebrations of Massereene Golf Club.
They held an Exbition match and here in this photograph we have from the left John McConnell (captain), Stephen Hamil (professional), Jimmy Hagerty (professional), Sammy Wallace (Club President),
Jim Smith (Club professional), Paul Russel (Club Ast Professional) and finally Jean McMaster lady captain). Stephen Hamil and Jimmy Hagerty both played their boyhood golf at the club.
MASSEREENE STREET 1027
Here in a back garden off Massereene Street we have proud father Jim McCaig in 1945 with his two sons Norman and Jim junior.
Next door was Jimmy Stevenson's with the large greenhouse and in the distance you can see the spire of All Saints' Parish Church.
MASSEREENE STREET 332
This is Maggie Hannan in Massereene Street and in the background you can see Riverside.
The date is unknown.
HARRY MORGAN 2241
Now this portrait photograph of Harry Morgan was taken in 1955.
Harry worked in the bar at Hall's Hotel and it was there that he met his wife Margaret.
MASSEREENE STREET 168
In the centre is the mother Rachel, on her left is Annie and on her right Rachel.
This is at the top of Massereene Street and if you look closely to your left in the background is a little old lady in black going into a thatched cottage.
Date is unknown.
MASSEREENE STREET 439
This is Massereene Street in July 1932.
The photograph was taken in the middle of the road in Bridge Street and as you can see the pavements were cobbled back then.
ON YER BIKE 2507
This is Mabel McCaige outside her home in Summerhill in the early 50's. Later in life Mabel gets married and her surname becomes Graham. It's just after 8am and Mabel is just getting ready to set of to York Street Flax & Spinning Mill offices where she works. Just look at the road, no tarmac back then, the footpath is all cobbles and the water butt to collect the rainwater for family use. Now Mabel is doing what hundreds of other workers did back then, myself included. To get to work you got "ON YER BIKE".
MASSEREENE STREET 1026
Standing in the back garden in Massereene Street in 1945 we have the McCaig children Norman, Margaret and in front Jim and Irene.
The next garden on the right belonged to Jimmy Stevenson and you can see the greenhouse is the length of the garden.
MASSEREENE STREET 322
Taken in Massereene Street in the background you can see Riverside and part of All Saints' Parish Church. The date is unknown.
The lady is Maggie Hannan and the little boy is Jackie Baird.
MASSEREENE WORKHOUSE 2513
This familiar building being photographed in 1895 was then the Massereene Workhouse.
The men at the doorway worked there, the man on the left is Nathaniel Simpson who was the Workhouse Master, and the man on the right is Unknown. To the far right is a dog perhaps it is Nathaniel's.
MASSEREENE STREET 328
This photograph was taken at the back of Massereene Street and there must be some pigeon fanciers living nearby. Seated on the Ariel motorbike is Eileen Swan and in the sidecar is Maggie Hannan. The date is unknown.
MASSEREENE STREET 324
Taken in Massereene Street on the right is Annie Baird and Maggie Hannan.
Behind them you can see All Saints' Parish Church and Riverside.
MASSEREENE STREET 321
This is the back of Massereene Street, in the wheelchair is Jackie Baird with his young nephew Jackie Baird.
The date is unknown.
MASSEREENE STREET 331
Taken at the back of Massereene street, seated is Miss Eileen Swan and standing beside her is Maggie Hannan. Behind them you can see Riverside and Mill Row, it is greatly changed from then. The date is unknown.
CHARLIE MORGAN 2238
This is Charlie Morgan studying the No.1 hole at Massereene Golf Club. Quite rightly so for back in 1975 Charlie was the first juvinille at the club to win the 'Golfer of the Year' trophy.
MUCKAMORE NATIONAL SCHOOL 2653
Here we are at the side of Muckamore National School and the girls are all set for their cookery lesson.
In the back row are P McCabe, L White, B Jackson and R Gregg.
The middle row has M Jackson holding an enamel mug, J Graham, B McCabe, L Craig, J Judge, G Steele and the teacher is Lousie Entwistle.
Seated are E McMeekin has a kettle, E Gregg a mixing bowl. M Hay an iron, M Long a pan, E Doole an iron and M Close has a large cooking pot. Now M Close's shoes have a large silver buckle on them while the shoes the teacher is wearing you can buy in the shops today with crossover straps.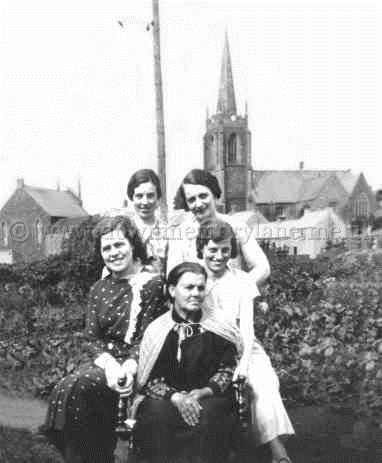 MASSEREENE STREET 318
Taken at the back of Massereene Street, standing at the back we have Aggie Baird and Mrs.McBride nee Wallace.
Next is Maggie Hannan and Jeannie Baird, seated is Mrs. Baird.
The date is unknown.
MASSEREENE STREET 320
Seated on the trolly is Mrs. Baird with Jackie Baird on her knee. Behind her to the left is Maggie Hannan, the girl to the right is unknown and in front of her is Jeannie Baird.
In the distance you can see the houses in Riverside, the date is unknown.
MASSEREENE STREET 283
This is Eileen Swan with Maggie Hannan in Massereene Street, behind them is Mill Row and All Saints' Parish Church. Date is also unknown.
MASSEREENE STREET 319
Taken in Massereene Street looking towards Riverside you can see part of All Saints' Parish Church and the buildings and in the foreground we have Maggie Hannan. The date is unknown.
MASSEREENE STREET 247
Standing in their back garden at the back of Massereene Street is Samuel Wallace with his mum Katherine Wallace in 1927.
MASSEREENE STREET 305
Visiting their Grandmother in Massereene Street we have Anna and Herbie McCabe.
By the way they were not allowed to call her anything but CABBIE ! The year was 1940.
MASSEREENE STREET 316
Standing arm in arm in Massereene Street we have Eileen Swan and Aggie Baird.
In the background you can see All Saints' parish Church and Mill Row in Riverside.
The year is unknown.
McKEOWN CHILDREN 2481
It's 1959 and we are in the back garden of the McKeown family down at Moylena.
All smiles and looking as pretty as always is Len McKeown (now McComb) holding her baby brother Colin in her arms after lifting him out of his pram which is in the background
MASSEREENE STREET 297
On the right is John Baird in Massereene Street, the dog and the young man are unknown.
Date is unknown.
MASSEREENE STREET 284
Standing in Massereene Street is Anna Baird. The date is unknown.
MASSEREENE STREET 306
Seated is Billy McGrath and to his left is Jeannie Baird and her sister Lily is on the right. The date is unknown.
DAVID McMEEKIN 2376
This is Davy McKeein with his 500 GP Norton motorbike on one of the muddy roads around Antrim back in his day.
MASSEREENE STREET 281
The lady on the motorbike is Maggie Hannan the rest of the people are unknown and so is the date.
Someone likes to keep pigeons as behind them you can see their lofts.
MAGHERALIN FLUTE BAND 1894
This is Magheralin Flute Band just passing Paddy Smith's bar in Market square in the 1970's
I have no names as of yet.
BAND 2323
These two lads were well known on the music circuit and here they are in the 70's still belting out the tunes.
Apparently they were in great demand for once they started playing you couldn't keep still and had to get up and dance! The famous lads names are Alfie Molloy on drums and Sam McComb on Accordian.
McKEOWN CHILDREN 2480
Sitting on the wall out at Muckamore in the early 60's we have Len McKeown (now McComb) and her little brother Colin.
FAMLIES OUTING 2451
Out for the day these families from Antrim are having a great time while having their photograph taken back in 1947. In the group we have Pasty Flowerday, Jean Parks, William Bellshaw, Billy Millford, Norman Bellshaw, Jean Bellshaw, Sam McComb junior, Kathleen, Annie, Jeannie Park and F.W.Park.
LEN McKEOWN 2492
This bonney wee lassie has not changed a bit even though a few years has passed since she was 6 years old in this picture. Want to know who she is? Well she hasn't lost that twinkle in her eyes, it is of course Len McKeown now a McComb.
COLIN McKEOWN 2482
This is Colin McKeown when he was about 10 years old heading off to school.Colin is also a Wolf Cub and belongs to 1st Muckamore Pack and is proud to wear his cub badge.
McBRIDE SISTERS 2413
Seen here having their photograph taken back in my good old dancing days are Agnes and Ruby McBride.
These are the dancing outfits of the era and the white shoes a must especially for jiving!
AGNES MILLER 2416
Sitting patiently outside the shop in Groggan for her mummy is Agnes Millar.