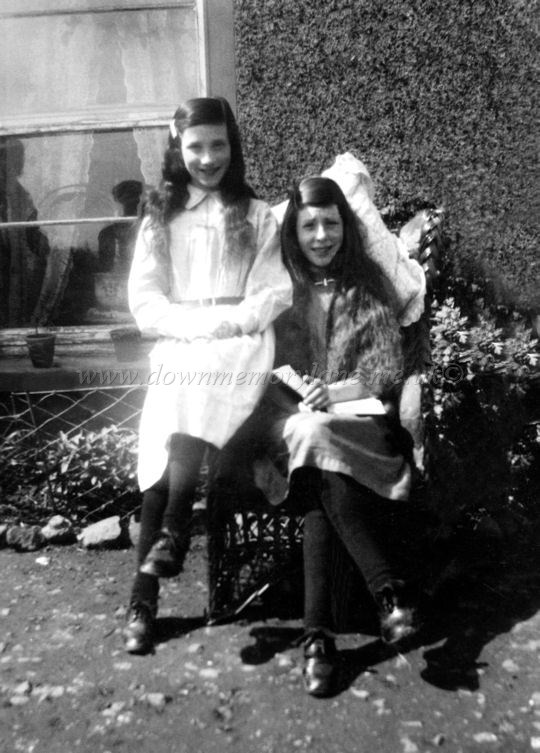 MONTGOMERY SISTERS 934
Enjoying the sunshine outside their home are sisters Jane and Mary Montgomery. The year is unknown.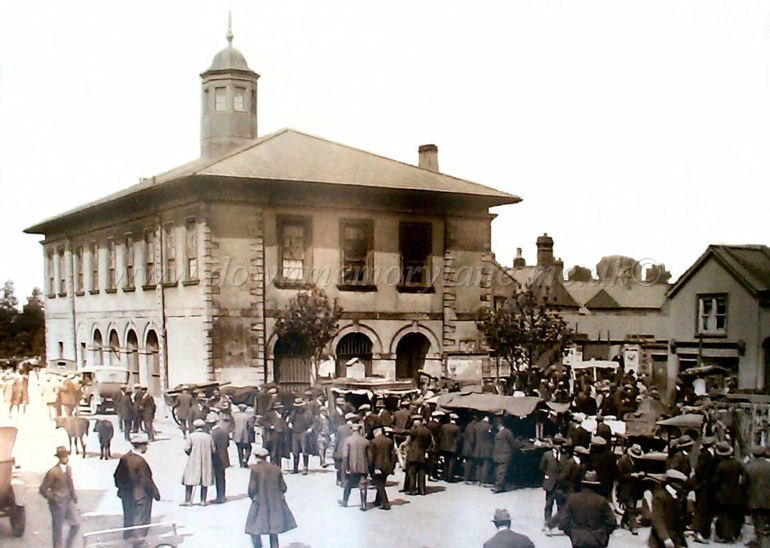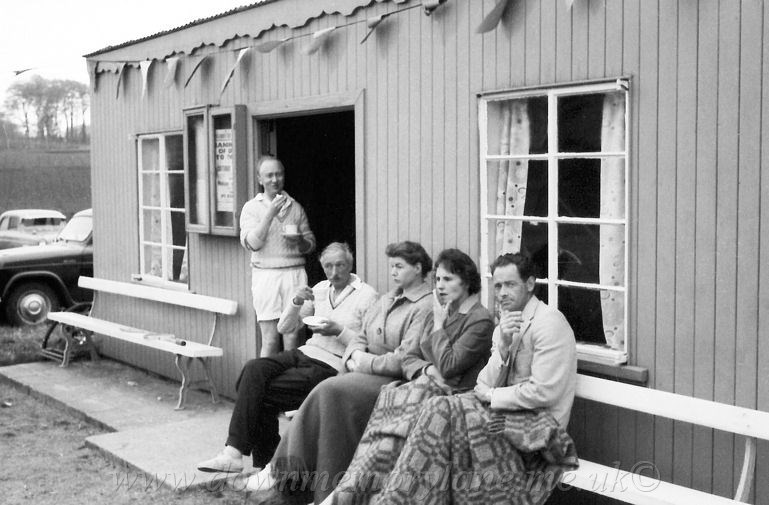 MUCKAMORE TENNIS CLUB 2262
Here we are at Muckamore Tennis Club in the 60's on what looks like a cold day.
These members who are unknown at this time, two enjoying a cup of tea while the other three keep warm while waiting their turn to play.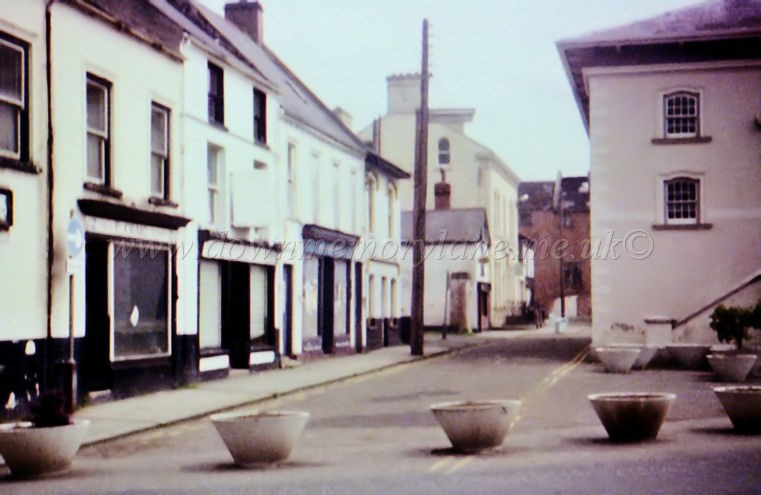 MARKET SQUARE 2287
This is Market Square in the 80's and on the right is the Market house.
In the distance you can see the Ulster bank. The entrance next to the white building was the cattle market.

MARKET SQUARE 20
This picture of Market Square in Antrim was taken in 1927 by acclaimed lensman William Alfred Green. It captured the hustle and bustle of 'hiring day' in the then thriving market town. The imposing building dominating the picture is, of course, the courthouse which until its closure in 1994 was the oldest of its kind in Ireland. Built in 1726, it has remained remarkably unchanged to the present day. The small Italian style cupola was added in 1817
The upper floor was where the courts were held and the ground floor was an arched market hall. By 1836 the ground floor had been turned into a prison yard for prisoners attending the courts and also for drunks and rioters. The arched recesses on the right of the building had bars added to them and this became a narrow exercise yard for the prisoners who could shout abuse at people walking past.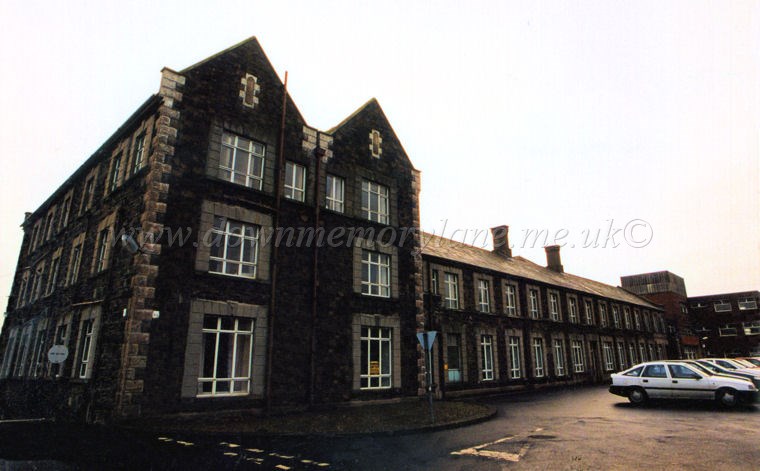 MASSEREENE HOSPITAL 2293
This wonderful hospital from the 80's was called the Massereene Hospital and was
formally the Antrim Workhouse. Now it is is gone and in its place is a Tesco supermarket.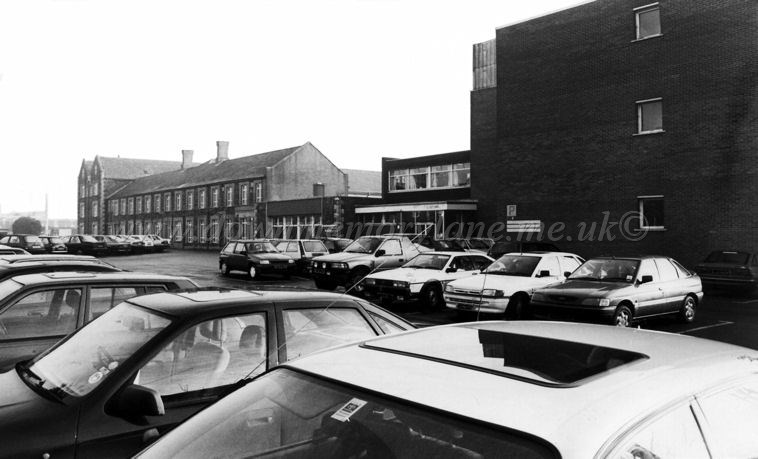 MASSEREENE HOSPITAL 2294
This photograph of Massereene Hospital in the 80's shows how busy it was back then.
As Antrim's only workhouse it sadly had to make way for so-called progress.
MASSEREENE BRIDGE 1602
Taken early on a cold winters day we have Anna Wallace with her fur coat and mittens on, around her neck Anna is wearing a watch chain and fob. With her is her niece Margaret Kyle standing at Massereene Bridge in Bridge Street. The year is unknown at the moment.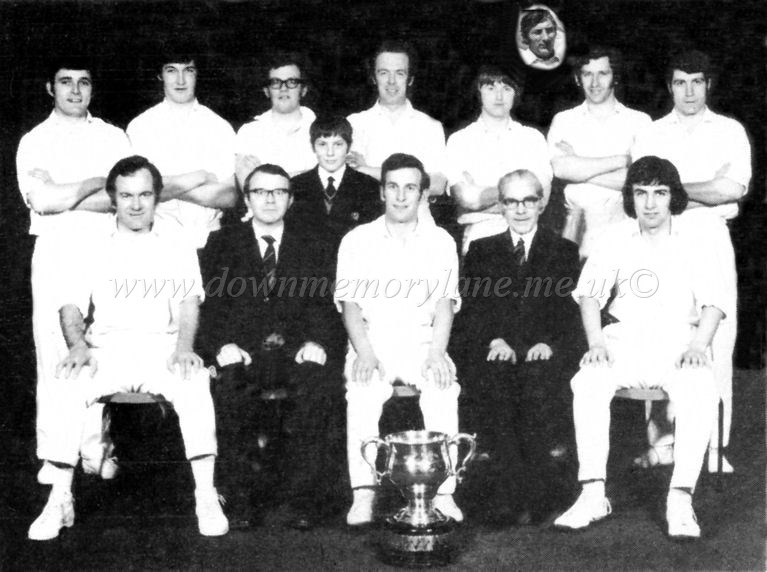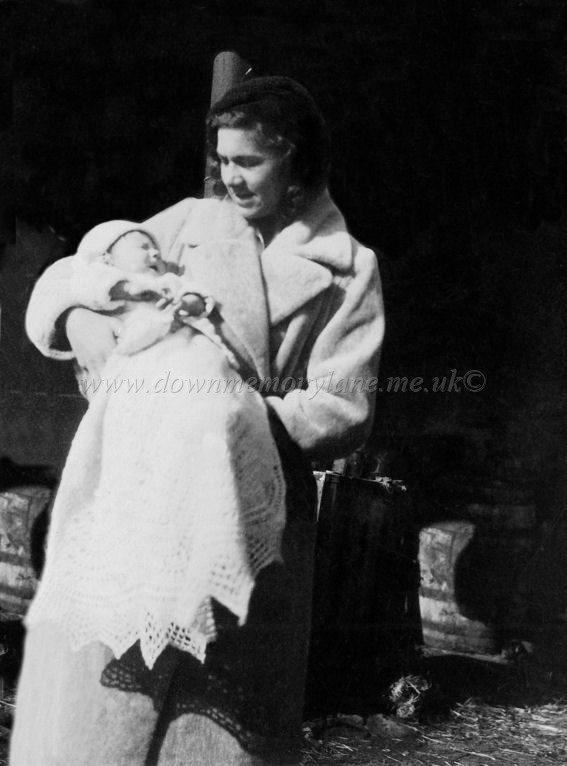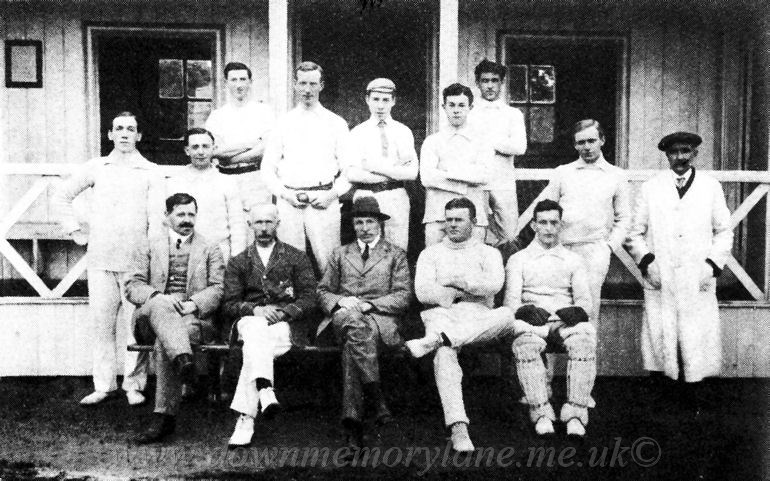 MARKET SQUARE 1605
Here we have Mrs Hallis who helped run the Merry-go-Round holding baby Sammy Kyle in her arms.
Mrs Hallis is admiring the lovely crocheted woollen outfit that Sammy is wearing. This would have been hand made so think of the many loving hours that went into making it and it would have been dearly treasured.
MUCKAMORE CRICKET CLUB 1336
Outside their club house we have Muckamore Cricket X I back in 1913.
Standing from left we have J. Hamil, E. Wiley, R. Casey, G. Reid, J. Quinn, J. Lilley, J. Kernaghan, R. Forbes and J. Logan the Umpire.
Seated at the front are J. Entwistle (Hon. Secretary), A, Reid (V. Capt.). G. Reade (President), J. Entwistle (Capt) & R. Lilley.
MUCKAMORE CRICKET CLUB 1335
We have here Muckamore Cricket Club 2nd XI of 1971 and winners of the Second Divison "B".
Back row has J. Law, D. Campbell, S. McFarland, W. Ross, G. Ashton, A. Craig, P. O'Hara and S. Hamilton.
Seated are W. Boyd (V.Capt.), P. Campbell (Chairman), B.Boyd (Scorer), B. Craig (Capt.), J. Ross (President) and I.McMeekin.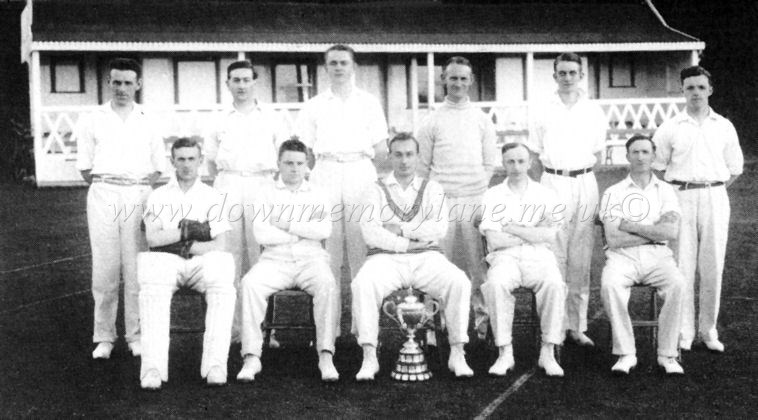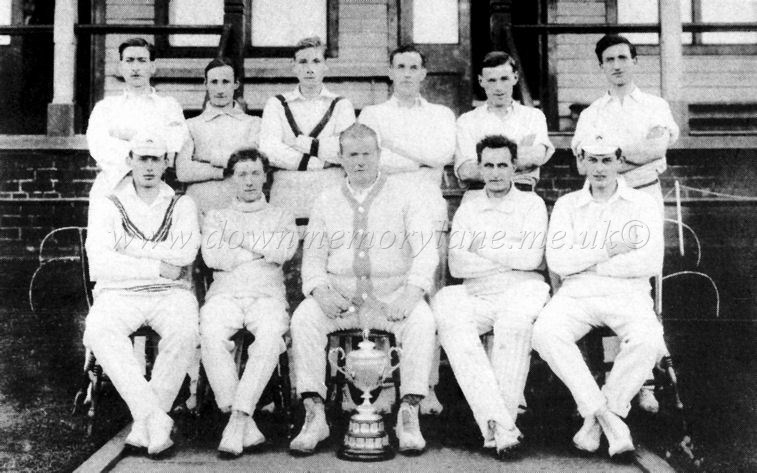 MUCKAMORE CRICKET CLUB 1338
With their club house in the background we have the Muckamore Cricket team who in 1931 won the Junior Cup.
Standing from the left are P. McCormick, J. Kelly, W. Reid, G. Pinkerton, J. Crook and T McFadden.
Seated we have E. Erskine, N. Entwistle, C. Webb, C. Crawford and J. Hamill.
MUCKAMORE CRICKET CLUB 1337
Winners of the Junior Cup in 1923 we have Muckamore Cricket Club.
Standing at the back are J. Kelly, R. McCully, S. Peel, J. Patton, P. McCormick and J. Hamill.
Seated are C. Webb, S. McCully, J. Entwistle, W. Crook and A. Webb.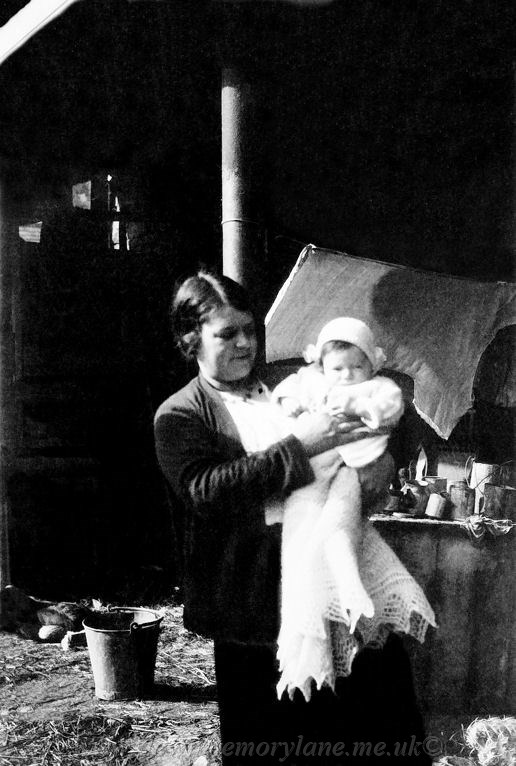 MILKMAID 1313
This fantastic picture is proof that Antrim made the switch from green fields to suburban sprawl within a single lifetime. Incredibly, this photograph was taken at the Folly in the 1930's and there is not an estate in sight! It appears that this fair maid, who is sadly unknown, is bringing the family cow home for milking back in the 1930's.
MARKET SQUARE 1604
This is Miss Hallis holding baby Sammy Kyle in her arms in what looks like a Christening robe. Miss Hallis helped her mum run the Merry-go-Round during the summer season in Antrim.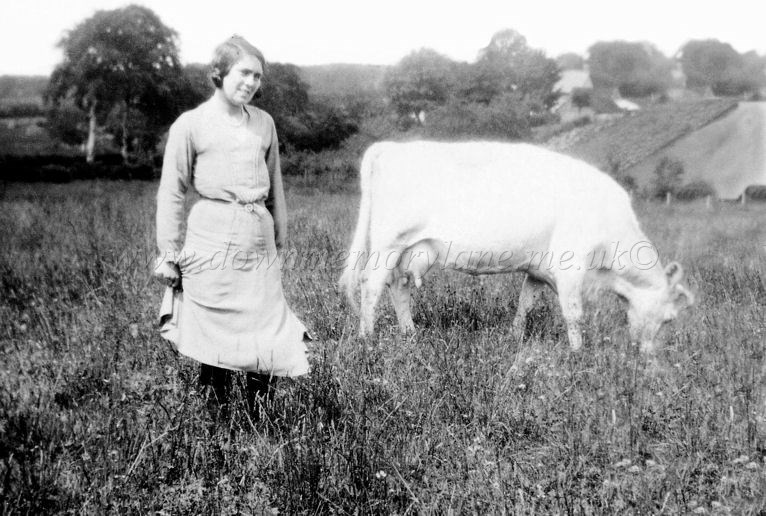 MASSEREENE GOLF TEAM 1288
This is the Massereene Golf team that were sadly beaten in the final of the Fred Daly Cup in 1975 along with club members.
Here with Mr. S. Wallace, team manager; is Mr. S. Cloughley, assistant team manager; Mr. L. J. Holmes, club president; and Mr. Dia Stevenson, club professional. The team's names are J. Heggarty, E. Hughes, J. McMeekin, K. Thompson, G. McCrea, M. Smith, C. Morgan and C. Lowery.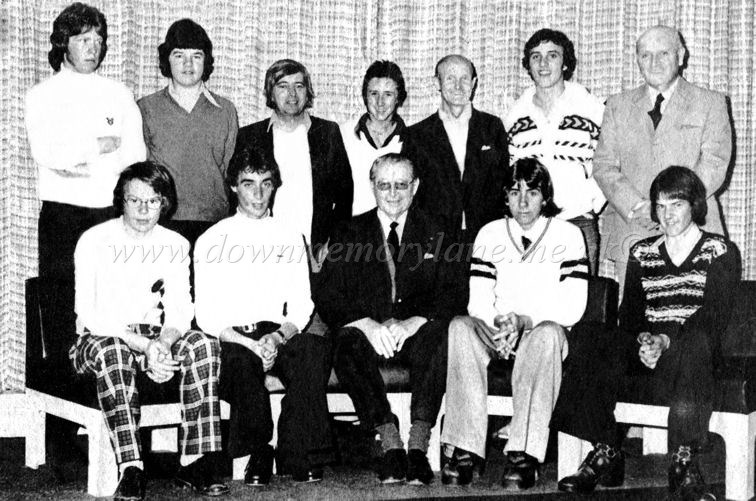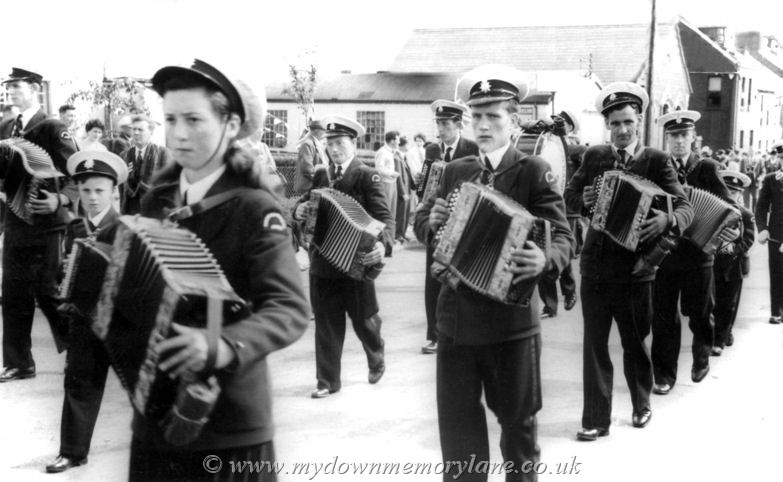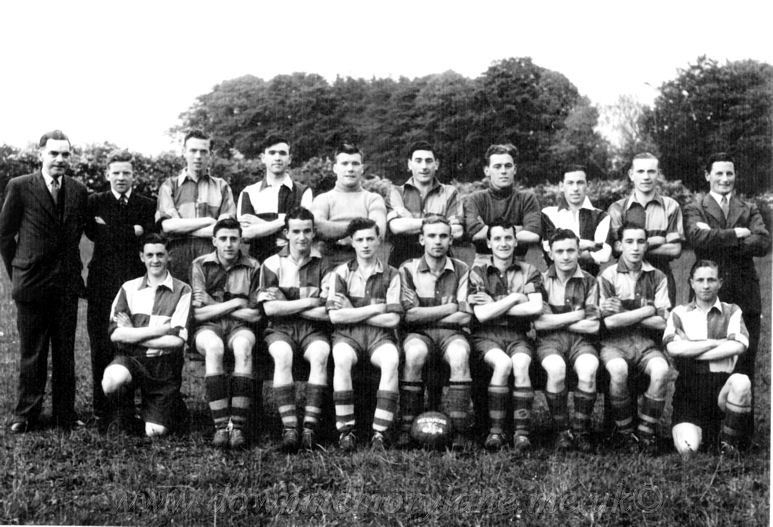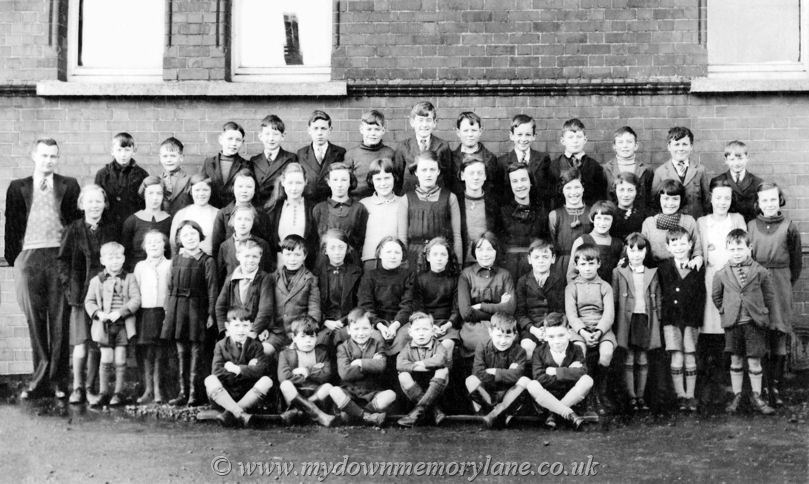 MACKEAN MEMORIAL ACCORDION BAND 1327
Playing a lively tune as they march along the Main Street, Ballyclare in 1958 is the Mackean Memorial Accordian Band. The little boy is called Robert Bell, to the right is Rachel Kingsbury, behind her is Davy Loughlin and Jim McCaige.
MASSEREENE NATIONAL SCHOOL 1363
Here we have Massereene National School class of 1938 getting their school photograph taken.
In the back row are Mr. Bell (Teacher), Walter Bates, Malcom Fleming, Master McCullough, Bob Fawcett, Tom Allen, Eric Jarden, Ronnie Ludow, Billy Anderson, Maurice Hilland, Sam McKee, Bobby Hood, Harry Rankin and Sammy Fawcett. The next row has Linda Anderson, Maudie Wallace, Unknown, Dorothy Bates, Gertie Fawcett, Mary Law, Alice Fleming, Violet Acheson, Evelyn Kissick, Selina Anderson, Margaret Fleming, Miss Higginson,
Alice Fleming, Ina Fleming and Martha Millar. Front row on the left are Lindsay Fawcett, Unknown, Unknown, and Unknown. Front on the right are Caroline Kissick, Unknown, Billy McKee and Unknown. Seated we have Master Donaldson, Fred McCreight, Margaret Higginson, Unknown, Unknown, Unknown, Tom Fleming and Unknown. On the ground are Eddie McCabe, Unknown, Davis Hanhan, Master Bates, Brian Beggs and Master Baxter.
MUCKAMORE PRESBYTERIAN FOOTBALL TEAM 1276
Here we have all the players who are in Muckamore Football team and the season was 1953 - 1954. Standing are Jimmy Ross, Willie Craig, Billy Ross, George Graham, George O'Neill, Robin Steele, Ernie Smith, Jim Higgins, Basil Kinnen and William Burns.
In front we have Andy Francis, Tommy Beck, Jimmy Steele, Wilson McClure, Johnny Kinnen, Unknown, Bertie Jones, Billy Beck and William Patton.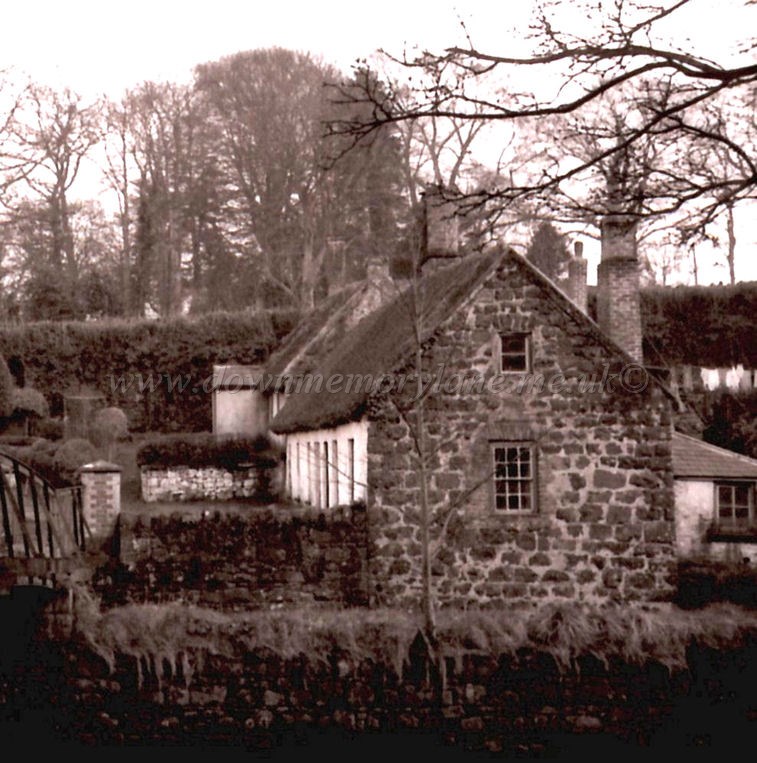 MOYLENA BANKS 1354
This idyllic photograph was taken in 1959 at Moylena.
Taken beside the sadly missed Shakey Bridge it shows the two cottages with their neatly kept front garden and as always the ladies hard work out on the line.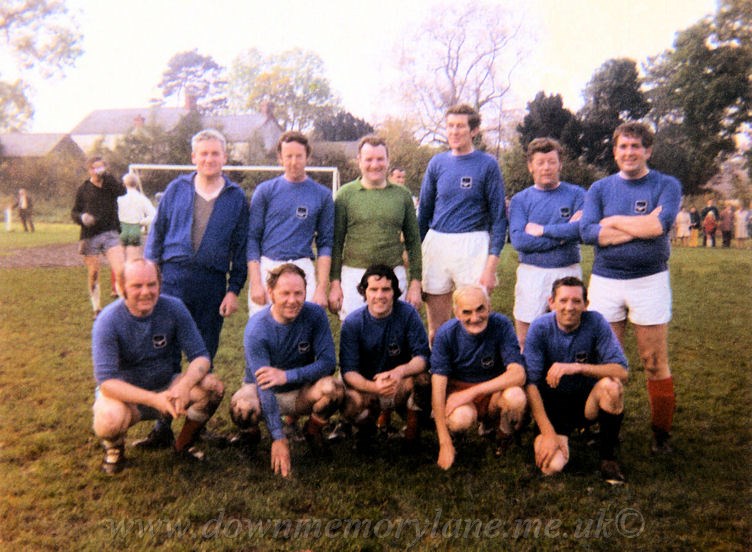 MAHAFFEY'S FOOTBALL TEAM 1876
This is Mahaffey's Football Team after a football match in 1972 in which they lost 4 - 1 to Hall's over 35's football team.
At the back are Dessie McClure, Brian McCabe, George Hannah, Jim Kilpatrick, Jimmy Kilpatrick and Ken McKittrick
In front we have Jack McLaughlin, Joe Lavery, Sidney Quinn, Davy Burrowes and Tommy Whiteside.
Now you might be wondering why they are smiling after loosing, well in reality they didn't for this was a special match. It was sponsored by Sloan's Dairies from Ballymena, Hall's Hotel and Bobby Barron's. The winners received a cup given by Bobby Wilson of Hall's Hotel, sadly the cup was destroyed by a bomb.
Around 500 people watched the match at the Chimney Corner football pitch with all takings going to charity.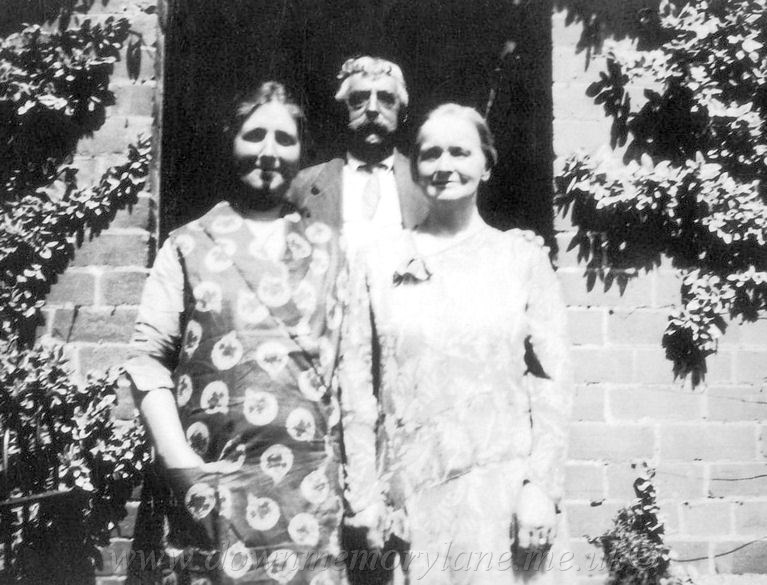 MUCKAMORE VILLAGE 609
Photographed outside her charming home at Muckamore Village is Mary Stewart - and it was something of a special occasion! The picture was taken to mark the visit of her Aunt Kitty and Uncle Archibald Kefford, who travelled to Antrim from Wales for their holidays in the summer of 1932.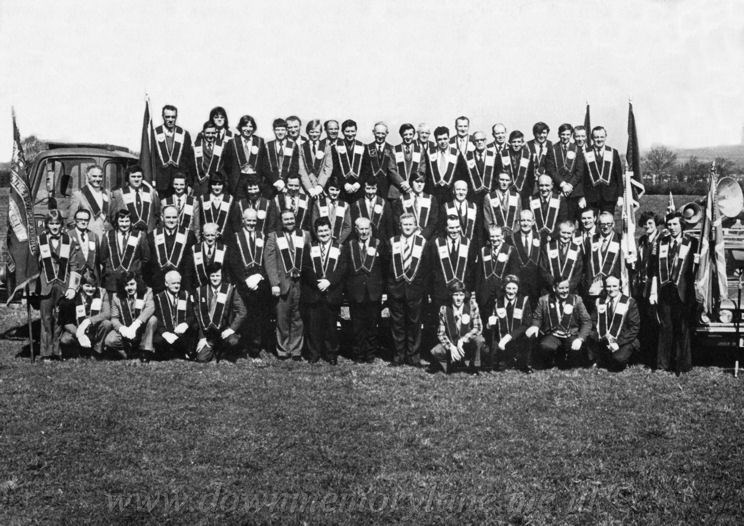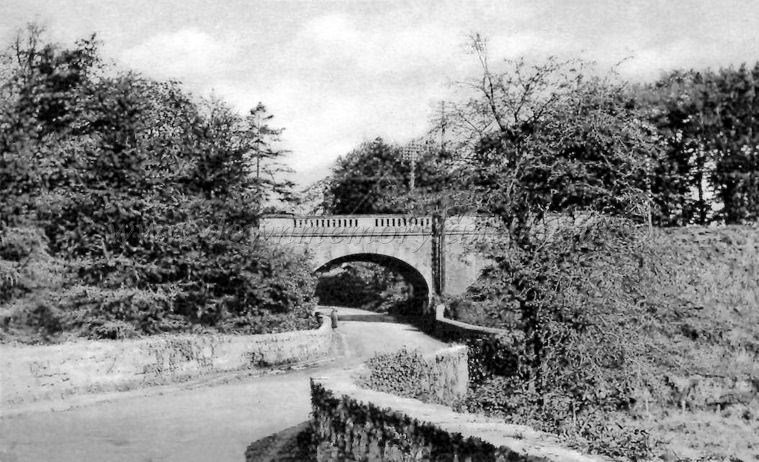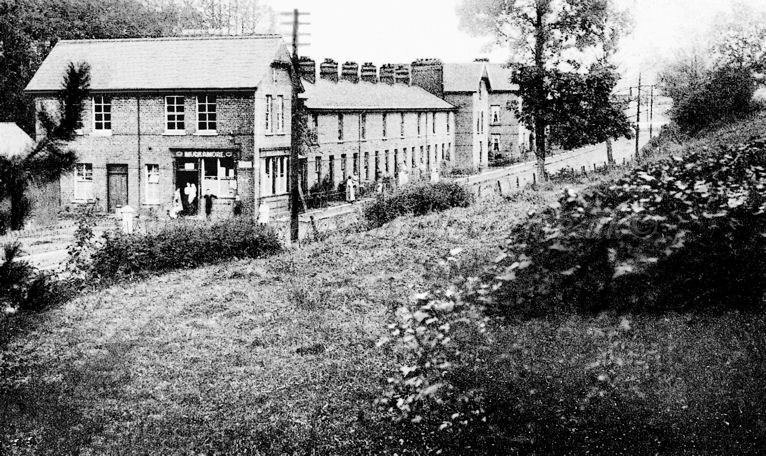 MUCKAMORE TERRACES 148
The York Street Flax Spinning Company had a mill here, this is Abbey View and these were the mill workers houses. The larger houses at either end of the row housed the ' Gaffers '. The house to your left was the post office and the one at the far end was the general store. The row of houses behind them are called Race View because they are near the mill race.
Date is unknown.
MUCKAMORE RAILWAY BRIDGE 147
This bridge along with a few others was built to bring the trains to Antrim town. The date on this bridge is 1847 a year before the first train arrived in the town. The bridge is close to Muckamore village and spans the road leading to the Airport. In front of the bridge is another bridge which is far older and spans the Sixmilewater river.
MURRAY LODGE A.B.O.D. 509
The members ,the place and the year are all unknown.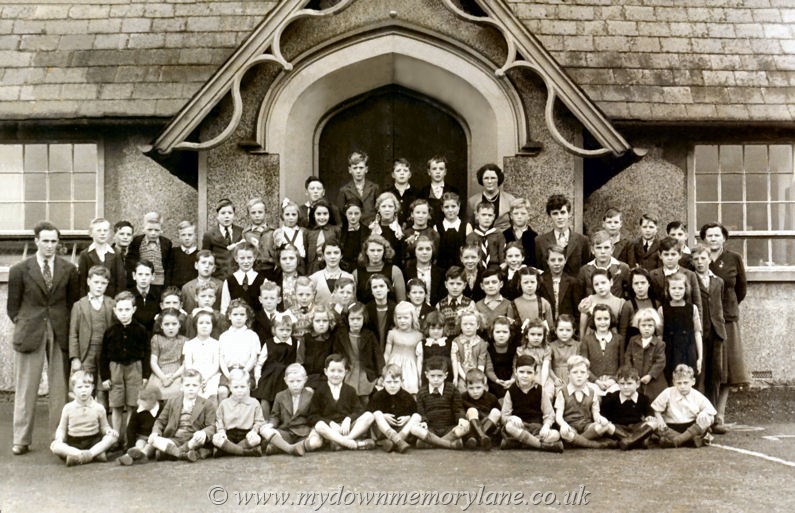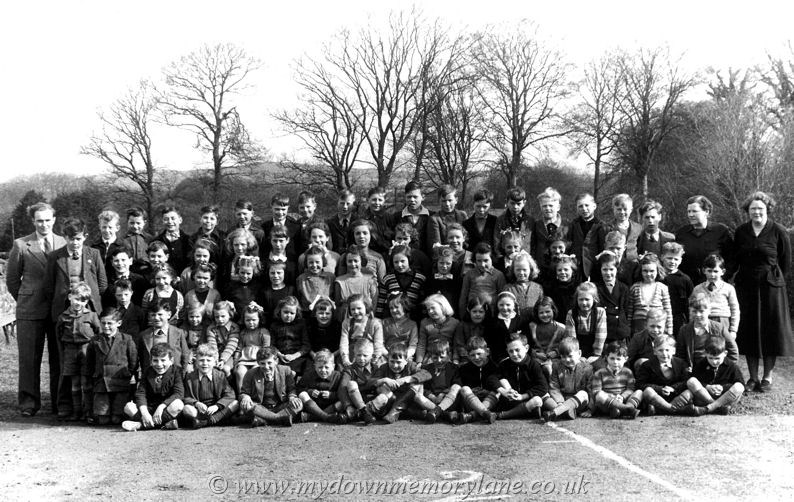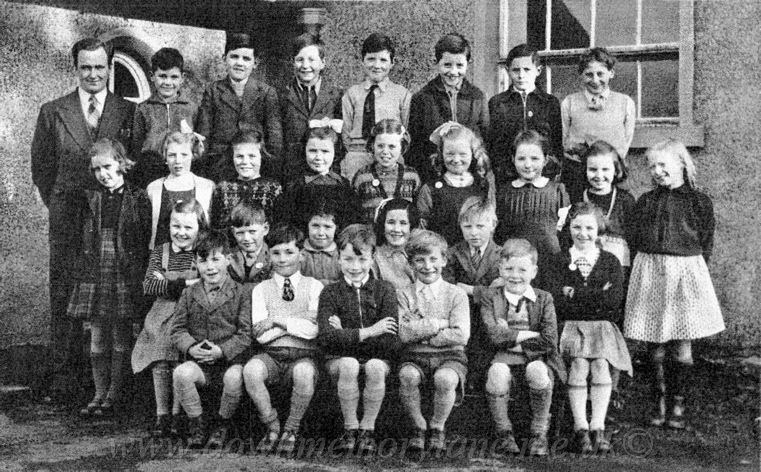 MUCKAMORE NATIONAL SCHOOL 1077
Outside the front of Muckamore school in 1947 the pupils and teachers are getting their photograph taken. Right at the back on the left is Willis McKelvey, Bobby the Monk Huston, Unknown, William McCooke and Mrs McClung. In the 5th row are Mr Joe Witherspoon, Desmond Reid, Unknown, Thomas Barnes, Harold Marques, Dan McCooke, Rosaleen Magill, Madeline Fleming, Joan Mintford, Margaret Cummings, Margaret Craig, Elizabeth Magill, Robin McNeilly, Bertie Cummings, Billy Hill, Sammy Young, Norman Jackson, Archie Campbell and Miss Louise Entwistle.
The 4th row has Walter Wright, Patterson Craig, Benny Woods, Margaret Reid, Agnes Jackson, Elver Wallace, Margaret Steele, Kathleen Jackson, Marjorie Wright, Eileen Leech, Dorothy Young, Basil Kinnen, Unknown and Steven McCooke. At the start of the 3rd row is William Caulfield then Henry Jones, Mervyn Cummings, Robin Hamill, Houston (Black Santa) McKelvey, David Craig, Peggy Smith, Unknown, Jim Kane, Gregory Wallace, Elsie Hamill, Isobel Drummond, Pamela Fleming And Jackie Magill. Seated we have Unknown, Margaret Campbell, Hetty Jones, Carol Crowther, Fiona Woods, Wilma Smyth, Patricia Cummings, Unknown, Doreen Hamill, Margaret White, Marjorie McCombe, Doreen Drummond, Isobel Francey and Miss Woods. Finally sitting cross-legged are Charles McCooke, Unknown, Daniel Barnes, Samuel Craig, Raymond Reid, Thomas Wilson, Thomas Craig, Andrew Francey, Winston Young, John Logan, Thompson Cummings, Ian McNeilly and Derek Steele.
MUCKAMORE NATIONAL SCHOOL 1087
The year is 1953 and this smiling bunch are assembled for the annual picture at Muckamore National School.
At the back is Headmaster J. Witherspoon, Unknown, J. Logan, Winston McKelvey, Ashley, Tom Wilson, Unknown and Sydney Steele.
Next are Fiona Woods, Anna Smith, Dorothy Law, Margaret Craig, June Law, Doreen Hamill, Daphne Drummond, Marie McCombe and Pasty Thursbey.
Seated are Caroline Cohurst, Unknown, Florence Courtney, Margaret Campbell, Hubert Reid and Norma McCartney.
Finally in front are Newell Campbell, Unknown, Robin Clarke, Beeny Craig and Sammy Craig
MUCKAMORE NATIONAL SCHOOL 1076
Here we Muckamore Central Park School getting their photograph taken in the car park,
In amongst the front row we have Jeffery Wallace and Archie Campbell. In the 3rd row 2nd left is Jim Cain, then 8th and 10th are Kathleen Jackson and Marjory Wright, the rest of the pupils are unknown along with the master. The two lady teachers are Mrs McClung and Miss Entwistle. The year is unknown.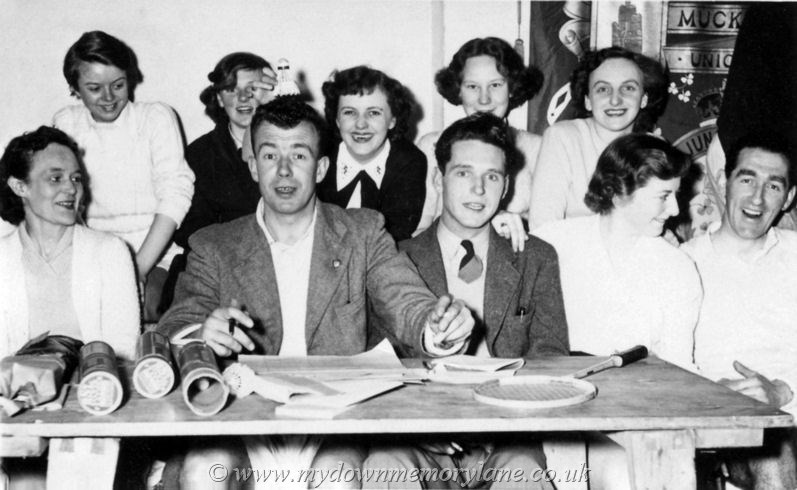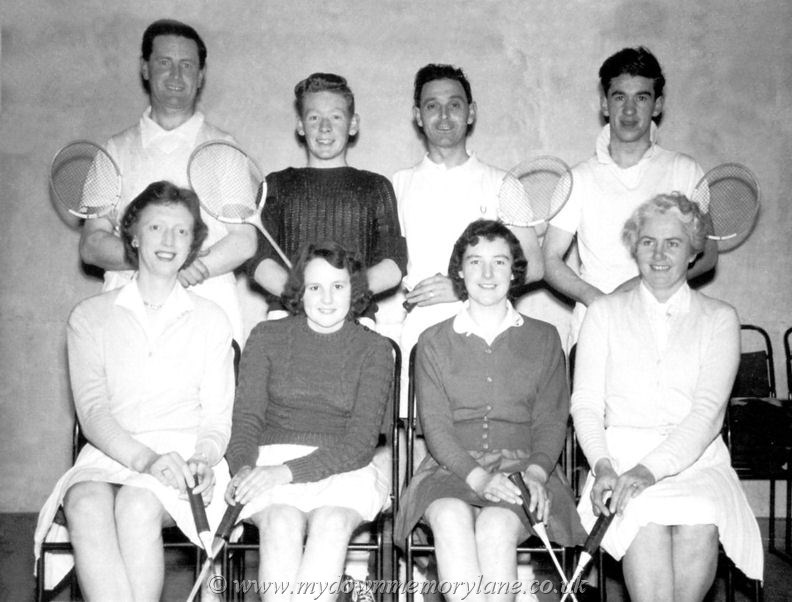 MUCKAMORE BADMINTON CLUB 962
This is Muckamore Badminton Club in 1954 and the mischievous lot in the back row are Mary Jenkins, Unknown, Joan McDonald, Eileen Leitch and Trudi McDonald. Seated are Mrs Petch, Alan Abercrombie who doesn't know what's happening, H.Sueith, Joan Rankin and Unknown.
MUCKAMORE PRESBYTERIAN CHURCH BADMINTON CLUB 863
Not only do they have winning smiles but they are all winners themselves - these members of Muckamore Presbyterian Badminton Club.
Standing at the back are Billy Burns, Taylor Kirkpatrick, Campbell Graham and Britten Logan.
Seated in front we have the girls - Maureen French, Anne Spence, Evelyn Graham and Gwen Barnes. The year is unknown.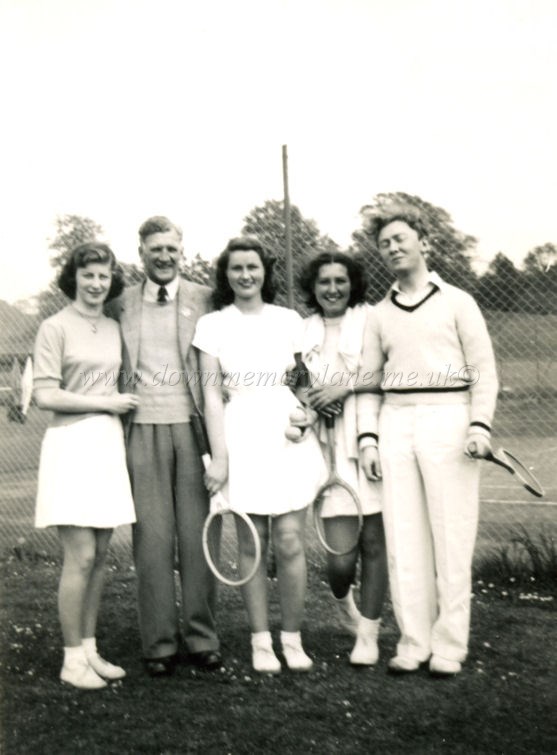 MUCKAMORE TENNIS CLUB 227
Anyone for tennis? pictured here at Muckamore Tennis Courts in 1951 are from the left Joan Anketell, Mr.W.Crawford, Marie Abercrombie, Rita McClure and Brian Canavan.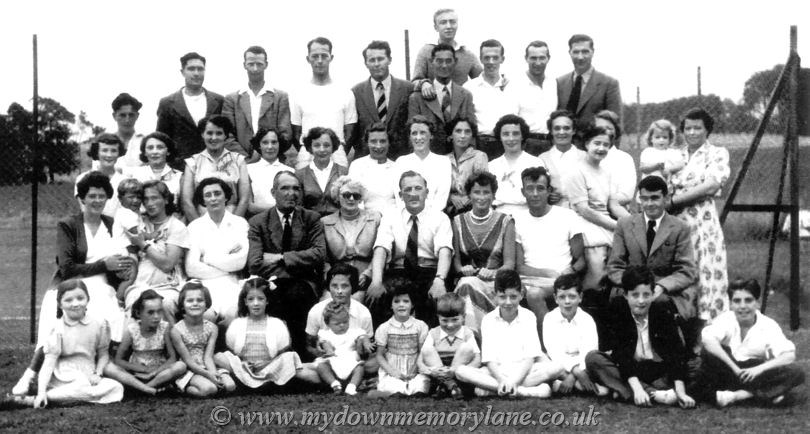 MUCKAMORE TENNIS CLUB 961
This is Muckamore Tennis Club in 1954 and at the back we have Cedric Blackbourne, H.Bawford, G, McDowell, Eric Mayne, K.Petch, B, Canavan, B.Ross, J.Tweed and S. Gleghorne. In the next row are M.Craig, Unknown, L. Ross, E.Leuth, E.King. S.Gray, Jardine, J.Graham, B.Ross, E.Petch, E.Young, Unknown and Unknown. Seated we have A.tweed, M.Gleghorne - in her arms A.Gleghorne, H.Gray, B.Hanna, K.Hanna, E.Smyth, M.Wilson, A.Abercrombie and G.Symington. On the ground are, J.Canavan, Miss Petch, Miss Petch, Unknown, Unknown,baby Unknown, May White, Ken Canavan, Jim McMaster, Raymond McMaster, Tom Wilson and Archie Campbell.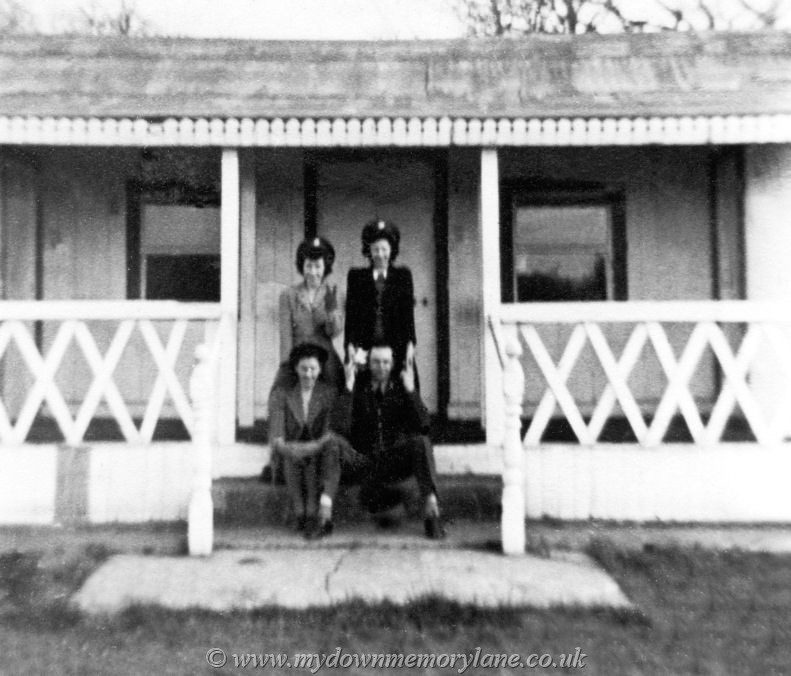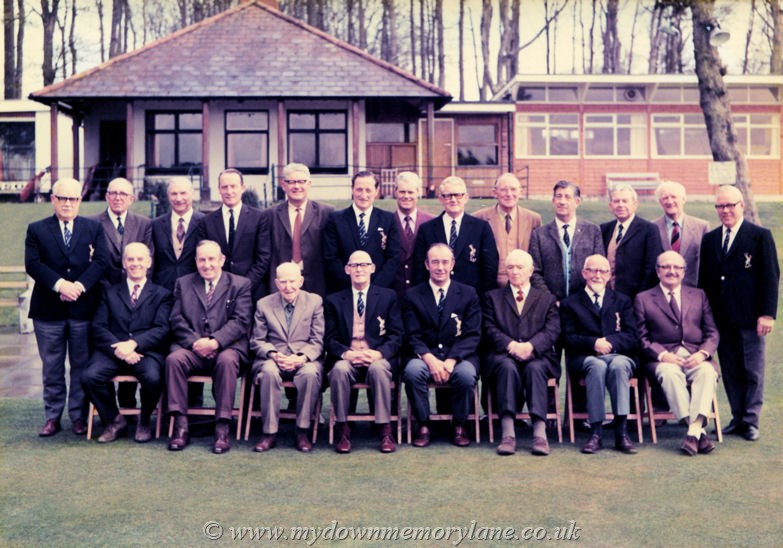 MASSEREENE GOLF CLUB 1943
This unique photograph taken in 1974 in front of Massereene Golf Club is of Past Golf Captains from 1923 to 1973.
In the back row from the left are J. Brennan (1971), R. Hanna (1964), S. Gleghorne (1946), H. Catherwood (1960), M. Boyd (1958), P. O'Hara (1970), E. Boyle (1968), E. Boules (1972), Dr. McCaughey (1963), S. Wiees (1966), B. Dowd (1957), W. Crawford (1962) and G. Kelly (1967).
In front we have N. Simpson (1954), J. Baird (1952), J. Barr (1923), G. Clarke (1949 & 1965), W.A. Abercrombie (1973), F. Harman (1942), J. McDonald (1938) and finally J. Kirk (1961).
MUCKAMORE CRICKET CLUB HOUSE 392
Photographed at the club house in 1943 are back row: Nell and Maud McElroy
Front row: Ruby McVeigh and Wayne E. Pruitt.
Footnote: Ruby was one of the little girls in a Pogue's Entry photograph.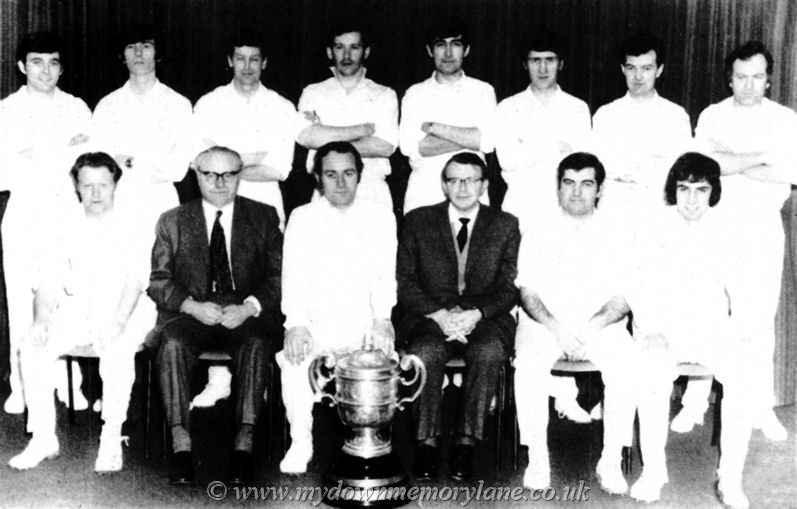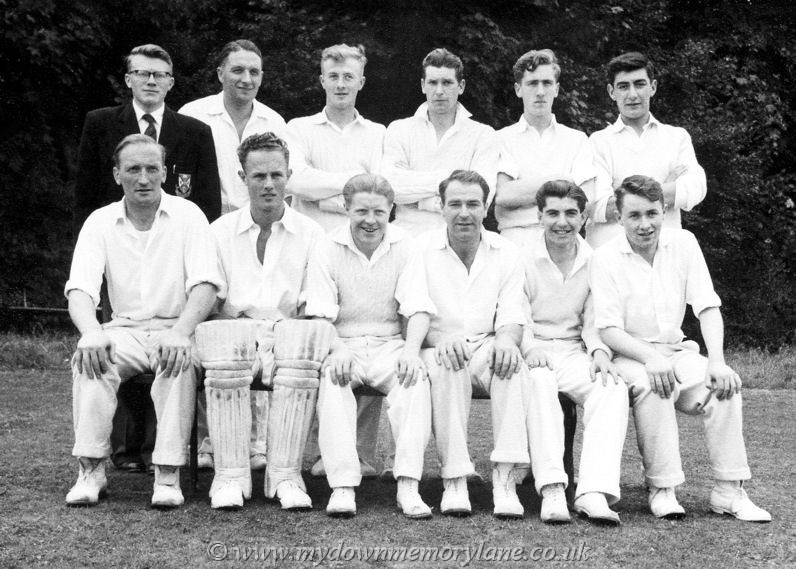 MUCKAMORE CRICKET TEAM 530
This is Muckamore First X1 team in 1970, they were joint winners with Warrington of the second league.
B.Row: H. Lwa, T. Jackson, J. Reid, P. O'Hara, G. Wallace, R, Huston, I. Surgenor and W. Boyd.
F.Row: A McQuilken. N. Entwistle (President), J. McCormack (Captain), P.Campbell (Chairman), A. Campbell and I. McMeekin.
MUCKAMORE CRICKET TEAM 1074
This is Muckamore Cricket team in 1959 and in the back row are Peter Campbell, Harry Catherwood, John Craig, Jim Reid, Bobby Huston and Jeffrey Wallace.
Seated are Robin Gray, Walter Chambers, Archie McQuilken, Derek Cupples, Archie Campbell and John McCormick.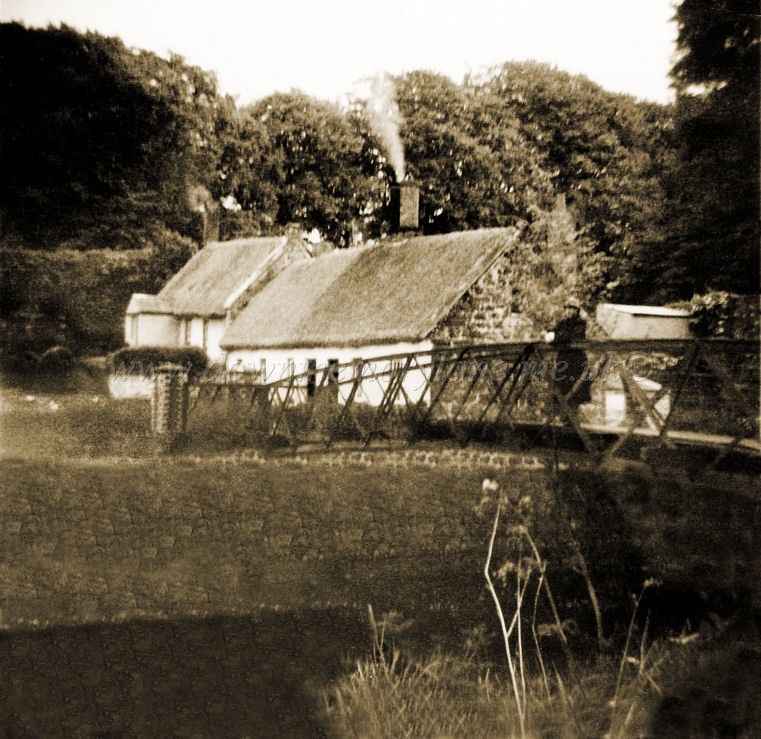 MOYLENA BRIDGE 2668
This chocolate box photograph taken in the late 30's is of Moylena Bridge known by locals as the Shakey Bridge. The person on the bridge is sadly unknown and behind her are two tied cottages for three families who were working for York Street Flax Spinning Mill.
They kept hens which you can see to help supplement their food.On a sad note the man who lived in the end house decided one day to trim the branches of the tree next to the cottage as the branches were rubbing against the wall. Up he climbs to start, lost his balance and fell into the Sixmilewater river and was drowned. Now Essie Graham remembers the incident as she worked in the mill and crossed the bridge many times. Essie started work in the mill straight from school at the age of 14 and operated a stretching machine. Essie was up early to get to work on time for back then you walked or if you were lucky you cycled. Essie worked from 8am to 6pm Monday to Friday and on a Saturday from 8am to 12 noon. For this Elsie was paid 17 shillings and 6 old pennies which is equivalent to 87p today! Essie fondly remembers in the summer nights walking home from the mill when passing by Bog Head you would hear Harry Tuff and the lovely melodies he played on his harmonica. As you crossed over the Shakey Bridge you would hear different tunes which where played by a man in the first cottage, only this time the musical instrument was a set of Bagpipes.
In the wintertime when there was snow the local rascals would walk up the Oldstone road until they could look down on the cottages. They then proceeded to make a pile of snowballs, then throw them to try and get them to go down the chimneys!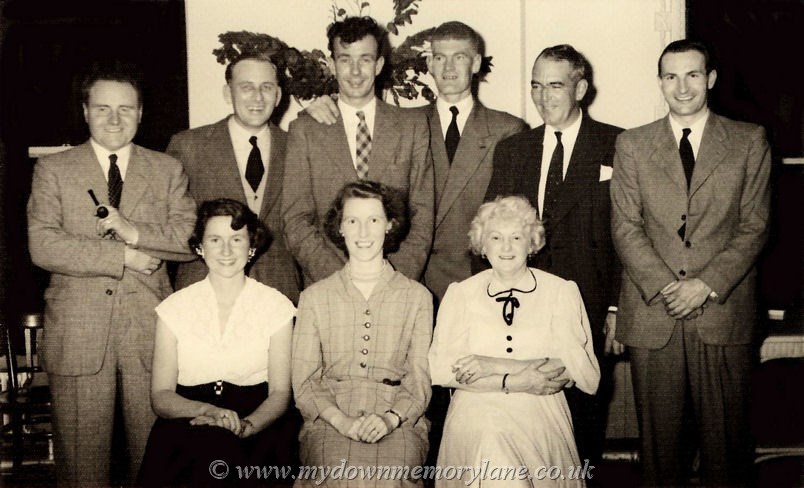 MUCKAMORE TENNIS CLUB 2252
Out for the evening at a Muckamore Tennis Club social event in 1954. In the back row are Norman Entwistle, Alan Abercrombie, Billy Jarden, Robert Hanna manager in York Street Mill and Jim Tweed the solicitor. Seated are Marie Abercrombie, Lesley Graham and Robert Hanna's wife.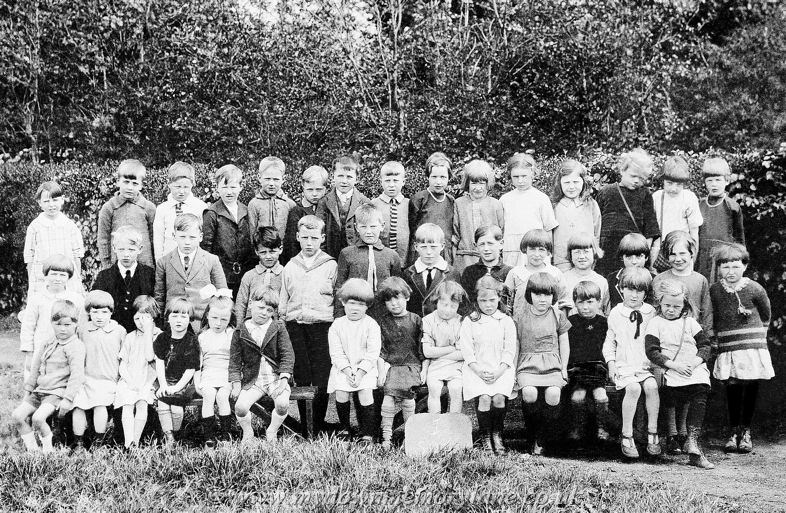 MUCKAMORE NATIONAL SCHOOL 2672
These pupils of Muckamore National School in 1926 have outdone themselves in dresssing-up for the school photograph.
A lot of the girls are wearing embroidered dresses and others have pearl necklaces on.
The only ones in the middle row are from the left, 7th is John Graham, 5th Jean Graham and next to her is Ria Rathford.
In the front row 6th from the left is Syliva Mackland, yes I know he's a boy but his father was American. Remember John Wayne his name was Marian!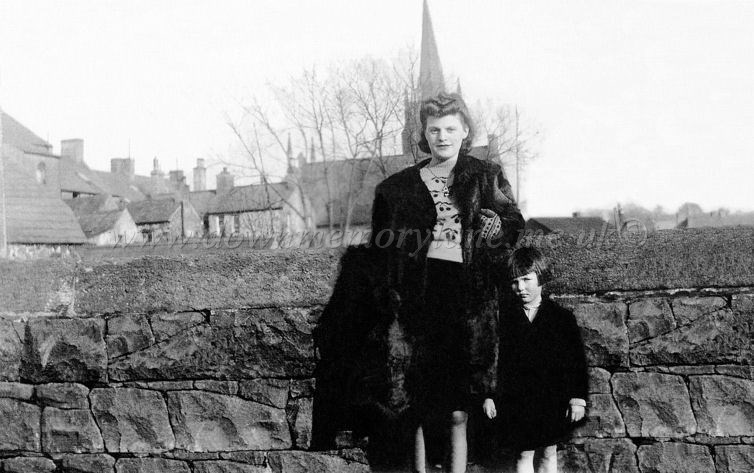 MUCKAMORE TENNIS CLUB 2666
All these young lassies and lads are members of Muckamore Tennis Club back in 1936.
Only one member is known at the moment and that is Essie Graham 2nd from the left, front row.
Now apart from telling me their names can anyone tell me what type, not make or model of camera was used to take this photograph? this photograph? Also let me know how you figured it out.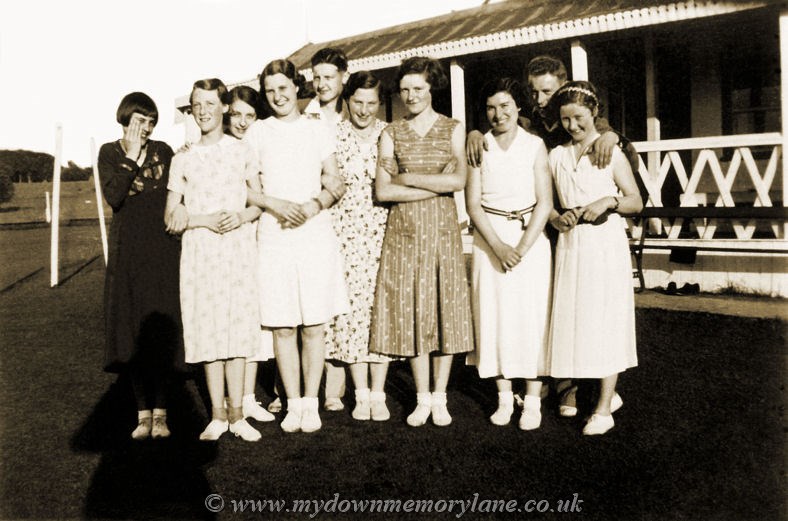 MUCKAMORE TENNIS CLUB 2662
Here we are in 1927 and these are some of the members of Muckamore Tennis Club enjoying themsleves.
The only ones known are in the front row on the left little Essie Graham then her sister Jean Graham eating a samwich
and finally their big brother Billy Graham laughing his head off.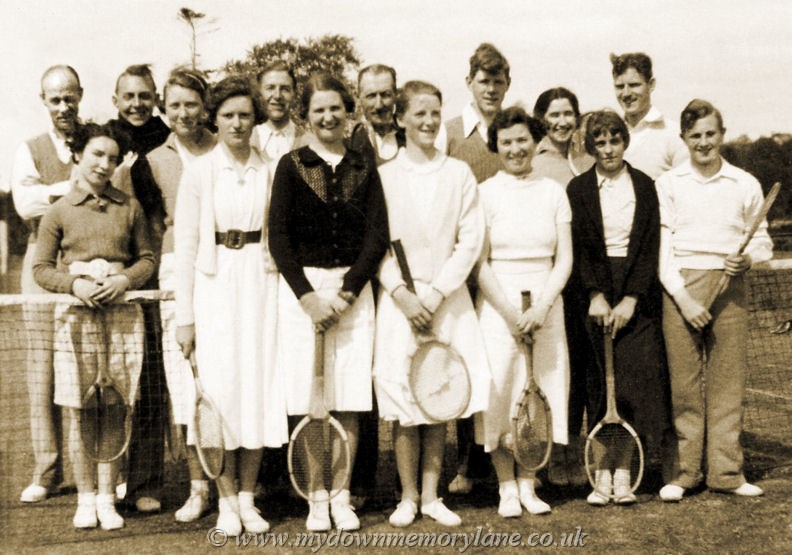 MUCKAMORE TENNIS CLUB 2663
It's 1936 and we are looking at members of Muckamore Tennis Club outside Muckamore Cricket & Tennis club pavillion. 2nd from the right in the back row is Marjorie Reilly and next to her is Samuel Craig who married Dolly McMeekin who is next to him.The lady in the stripped dress sitting in the middle is Mabel Hay. On the ground left is May Kinnen nee Stewart and beside her is Esse Jordan nee Graham.Seated on the ground on the left is May Kinnen nee Stewart and beside her is Esse Jordan nee Graham.The photos were taken when the Tennis club played on part of the Cricket club's ground when the nets would be removed on Saturdays for the cricketers.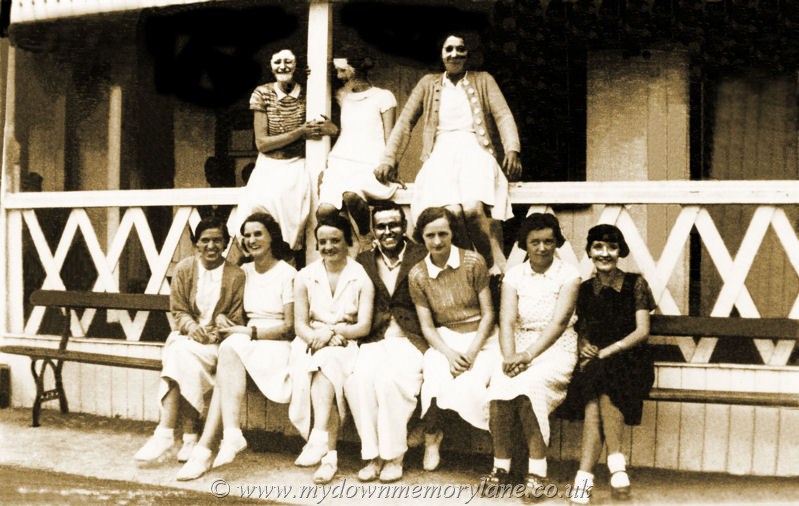 MUCKAMORE TENNIS CLUB 2664
Having their photograph taken outside Muckamore Cricket & Tennis club pavillion are the tennis members. The girl on the right kneeling, her name is Essie Graham and seated behind 4th from the right in May Stewart.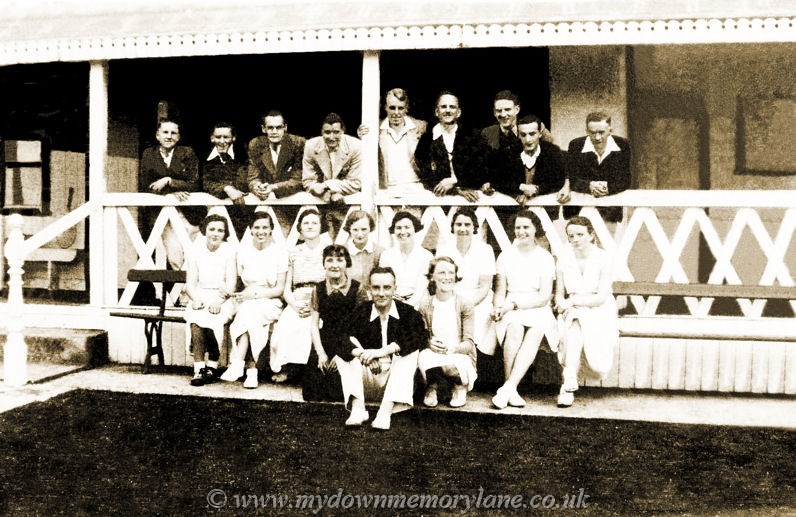 MUCKAMORE TENNIS CLUB 2665
Such a lucky man amongst these Antrim back in 1936 outside the Muckamore Cricket & Tennis Club.
At the left at the back clinging on for dear life is Mable Hay. In the front row second from the left is Marjorie Reilly (Cub Leader) and far right is May Kinnen nee Stewart.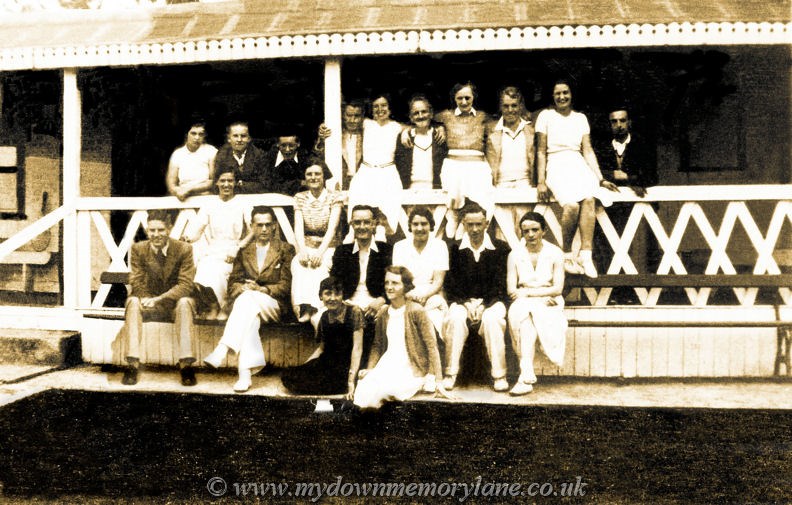 MUCKAMORE TENNIS CLUB 2667
Here out on the tennis courts are members of the Muckamore Tennis Club of 1938.
In the front row from the left are Unknown, Unknown, Essie Graham, May Stewart, Peggy McQuilken and Cecil Johnston. In the back row are Sydney, Victor Hamill, Ena McLoughlan, Mabel Hay and Marjory Reilly.
Pages: