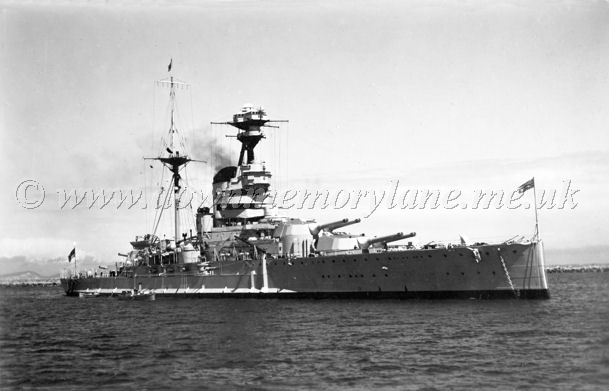 HMS RESOLUTION 3592
HMS Resolution was one of five Revenge-class battleships built for the Royal Navy during World War I Construction started: November 29, 1913. Launched: January 14, 1915, Completed after the Battle of Jutland in 1916, she saw no combat during the war. On 10 January 1924 Resolution
ran into and sank the British submarine HMS L24 as she was surfacing. On the outbreak of World War II, Resolution was part of the Home Fleet, and carried out convoy escort duties in the Atlantic. Whilst supporting the Narvik campaign in May 1940, she was struck by a bomb at Tjeldsundet.
In June, 1940 she joined 'Force H' at Gibraltar, and took part in the destruction of the French Fleet at Mers-el-Kebir on 3 July 1940. In September 1940, Resolution joined 'Force M' at Freetown, shelling French warships at the Battle of Dakar on 24 September 1940. The next day, she
was torpedoed by the French submarine Bévéziers and badly damaged. Following repairs in the United States, Resolution departed in February 1942. for Colombo, and served in the Indian Ocean during 1942 and 1943. She returned to Great Britain in September 1943 and became a stokers' training ship in 1944 as part of the establishment HMS Imperieuse. HMS Resolution was sold for scrap on 5 May 1948 and broken up at Faslane.
One of Resolution's 15-inch guns, which was later fitted to the monitor HMS Roberts, is on display at the Imperial War Museum in London.

Pages: