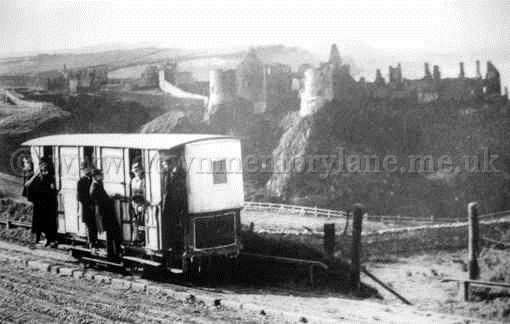 GIANT'S CAUSEWAY TRAMWAY 755
This is the Electric Tramway that ran from Portrush to the Giant's Causeway. Here the tram is stopped at Dunluce Castle, in front of the tram is the main road .
The year is unknown.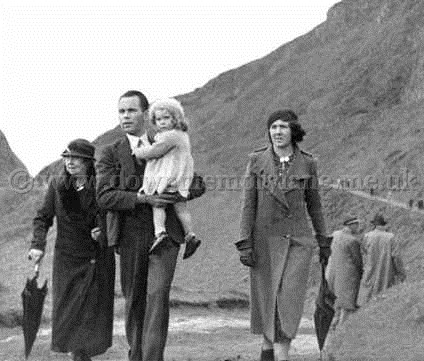 GIANT'S CAUSEWAY 783
Reaching the top of the hill is Jack McElrea with his daughter Joan McElrea in his arms up from Antrim for the day.
To the left of him is Mrs. Scott and on his right is his wife Agnes McElrea in 1935.
Pages: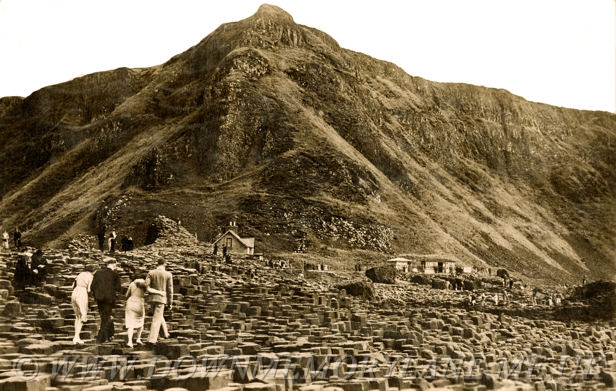 GIANTS CAUSEWAY 3675
Here we are at one of most famous places the Giants Causeway and in the background the tea house and further to the right are some stalls selling souvenirs
The photograph is a postcard and written on the back is the following: To Miss Ena McCord, Ballyquillann, Aldergrove, Crumlin.
"It is great here Ena only it is not going to last long enough. It rained yesterday and I did not get out so I willmake up for it today. Love Margaret"
The card was posted and stamped Portrush 11.43am, 16 Sep 1943, Co. Antrim. The Stamp cost 2d and WWII was still raging on in Europe.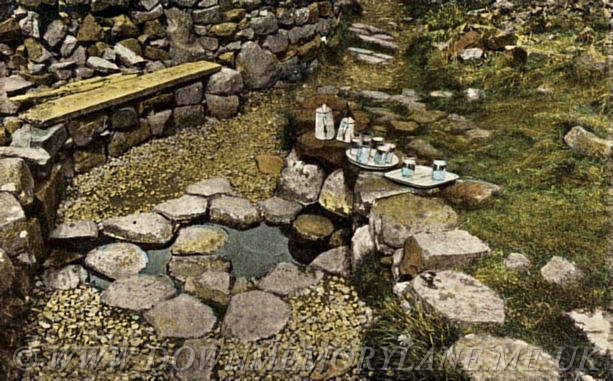 GIANTS CAUSEWAY 3689
Anyone for tea for as you can see it's all laid out including a couple of glasses of water and it's all here for the taking at the Giant's Causeway Wishing
Well, for the Portrush visitors.
On the back was written: To Miss E McCord Aldergrove Crumlin Co. Antrim. Having a lovely time Bridget.
It was posted in Portrush at 8.15pm on the 11th July 1945.