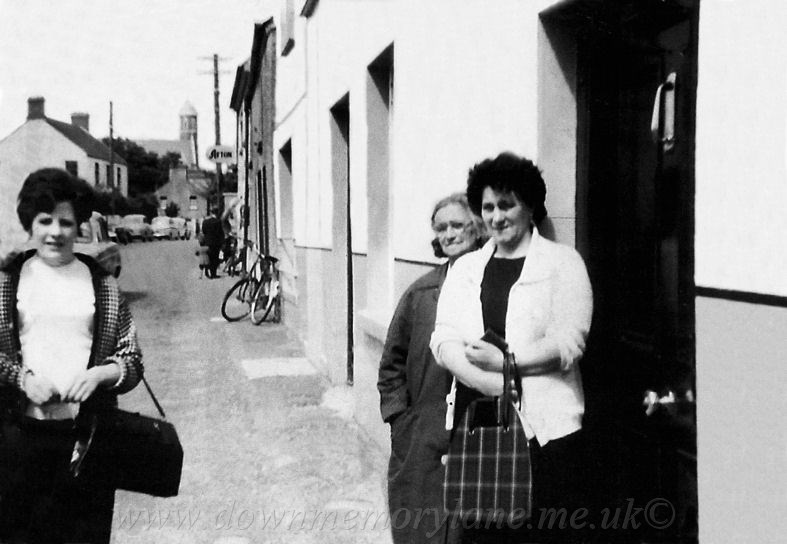 SHOPPING 2792
Out to do a bit of shopping in Castle Street Mary Collins on the left stopped to have a couple of minutes talk with Bridget McGarrigan and Mary Jane Collins. It's ironic when you think about it for in this day and age we are being persauded not to use plastic bags and to use long life ones. Well take a look at Mary Jane Collins, she is carrying what we would now call a long life shopping bag, have we really advanced at all?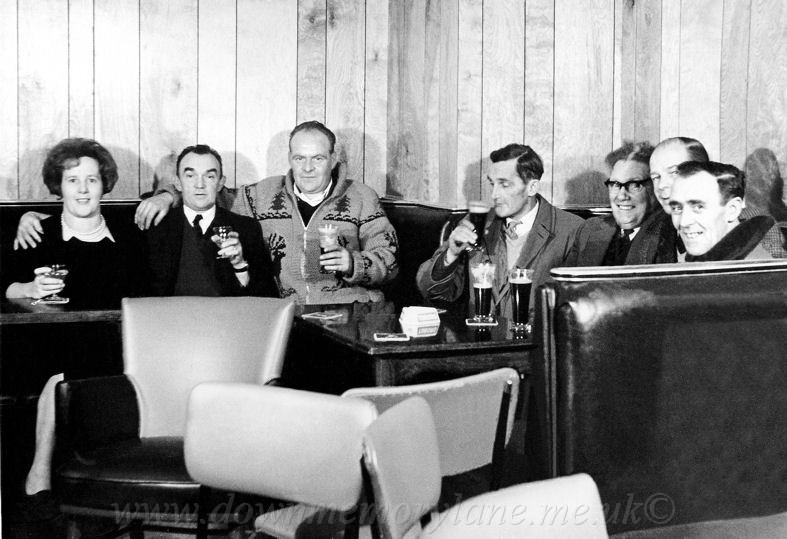 SILVER DOLLAR 1881
This is a sight you would'nt see too often an empty bar especially at the Silver Dollar at Christmas time.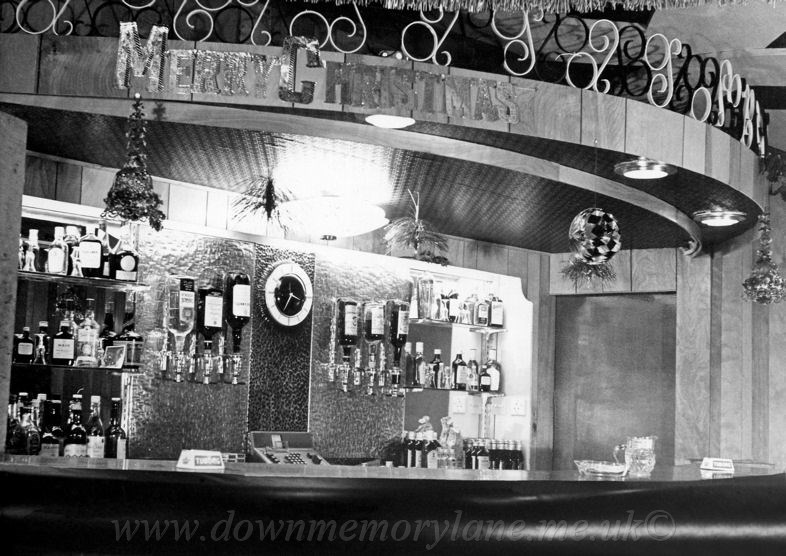 SILVER DOLLAR 1880
Enjoying a quiet drink in the Silver Dollar we have from the left Celia Madden, husband Francis Madden, Pascal Magill, Jimmy Quinn, ...?... ...?... and Noel Mc Collumn.
SIMPSON WEDDING 2582
Pictured after their Wedding on the 5th September 1958 we have the Groom Nathaniel (Thanny) Simpson who was captain of Massereene in 1954 and linked to his arm is his beautiful bride Joan Simpson nee Godfrey.
From the left we have Bob Simpson, Willie Simpson, Agnes Simpson, ...?..., ...?..., ...?..., ...?... and ...?....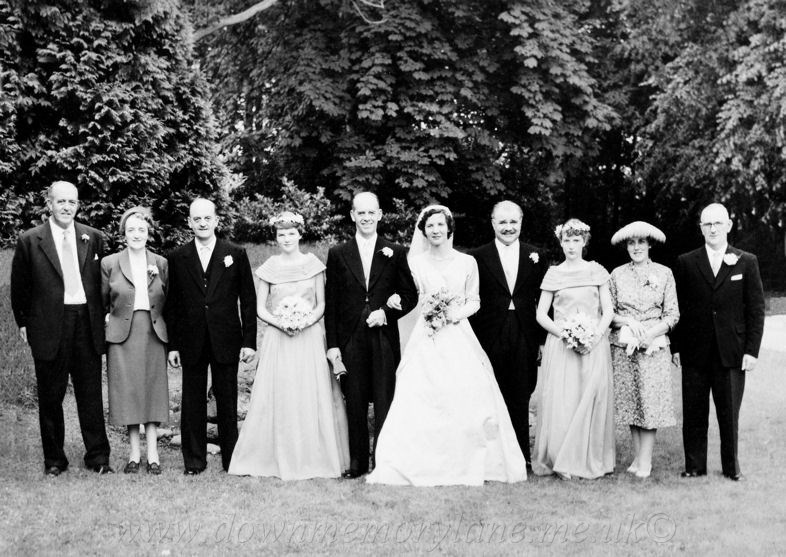 SCOOTER BOYS 115
This is Roy Nesbitt and Desmond Warwick along with Crawford Tayor sitting on Joan Nesbitt's Vespa Scooter. The photograph was taken in Lough Neagh Hotel's back yard in 1959 the dog's name is unknown.
St.COMGALL'S CHURCH 2399
This old postcard of Antrim showing St.Comgall's Church. On the road is a Jaunting car obviously there for the photograph as they are facing the wrong way.
The year is unknown as the postcard has not been used so possibly the very early 1900's.
The next time you past the gates, take a look at the name on them, that will get you scratching your head!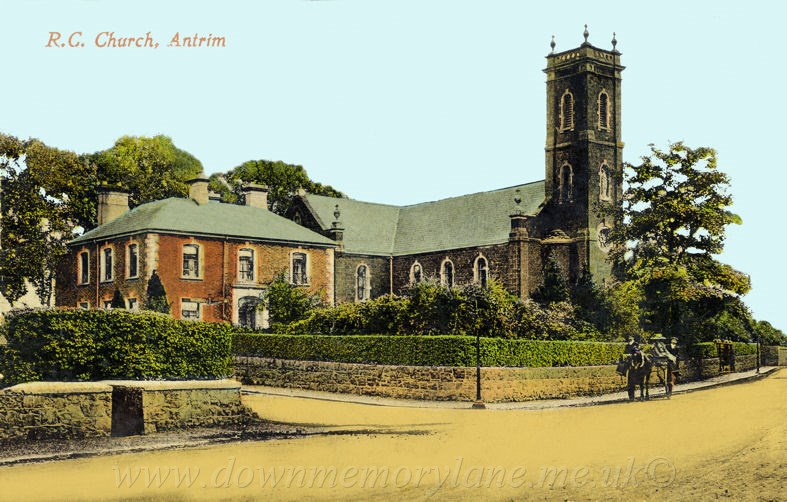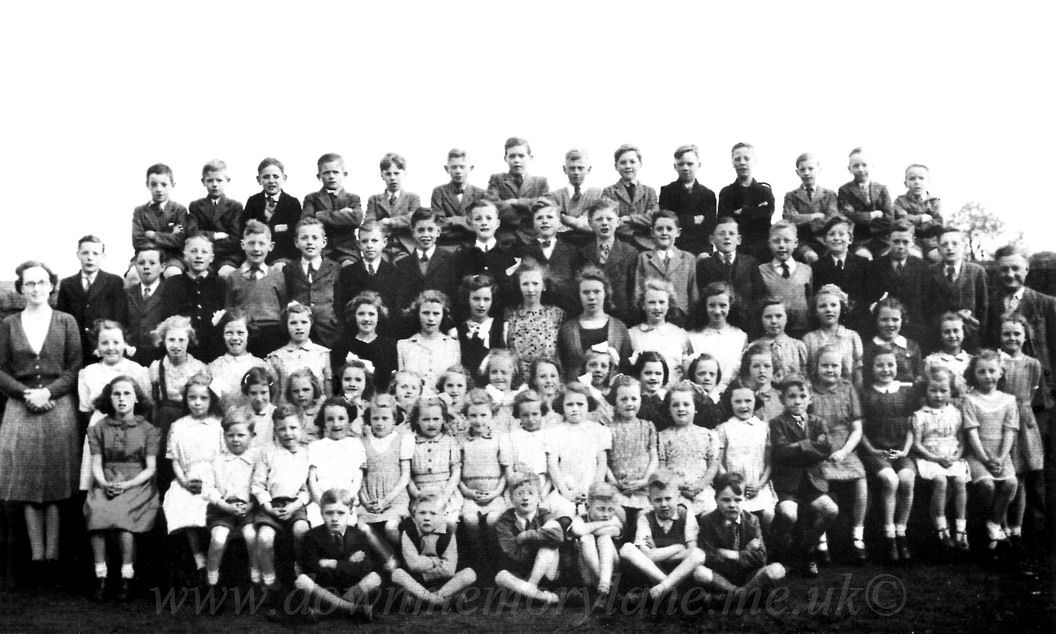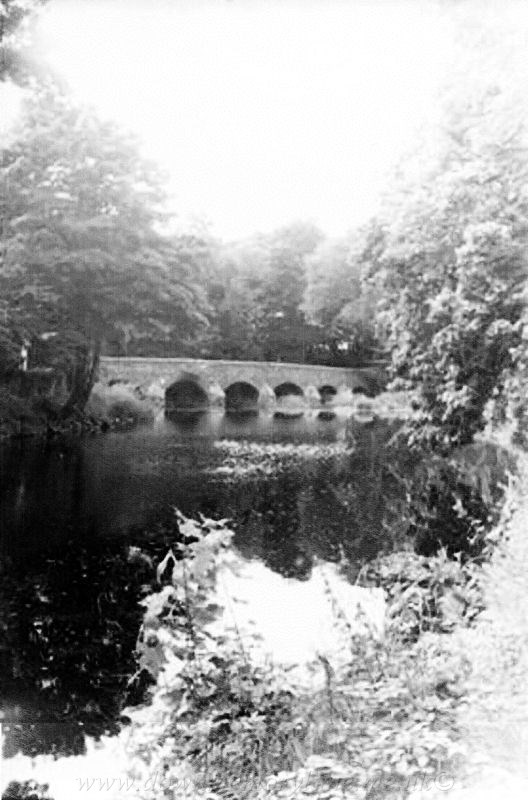 SCOTT'S ENTRY 138
This is Scott's entry which was formerly known as Rooney's entry. The third door to your right is where Alexander Irvine was born and later on they moved to Pogue's Entry which was formerly Adair's entry. The house to your left where you can see two windows is where a Mrs Mary Scott lived, she was a sister to Alexander Irvine. The box with four holes in it next to the top window was a bird house for doves.
SHANK'S BRIDGE 207
This bridge is at Templepatrick and is now a ruin.
Date of the photograph is unknown.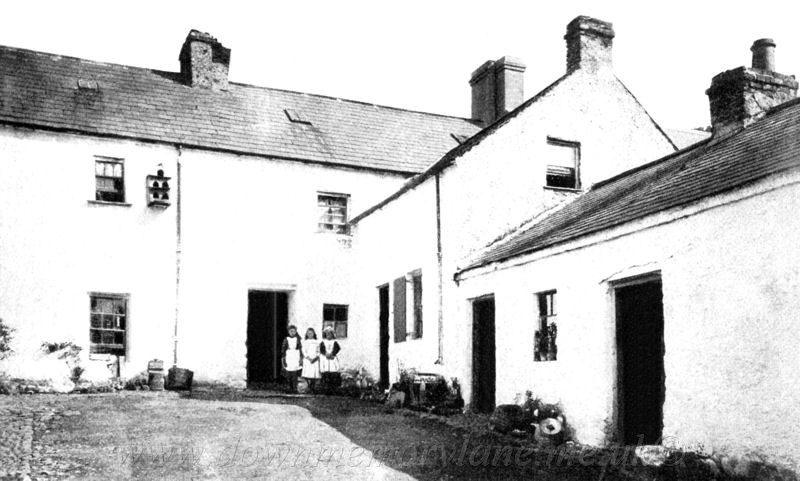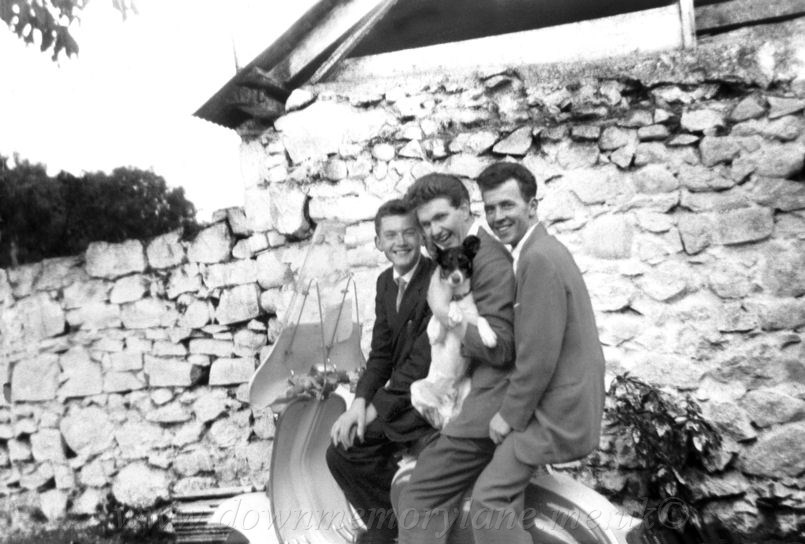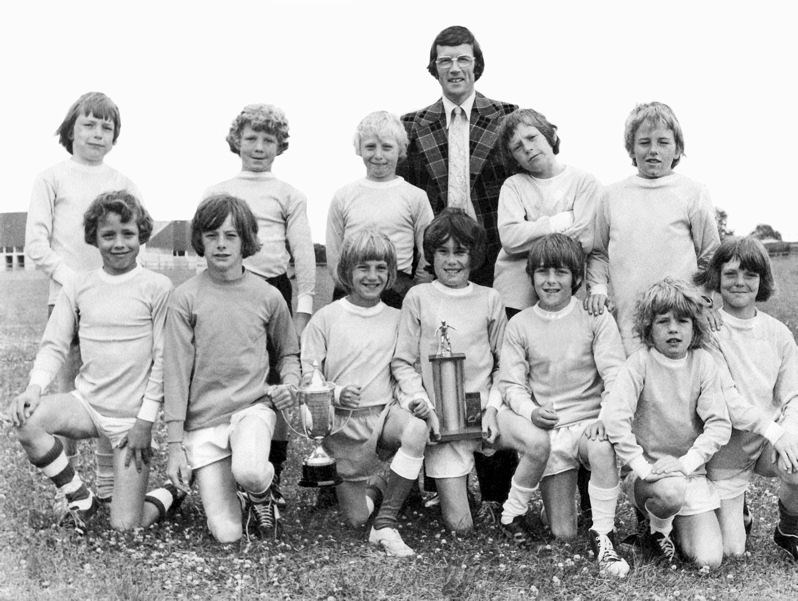 My thanks to Ed Cunningham,who has now gone home of Ontario, Canada for this photograph.
SEVEN MILE STRAIGHT 2815
Here on the Seven Mile Straight is Les Graham & Jock West discussing the 500cc ATS.
Also take a look at the camera and also in the background something you don't see today, Haystacks.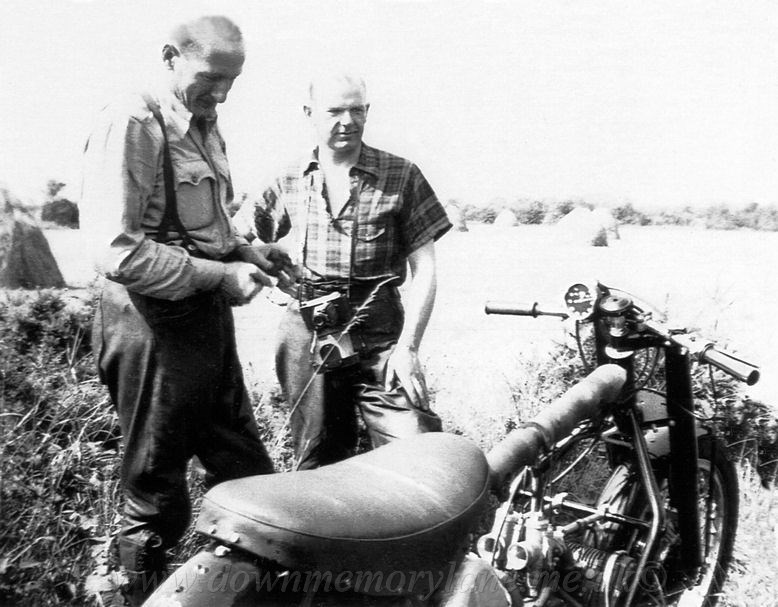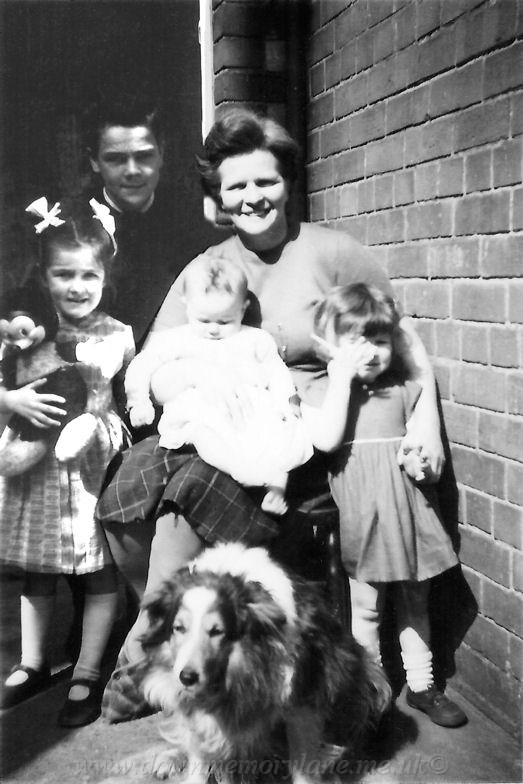 SELFRIDGE FAMILY 2850
This is the Selfridge family in 1963 outside the family home at No 26 Riverside. At the back is Raymond, in fron of Raymond and clutching her Micky Mouse is Molly, Mum Elizabeth, on her knee is Margaret and finally Anne. The dog's name is not Lassie it's Pal.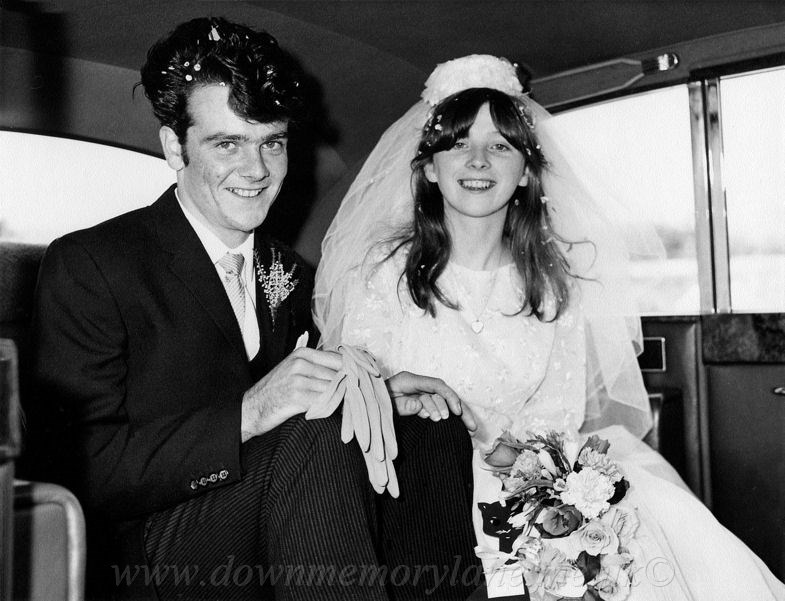 SELFRIDGE WEDDING 2419
Sitting in the limo having their photograph taken after getting married by the Rev T.P. Blackstock in 1st Antrim Presbyterian Church on the 17th October 1969.
We have the Groom Raymond Selfridge and his lovely bride Betty Selfridge nee Davis all smiles.
St JOSEPH PRIMARY SCHOOL FOOTBALL TEAM 2893
All smiles for the camera are these lads of St Joseph Primary School Football Team for they are the league winners for 1972 - 1973.
Back row: from the left are Adrian Walsh, John Smith, Thomas Copeland, Master Mackel, Mickey McKenna and Stephen McAllister.
Front row: are Paul Currigan, Raymond Delargy, Alan Porter, Morris Devine, Paul Taggart, Fergus Wallace and Sean McCandell.
Now the reason Thomas Copeland's head and body are bent over is that the Master was nipping him in the back!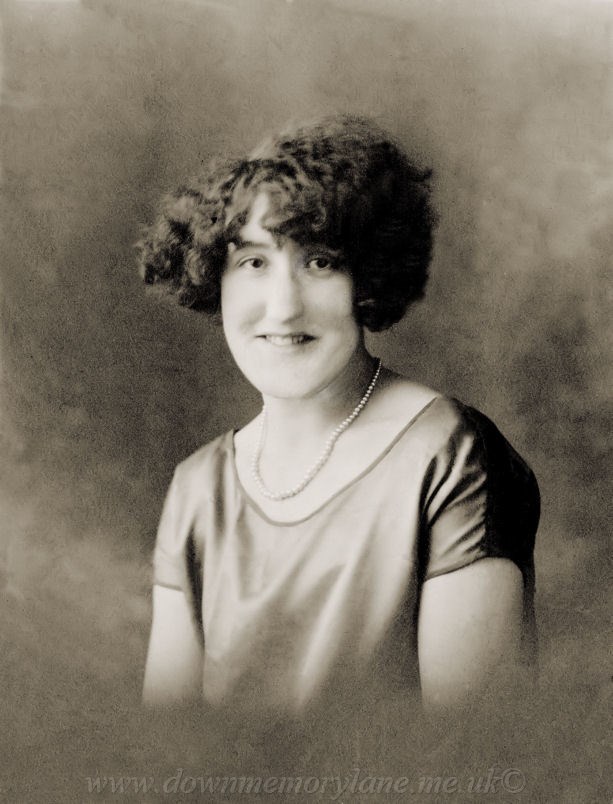 MART SMITH 3183
Smiling sweetly at the camera for a studio photograph with those soft eyes to melt any man's heart is Mart Smith.
JOHN SELFRIDGE 3062
This is John Selfridge at his place of work astride a scrambler already to set off.
St. COMGALLS PRIMARY SCHOOL 3128
Outside St. Comgalls Primary school in 1980 getting their photograph are the pupils of Mrs Crosgrove's Primary 5C class.
I only have a few names but where they are in the photograph I do not know, but you might, if you do please let me know.
The pupils are B McNally, Michelle Doran, Gavin McKenna and Naomi Letters.
St. COMGALLS PRIMARY SCHOOL 3156
All smiles for the camera in 1980 are the pupils of Primary 4B at St. Comgalls, their teachers were Mr.Coey and Gillian Hutton.
I only have a few names but where they are in the photograph I do not know, but you might, if you do please let me know.The pupils are Gerry Allen, Elaine Devine, Mark Hannan, Karen McNeilly, Laura McClean, Catherine Regan, Siobhan Robb, Arleen Devine, Karen McGrath, Debbie, Graffin, Peter Donand, Phillip Ferry, Brian McMahon, Malcolm Houston, Gillian Houston, Paul Lavery, Julie Ann McLaughlin, Nigel McClean and Josie Wasson.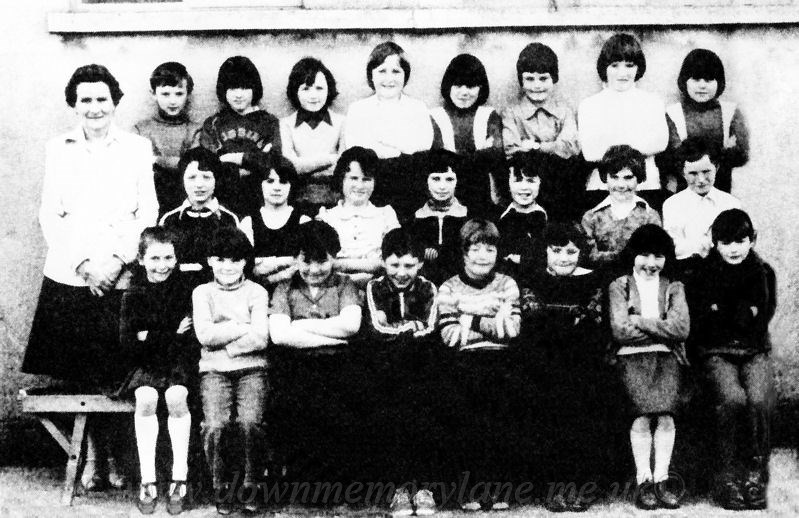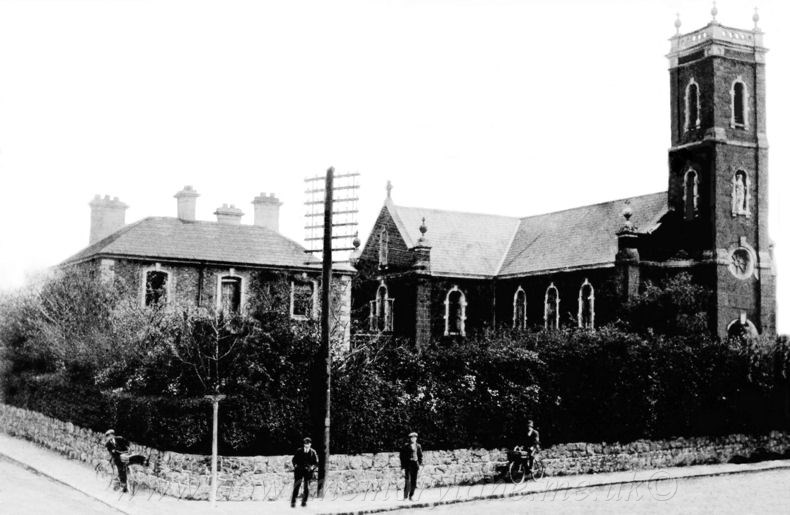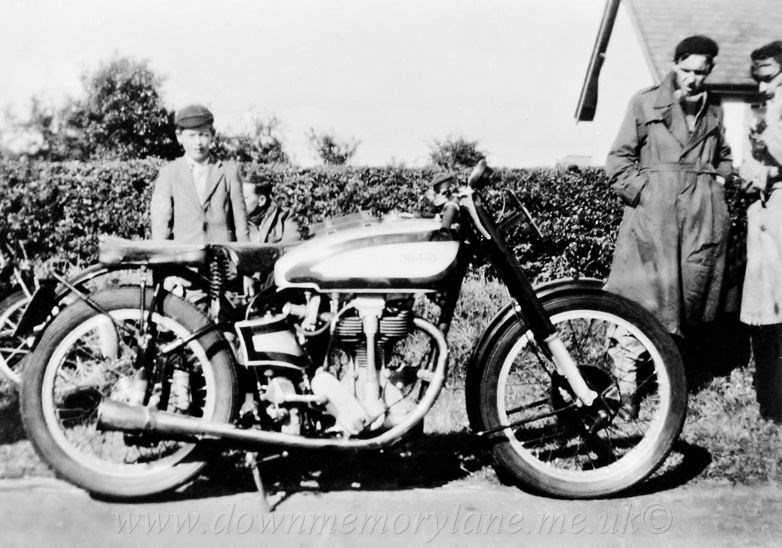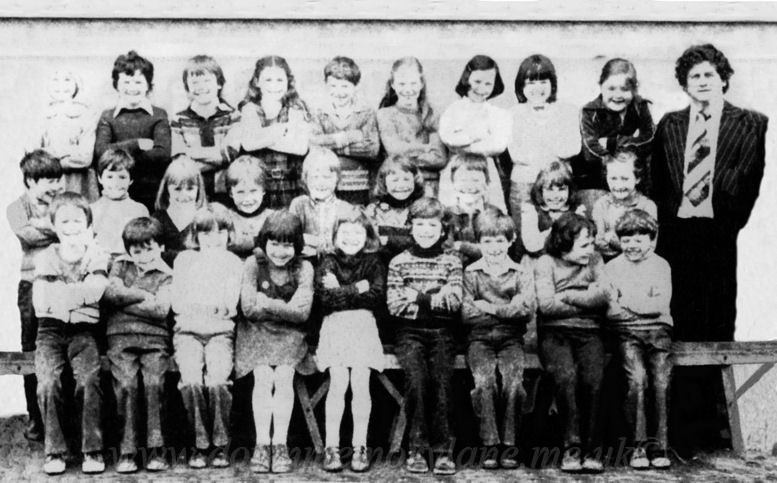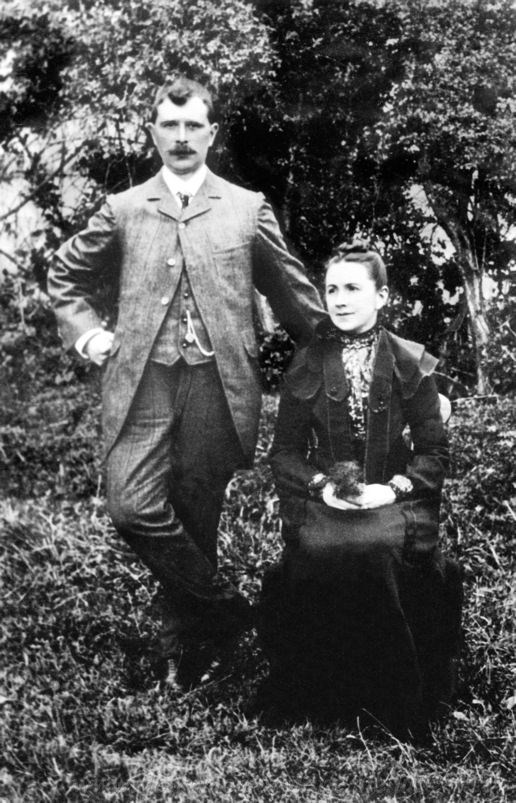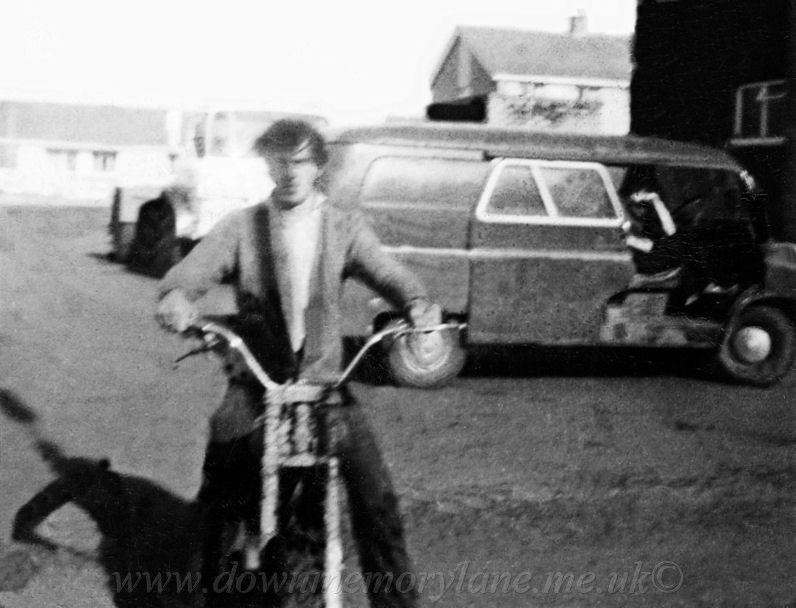 St. COMGALLS 3175
Here we are at the corner of Oriel Road and Castle Street and behind the wall is St.Comgalls and the Parochial House around about the 1920's.
Right on the corner is a street lamp, no electric yet still using gas and the gas supplier was in Railway Street.
The person standing with the bicycle on Oriel Road is a message boy, while the person on Castle Street seems to be a message boy also.
St. COMGALLS PRIMARY SCHOOL 3173
On the left at the back is teacher Miss Diamond with her pupils of 1C back in 1980 only three pupils are known but not where they are in the photograph.
Alison Armstrong, Eileen O'Connor and Brendan Delaney.
St COMGALLS PAROCHIAL HOUSE 3166
Standing on the steps of St.Comgalls Parochial House is Father James Kennedy, the photograph was taken between 1909 - 1916 when he was there.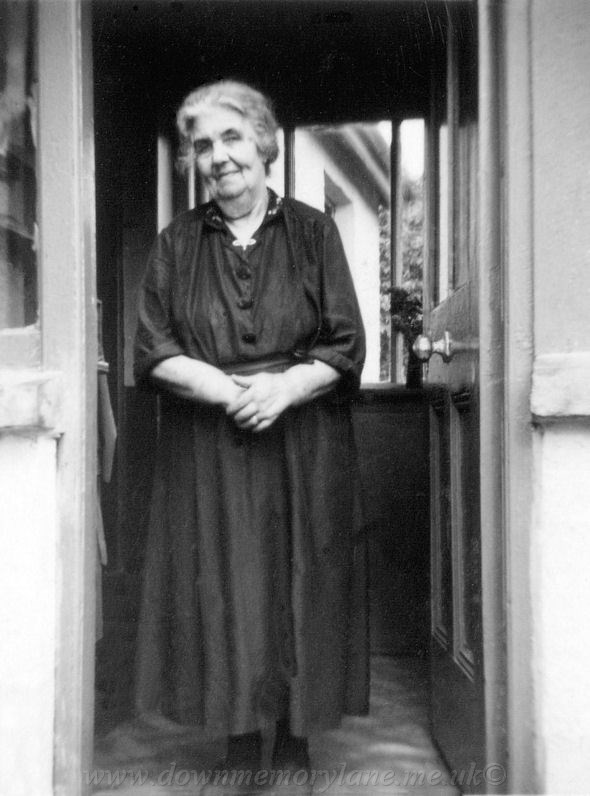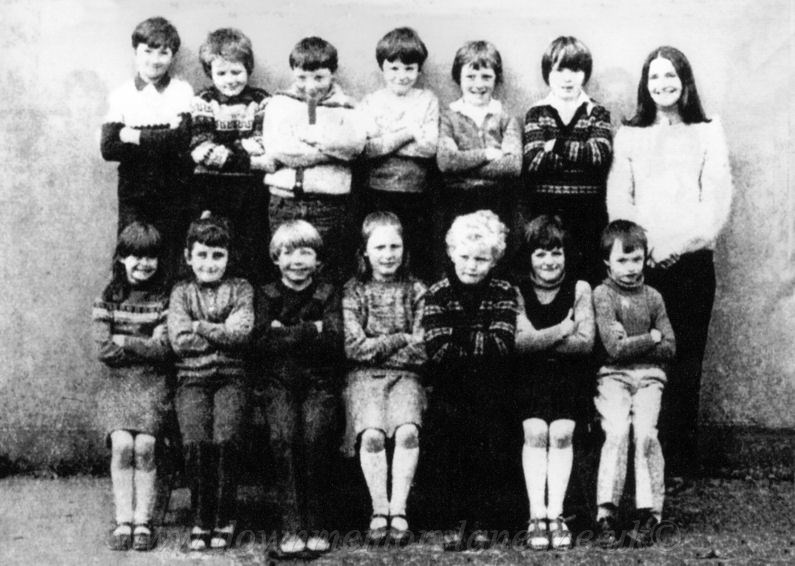 St. COMGALLS PRIMARY SCHOOL 3176
This is Mrs Smith's Primary 5A class in 1980 at St. Comgalls Primary School having the school photograph taken. Now I have only names for seven of the pupils at the moment but where they are in the photograph in not known to me.
They are Mary Reagan, Bernadette Rainey, Gary Graffin, Fiona Cunningham, Julianne Duffin, Paul Close and Jacqueline Hillman.
What I am going to tell you is not of my doing but can you spot the two extra pupils?
St. COMGALLS PRIMARY SCHOOL 3177
This is Mrs Smith's Primary 5A class in 1980 at St. Comgalls Primary School having the school photograph taken. Now I have only names for seven of the pupils at the moment but where they are in the photograph in not known to me. They are Mary Reagan, Bernadette Rainey, Gary Graffin, Fiona Cunningham, Julianne Duffin, Paul Close and Jacqueline Hillman.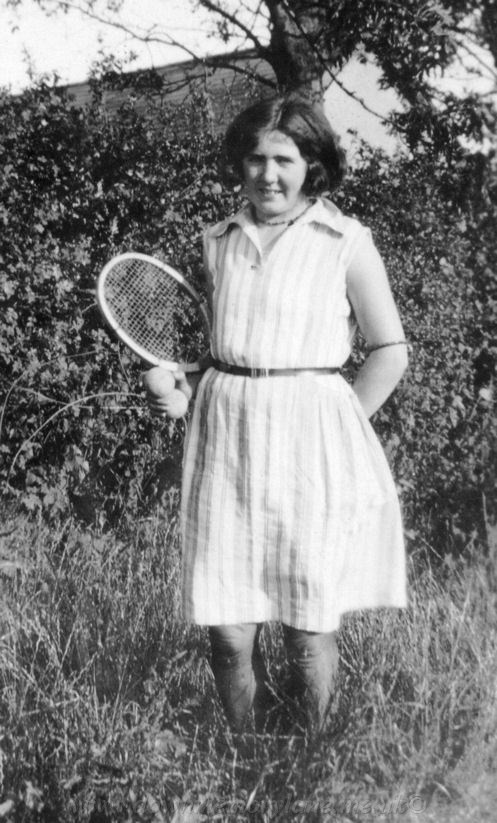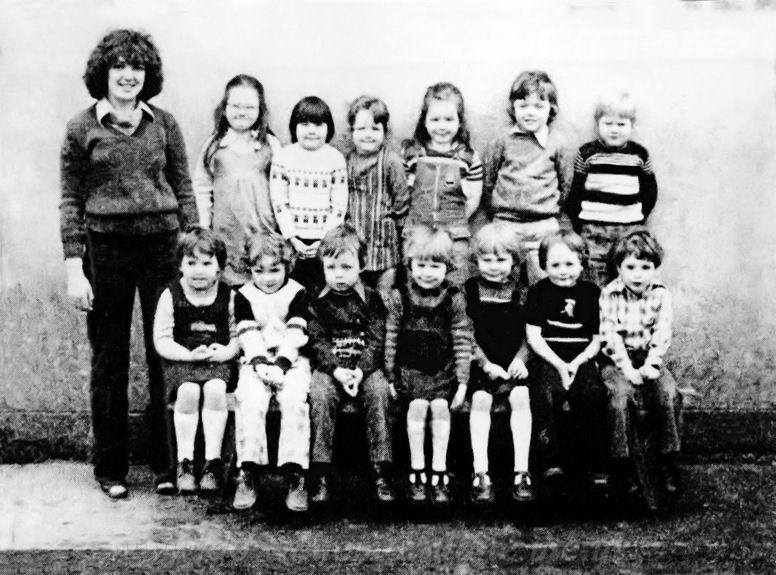 St. COMGALLS PRIMARY SCHOOL 3178
It's 1980 in charge of these pupils of St. Comgalls Primary School 5B having their photograph taken is Miss McKenna. Now I have only names for eight of the pupils at the moment but where they are in the photograph in not known to me. They are and not in order are Bronagh Crilly, Grainne Gallagher,Ciaran Kearney, Patrick Laverty, Mairead Lennon, Deidre Storey, Christina Lynn and Linda Walsh.
MART SMITH 3182
This is Mart Smith sitting comfortly on this Norton motorbike with a sidecar attached. Look at the horn and the headlight is not battery operated.
STOKE CITY FOOTBALL CLUB 3566
Here we are at Stoke City football grounds and I'm sure you are wondering what has this place got to do with Antrim?
Two Antrim men travelled there Terry Rudd and Lawrence Hutchins and an unknown young fan with the football legend Sir Stanley Mattthews one of the worlds greatest football players Lawerence said "He was a real gentleman to us, a made dream come true".
SIXMILEWATER RIVER 3487
This is where the Sixmilewater River flows into Lought Neagh the largest freshwater lake in the UK, the photograph has been coloured by hand. On this of the bank you can see part of a boat and then next is a yacht and further along another yacht so this must have been start of Antrim Yacht Club. Across the river on the bank you can see queue of people waiting to embark on a steam cruiser which you can jutting out from the embankment. There were three steam cruisers which took people all round the lough, they were the Lough Neagh Queen, the White Heather and the Peacehaven and all were owned by the Lough Neagh Crusing Company. Further back to your left are stands and these were used by the local fisheremen and other boats which also took people out on to the lough. Now not far from them is a large tree with a sign below it, can anyone know the reason of the sign, please let me know,
REV WILLIAM SALMON 3709
This is the Rev William Salmon who was a Presbyterian Minister and they named the church hall at Loanends after him, they called it "' Salmon Memorial Hall '"
SIXMILEWATER RIVER 3692
This is the Sixmilewater River down at riverside in 1980 and these two excavators are not only dreding but widening the river. As you can see in the background they have already done the other side and what a change in the view of Riverside is now.
SCOTT 797
A welcome and loving smile from Granny Scott at the Folly. That is why all children love their Grannies, they spoil them. The year is unknown.
SLOAN'S 1459
Here we have Mr & Mrs Sloan known to everyone as Stephen and Bridget who is holding a posy getting their photograph taken in the early 1900's. Stephen owned three shops in High Street, the first was were you now have Winemark it was Sloan's Butchers, next door was Sloan's Sweet Shop and the other side of the entry was Sloan's Pub.
SISTERS ANNIE 3245
It's the 8th August 1910 and this is Annie on the left and Jessie on the right sitting on a wall in the park. This photograph was a postcard and sent to: Miss Eva McElroy - Cherryfield - Poynty-Pass - Co.Armagh - Ireland. Remember it was an all Ireland back then, the rest of the postcard reads as follows:
My Dear Eva, I think I had the best weather whilst in Ireland for we have only had one day without rain since. Pleased to tell you I am feeling much stronger for my change. Hope dear mother is better. Had a good passage home to Aigburth& found all well & glad to have me back. This is Annie & Jessie but the photographer has forgotten Jessie's eyes (it's because - she's wearing glasses). All join me in love to you all - Yours very affectionately Thaffie. - - - - -P.S. Jessie asks me if you have a photo for her midget album - She does want to know now.
( Aigburth was 4 miles outside Liverpool, Aigburth was a wealthy and fashionable district extending along the banks of the Mersey, and studded with noble mansions and splendid villas of the Liverpool bankers and merchants, the salubrity of the air and the delightful scenery inviting their residence here.)
AGNES SCOTT 1304
This is Agnes Scott and although she is standing in a field in 1927 she is still looking for someone to play tennis with her. Perhaps the photographer will.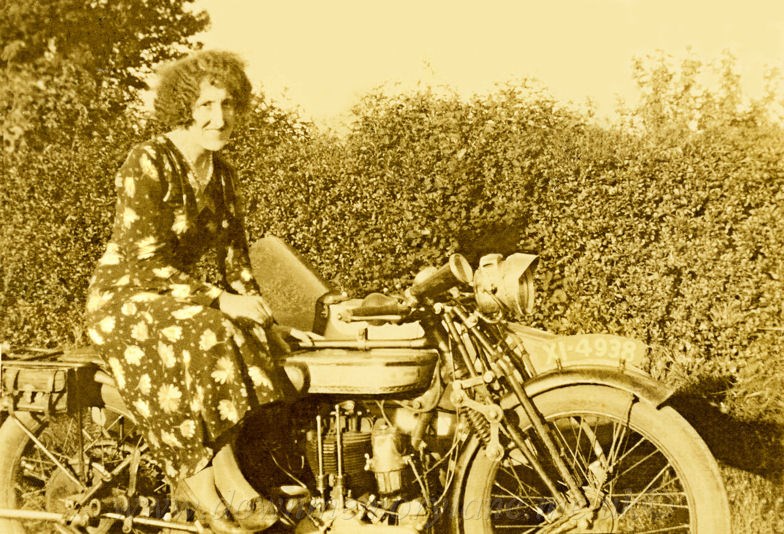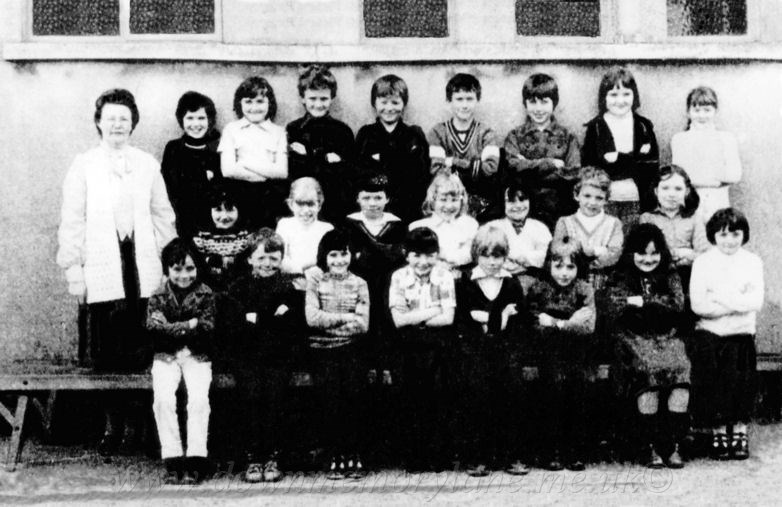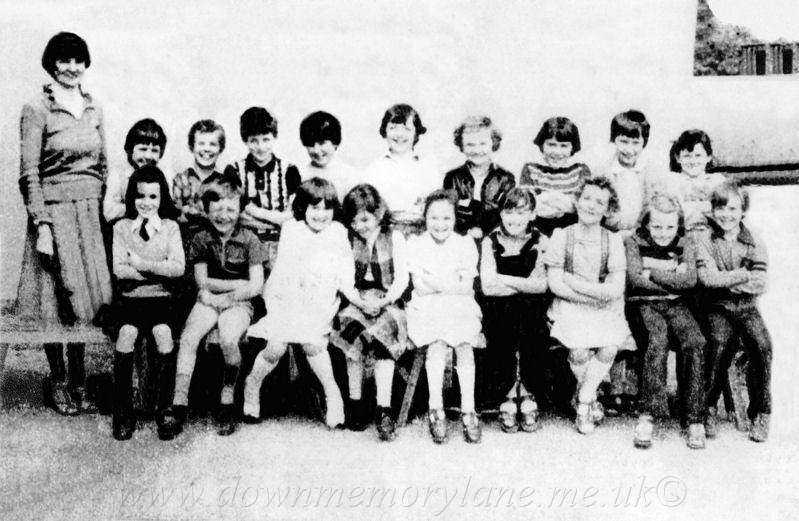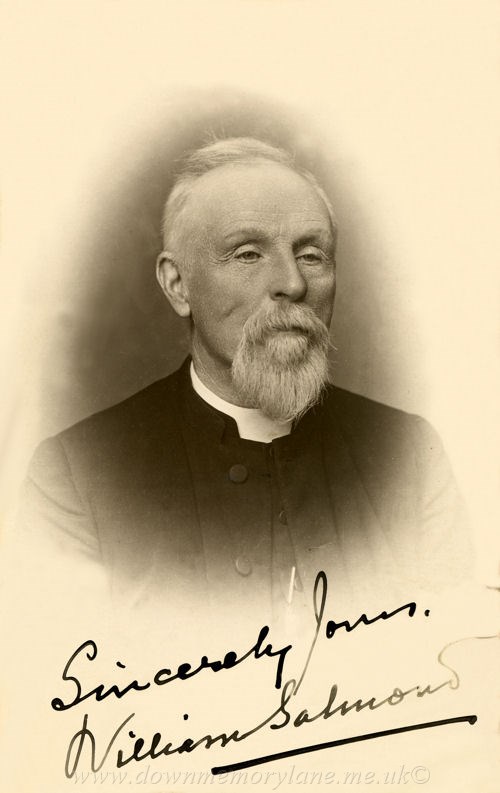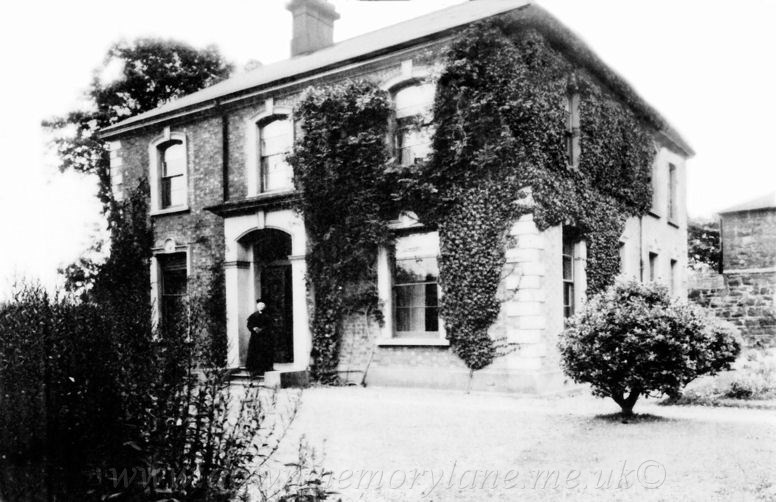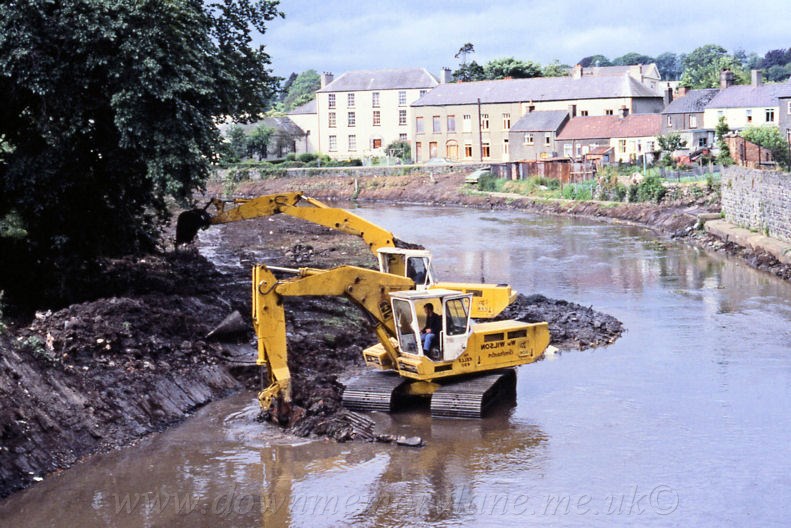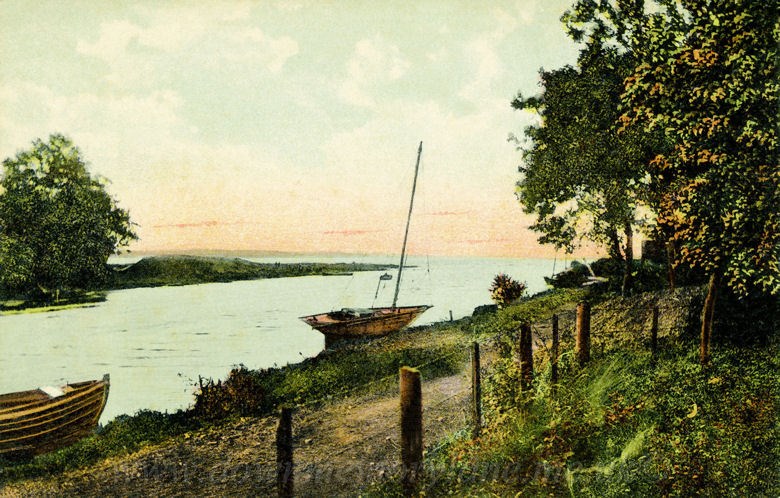 RIVERSIDE 2184
Here we are in Riverside and having a great time on the slide is Pamela Selfridge back in 1974.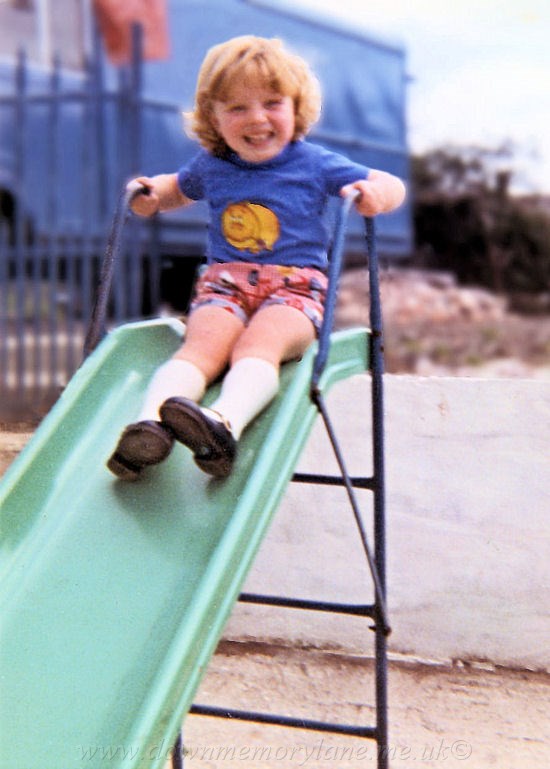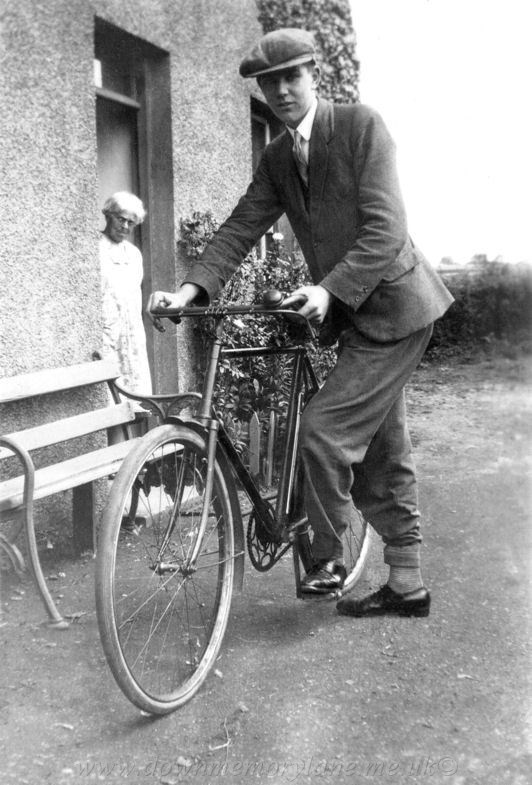 READY FOR WORK 1297
Getting ready to set off to work on his bicycle from his home at the Folly is Joe Scott. The year is unknown.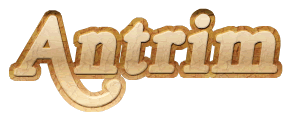 SHANOGVESTOWN PRIMARY SCHOOL 1050
Here we have the pupils and teachers of Shanogvestown Primary School in 1950.
Back row: are Eddie Ashe, Unknown, Dennis Leiteh, Maurice Craig, Stewart Lyle, Joe Young, William McQuillan, Robert French, Ivan Warnock, Unknown, Ronnie Patton, Unknown, Leathem McCombe and Victor Ashe.
4th row:has Bertie Strange, William Campbell, Billy Patton, George Hapan, Robert Young, Bobby Brown, William Boyd, Erskine Campbell, - -Jim Balmer, Jimmy Kirkpatrick, Andy Francey, William Hamill, Tommy Ashe, Jim Hapan, Ted Francey, George Jones and Mr Lamont Headmaster.
3rd row: Miss Muriel McCormick Teacher, Roberta McFadden, Jean French, Frances Quigley, Jean Hapan, Jean Ashe, Freda Craig, Phyllis Young, Anna Cunningham, Elsie Lynn, Susan McQuillan, Mabel McCaig, Ruby Hapan, Margaret Young, Rita Agnew, Masie Boyd and Ella Balmer.
2nd row: seated are Jean Craig, Sadie Clarke, Unknown, Jean Spence, Elsa McQuillan, Elsie Boyd, Maureen Gillespie, Unknown, Ann Spence, Dorothy Young, Maudie Agnew, Anne Agnew, Ann Kennedy, Dorothy Steele, Elizabeth Warnock, Eileen Lamont and Olga Lamont.
Front row: of sitters are Willis Leggit, Herbie Leggit, Norma Quigley, Ann McCombe, Unknown, Unknown, Dorothy Young, Mary McQuillan, Agnes Campbell, Margaret Kennedy, Margaret Blair and Britton Hapan.
On the ground: are Ian Fox, Taylor Kirkpatrick, Unknown, Morris French, Kenneth French and Sammy Young.
SEVEN MILE STRAIGHT 3107
Here on the Seven Mile Straight during a break in race practice this young lad with his cub cap on poses behind this Norton motorbike. To the right we have two men probably discussing the merits of the bike. Now none of them are known, so if you know them please let me know.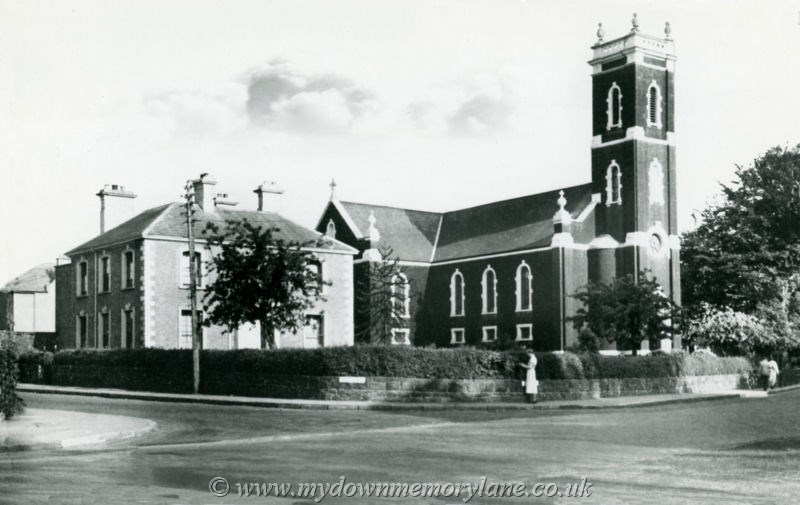 St COMGALL'S CHURCH 3541
This photograph was originally a postcard for tourists but the photographer was not a local for they must have looked at the name on the gates and had written on the card St Congall's. This was a mistake by the foundry in England when making the gates, but of course we all know it's St Comgall's Church.
Here on the corner you can see a young lady reading a letter, let's hope it's good news while to the right are a couple passing a bicycle probably going to the shops.