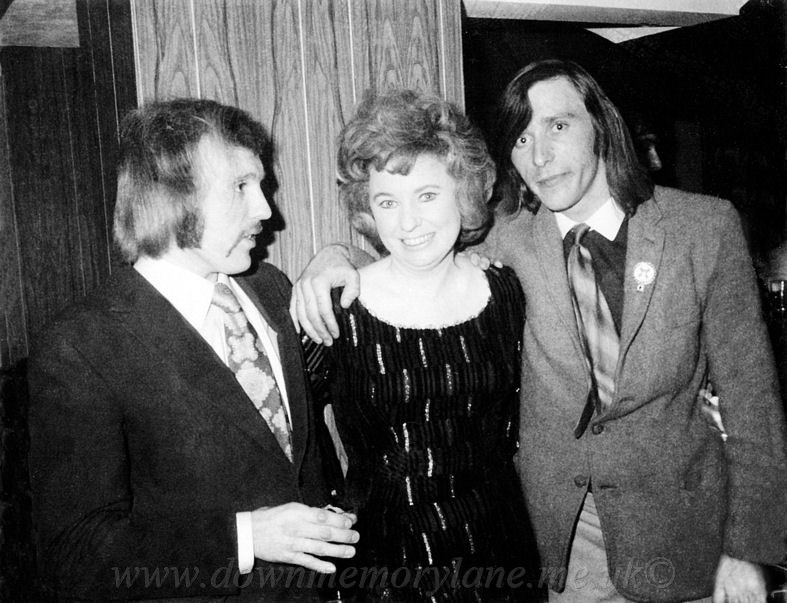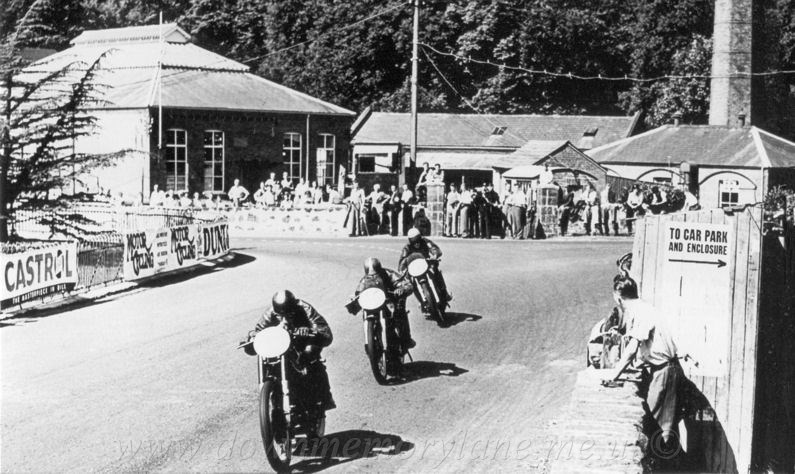 RUBY MURRAY 3504
To Lawrence's delight Ruby signed a card for them.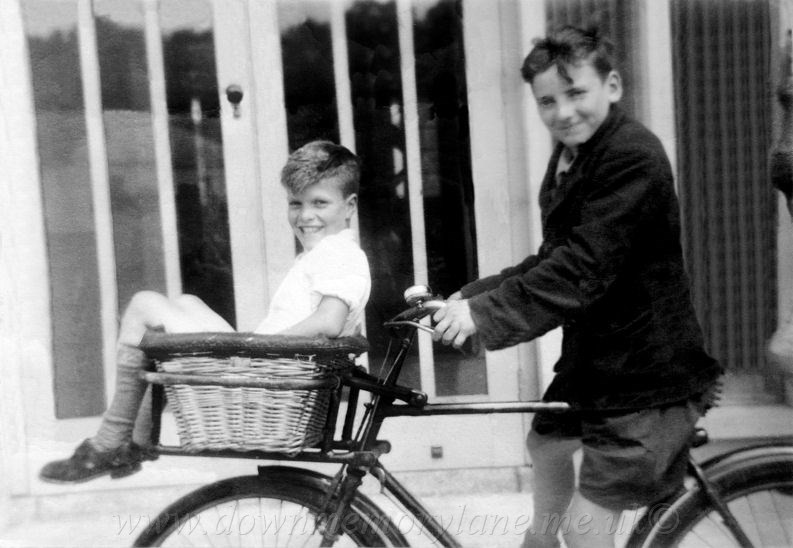 SIMPSON'S 2329
Having finished his deliveries and back at Simpson's of Fountain Street in the 1950's we have on the bike Terry McCaffery. Sitting in the basket enjoying himself is Terry's friend Billy Peel.
STEEPLE HOUSE 2702
Having their photograph taken at the out-houses at Steeple House in August 1974 we have Andrew Beresford with Dawn Rantin on his knee. Then her mum Jennifer Rantin holding on to her other daughter Angela.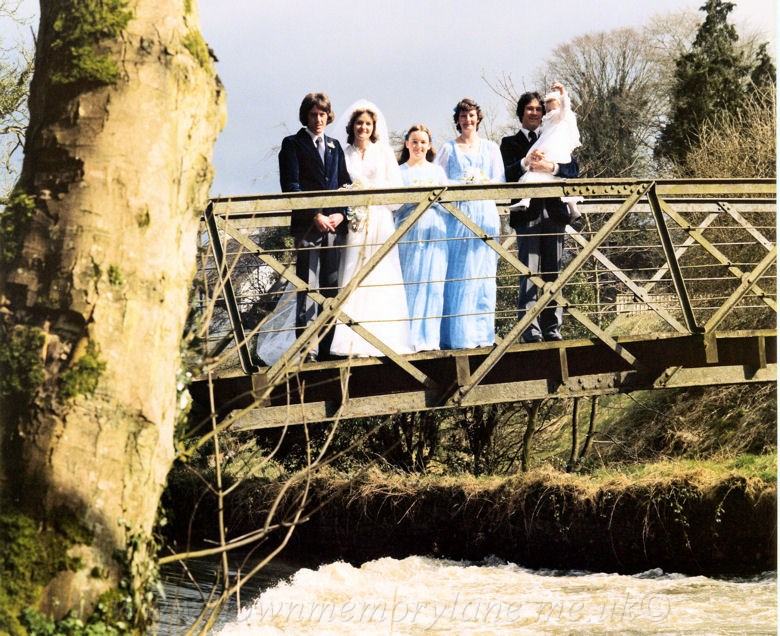 SURGENOR WEDDING 2707
Here is a group photograph being taken on the bridge they loved so much,the 'Shakey Bridge'
Left we have the Groom Billy Surgenor, Bride Nataleen Surgenor, Bridesmaids Sylvia Taylor & Valerie Turkington, Best man Peter Crooks and in his arms flower girl Julie Turkington.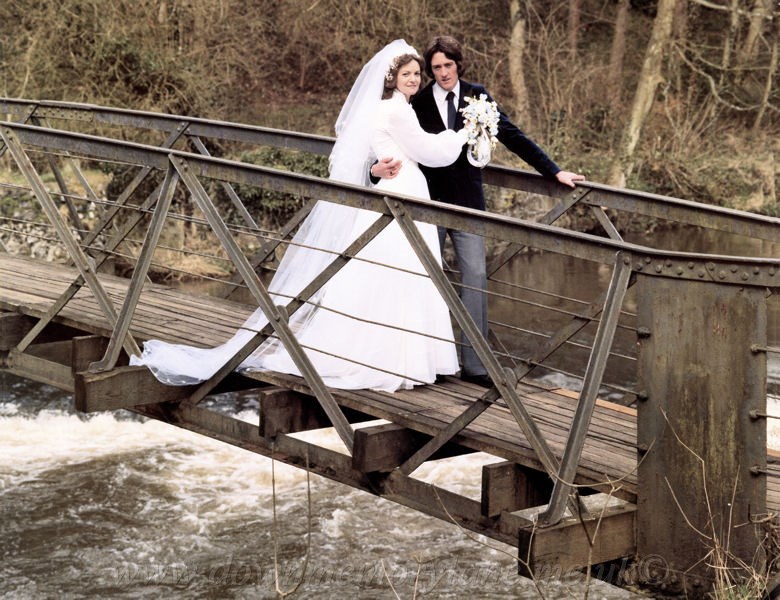 SCOTT WEDDING 1321
This studio wedding photograph taken in 1932 is of on the right Bridesmaid Hetty Lennon, Bride Emily Lennon, Groom Bob Scott and Best Man Joe Scott.
SCOTT WEDDING 1314
In the middle of the Wedding photograph we have the Groom Joe Scott and his Bride Alice Scott nee McKiernan. The best man and bridesmaid are unknown. Alice came from Scotland and that's where they where married in 1940 and then came back to Antrim to live.
ST JUDES BOWLING CLUB 1911
All smiles for the camera are St Judes Bowling Club in 1985 for they had won the Sixmilewater league and the Chest, Heart & Stroke Cup.
Back row: has Rachael Wallace, Amanda McCarroll, George Barnes, Cyril Monteith, Johnathan Curry, Mr Barnes, Neil Booth and Vivienne Barnes.
Middle row: Maud Baird, Charlotte McCarroll, Arnold Woods, John Brovard, Andy Kane, Marion Cuckson and Mrs Johnston.
Seated: we have Jimmy Gillespie, Unknown, Unknown, Unknown, Miss Barnes, Billy Wallace (Club Secretary) and the Rev. Johnston.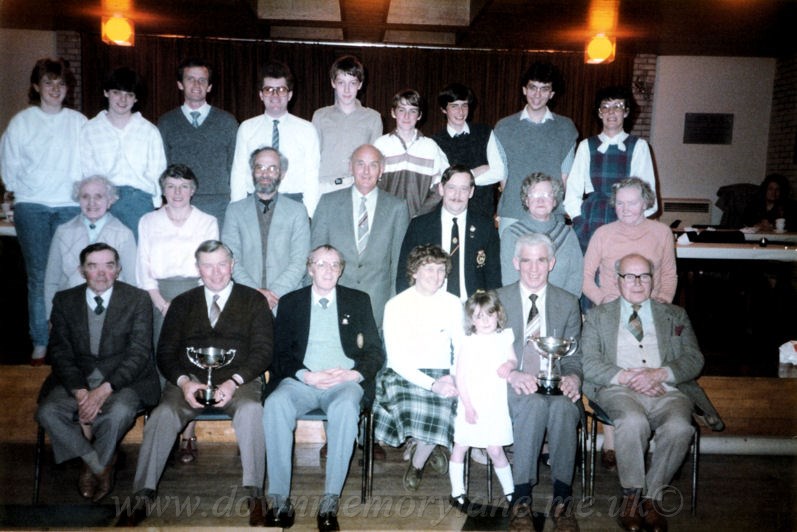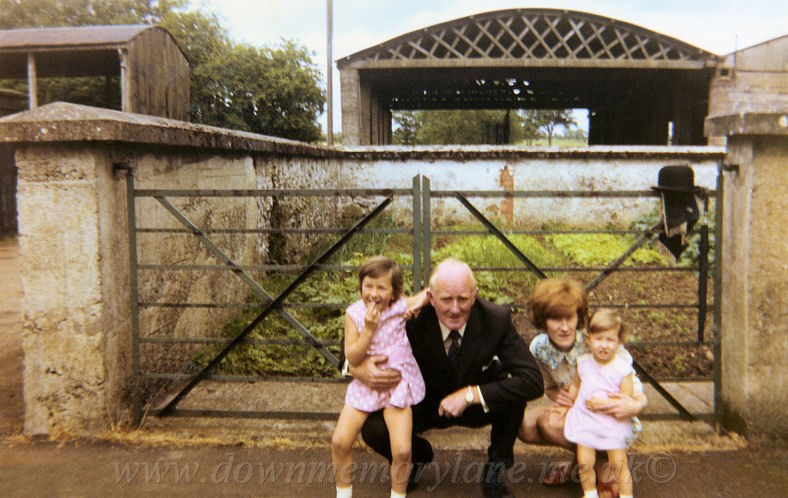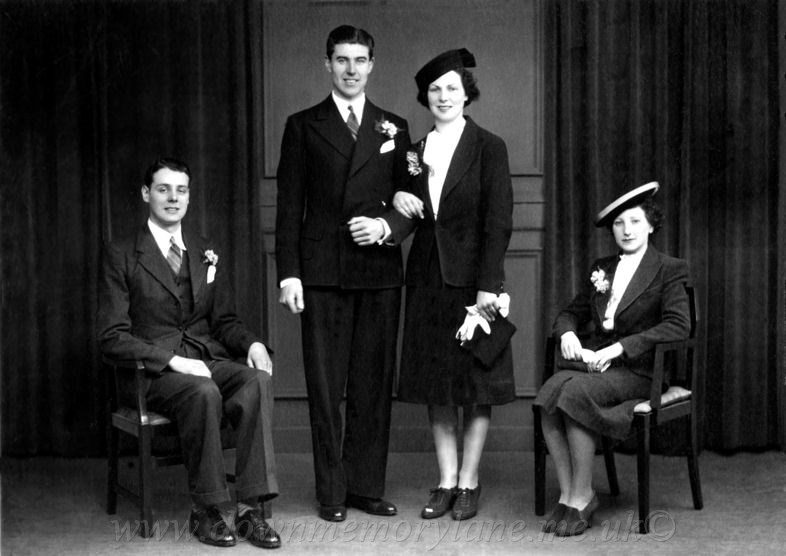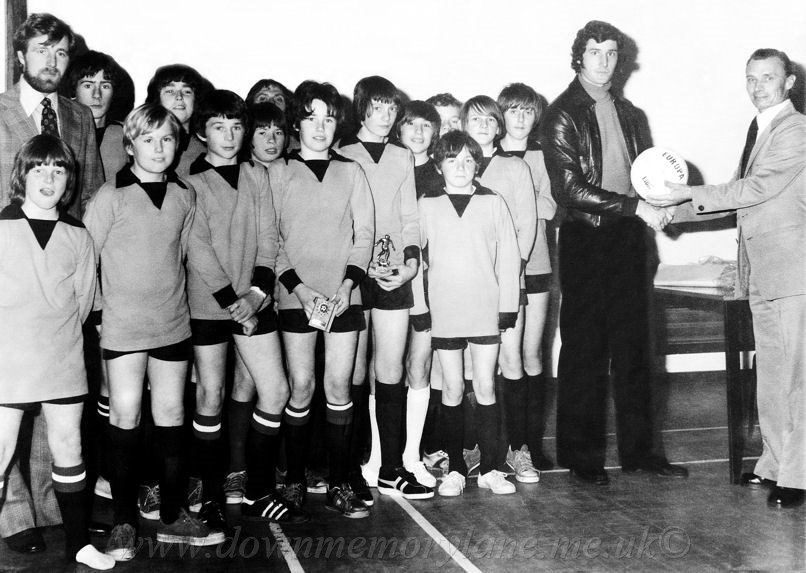 SCOTT PORTRAIT 1309
No you are not seeing double and they are not twins, this is a bit of clever darkroom trickery back in December 1931.
The photographer covered over half the lens with black card then took a photo of Min then reversed the card and took another photo without moving the film on of Min Scott again who came from Antrim to do this.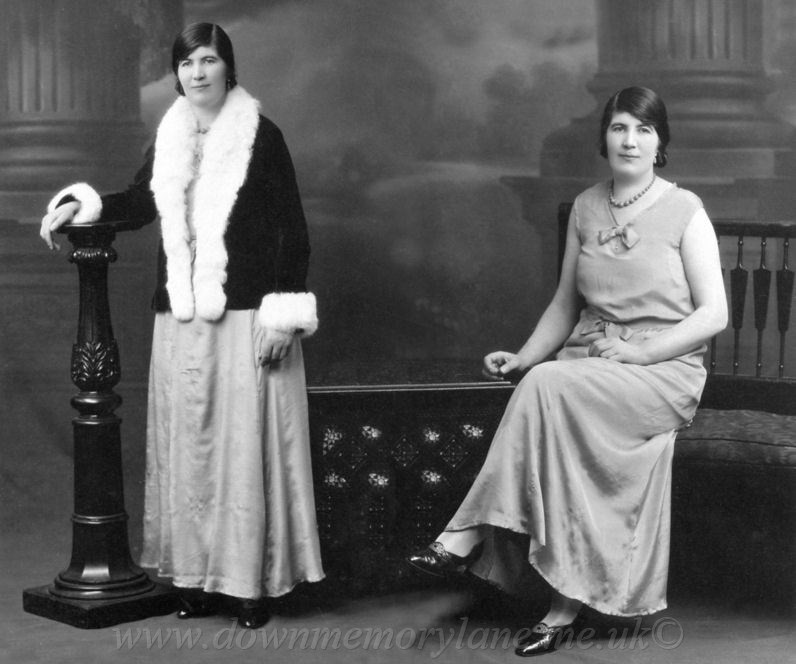 STEEPLE SWIFTS 1930
On the right we Sammy Downey presenting a football to Jim Platt for the Steeple Swifts under 14's standing beside him.
From the Left we have Jim Montgomery, Kerien Lawless, Sean O'Neill, Georger Rankin Snr, George Rankin Jnr, Alister Douglas, Alister Conwaith, Colin Altree, Vincent Massey, Keith Boyce, Raymond Borland, Colin Askins, John Todd, Mo Devine and Gabriel Slevin.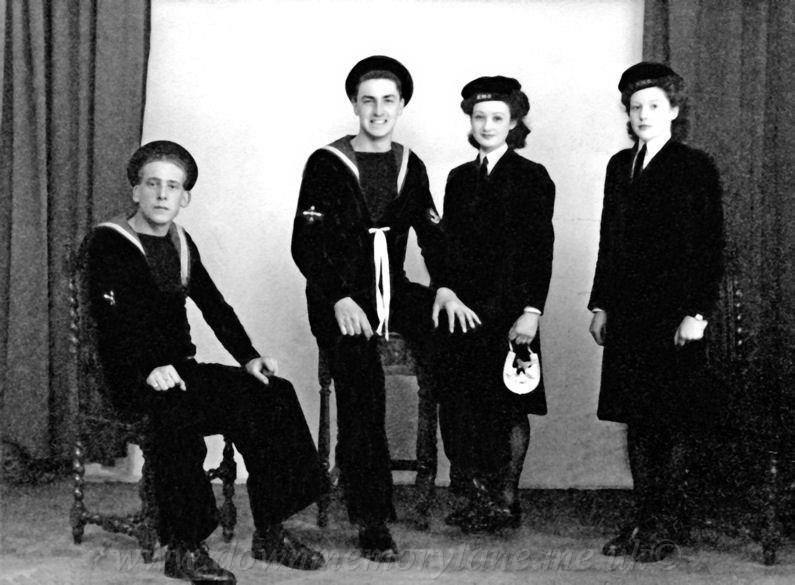 SAFE HANDS 1266
Standing outside her house at the window in Muckamore Village we have John Steele in his Great Grandmother's hands Mrs Playfair back in 1934.
SAILOR'S WEDDING 1342
This was a wartime Wedding in 1944 the Bride, Groom and Best man are unknown.
The bridesmaid was Mary Tosh who later married and became an Allen then went on to live most of her life in Antrim.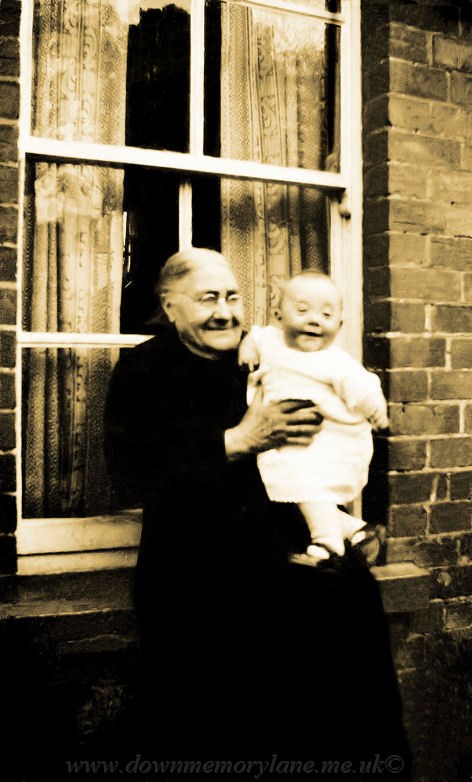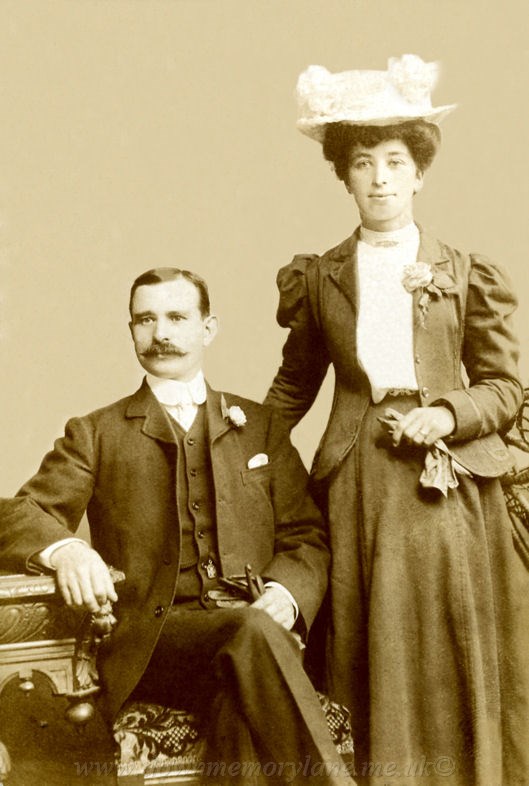 STEWARTS 603
This very distinguished looking couple are Jimmy and Mary Stewart, pictured on their wedding day on June 1, 1908. Jimmy was a cloth beetler and came to work at the Moylena Mill. They lived nearby at Bog Head village, sadly the quaint country cottages were inexplicably demolished.
EILEEN SWAN 282
This is Eileen Swan at the Top of the Town. Date is Unknown.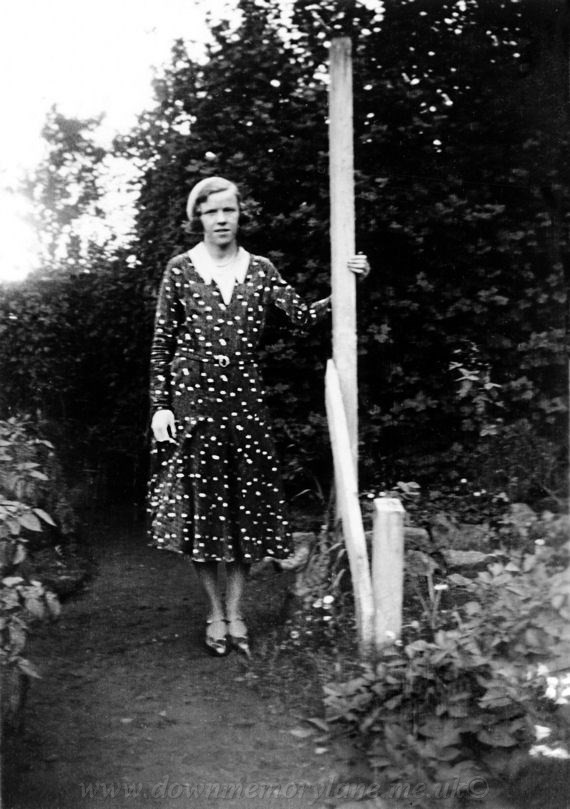 SIXITIES GIRLS 2495
Well here we are in Co.Donegall and these two girls are enjoying the sun by having an Easter break holiday away from Antrim.
What they are wearing you realise that they are in the shops now (2010), but Len McKeown (now McComb) and June Smith (now Rankin) are from the 60's!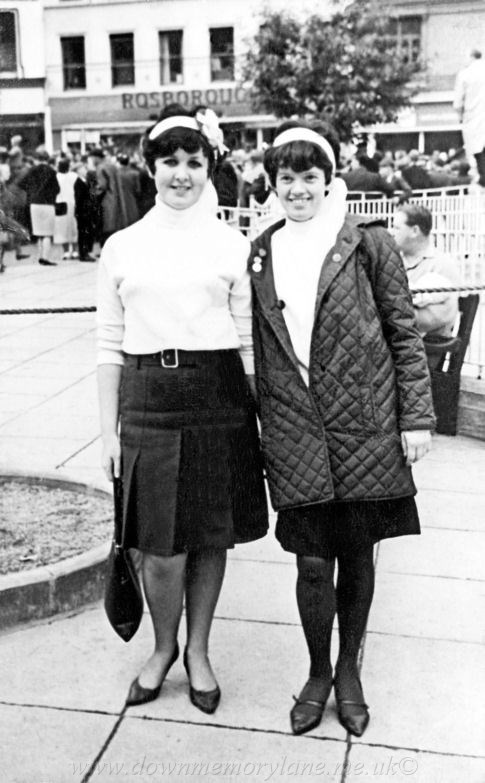 STEEPLE HOUSE 447
This is Elsie Carson nee McKittrick and Jeannie Wallace sitting at the front of the Steeple House in 1929. It was then owned by Major Clark. Elsie by the way worked in the Ulster Bar.
SWINGING SIXTIES 846
These two good lookin' Chicks out for the day at Ballymena in 1966 are Evelyn Reade from Firfields Antrim and Ethel McKeown from Ballymena.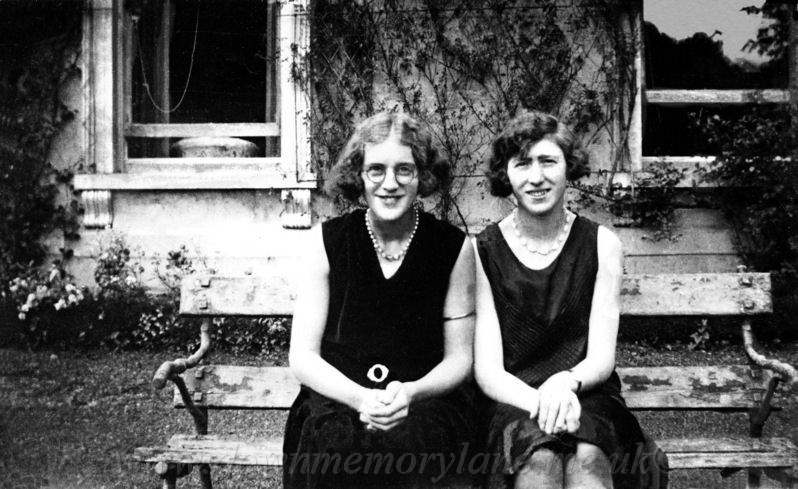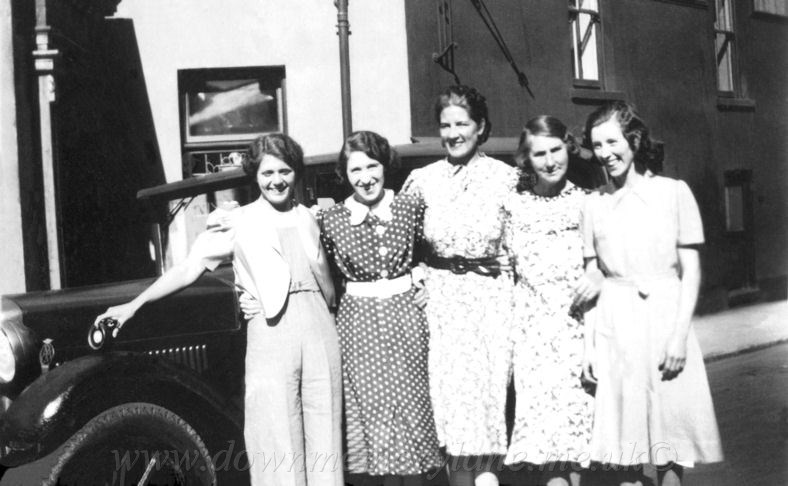 STEEPLE HOUSE 445
This is the side of the House and beside the car we have Major Clark's wife, Unknown, Unknown, Sarah and Lily Beresford.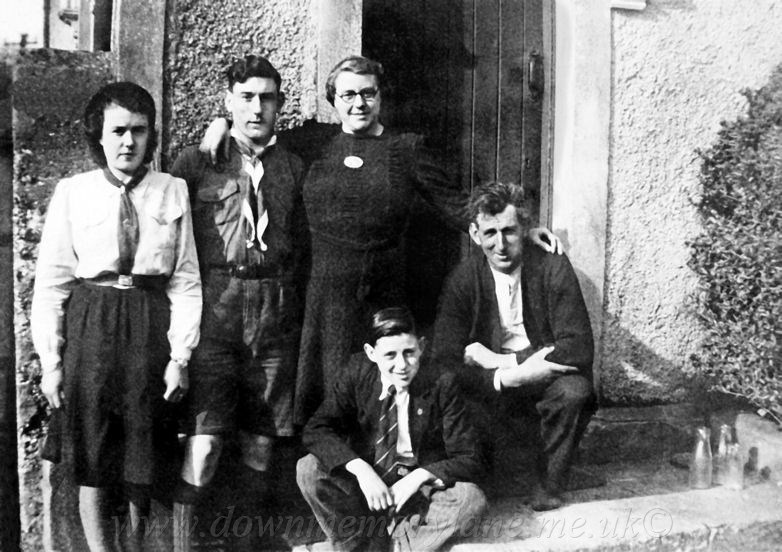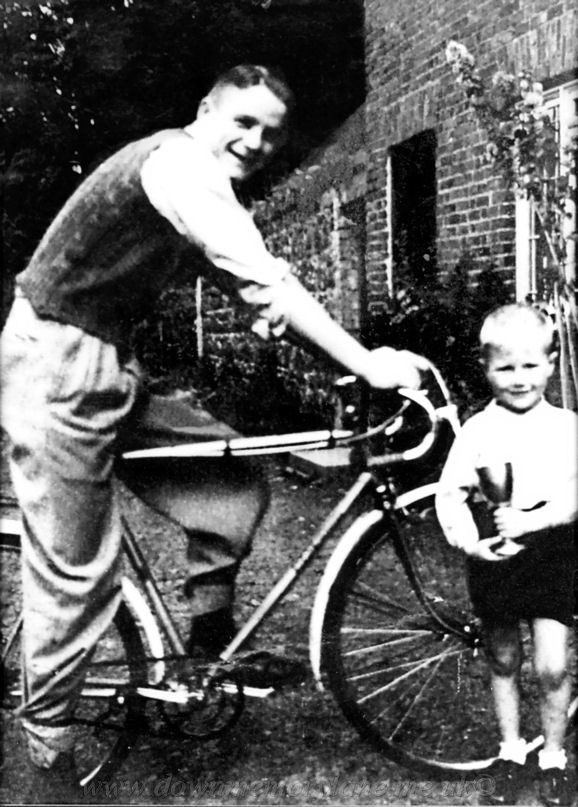 STEELE FAMILY 1205
This is the Steele family outside their home in Antrim in the 1940's.
Standing proudly with one arm on her husband Bob and the other round her son Robin who was a scout we have Priscilla Steele. Her daughter Jean who was in the Girl Guides is on the left and sitting down in front of his dad is Jimmy. On the right you can see three milk bottles which have wide necks and cardboard was used to seal the tops, also one of the bottles is a half pint.
STEELE'S 581
Taken outside Moylena Banks House this is Mervyn Steele with his young brother Derek who is proudly holding a cup his father had won for Bantam Hens. The year is unknown.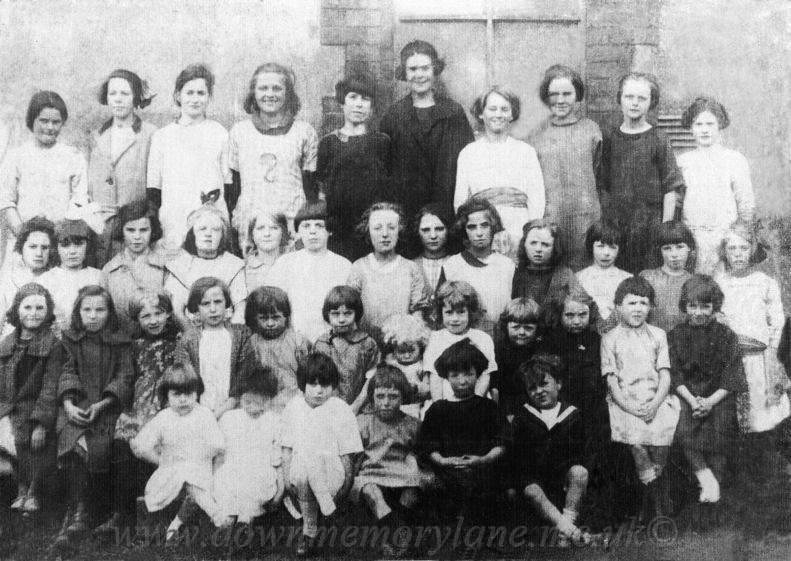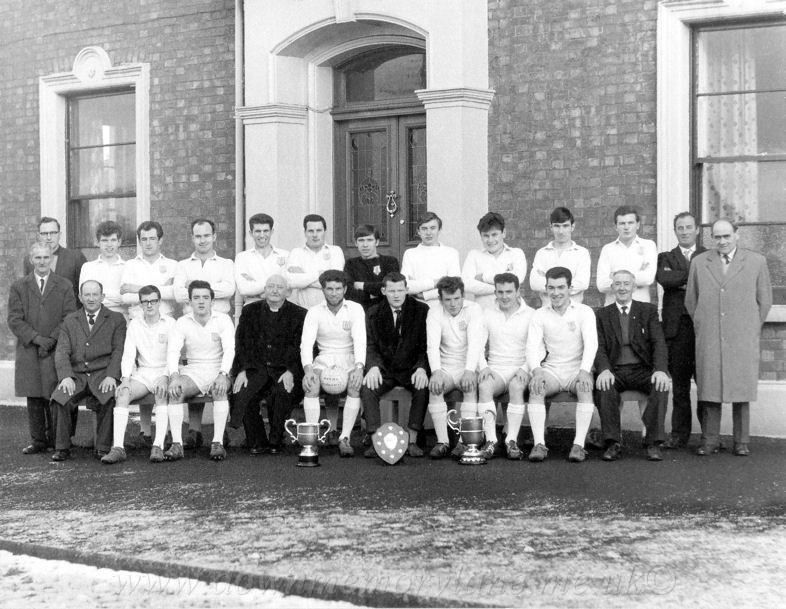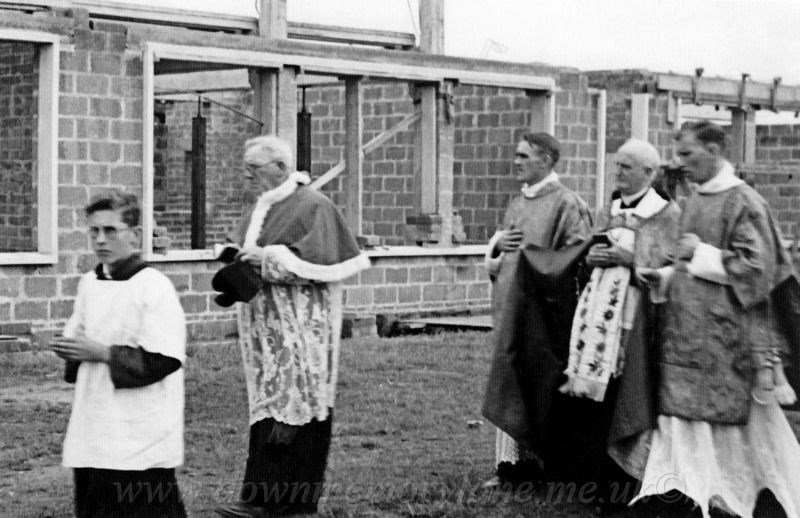 St. COMGALL'S G.F.C. 847
This is S. Comgall's Gaelic Football Team of 1964-65.
Back Row: S.McKeown, R.McNeilly, C.Hargan, F.Haveron, R.McNeilly, P.Teggart, B.McKee, A.Barr, C.Doole, C. Johnston, J.Teggart, G.Allen and S. McCollum.
Front Row: D.Martin, J.Allen, M. Teggart, P.Murray, Rev. V. Davey, P.P. (President), E. McNeilly (Vice-captain), G.Teggart (Captain), H.McCavana, J.O'Hare, L. Murray and D.Kenndy.
Footnote: They had already won Division 5, Division 4, Division 3 of the Antrim Football League, only losing one match in the process.
St. COMGALL'S PRIMARY SCHOOL 423
This was St Comgall's School in Castle Street.and as you can see there were two entrances, one for the boys and one for the girls.
When they moved to the new school it was then used as a youth club, the year is unknown.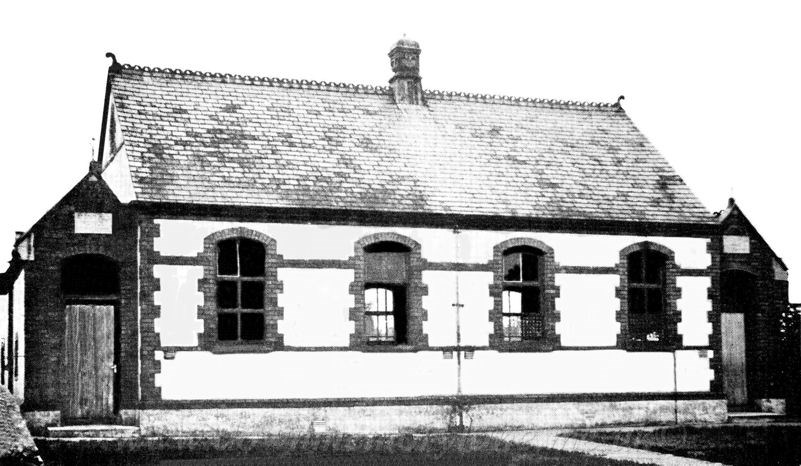 St.COMGALL'S PRIMARY SCHOOL 2407
The reason for this procession back in 1952 is the building in the background, it is for the laying of the foundation stone for St.Comgall's Primary school. Leading the procession is Vincent Kearney, then Cannon McCartan, Fr. Mullan, Fr.Davey and finally Fr. Murphy.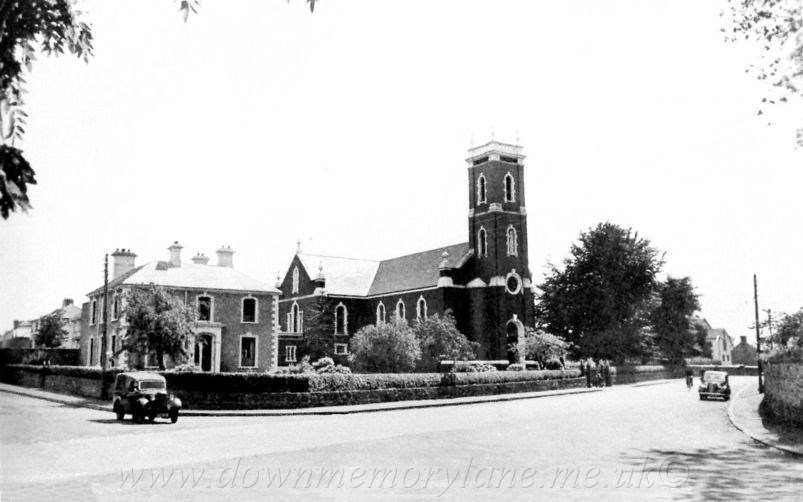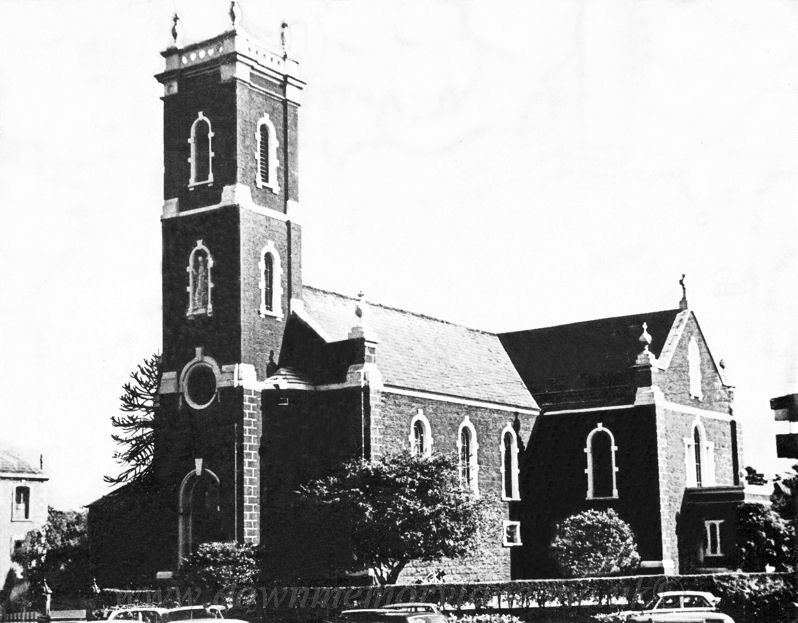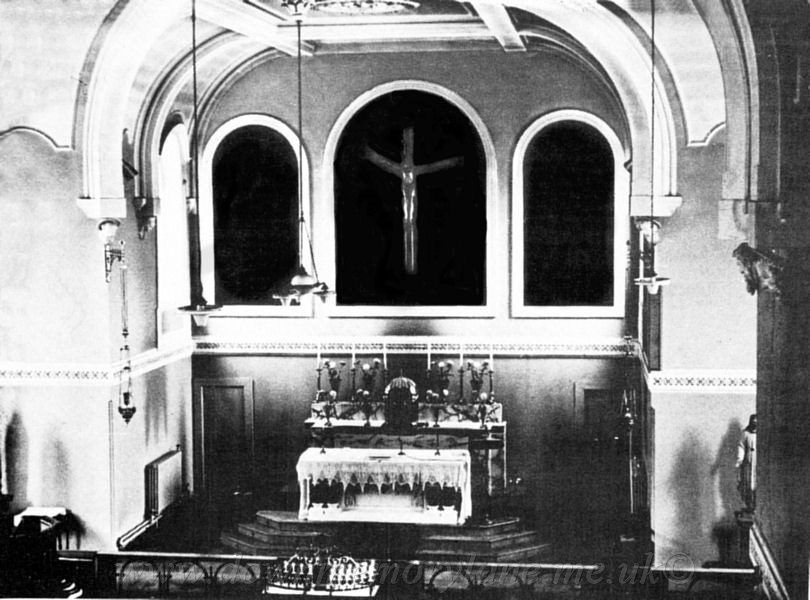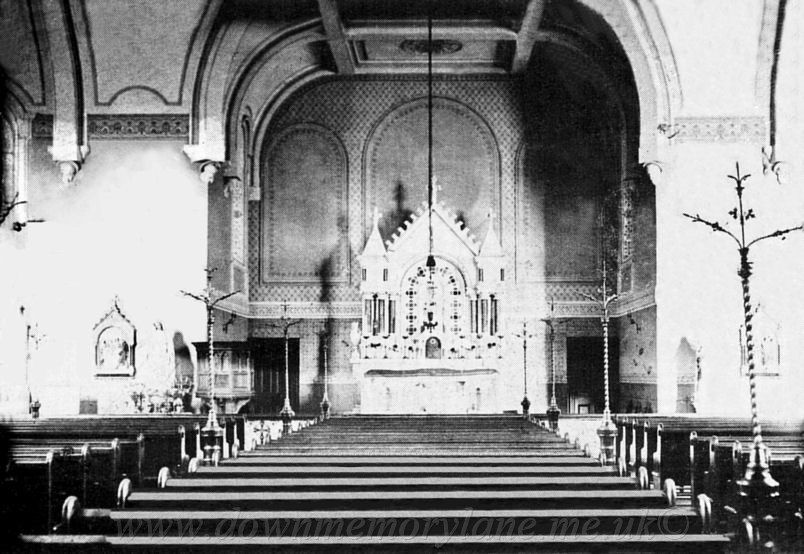 St. COMGALL'S CHAPEL 136
There was no Catholic church in Antrim before 1818 and so mass was held at various outdoor locations. The first chapel was replaced in 1870 with its Italian-style tower and is at the junction of Castle Street and Oriel Road. At one time the walls were painted black but thankfully they have restored them to their natural state, but it is still known locally as the Black Chapel.
St. COMGALL'S CHAPEL 414
This photograph was taken in 1970.
St. COMGALL'S CHAPEL 416
This is the interior of the Chapel the date is unknown.
St. COMGALL'S CHAPEL 417
Newer interior of the chapel date is unknown.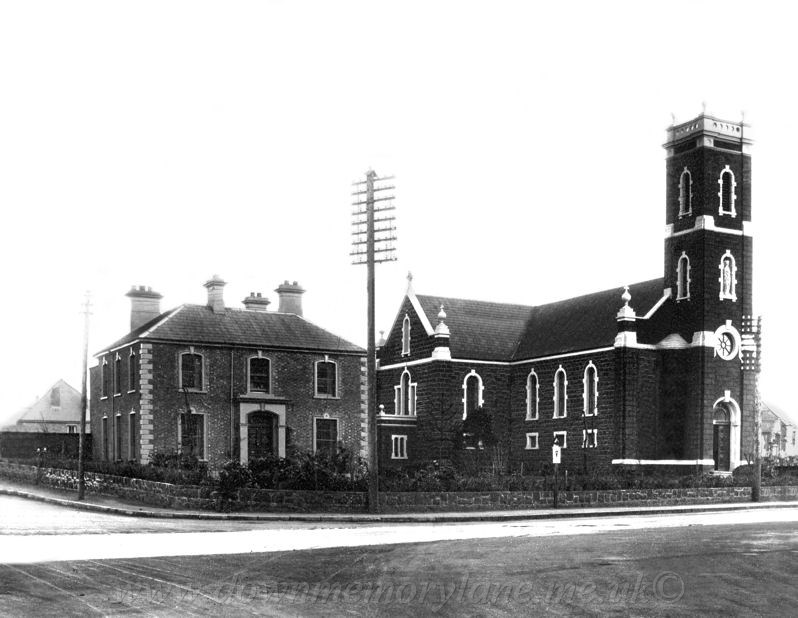 St. COMGALL'S CHAPEL 264
There was no Catholic Church in Antrim before 1818 and so mass was held at various outdoor locations. The first chapel was replaced in 1870 with its Italian-style tower and is at the junction of Castle Street and Oriel Road. At one time the walls were painted black but thankfully they have restored them to their natural state, but it is still known locally as the Black Chapel. Take a look at the road, not macadamized, just a cement strip, you can see the cart tracks.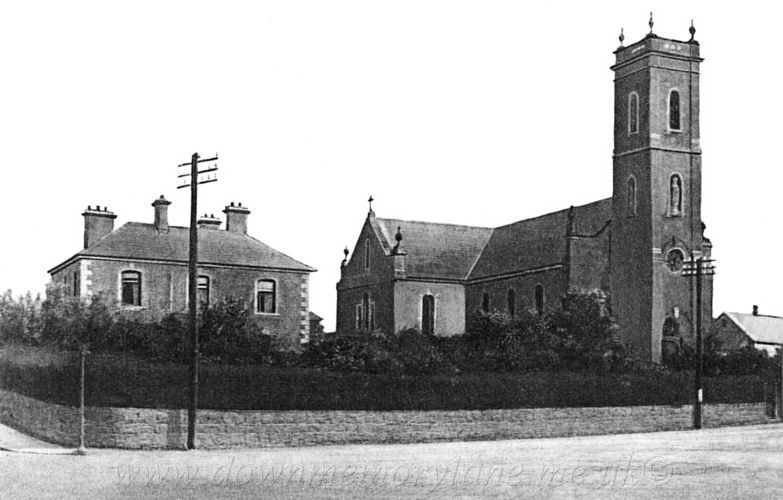 St. COMGALL'S CHAPEL 730
St. Comgalls Chapel on the corner of Oriel and Ballymena roads. The year is unknown.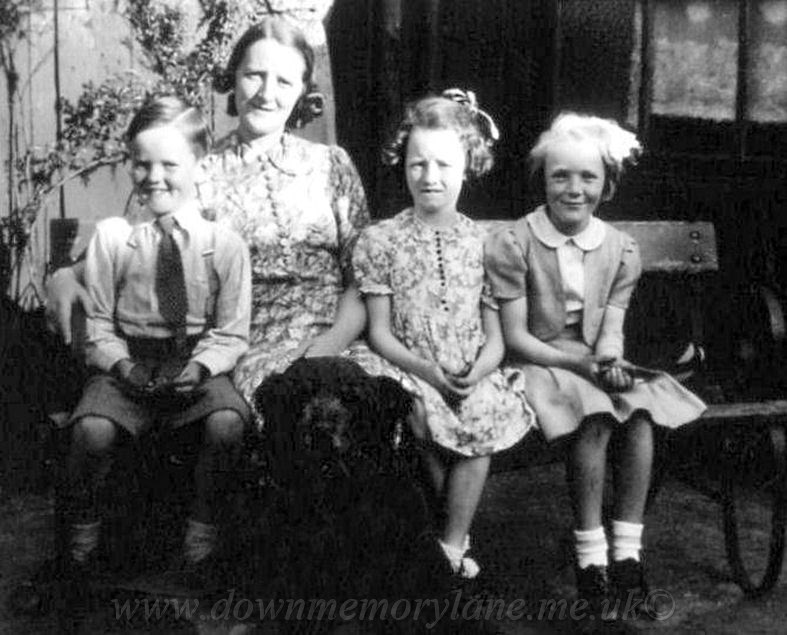 SPA TERRACE 300
Enjoying their visit to Grannies we have Herbie McCabe, Ernie McCabe (Father), Edith Buick and Anna McCabe.
Standing behind is Edith's mum Winnie Buick, the dog's name is unknown, the year is 1941.
SPA TERRACE 347
Enjoying a bit of sunshine at Spa Terrace with their Auntie Nora McCabe
are Herbie McCabe, Edith Buick and Anna McCabe. The year is 1941.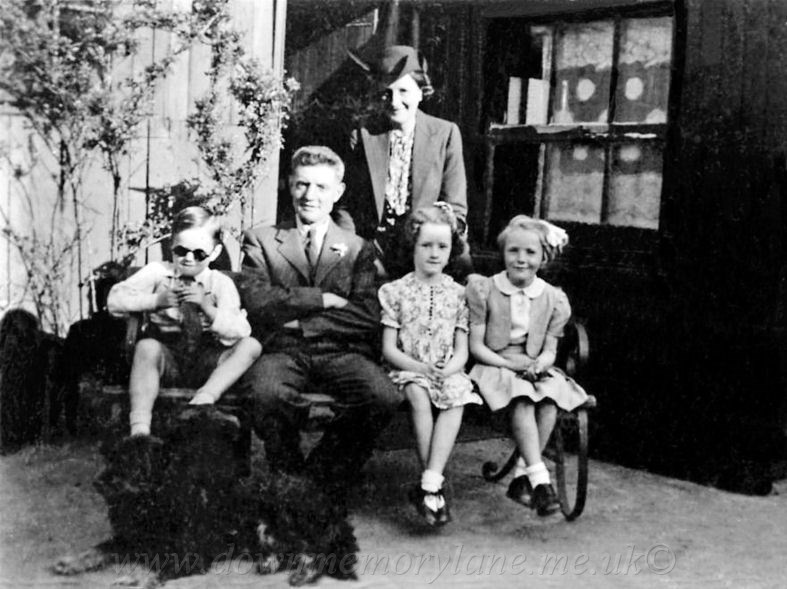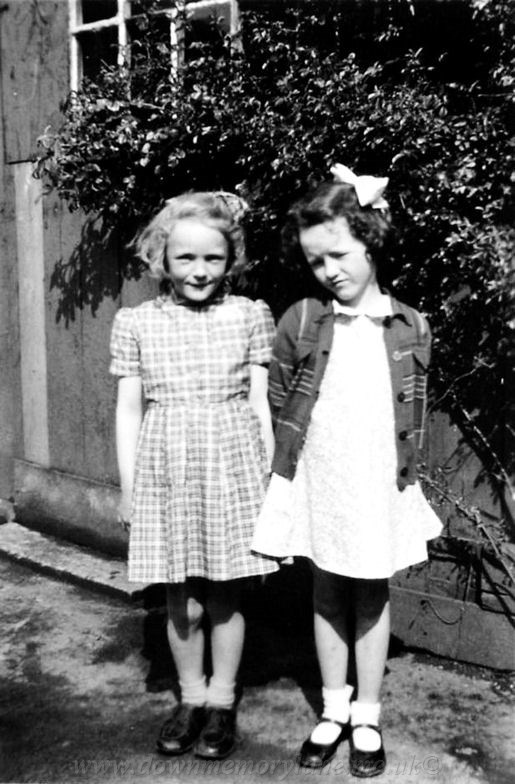 SPA TERRACE 336
Looking prim and proper we have Anna McCabe and Edith Buick at Spa Terrace the year is 1941.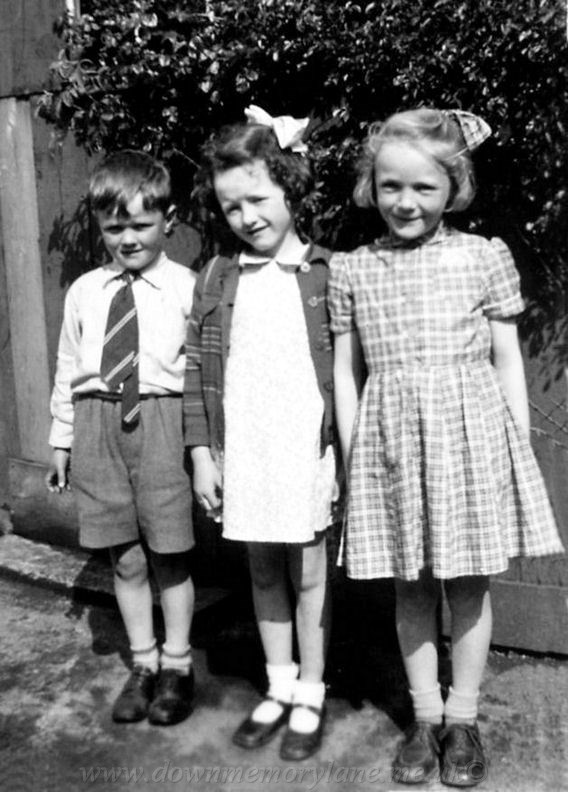 SPA TERRACE 334
Taken up at Spa Terrace here we have Herbie McCabe, Edith Buick and Anna McCabe. The year is 1941.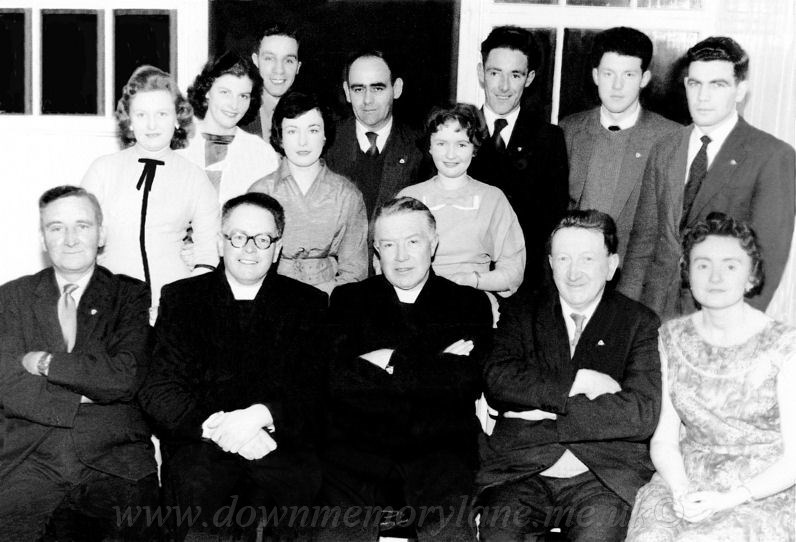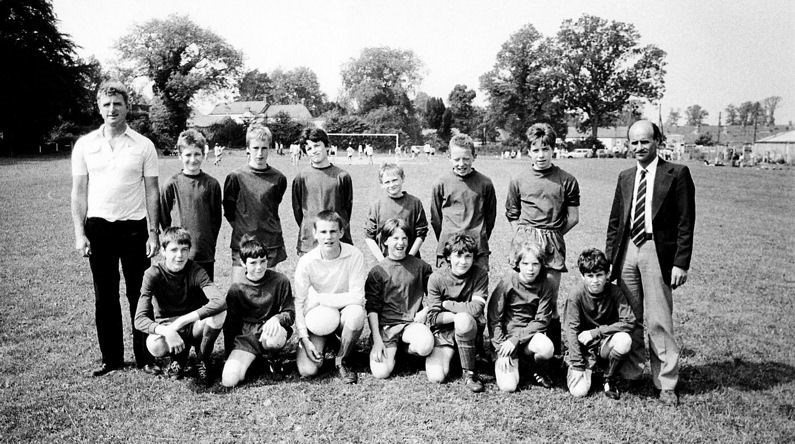 St.COMGALL'S 2406
It's March 1960 and these are some of the members of St.Comgall's Pioneer Total Abstinence.
Front row: are from the left Michael Bradley, Fr.McDermit, Fr.Madden, Hugh Grimley and Josephine Gaynor who still looks the same.
Back row: are Brian Kearney, Stewart McCollumn, James Campbell, Dennis O'Neice and Oliver Kearney.
The girls are Kathleen Brady, Elizabeth Smyth, Charlotte McCormick and Pauline Kearney.
SPRINGFARM FOOTBALL TEAM 2540
All smiles for the camera before playing the opposition in the background are the under 13's 1980 Springfarm Football Team.
Standing: from the left Unknown, Mark Reid, Malaghy Neugent, Paul Lee, Mark Laverty, Barry Okane, Tom Price and Dessie Scott the manager.
Kneeling: in front are David Smith, Unknown, Unknown, Freddie Laverty, Andrew Ferguson, Unknown and finally Philip Scott.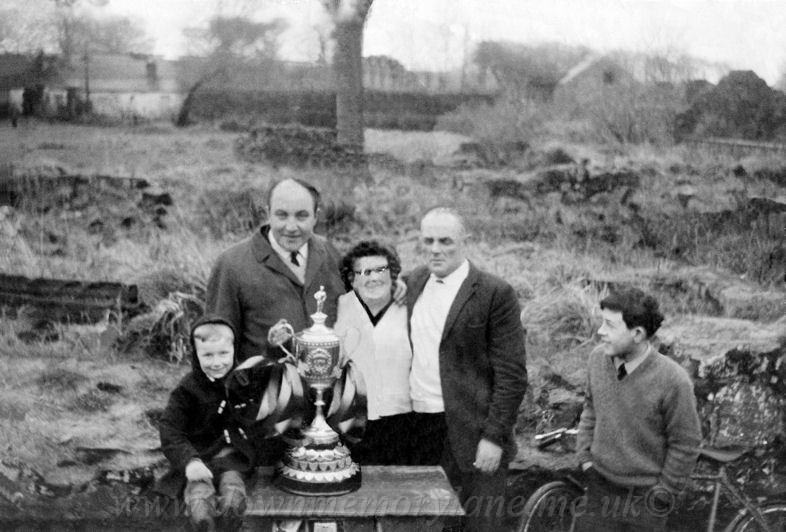 STEEL & SONS CUP 2205
Seen here at the old Chimney Corner football grounds down at Riverside in the 60's.
We have at the back from the left Dick Clarke, Sadie Adams, Mickey Adams, Willie Adams and finally sitting on the table holding tight is Norman Young Jnr.
SEVEN MILE STRAIGHT ROAD 2177
Roaring round the corner from the Oldstone Road these three riders are now just starting up the Seven Mile Straight Road. The riders are unknown at the moment, in the background is York Street Flax & Spinning Dye department.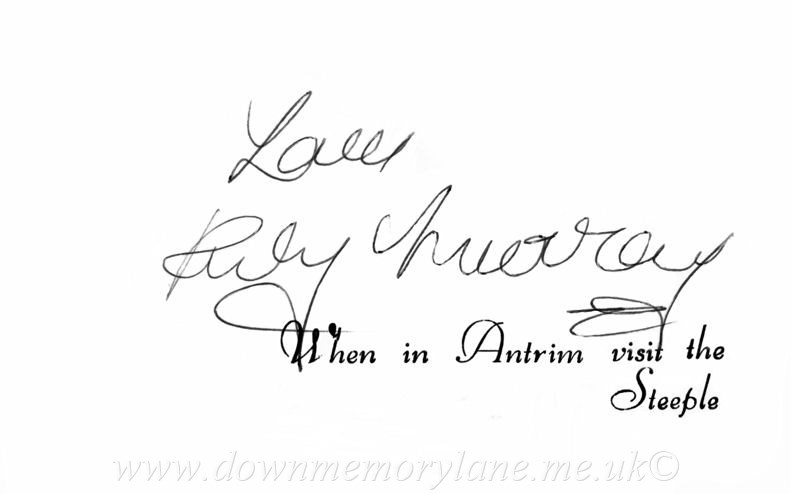 Pages: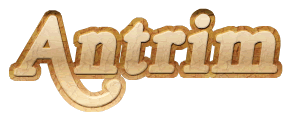 STEEPLE INN 2471
Here in the cabaret lounge of the Steeple Inn in the 70's on the left is Lawrence Hutchin's who for once is speechless. The reason being the lady he has his arm round her waist is our very own singing legend Ruby Murray. Ruby at one time had six singles in the UK top ten at the one time, no one had ever achieved this back then. On her right is Harry Baird also with his arm on Ruby's shoulder.
SURGENOR WEDDING 2708
Having just got married on the 6th March 1980 the Bride and Groom headed to the one place they always wanted their photographs taken,at a bridge in Moylina. This photograph taken on the bridge they loved so much and well known by Antrim folk as the 'Shakey Bridge.' With her husband Billy Surgenor, Nataleen Surgenor said that she wouldn't have her photographs taken anywhere else but here as she loved the bridge. In fact Nataleen used to ride her horse across the bridge when out for a ride.
St. COMGALL'S PRIMARY SCHOOL 315
- Here we have the girls class of 1926 but amongst them are two small boys who are not old - - - - - - enough for school. They could be there as long as they had a sister to look after them. - - - - - - - In the 2nd row is William Wallace in the centre he was ok, he had his three sisters. - - - - Betty Wallace 3rd row 7th from the left then Kathleen Wallace 2nd row 1st on the left and Anna Wallace front row 1st on the left also in the front row on the right is another little boy with a sailor suit on.