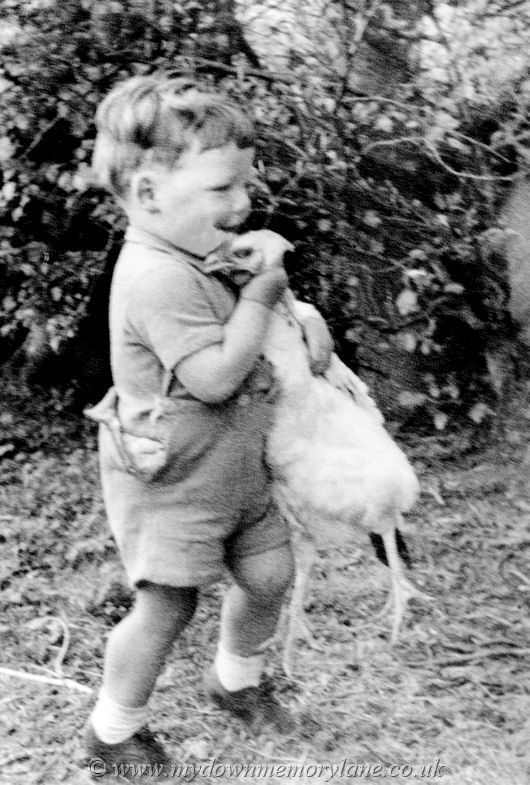 NO TURKEY 1269
" Listen Kid, I keep telling you I'm not a Turkey I'm a Chicken! "
But young Gordon McCrea back in 1961 is taking no notice as it was near Christmas, thankfully his Grannie saved the chicken who thought it was for the pot!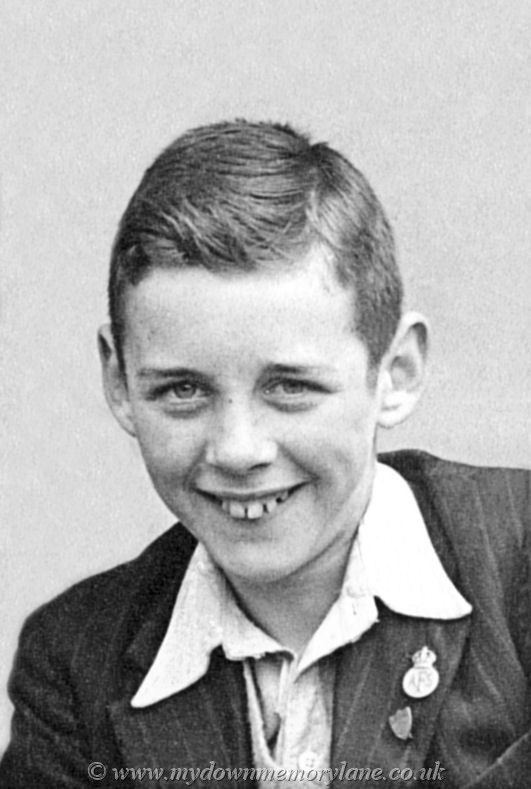 SCOTT McELREA 794
This is Scott McElrea aged 10 in 1949. In his lapel are two badges one with the lettering AFS which stands for Auxillary Fire Service, the other is unknown.
COLIN McKEOWN 2482
This is Colin McKeown when he was about 10 years old heading off to school.Colin is also a Wolf Cub and belongs to 1st Muckamore Pack and is proud to wear his cub badge.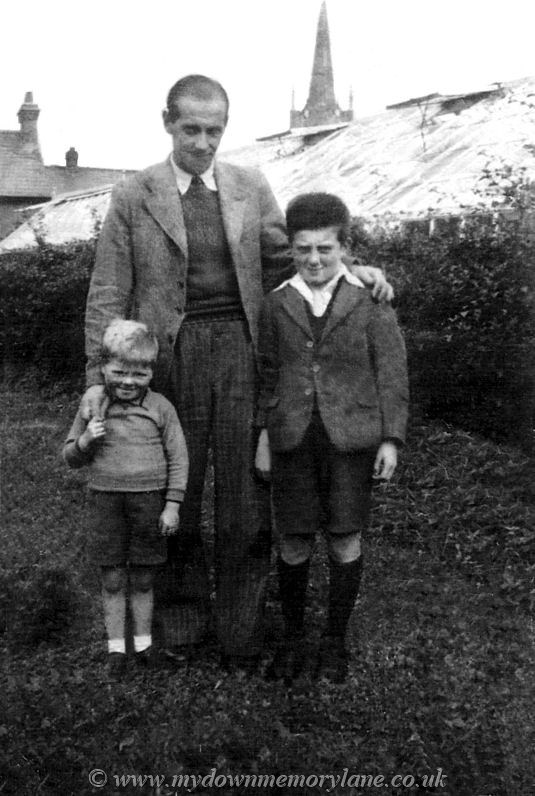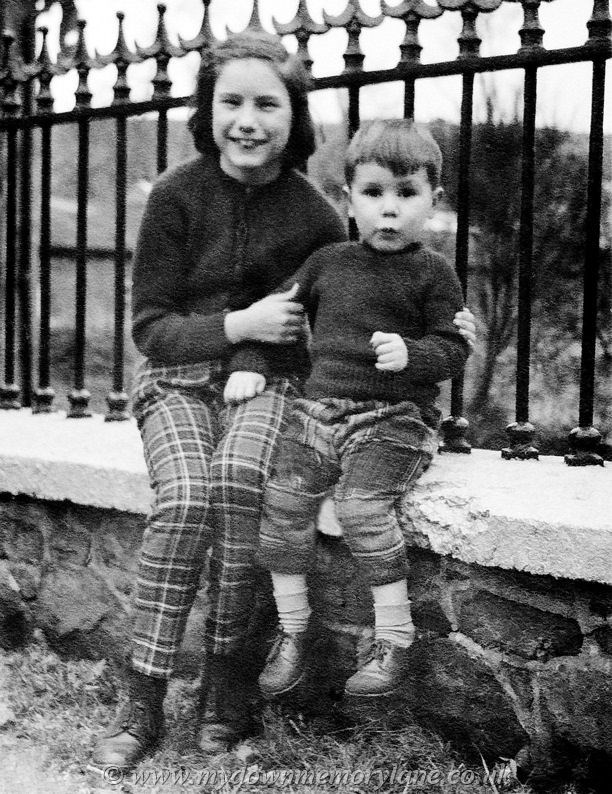 MASSEREENE STREET 1027
Here in a back garden off Massereene Street we have proud father Jim McCaig in 1945 with his two sons Norman and Jim junior. Next door was Jimmy Stevenson's with the large greenhouse and in the distance you can see the spire of All Saints' Parish Church.
McKEOWN CHILDREN 2480
Sitting on the wall at Muckamore in the early 60's we have Len McKeown a Bay City Roller fan (now McComb) and her brother Colin.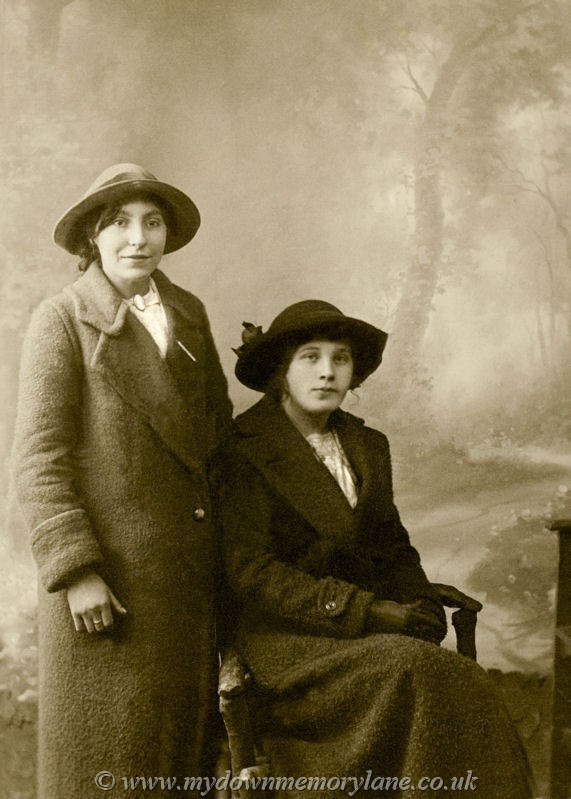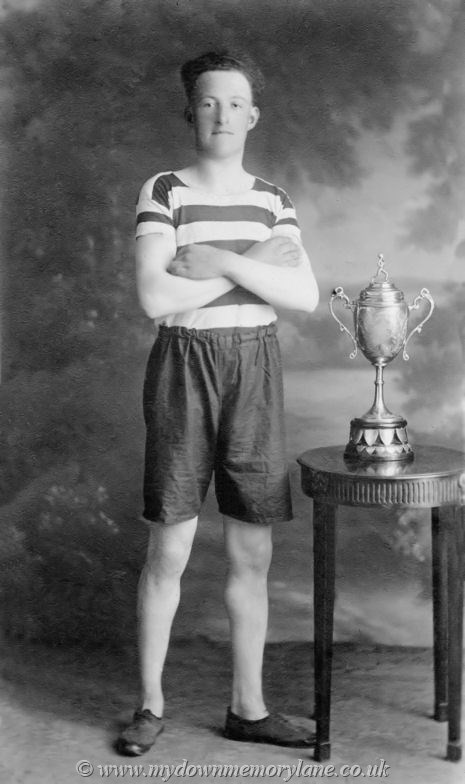 HUGH McCOMB 3157
Standing proudly having his photograph taken in a studio is Hugh McComb and so he should be for displayed next to him is the cup he won for running.
MARGARET McBRIDE 3195
Here at Mercer Bros Studio in Ann Street Belfast standing is Margaret McBride who had come all the way from Antrim with her friend who is Unknown.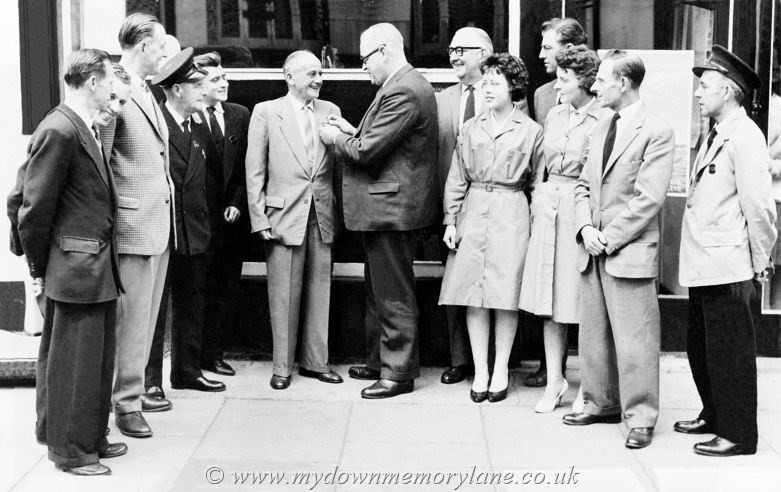 WILLIAM McKEE Snr 3193
It is April 1962 and all smiles is William McKee being presented with the Imperial Service Medal for 52 years service in the Post Office by the manager while his colleagues look on.
WILLIAM McKEE Snr 3191
Just going in to get the newspaper is William McKee Snr outside Tommy Thompson's shop which was in Market Square. Now Tommy just about sold everything as can be seen in his shop window. Teacloths, remember the big black combs which were used to comb all the family's hair. Various Antrim postcards, jewellery, Sweets and Skippy cards. Skippy was a kangaroo in a popular TV series.
WILLIAM McKEE Snr 3192
It's the 25th June 1943 with less than a year to the Dday landings.
This is William McKee Snr our local Antrim postman standing next to an American corporal whose name is sadly unknown.They are standing on the platform of Antrim Railway station and it must have been another American soldier taking the photograph.
For on the back of the photograph is stamped the following: Passed for Personal Use Only. Not for Publication. Theater Censor. E.T.O.U.S.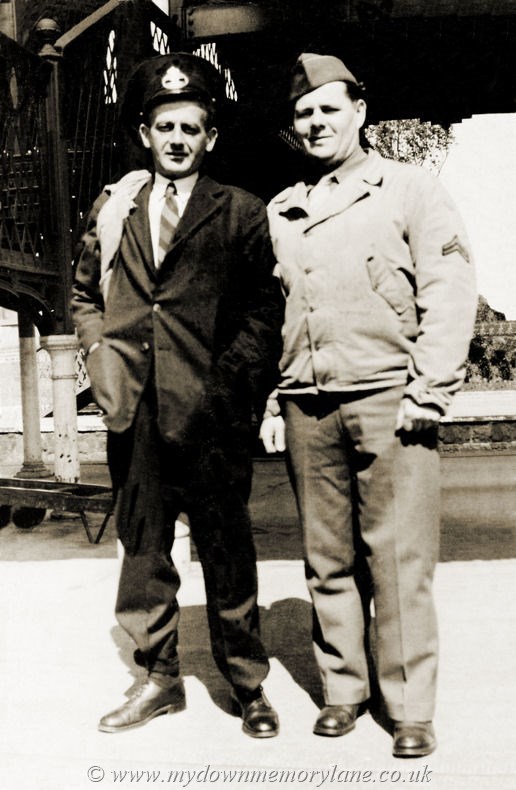 WILLIAM McKEE Jnr 3196
Having their photograph taken are these three Airforce lads, the only name known to me is the sergeant William McKee.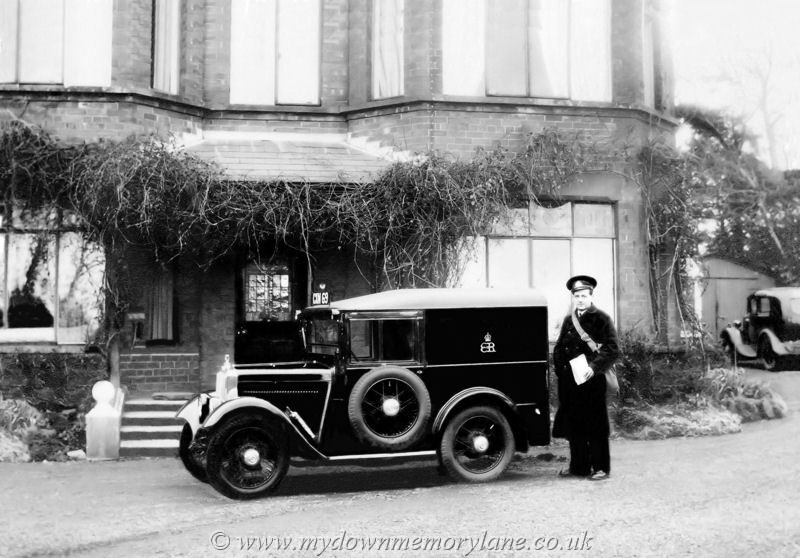 WILLIAM McKEE 3190
Standing next to a brand new Royal Mail postal van in the 50's registration CXN 69, note the spare wheel. Next to it a fire extinguisher is William McKee getting ready to deliver a package to the house in Railway Street just down from Antrim Health Centre. This is the house that Roeluf Schierbeek and his wife moved into in the early 60's and renovated it. Roeluf Schierbeek ran the Ankelon Plant.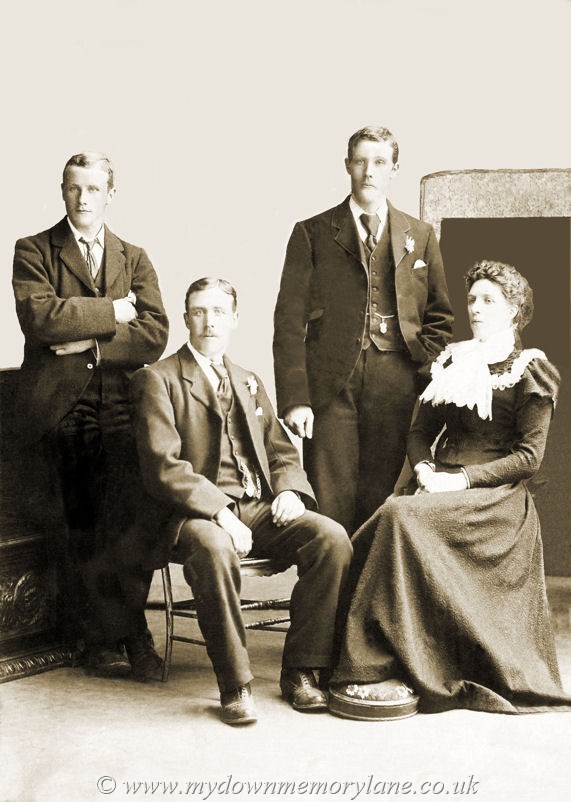 STUDIO PHOTOGRAPH 3130
All looking very solemn in this photograph the reason being they had to stay very still for the photograph to be taken.
The only person known in the photograph at the moment is Margaret McKitterick.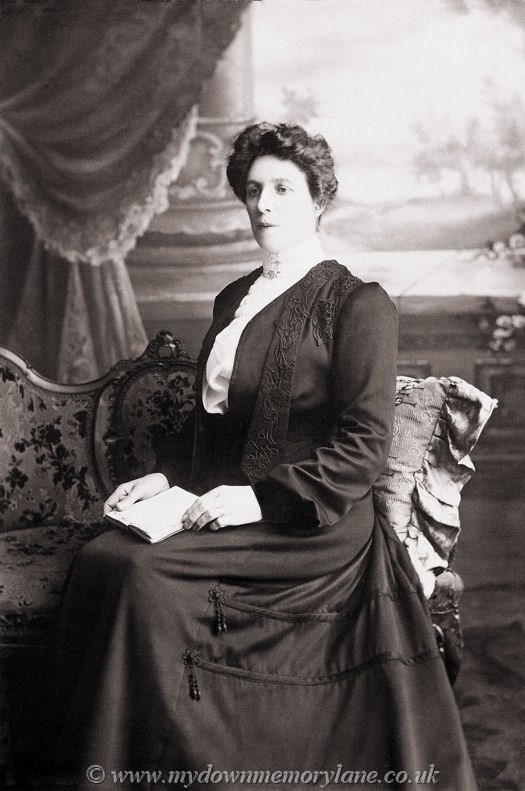 MARGARET McKITTERICK 3050
This is Margaret McKitterick who travelled from Antrim to Belfast to have this very regal photograph taken.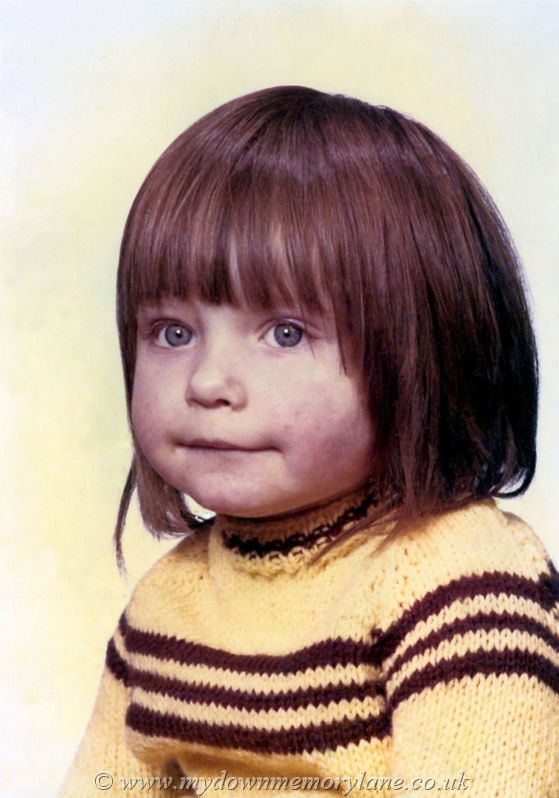 KATHY McCULLOUGH 1853
Smiling prettily for her school photograph is Kathy McCullough aged 5 in 1973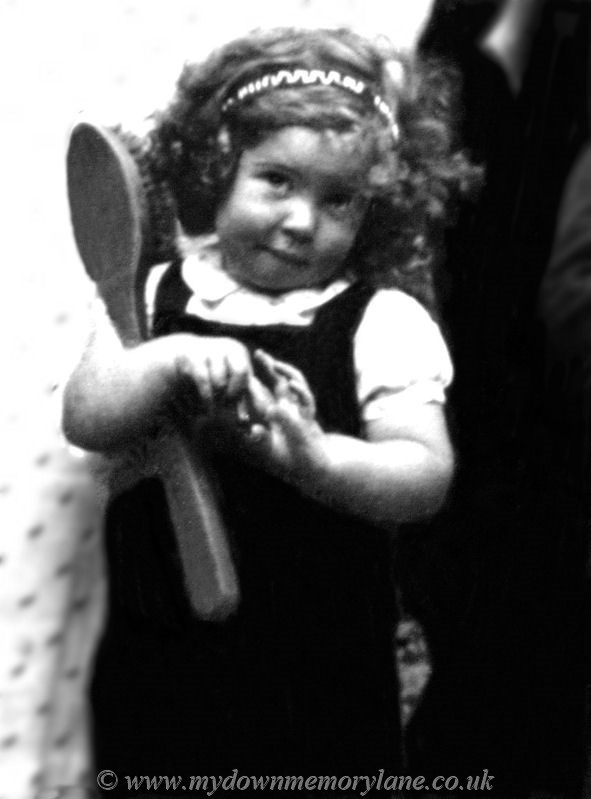 INNOCENCE 1319
Holding the long handled brush is the delighful Joan McElrea aged 3 in 1937.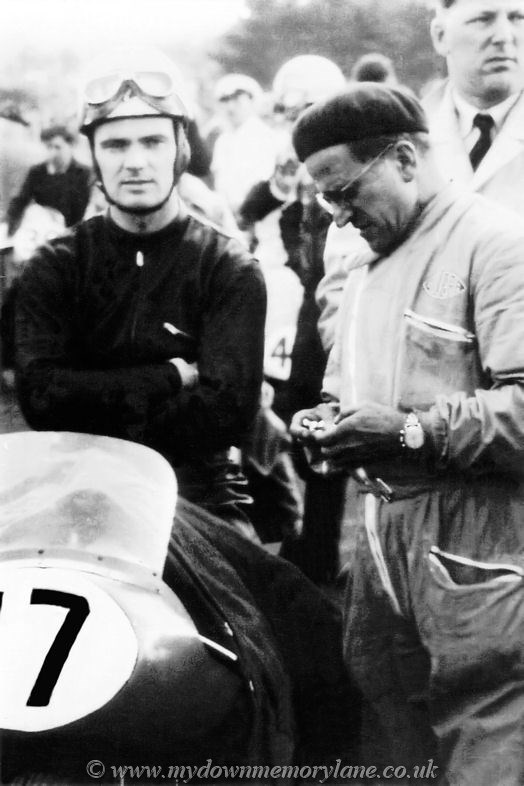 BOB McINTYRE 2961
Sitting astride his 500cc Gilera 4 on the grid of the 1957 Ulster Grand Prix is Bob McIntyre.
Standing next to him is the renowned Gilera mechanic Giovanni Fumagalli.
My thanks to Ed Cunningham who has gone home of Ontario, Canada for this photograph.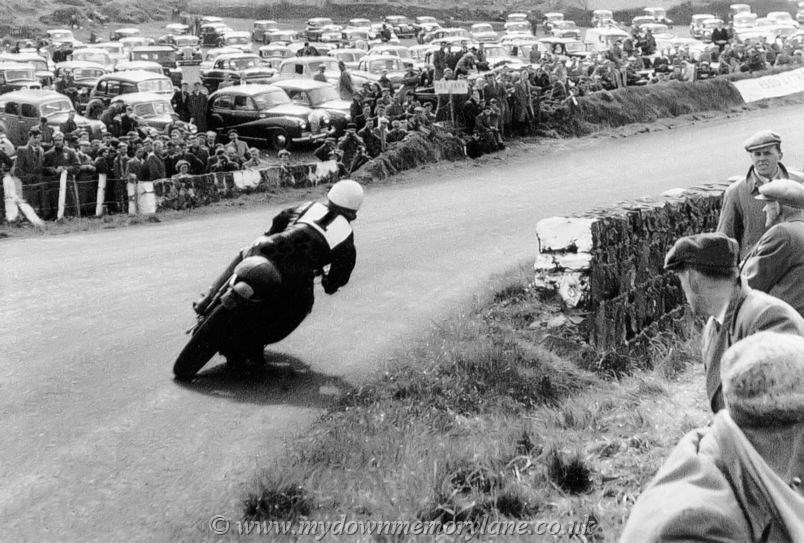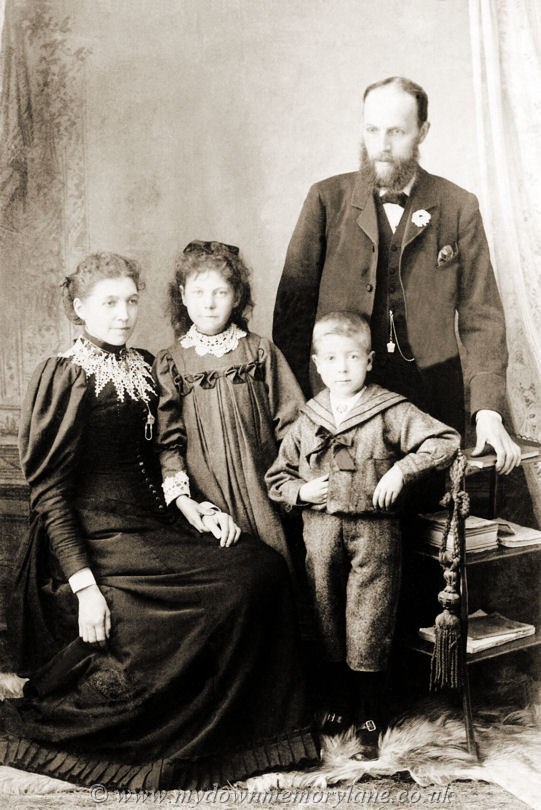 BOB McINTYRE 2974
Racing past here on the coast road between Portrush and Portstewart in the 1956 North West 200 is Bob McIntyre on his 500cc Norton.
My thanks to Ed Cunningham who has gone home of Ontario, Canada for this photograph.
McILWAIN FAMILY 2953
This is the McIlwain Family having their photograph taken in a studio back in 1895.
Samuel McIlwain married Jane Boyd McIlwain nee Cunningham on the 21st November 1884 and now 11 years later they have these two lovely children. Jane McIlwain was born on the 27th January 1886 and was 9 in the photograph, Jane went home on the 11th April 1960 aged 74. Now John McIlwain was born on the 8th April 1888 and was 7 in his sailor suit and buckled shoes, John went home on the 24th May 1965 age 77.
JANE McILWAIN 2951
Sitting in a photographer's studio and giving the photograper a great smile is Jane McIlwain in 1887.
Jane was one year old and her proud parents were Samuel McIlwain and his wife Jane Boyd McIlwain who were both 32 at this time. Now if you look closely at Jane's left boot you will see it nedds repaired for Jane's big toe is starting to stick out!
My thanks to Ed Cunningham who has gone home of Ontario, Canada for this photograph.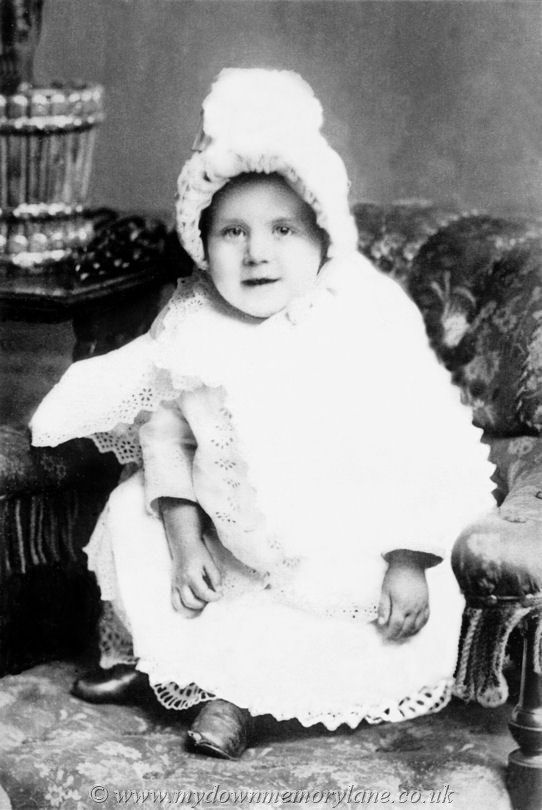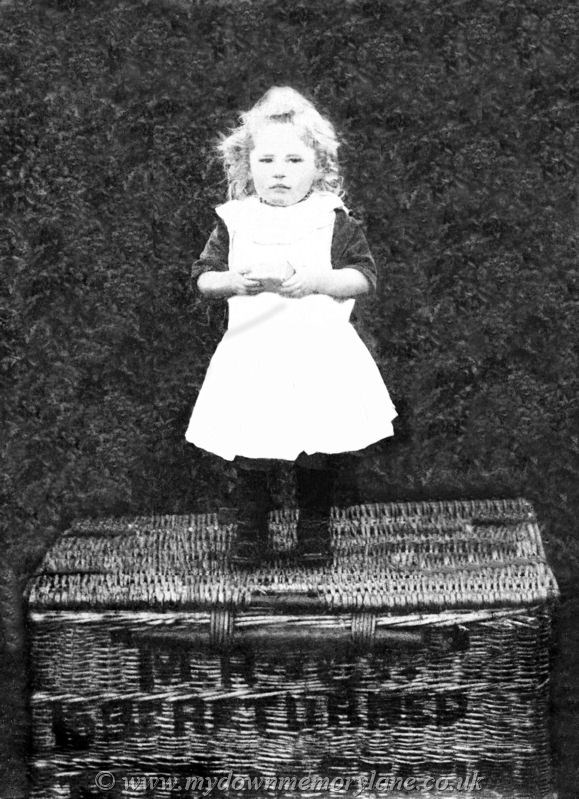 HERBERT McCABE 965
Standing on top of a pigeon basket in 1910 we have Herbie McCabe aged two.
On the side of the basket is the following writing: M.R.C. to be returned T--y Road Station.
As you can see Herbert is wearing a dress back then they were called young kids clothing.
The reason for wearing the dress was convenience for potty training because mens breeches were too complicated to undo quickly enough. There is a photo on Page K1 of me wearing a dress in 1943!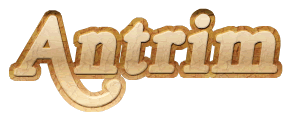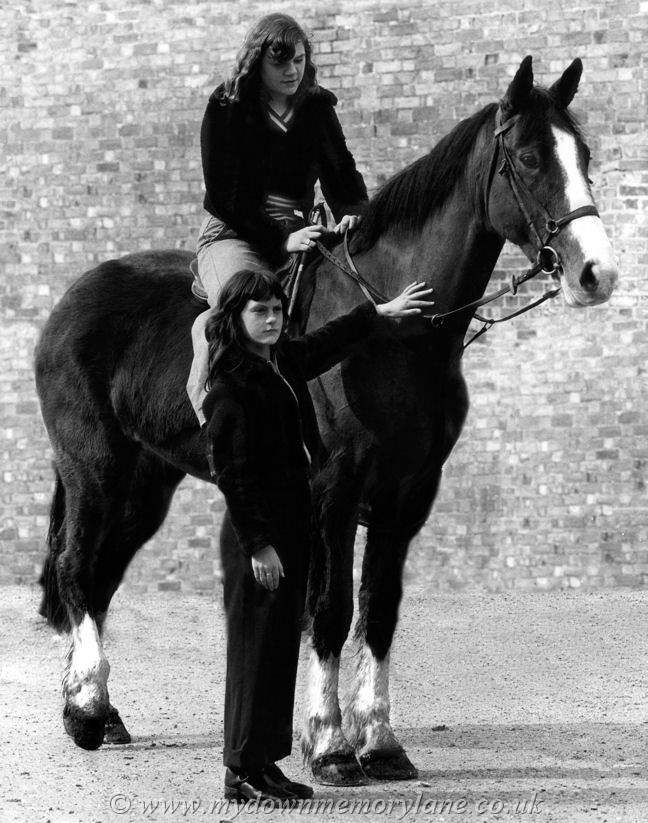 HORSE RIDER 1498
Sitting astride a horse called 'Black Beauty' or sometimes callled 'Black Bess' is Jennifer McMinn in the 60's. The girl with her is called Lee who lived a couple of doors down from Jennifer. The horse was owned by William McClenaghan from Crosskennan, Antrim on the Kells road. Jennifer came up to the stables in Antrim reguarly and go riding.
Corrected information for "Horse Rider" was sent in by Michael Cororan