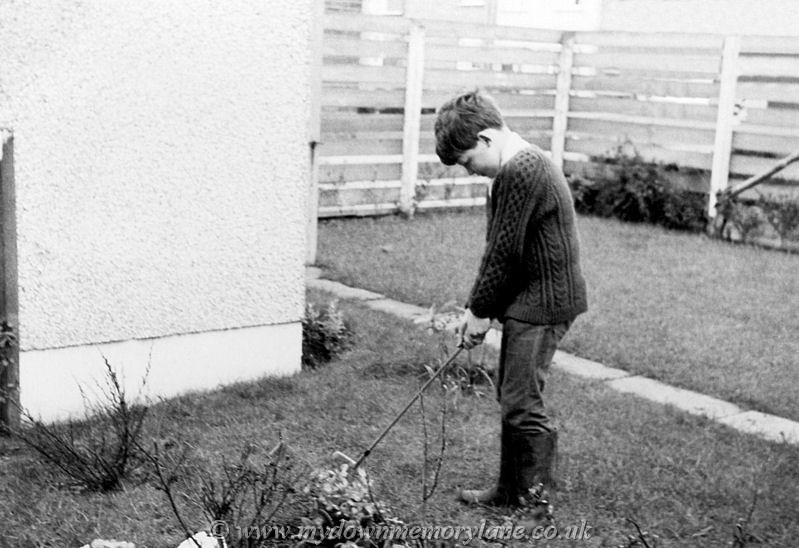 GORDON McCREA 2660
This young little chap knew what he wanted to be from a very early age, a golfer.
This is Gordon McCrea when he was only 10 years old perfecting his swing. It worked for Gordon in later years he was runners-up in the Fred Daley tourament. Went off to Scotland and for 3 years he won the club championship.
MARGARET McCOMB 2552
This is Margaret Graham McComb from Antrim who was having her photograph taken but looking very solemn as they did back then. This day was the first milestone for Margaret for she was now offically an adult as it was her 21st birthday.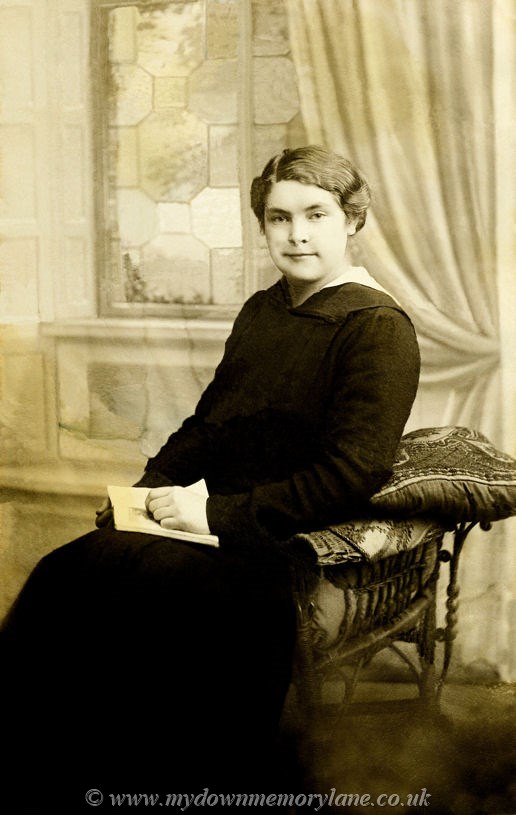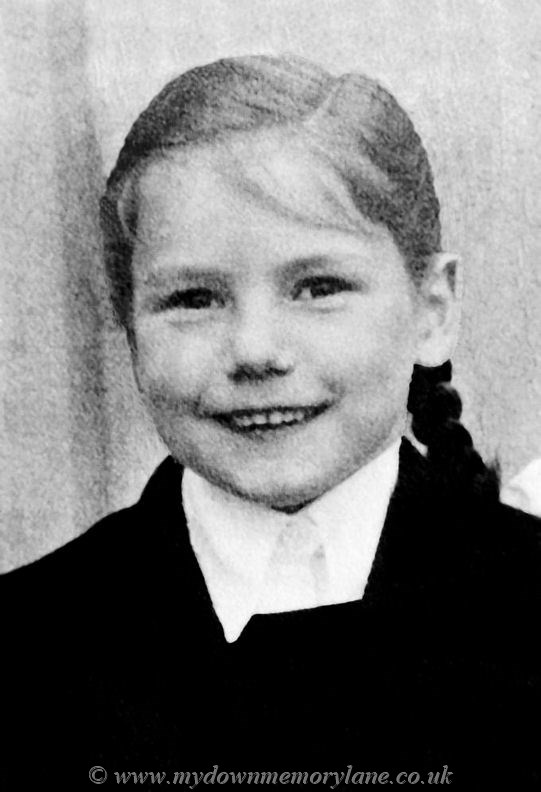 MARGARET McCOMB 2547
This is Margaret Graham McComb from Antrim who had gone to Belfast to have her photograph taken at Abernethy's Studios at 29 High Street. Who were 'By royal Appointment to The Late Queen Victoria."For this was a special day for Margaret for it was her 18th Birthday!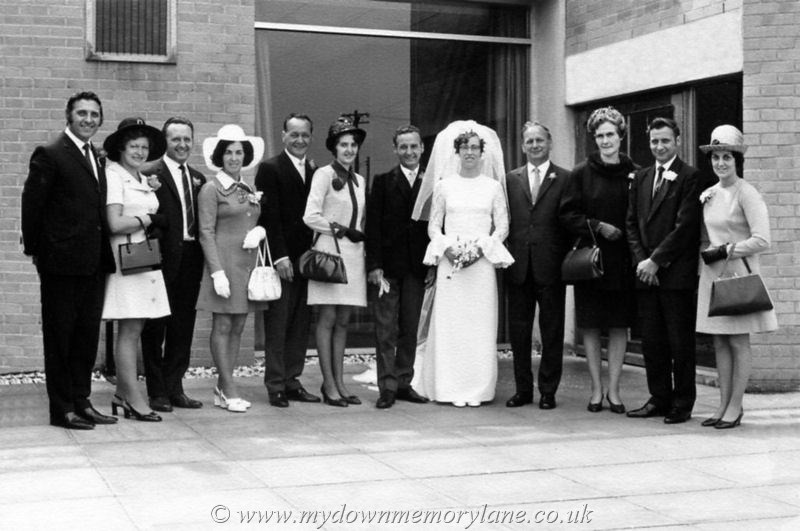 McILROY WEDDING 1857
The marriage took place in the Church of Ireland at Templepatrick on the 7th August 1970 and here they are pictured at the Skyways Hotel, Aldergrove before their reception. They had nine boys and four girls in the family, one more brother here and the title could have been " Seven Brides for Seven Brothers".
From the left we have Samuel McIlroy, his wife Jean; Sidney McIlroy, his wife Rita; Norman McIlroy, his wife Henra; Groom Thomas McIlroy, his Bride June nee Devlin; Robert McIlroy, his wife Eileen and David McIlroy with his wife Elsie.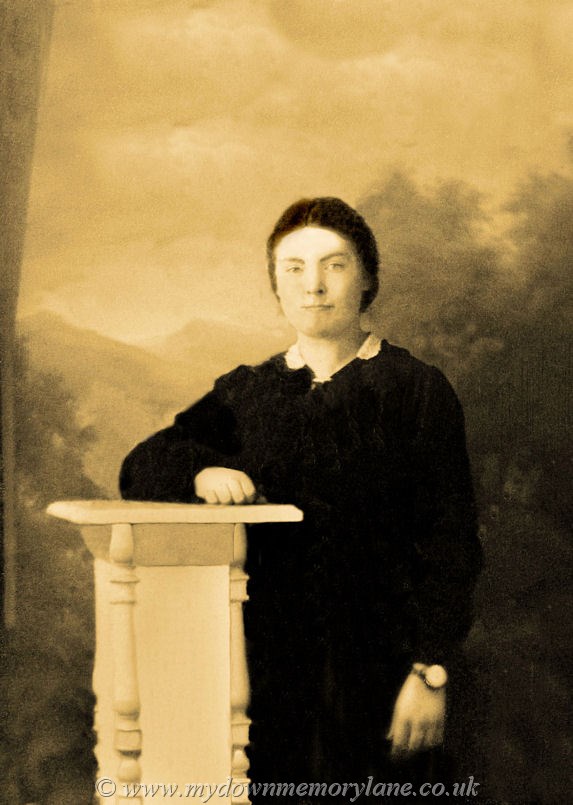 LEN McKEOWN 2492
This bonney lassie has not changed a bit even though a few years has passed since she was 6 years old in this picture. Want to know who she is? Well she hasn't lost that twinkle in her eyes,it is of course Len McKeown now a McComb.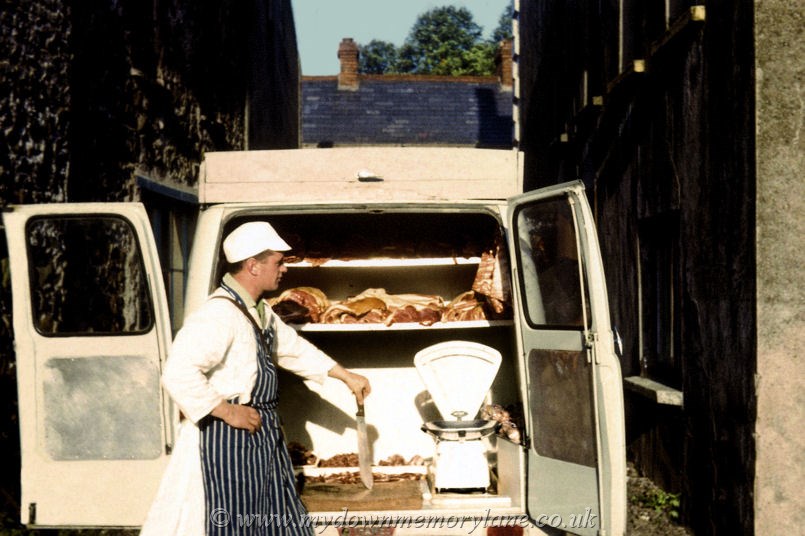 McCABES 1790
Parked in the alley, having filled the van at the back of their butcher's shop in Castle Street in 1964. Robin McCabe has one last check before moving of to do his rounds. Back then, people had Bread,Milk,Grocery and Butcher vans calling at your door, it was basically a shop on wheels. No need to worry about it being fresh, it was certainly that, none of your frozen stuff then.
JEAN McCOMB 2590
This is Jean McComb in her back garden at Ballysculity and holding in her arms is Andrea Millford.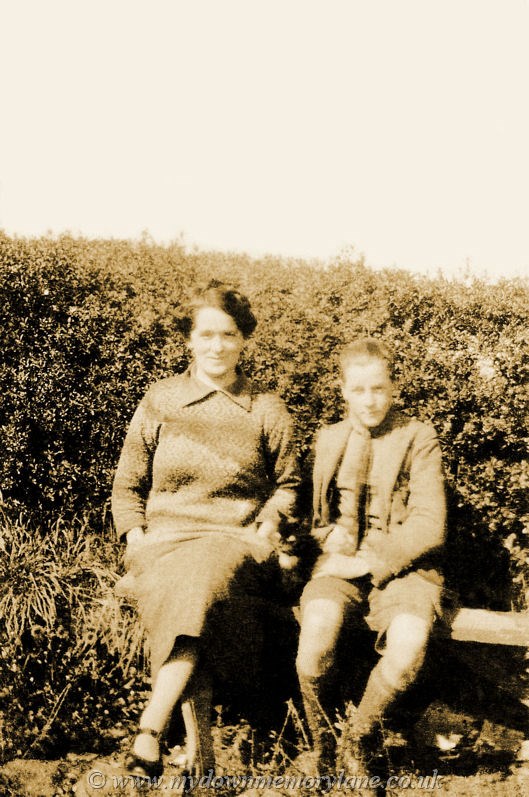 IN THE GARDEN 2602
Sitting in her back garden enjoying the sun is McAteer and visiting her back in 1952 is her grandson Liam McAteer.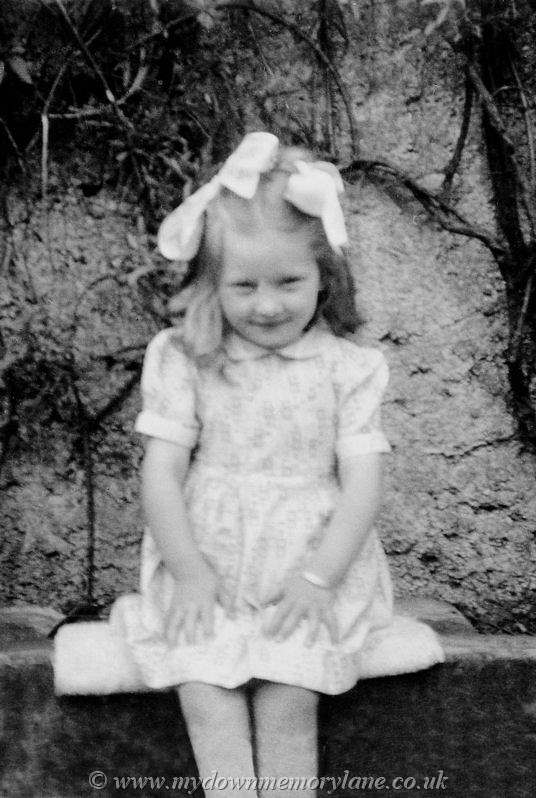 PATRICIA McATEER 2603
This little bonney girl back in 1945 after the war was sitting on the garden wall having her photograph taken.
Now this 3 year old with her gentle smile and tender eyes has not changed one bit, the only difference is, Patricia McAteer not does not wear bows in her hair now!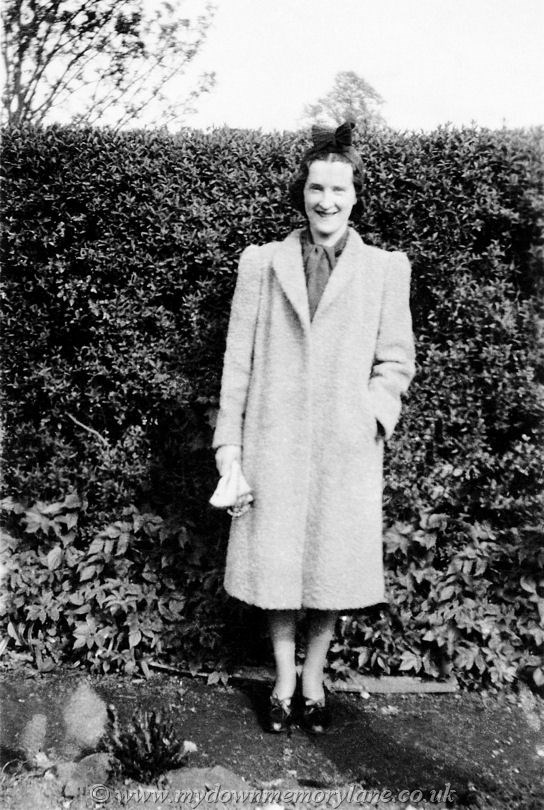 KAY McATEER 2601
Standing in her back garden in 1934 all dressed up to go out is Kay McAteer.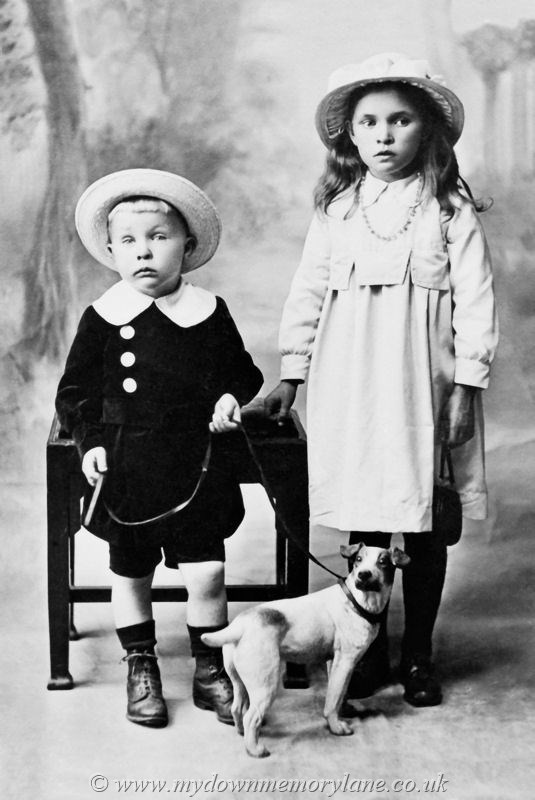 McCOMB CHILDREN 2318
Here we are in a photographic Studio back in 1922 and these are the McComb children.
Holding the little Terrier dog with the lead is Sam McComb and beside him is his big sister Kathy holding her handbag.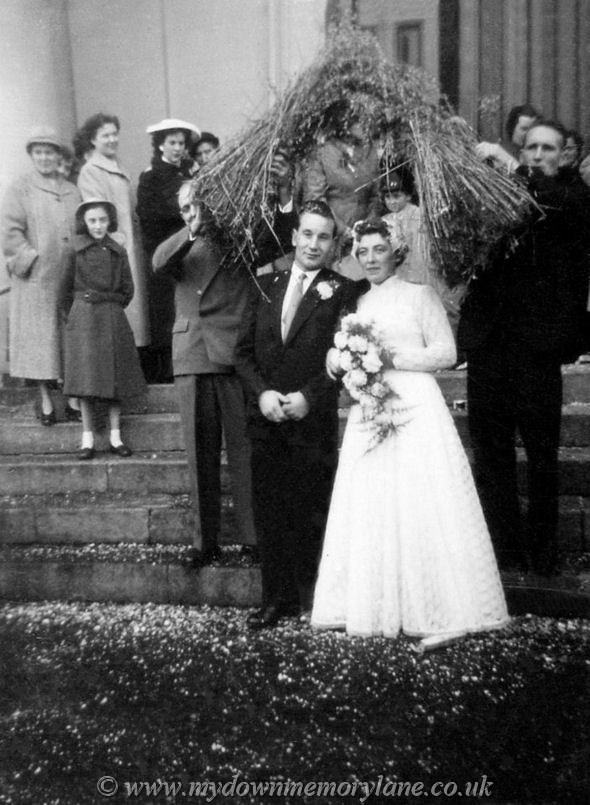 McMEEKIN WEDDING 2378
It's the 21st October 1957 and just married is David McMeekin and his lovely bride Sally McMeekin nee Wilson. The sheaves being held over them can mean various things from wealth to love depending on where you live.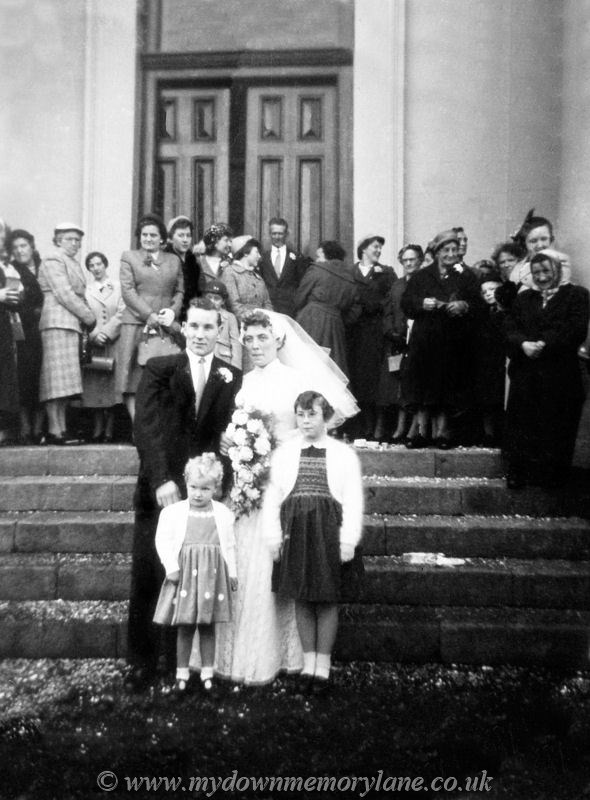 McMEEKIN WEDDING 2380
Standing outside 1st Antrim Presbyterian Church on the 21st October 1957 is David McMeekin and his lovely bride Sally McMeekin nee Wilson.
The two little girls standing with them are Catherine Wilson and June Ireland.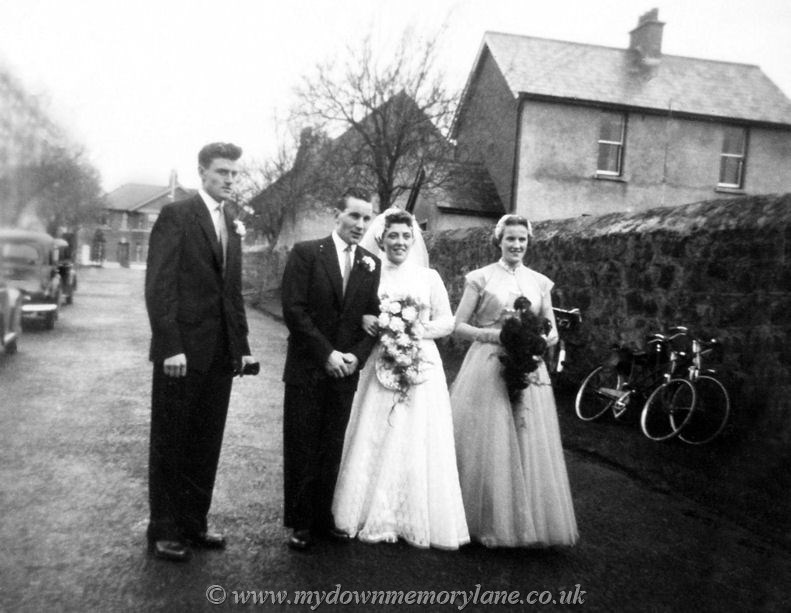 McMEEKIN WEDDING 2379
Standing in the driveway of 1st Antrim Presbyterian Church after their wedding on the 21st October 1957 is David McMeekin and his lovely bride Sally McMeekin nee Wilson. The best man is Berk Parkes and the bridesmaid is Margaret Beckett.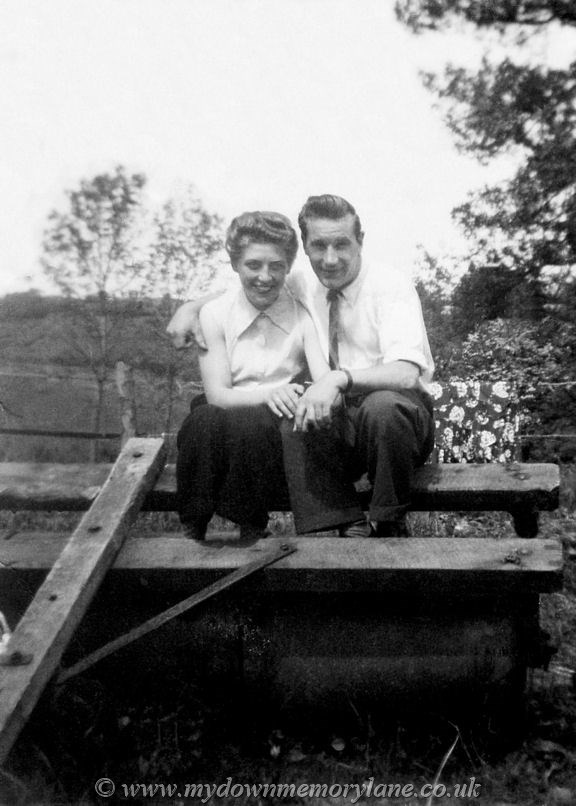 A DAY OUT 2381
Here we have David McMeekin and Sally Wilson back in 1956 enjoying a day out before their big wedding the following year.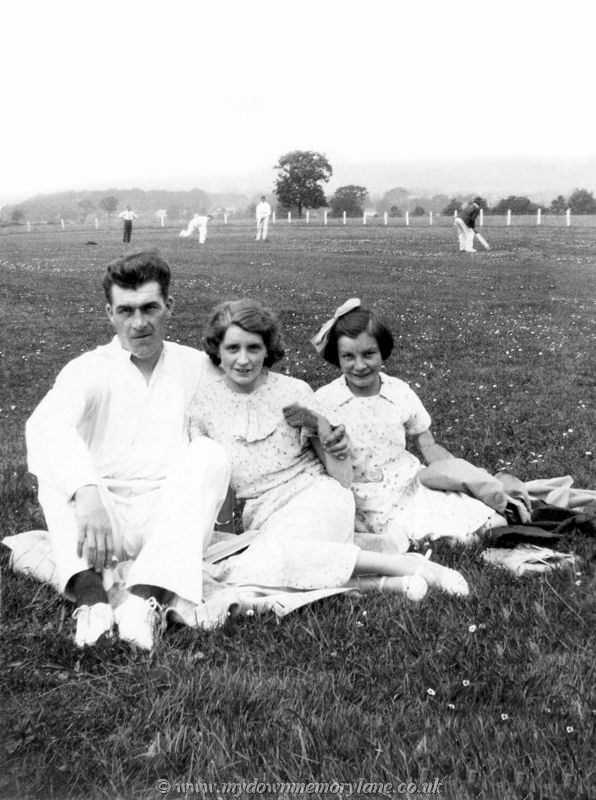 MUCKAMORE CRICKET 2202
Here we are on Muckamore Cricket Club's field while members in the background are praticing. In the foreground is Harry McClery in his cricket gear ready to play and next to him is a mother and daughter who are unknown.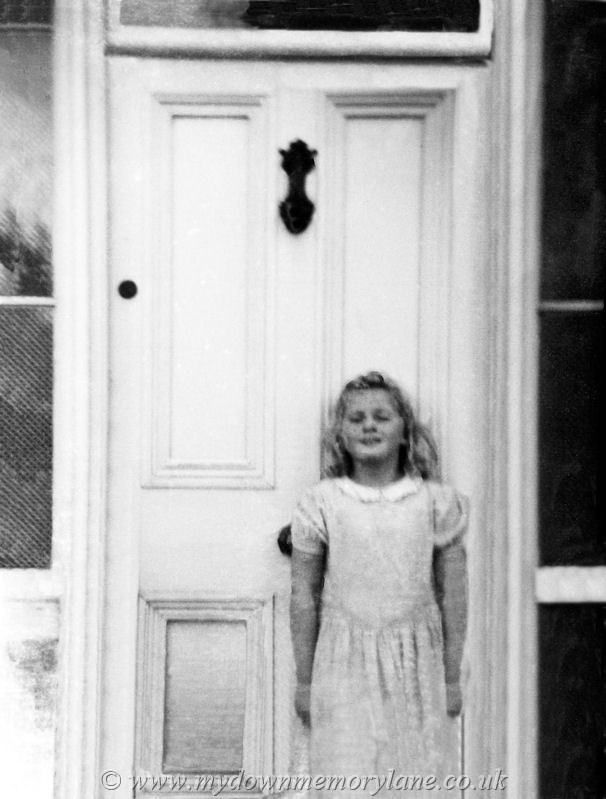 IRENE McCOMB 2593
Standing outside the front door of her home at Ballysculity is Irene McComb.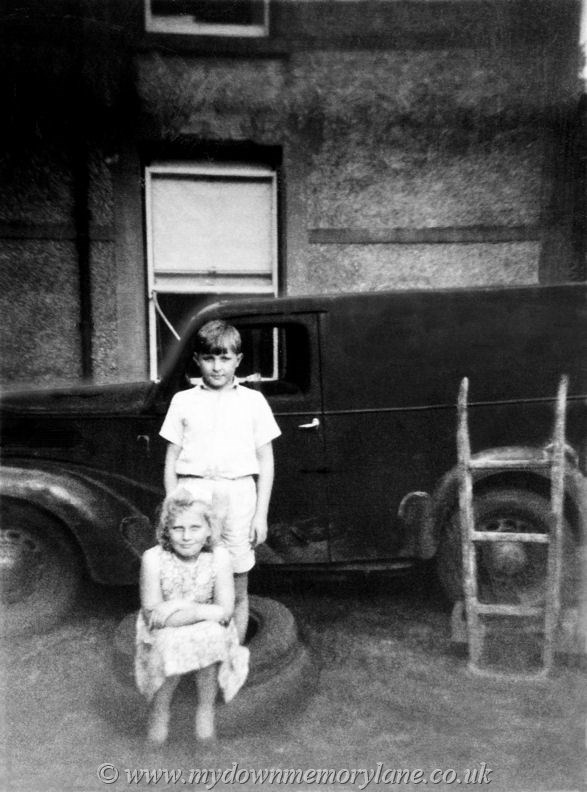 McCOMB CHILDREN 2591
Out playing in the backyard of their home at Ballysculity we have Sam and Irene McComb.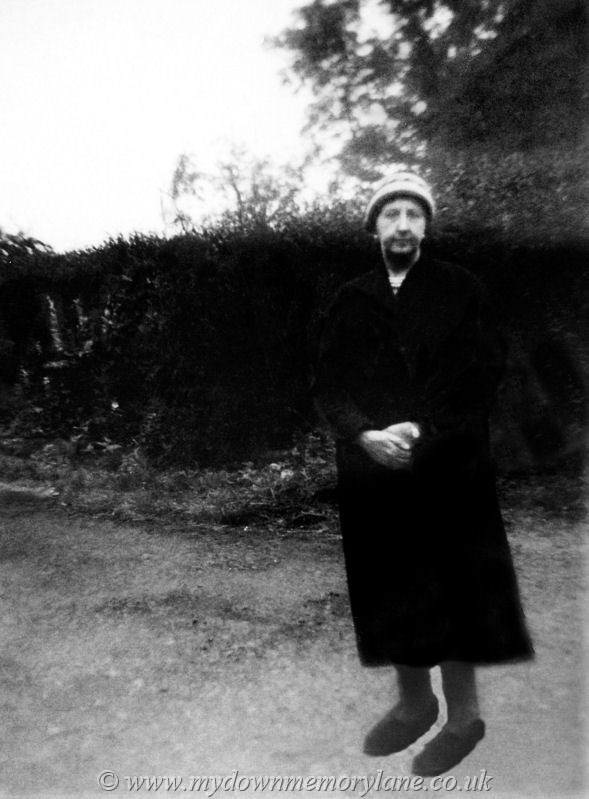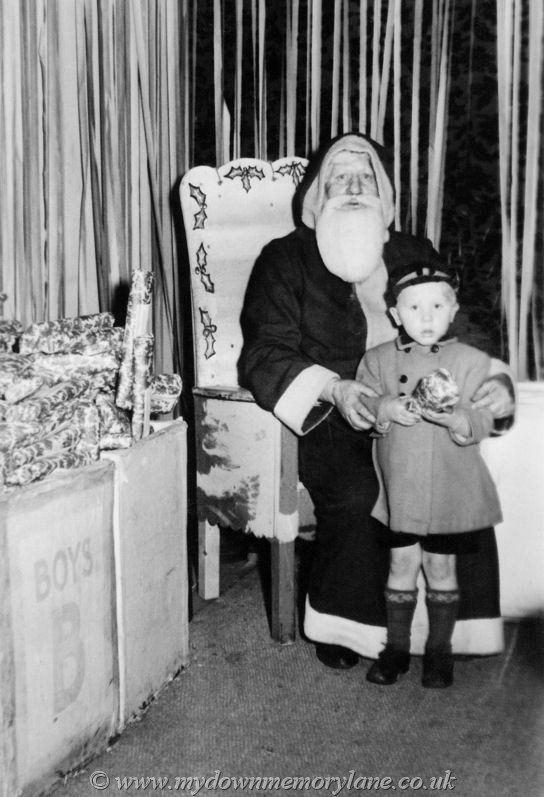 AUNT MARTHA 2592
Standing here in the back yard at Ballyscuilty having her photograph taken is Aunt Martha McComb.
VISITING SANTA 2429
Here we are at Anderson & MCauleys in December 1953. Now this little lad holding his present has come all the way from Antrim to see Santa and tell him what a good boy he has been. Oh you want to know who it is? well it's our very own Sam McComb junior!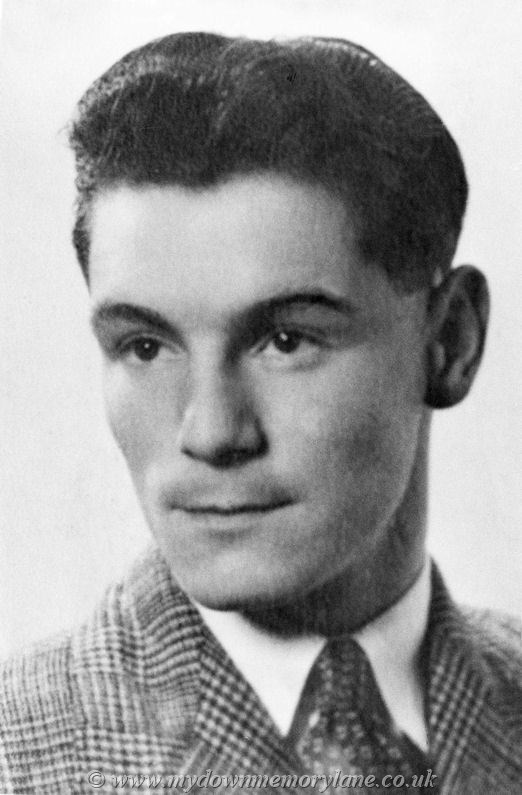 NORMAN McKEOWN 2324
Having his portrait photograph taken is Norman McKeown with the film star looks then aged 24.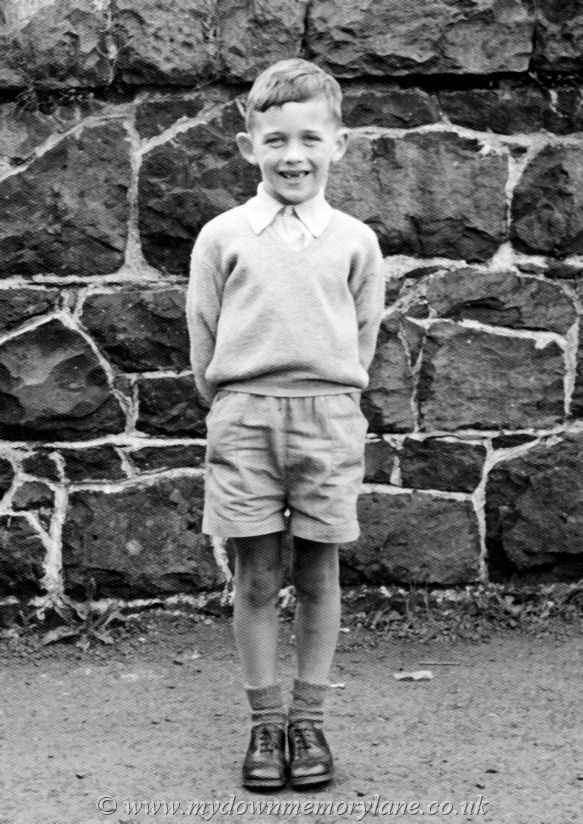 JOHN McELREA 801
Standing proudly with a big smile to show that the girls have kissed out his two front teeth is John McElrea aged 7 at the back of the Massereene National School in 1954.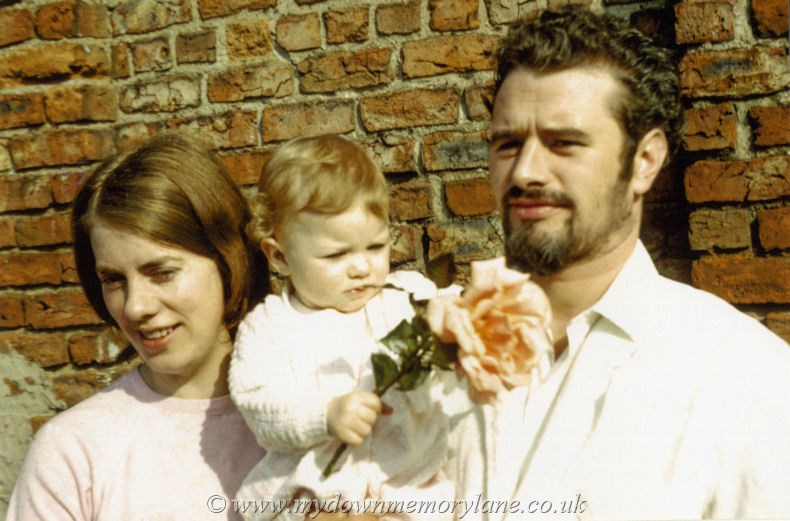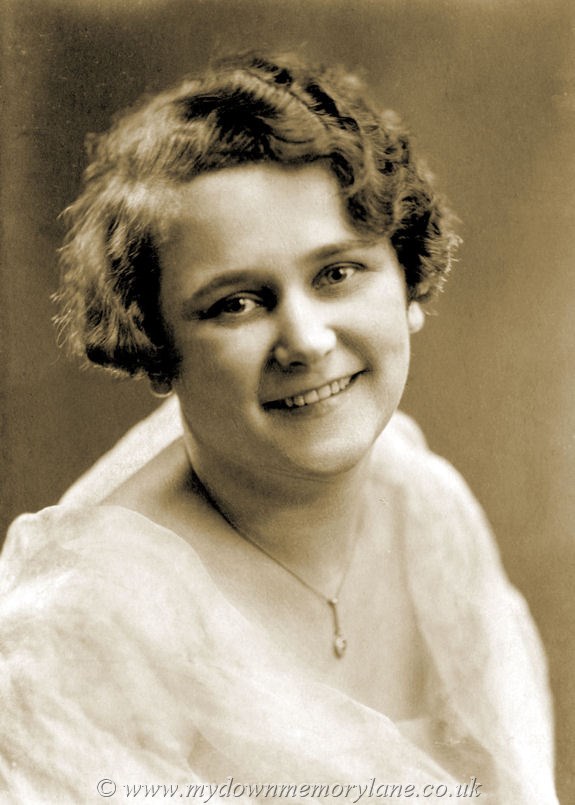 EVA LAWTHER McCOMBE 3006
This lovely portrait photograph is of Eva Lawther Mccombe back in 1927 when she was 21 and 3 years later Eva got Married.
Eva was born on the 2nd March 1906 and went home on the 6th February 1980.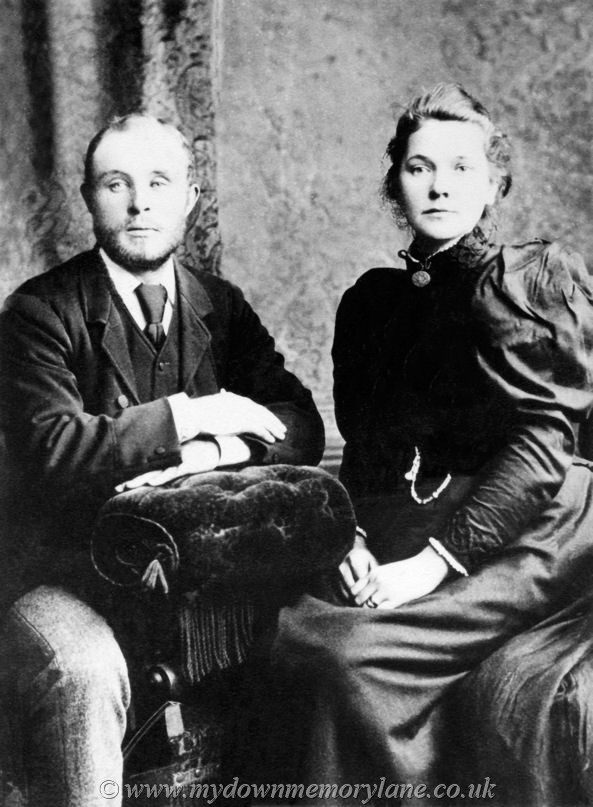 McCOMB PORTRAIT 2490
Here we have William John McComb and his Catherine who were from Whitestown, Ballysculty having a studio photograph taken. The photograph was taken shortly after their marriage on the 26th November 1894, so this year this photograph will be 126 years old !! (2020)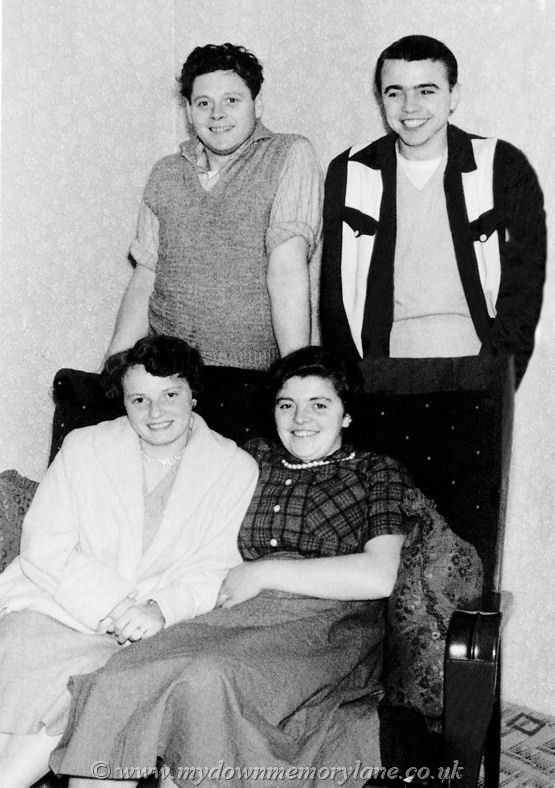 REUNITED 3454
Here we are in 1957 were the people in the photograph are celebrating a reunion. At the back on the left we have Carson McQuillan and next to Carson is Sam Devlin. Seated on the left is Marilyn Devlin and Elizabeth McQuillan. The Devlins and the McQuillans both lived on the Carmavey Road at Nutts Corner. They all now live in Guelph, Ontario, Canada.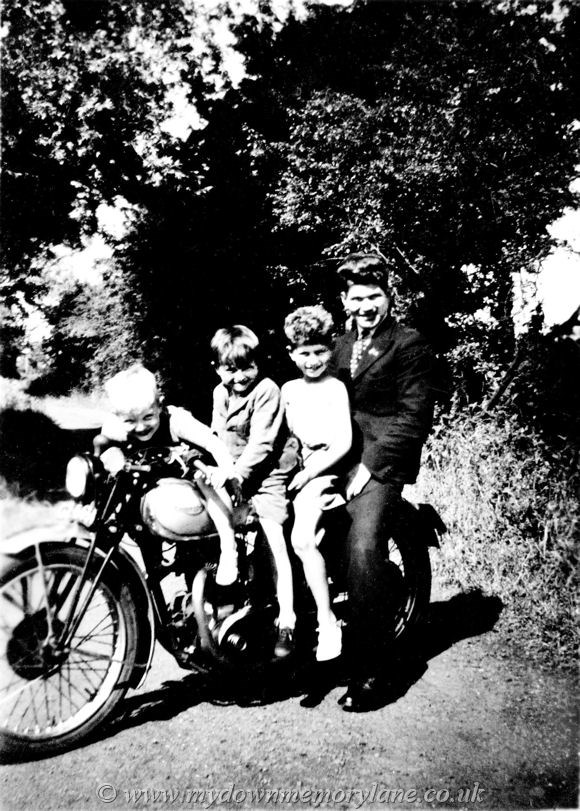 McNEILLY BROTHERS 3427
The McNeilly Brothers are all smiles and no wonder for Raymond, Ronnie, Eric and David are sitting on Drew McGaffin's motor bike. Drew has just ridden in the 1949 Mid-Antrim Motor Cycle Race.
TREVOR McILROY 3438
This is a very young Trevor McIlroy having his school photograph taken. A little birdie told me that Trevor has since flown the nest and built his own nest while another little birdie has told me that Trevor's a really big birdie now for he has just had his 46th birthday! in August 2019.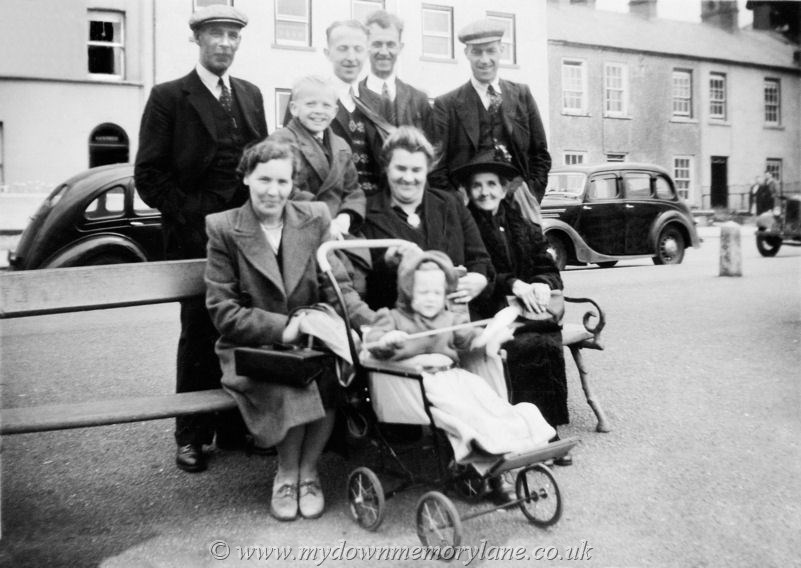 DAY OUT 3019
Out for the day and seem to be enjoying themselves is this group of people.
Standing at the back on the left is Harry McClery, in front of him seated is his wife Josey and the little old lady at the other end is her mother, who like the rest of the people whose names are also unknown. The photo must have been taken in the late 1940's judging by the cars behind then. The only colour for a car back then was black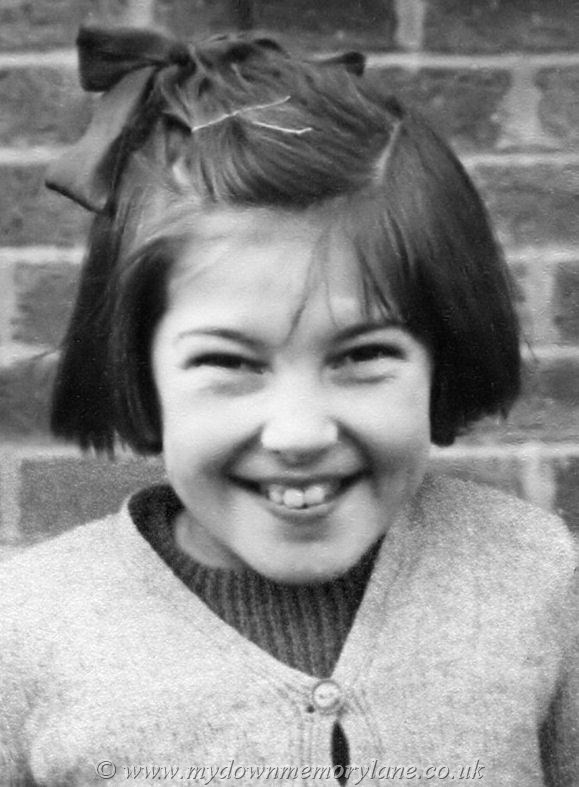 EASTER TIME 3017
Seen here in her back garden is Josey McClery with her mother who she has just given a bunch of Daffodils. At the moment her mum's name is Unknown.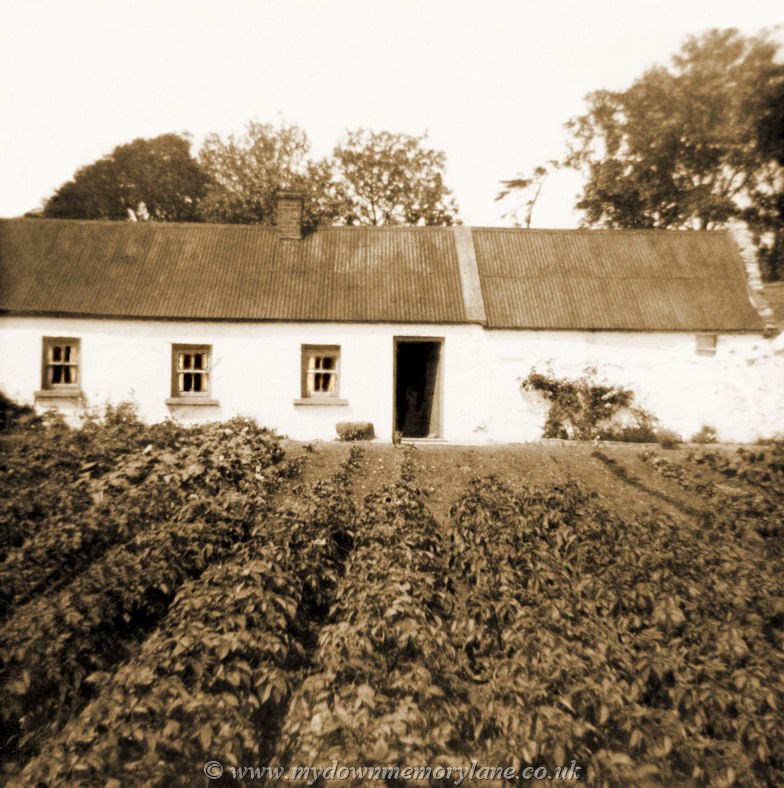 JOHN McQUILLAN'S HOME 3063
This is John McQuillan's home which was situated on the Islandreagh Road out near Dunadry.
John has certainly been hard at work and is now harvesting some of Spuds.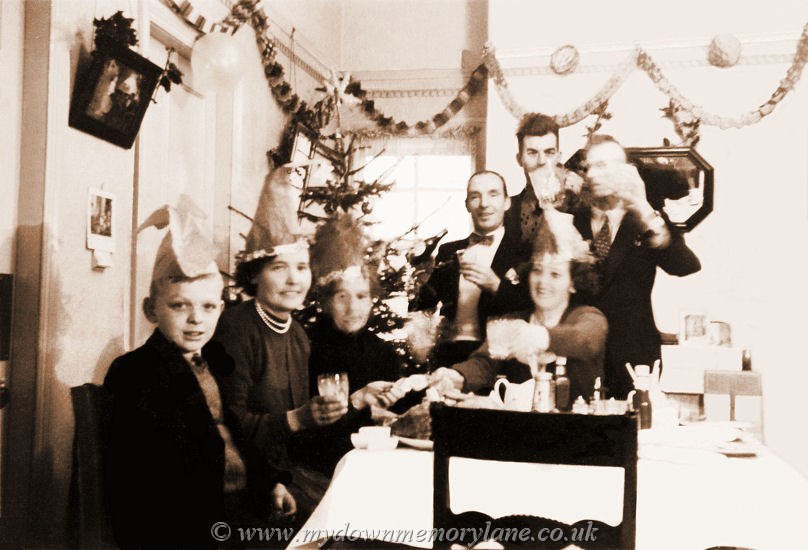 CHRISTMAS DAY 3023
It's Christmas day and the family are all gathered around the table. At the moment the only person known to me is 2nd from the left and that is Josey McClery and next to her is her mother.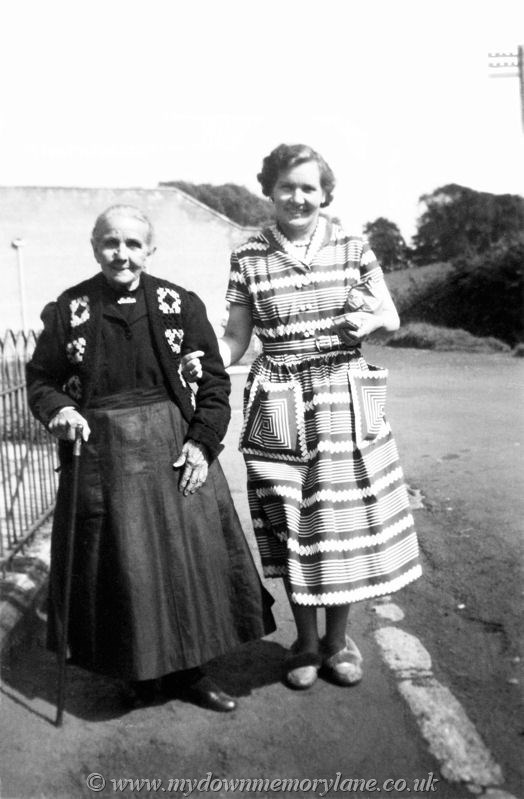 OUT FOR A WALK 3020
Having gone out for a walk to the shop and now returning with goods under her arm is Josey McClery with her mother (whose name is unknown), back to her home in Abbey View at Muckamore.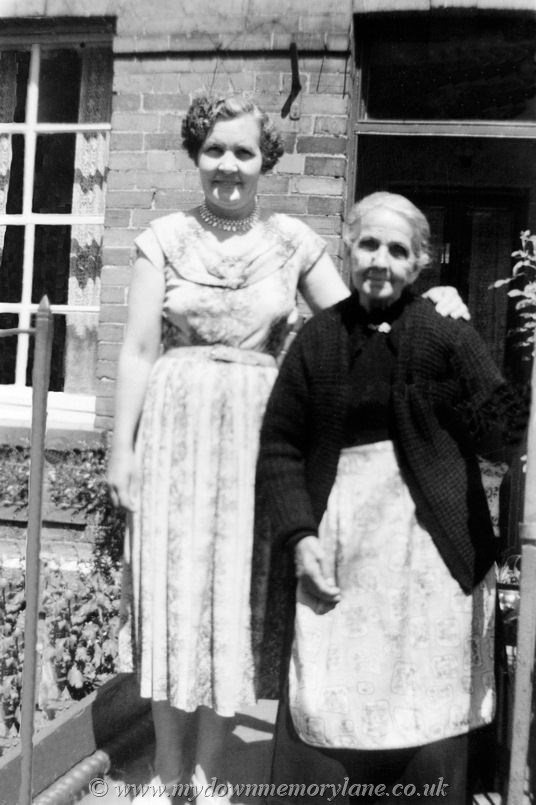 HOME SWEET HOME 3018
Standing in her mother's front garden at Abbey View Muckamore with her is Josey McClery.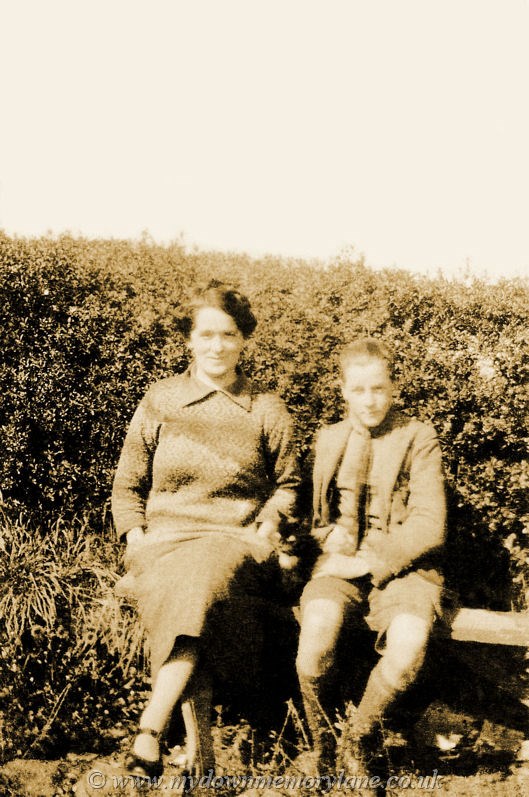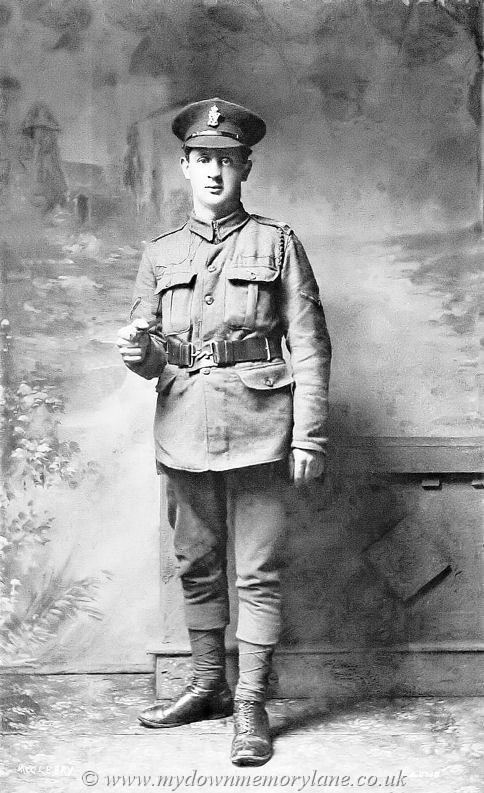 IN THE GARDEN 3024
Here we are in the back garden with friends and family having their photograph taken.
At the moment the only person known is on the left and that is Josey McClery, at the other end is her mother. By the way the cat isn't huffing it's watching another cat snoozing behind the group.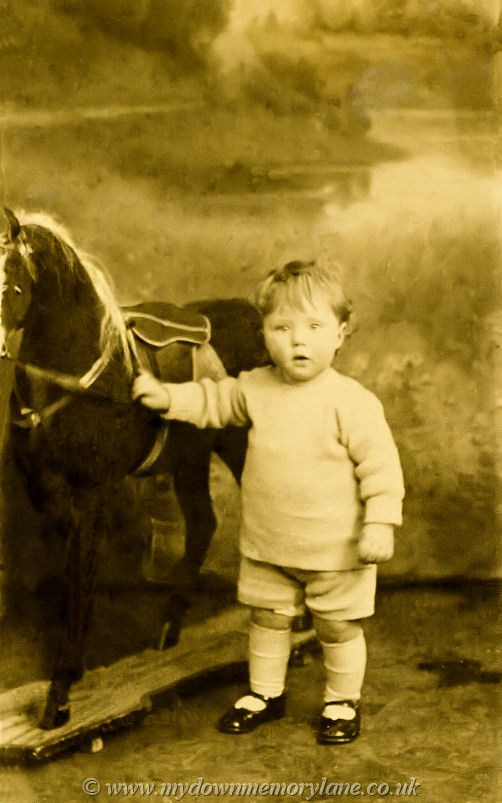 McCLERY 3098
Taken during WWI this young man was in the Royal Irish Rifles and his name is McClery, I don't know his first Name.
JIM McCULLOUGH 3186
Standing next to the hobby horse having his photograph taken in a studio in his woolen suit is Jim McCullough.
WEDDING GUESTS 3059
Standing outside their home these Wedding Guests are all set to head off to High Street Presbyterian Church in High Street.
On the left we have Sadie McCullough with Harry Young and Edith Young.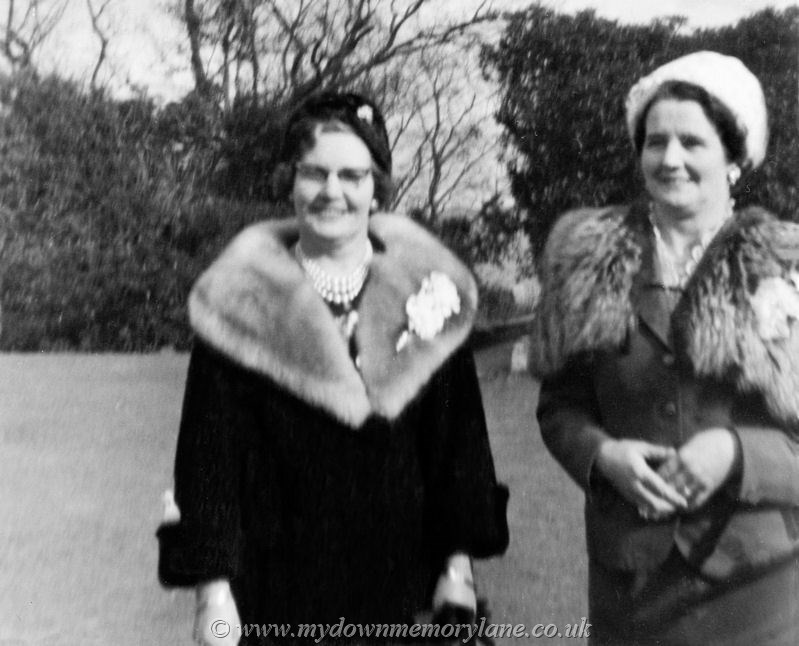 WEDDING GUESTS 3022
These Wedding guests standing having their photograph taken are on the left Josey McClery and her friend Maggie Baxter. As most ladies cry at Weddings Josey has come fully prepared for tucked in the upturned right hand sleeve is her hankie.
McPEAKE WEDDING 3088
Standing in the doorway of the Church after wedding are the Groom Sammy McPeake gazing lovingly at his Bride Margaret McPeake nee Robinson, then sister Bridesmaid Lizzie Robinson. Flower girl unknown and bystander unknown. With only her head showing is the Flowergirl whose name is Unknown.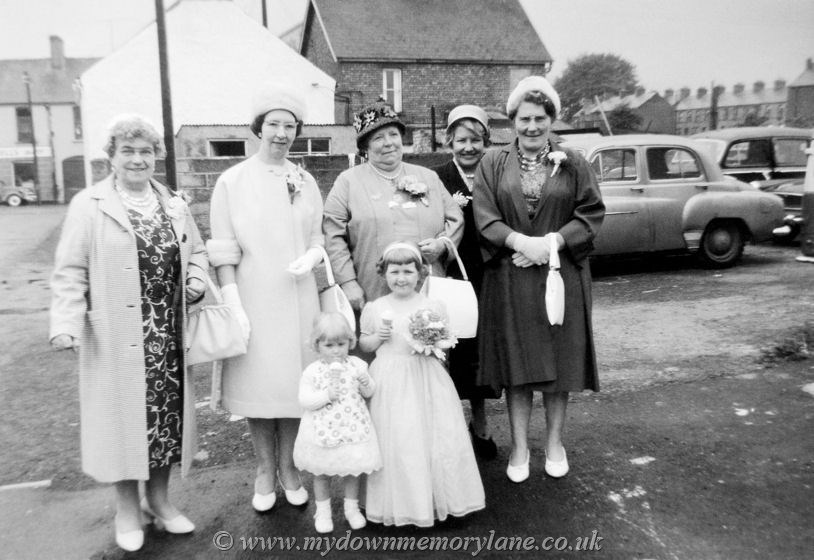 WEDDING GUESTS -3058
These wedding guests are having their photograph taken before heading off sharply for they have a flowergirl with them. Sadly none of them are known but they are heading to High Street Presbyterian Church in High Street Antrim to see Sammy McPeake marrying Margaret Robinson, now if you know better please let me know.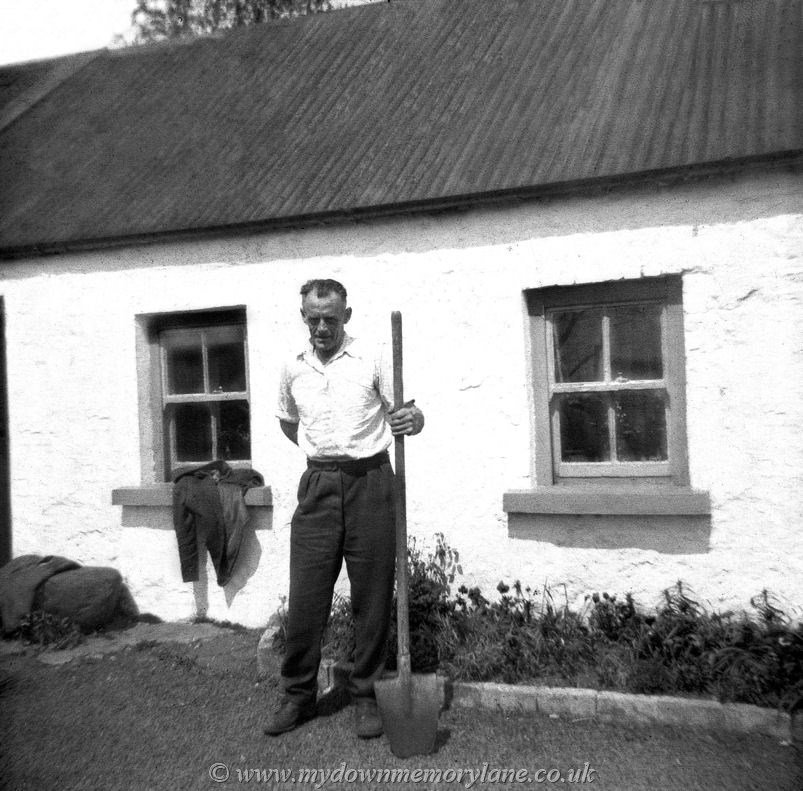 JOHN McQUILLAN 3064
Outside his home at Islandreagh near Dunadry John Mcquillan has just had a back-breaking job of harvesting some of his home grown Spuds.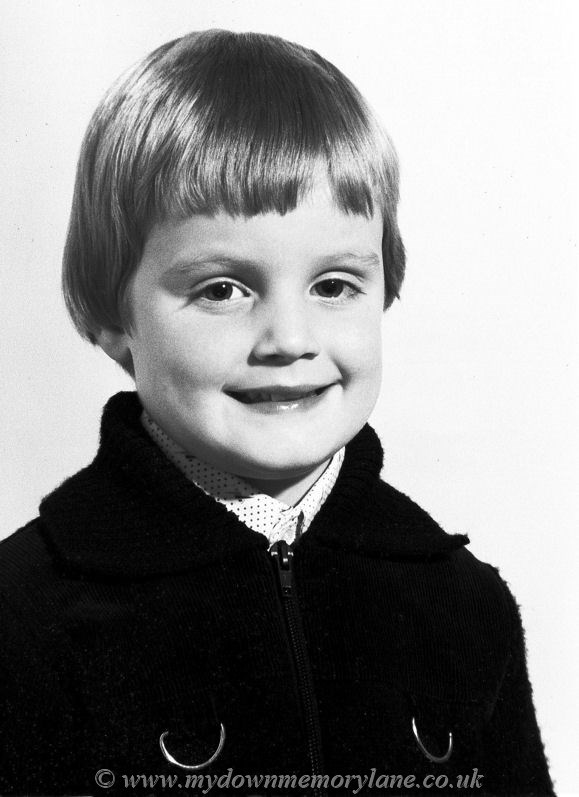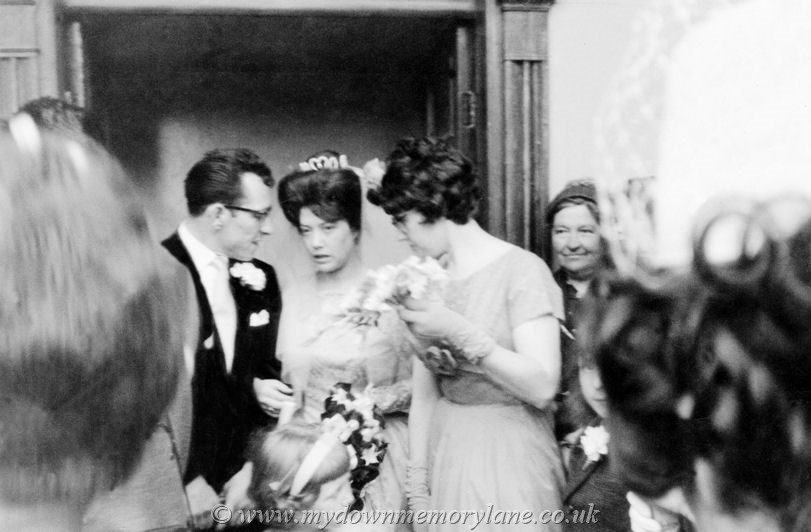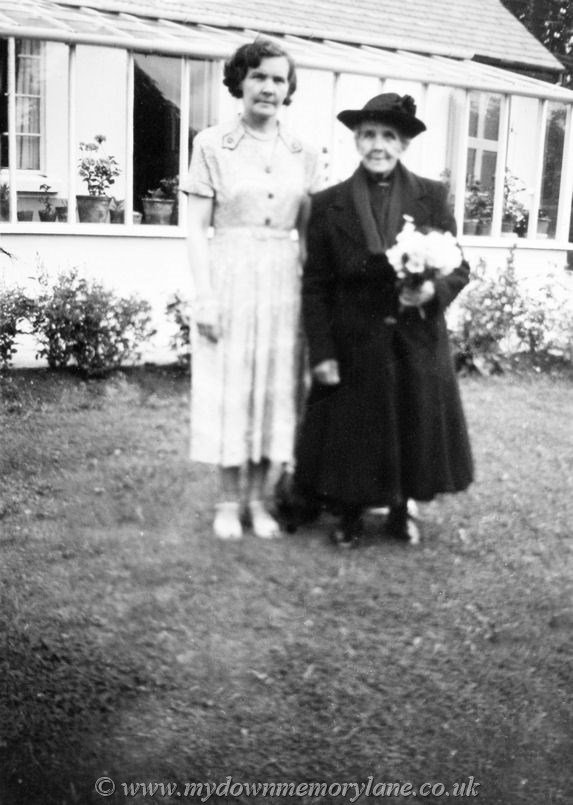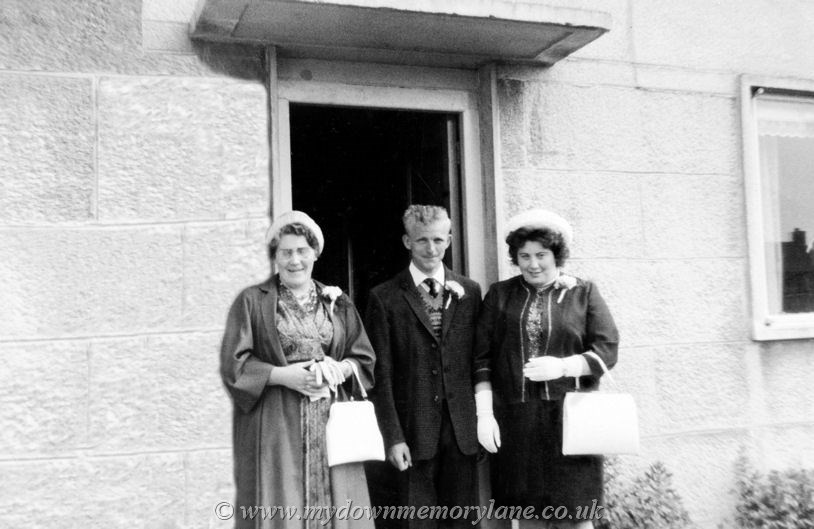 REBA McMASTER 3116
Having her school photograph taken is Reba McMaster with a lovely smile and a twinkle in her eyes. Her christian name is Rebbeca but she has always
been known as Reba and you say it as if it was spelt like this "Reeba"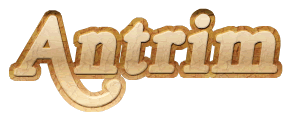 Pages:
McCABE FAMILY 1792
Here's Robin McCabe in his back in 1970 garden with his wife Meta and their daughter Arlene who's not too sure of the rose in her hand.