SHAKEY BRIDGE 3105
This is Mrs Adams standing above the Mill Race on the old Moylena bridge known fondly by Antrim folk as the Shakey Bridge.
Mrs Adams is pointing to three planks missing that could be dangerous at night time.
Now I know what you are all thinking and you would be wrong, this was not the reason the Antrim Borough Council took away our Beloved Bridge nor
the reason they gave it away for nothing on the QT.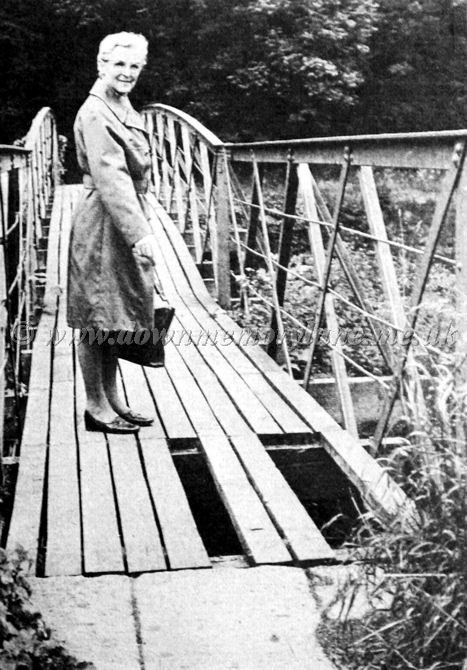 AIR DISPLAY 3123
Flying over the Antrim Forum during a flying display is a Fairey Swordfish with its torpedo and along side is a Chipmunk.
Now the Swordfish's nickname was Stringbag and looking at it you can see why, this plane was built of aluminiumand covered with fabric and there was no closed in cockpit. As you can imagine it was slow but these planes served in WWII. They were responsible for destroying 21 U Boats and helped in the sinking of the Bismark by damaging its rudder with a torpedo so it could only go round in circles.
Now the Swordfish in this photograph W5856 is the oldest surviving example left anywhere in the world. It was built in 1941 by the Blackburn Aircraft Company at Sherburn-in-Elmet. The aircraft was flown from Sherburn-in-Elmet to Lichfield on 21 October 1941, and was packed by 82MU (Maintenance Unit), ready for shipment overseas. It was delivered to Liverpool via Southport. for shipping. Her intended destination was Bermuda, but instead was sent
to Gibraltar aboard SS Empire Moon. It remained in the Mediterranean for the next twelve until returning to the UK for rerurbishment during the winter of 1942/43. It then became a training plane for pilots and eventually went to Canada to train pilots there.


ANTRIM CASTLE 3141
This photograph seems to have been taken by standing in the river and photographing the ruins of Antrim Castle. It seems back then they knew the value of the ruins of Antrim Castle by turning the photograph into a postcard.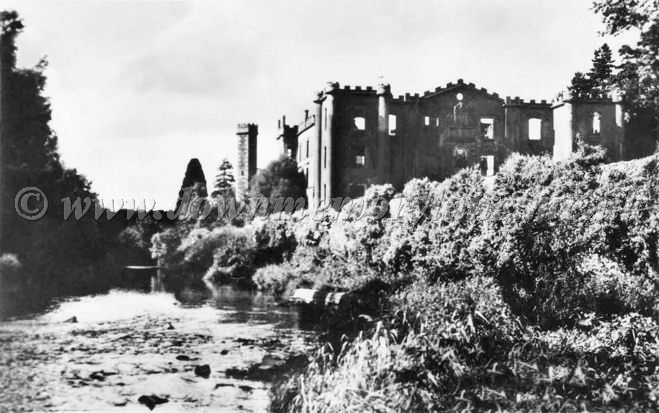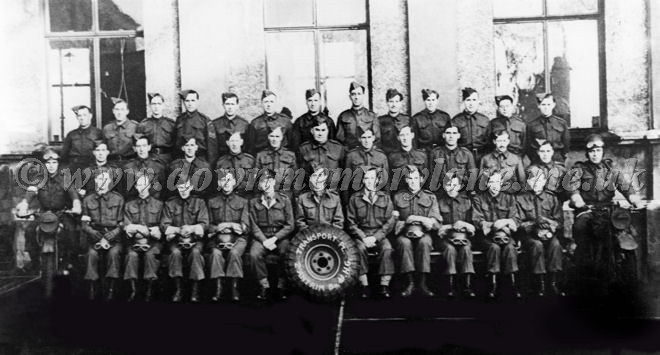 2nd. ANTRIM. BN. ULSTER HOME GUARD. TRANSPORT PLATOON. 3146
This is the 2nd Antrim. Batt. Ulster Home Guard. Transport Platoon having having their photograph taken.
At the back on the left is John Montpord, then Jim McGregor, Jim Millar, Frank anderson, Andy Reid. Bob Hood, Wilfie Kennedy, Bobby Moore, James Moody, Jim McDowell, John Harrison and Cecil Rea.
In the middle row are Bertie Black (On the bike), John McCosh, Jack Wilson, Freddie Clarke, Jim Shaw, George Phillips, James O Kelly, Herbie Robinson, Dick Maybin, John McAuley, Sammy Lyttle, Tom Bakes and biker is Unknown.
The front row has bertie Reid, Jim Alexander, Herbie Harper, Jim Boyd, Captain Long, Andy Watt, Jack Adrain, Jim Lowry, Bobby Ross,Ron Houston and James Graham.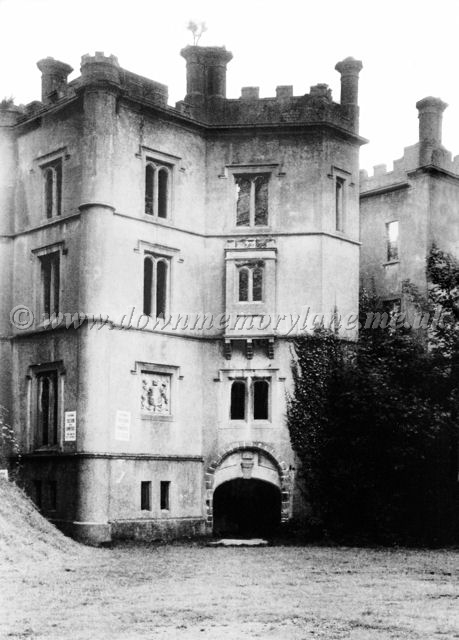 ANTRIM CASTLE 3185
This photograph of Antrim Castle and this entrance was at the back of the house for this is where the household staff came in to start work. Also all the deliveries of goods for the castle were delivered to this entrance.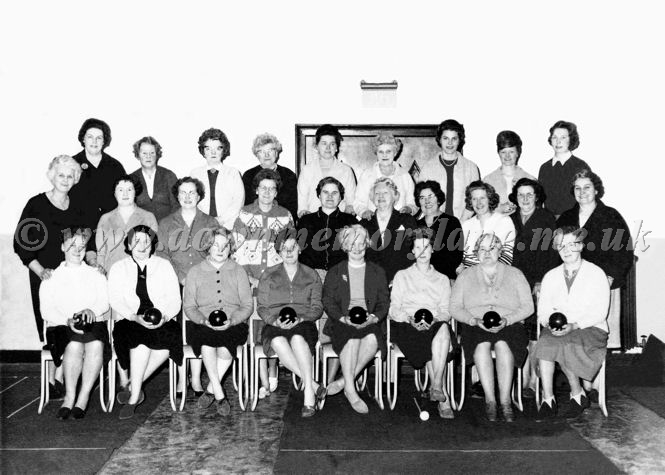 ANTRIM PARISH LADIES BOWLING CLUB 3188
This is the Antrim Parish Ladies Bowling Club back on the 6th October 1963 having their photograph taken.
At the back on the left we have Mrs Buckley, E.M. Killop, M. Flemming, M. Colter, Athompson, C. Carson, H. Wright, Joan McKee and Miss Anderson.
Next row has Mrs Bradley, Mrs Pattison, M. Cuckson, M. Meerin, Mrs Hawkins, Mrs Curry, M. McIlrea, M. Wallace, N. McKee and B. Wallace.
Seated are F. Neill, D. McKeown, B. McKee, Mrs Wilson, Unknown, E. McMaster, Mrs Taylor and finally L. Kenny.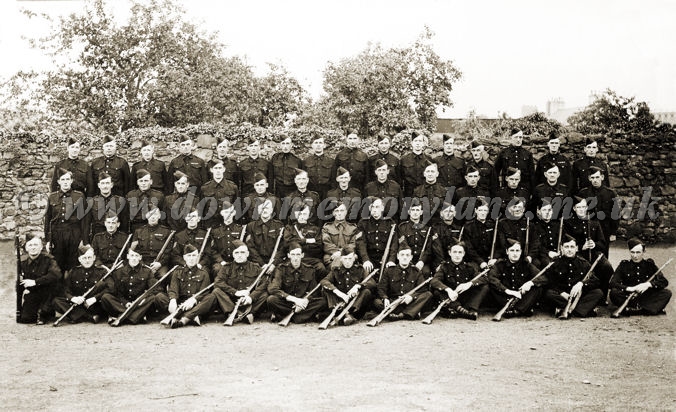 ANTRIM HOME GUARD 3189
It's the 1940's during WWII and here in McCabe's butcher's back yard we have Antrim Home Guard having their photograph taken.
Sadly at the moment the only name known to me is that of William McKee Senior who is first on the left middle row.
These men who came from all walks of life were fully trained to a high standard in fact 16 of them had already served in WWI.
Now if you know any of these men please let me know for they deserve to have their names added for history.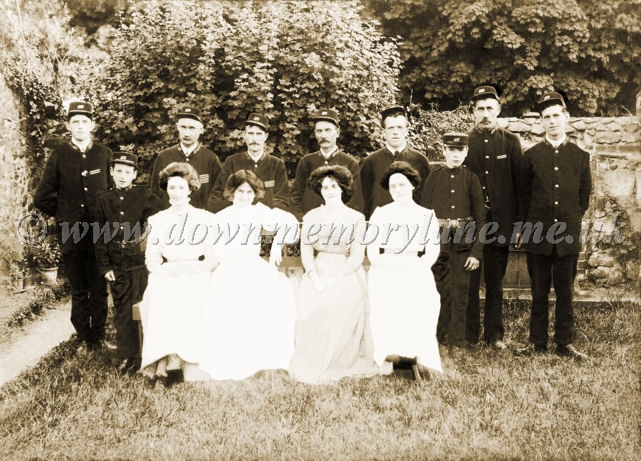 ANTRIM ROYAL MAIL POSTAL STAFF 3194
This is Antrim Royal Mail Postal Staff in 1911 just three years away from the life changing events of World War I.
What the staff's jobs were is unknown to me except for the two small boys they were the telegram boys who soon people would dread to see coming up their street carrying a telegram to say a loved one had been killed in the war. Now the telegram boy on the left has all ready been working for the
Royal Mail for a year, his name is William McKee and went on to serve 52 years with them so William would have the dreadful task of delivering the news.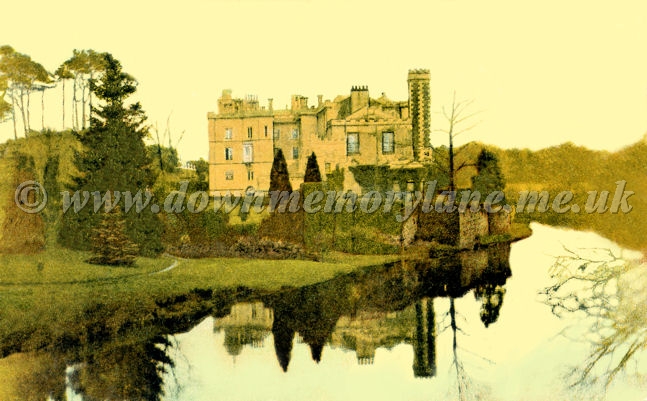 ANTRIM CASTLE 3215
This postcard shows a South view of Antrim Castle and has been has been hand coloured for colour photography was expensive back then.
To the left is the Motte which has now been retored to a very high standard and you can see right down High Street from the top.
In from the left of the castle can be seen an arched doorway. This was where the tradesmen dropped off their deliveries and also the servants entrance.
In the foreground the pathway leads to the pleasure garden back then, now it has been restored Iwould say it's far better than it ever was.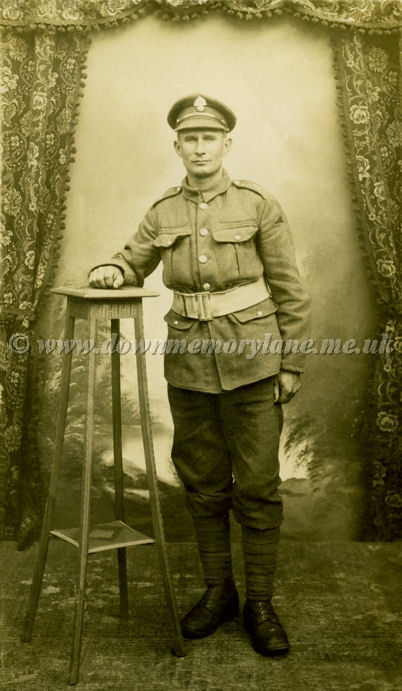 BOB ADGER 3375
This Bob Adger of the royal Fusiliers having his photograph taken in a studio, they were then made into postcards so they could post them to loved ones. Where the photograph was taken is unknown but it was posted Slindon in West Sussex on the 15th August 1917 while WW1 was still raging in Europe by someone other than Bob to a "Mrs Hook - Mouth Road - Amberley - Arundel which was also in West Sussex. The last part of the message is missing for they cut the bottom of the photograph to fit it into a frame. So here is what we have of the message: " Dear Mother, I have just had these from Bob don't you think they are good of him. I do hope you are quite well, this wet weather, did he tell you he expects" rest of message cut off. Perhaps he was going to say where he was going to be stationed. Well we know that for he was stationed at Shane's Castle in Randalstown. Bob on his time off visited Antrim where he met a Maggie Clarke with whom he fell in love with and they were married at the Church of Ireland at Templpatrick. They lived at first in Belmont Park and then in later years moved to Firfields. Bob went home aged 86.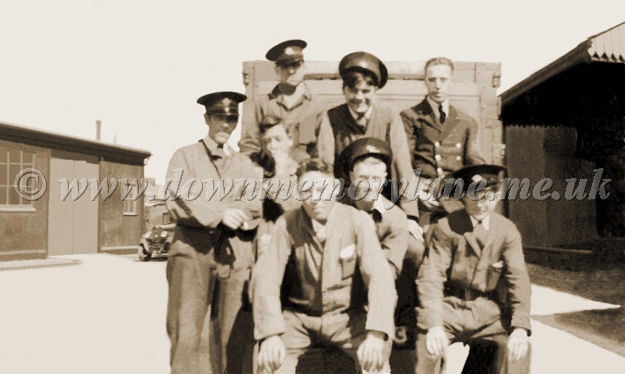 AERO ENGINE FITTERS 3419
Here we are at Aldergrove in 1938 and these guys are Aero Engine Fitters who the following year would become very valuable as in September 1939 the following year the Second World War would start in Europe.
At the back on the left is Mr Armstrong then F. Breen and Mr. McAreauey. In the middle row is Mr. Cairnduff and Unknown.
Seated are Mr. Murray, Mr. McCullough and Mr McNeilly

THE ALLENS 3455
All smiles for the camera we have the Rev. Derek Allen and his lovely wife Alice Allen.
Derek was the minister at Loanends Presbyterian Church in the 1950,s. They then imigrated to Canada and Derek was the minister at Oshawa and Ottawa.
Alice still lives in Ottawa alone now for her dear husband Derek has gone home.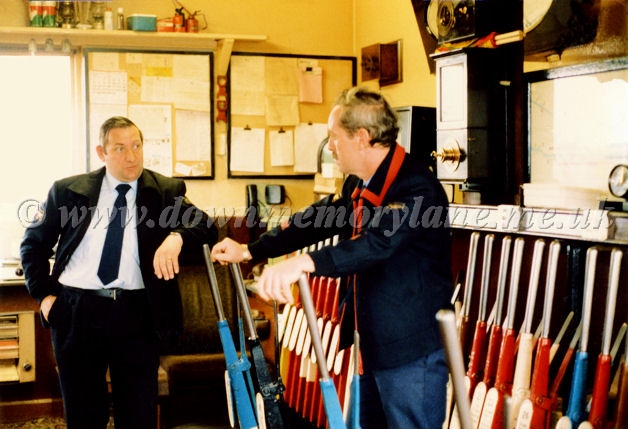 ANTRIM SIGNAL BOX 3456
Up here in the old Antrim signal box having a yarn before the next train back in 1991 we have on the left
Barry Reynolds but who Barry is talking too is a mystery unless you know him. If you do please let me know so I can fill in the blank.
My thanks to Ed Cunningham now of Ontario, Canada for this photograph.