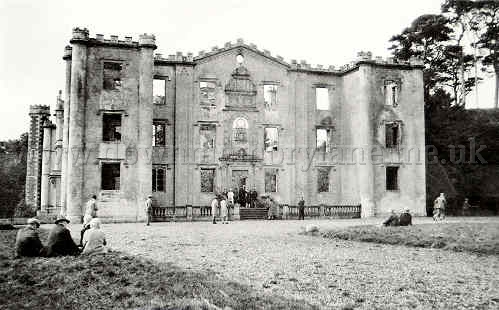 ANTRIM CASTLE 022
Built between 1610 and 1666 the Hexagon Tower was added in 1887. Seen here in all its glory in the 1900's.
When the castle was ablaze they noticed a servant girl, Miss Ethel Gillgan aged 22 from Westmeath trapped at an upstairs window.
They did eventually rescue her but sadly she died later from her burns, it is said that her ghost can be seen dressed all in white in the Castle grounds and gardens, the locals call her ghost " The White Lady "
ANTRIM CASTLE 023
The castle caught fire during a grand ball on the night of 28th October 1922.
It remained a ruin until 1970 when it was deemed unsafe and demolished leaving only the Hexagon tower which you can see to your left in the photograph.
Date is unknown.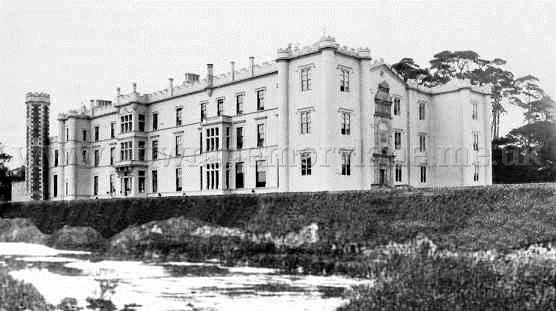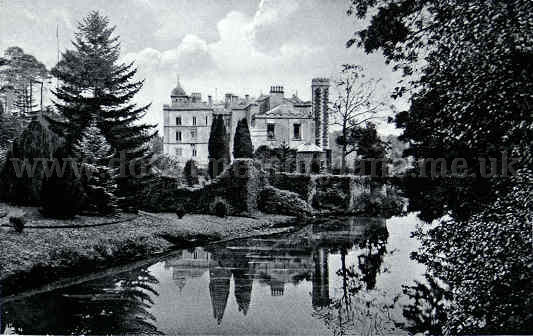 ANTRIM CASTLE 025
This photograph was taken from the Deerpark bridge and shows the back of the castle and part of the gardens.
The pathways you can see lead to a section which was called the ' Sunken Garden ' which had tunnels and archways.
Date is Unknown.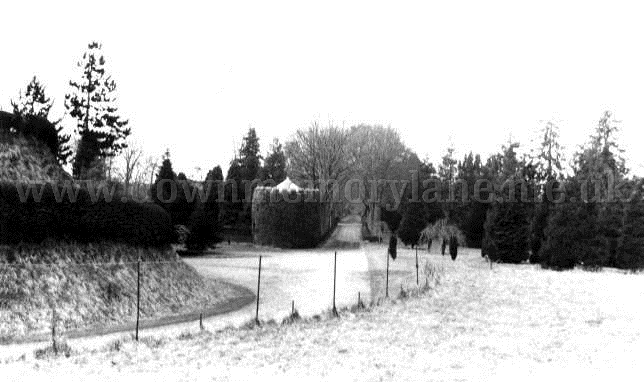 ANTRIM CASTLE GROUNDS 634
Taken when the snow lay thick on the ground, this is unusual view of Antrim Castle Grounds. To the left, with its neatly clipped hedges, is the Motte, but how many people can recall the striking building in the background? It was actually purpose-built to protect the pump room below it under ground and the tunnels that went off in different directions to the castle and the grounds. Later on under orders from Viscount Massereene a circular wooden ledge with iron railings was built inside it above the pump so the bandsmen could pratice in. Lord Massereene also supplied the members with instruments which have disappeared - the band became known as 'The Massereene Brass and Reed Band' and all were very accomplished musicians.
The year it was taken is unknown.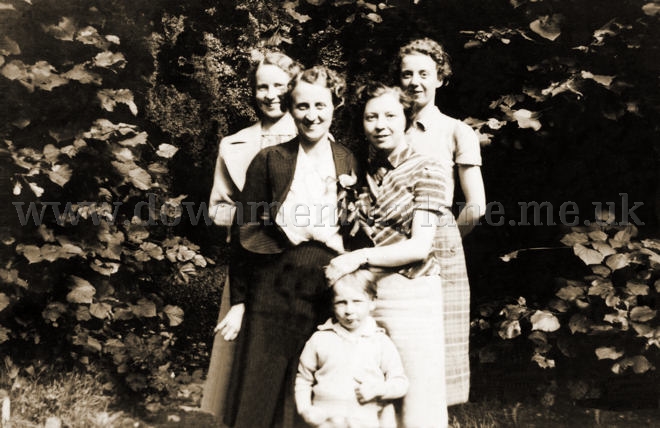 ANTRIM CASTLE GROUNDS 2856
Stopped to have their photograph taken while taking a walk through Antrim Castle Grounds in 1937 on the left at the bacvk is Anna Baird and Unknown.
In front is Evelyn Baird and Unknown who has her hand on Tom Baird's head.
ANTRIM CASTLE GROUNDS 2854
It's 1937 and having their photograph taken in Antrim Castle Grounds are from the left Unknown, Anna Baird and Unknown.
They are standing just in front of the long pond and the two trees behind them are no longer there.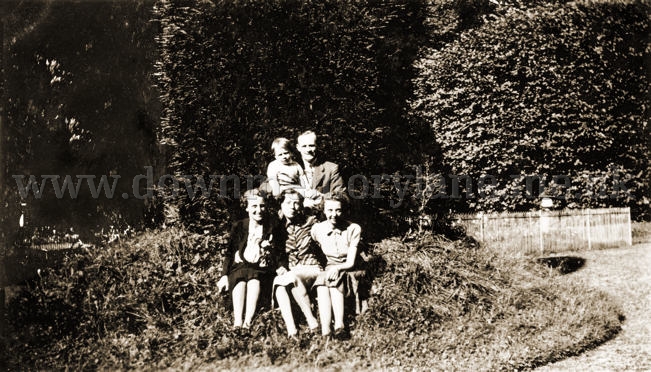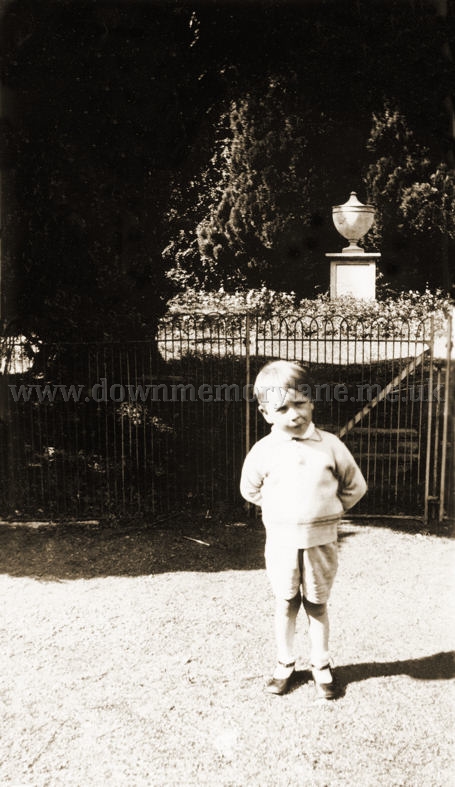 ANTRIM CASTLE GROUNDS 2857
Sitting on the bank of grass in 1937 in Antrim Castle Grounds at the back is David Baird with his son Tom in his arms.
In front is Evelyn Baird and the other two ladies are Unknown. Behind them you can see railings and that is the graveyard.
ANTRIM CASTLE GROUNDS 2859
Standing looking very perplexed and wishing they would hrry up and take his photograph is Tom Baird in 1937.
Tom was in Antrim Castle Grounds and behind him is the graveyard which was fenced off.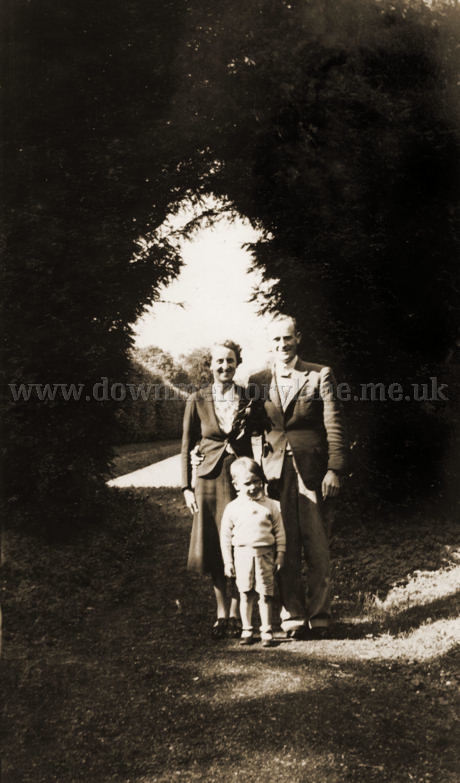 ANTRIM CASTLE GROUNDS 2860
Here we are in Antrim Castle Grounds in 1937 and this is the Baird family. Anna Baird, her husband David Baird and their son Tom Baird.
Behind them you can see part of the long pond.


ANTRIM YOUNG DEFENDERS FLUTE BAND 1423
This Antrim Young Defenders Flute Band which was formed in 1973.
When this photograph was taken is unknown but we do know that John McGrath is 2nd in from the left 2nd row and Gary McClenaghan is 4th in from left kneeling.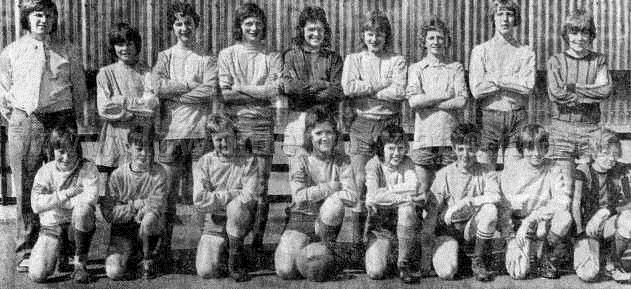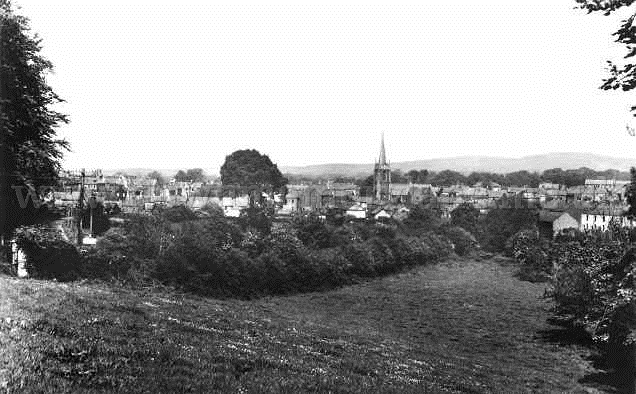 ANTRIM 844
This view of Antrim was taken from the Dublin Road in 1948, to the left you can see the old Dublin Road.
ANTRIM SECONDARY SCHOOL FOOTBALL TEAM 1289
This is Antrim Secondary School (under 14) football team who were in the final of the "Observer" Trophy against St. Macnissi's College in 1960.
The back row has Mr. E. C. Wilson (teacher), K. McCrea, D. Graham, S. Watt, D. McDowell, C.Woods, D. Manson, J. McNeill and S. Campbell.
.Kneeling we have C. Lowery, R. Houston, J. Scott, ...O. Graham (Capt..), J. Millar, M. Taggart, T. Watt and M. Kelly.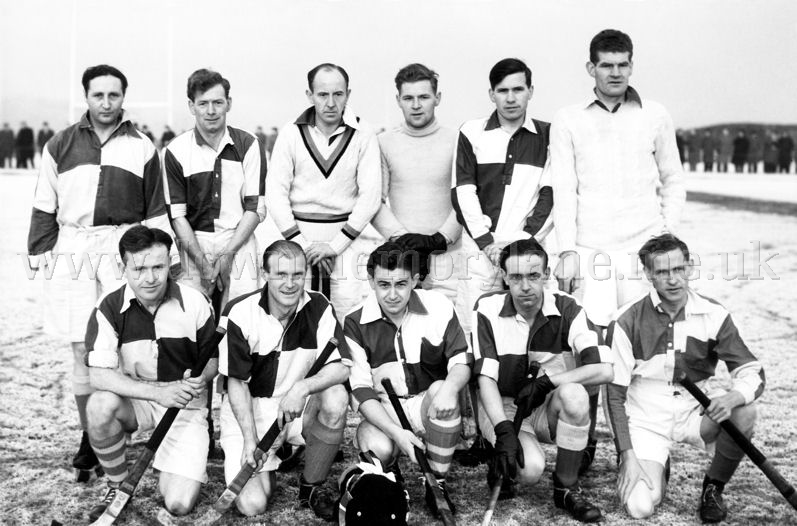 ANTRIM HOCKEY TEAM 2652
It's wintertime in the early 50's and even though there is snow on the ground, that does not faze these men in the Antrim Hockey Team.
Back row has Percy Collins, Jimmy Hannan, Billy Ludlow, Joe Lavery, George McBurney, Billy Jarden and his hand knitted jumper by Essie his wife.
Kneeling are Jackie Patterson, Sammy Wallace, Morris Hilland, Tom Allen and Sam Hannan.
Looks as if it is Belfast YMCA grounds at Bladon Drive, or could be an Irish Cup match or the final of the Anderson Cup match switched from Banbridge.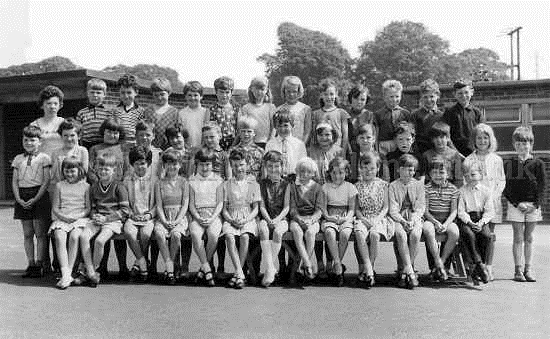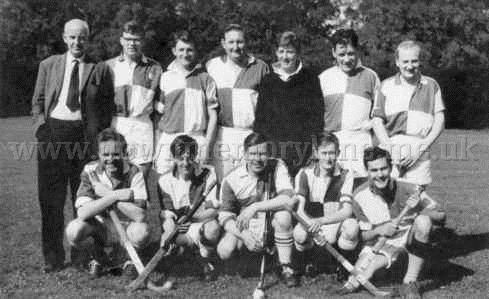 ANTRIM HOCKEY TEAM 1375
This is Antrim Hockey Team and at the back are W. Ludlow, M. Campbell, D. Bonar, B. Fawcett, A. Carson, T. Creighton and F. Baird.
In the front row are Paddy Marks, B. McCabe, ..G. McBurney, W. Harkness and N. Buck. ...The year is unknown.
ANTRIM PRIMARY SCHOOL 1283
This is Miss Canavan's class at Antrim Primary School in 1966.
At the back next to Miss Canavan is Kenneth McCrea, then Reggie Marks, Janet Woods, Liz Johnston, Liz Brownlees, Shirley McCloy, Heather Buckley, Unknown, Elaine Vennard, Trevor Wilson, Unknown and Dennis Clarke. The middle row has John Singleton, Unknown, Margaret Adair, Alan Brown, Unknown, Ian Johnston, Ronnie Brown, Adi Baird, unknown, Unknown, Unknown, Stephen Foster, Christine Foster and Unknown. Seated we have Elaine Steele, Billy Williamson, Eleanor Stevenson, Kathleen Davis, Unknown, Jacqueline Moore, Unknown, Aubrey Scott, Unknown, Unknown, Unknown, Unknown and Cyril Wilson.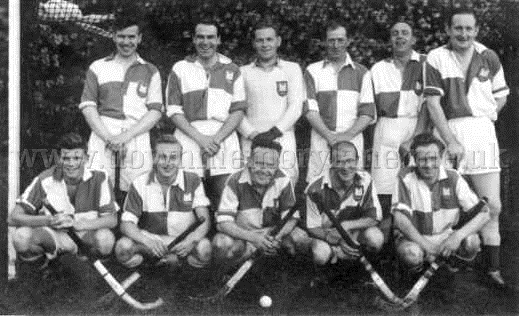 ANTRIM HOCKEY TEAM 1376
It's all smiles today in this photograph of Antrim Hockey team taken on the 19th October, year is unknown, that's because they had just won their match.
At the back are D. Cupples, J. Hannan, G. McBurney, J. Laverty, T. Allen and B. Fawcett. M. Campbell
In front are M. Campbell, F. Baird, J. Patterson (Capt.), S. Wallace and Paddy Marks.
They had beaten Garvey 3 -2 and the scorers were Paddy 2 and Patterson 1.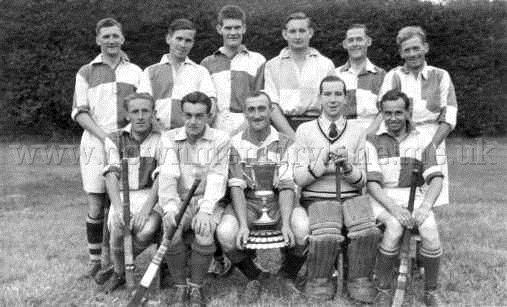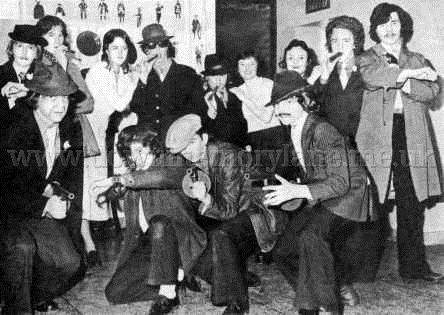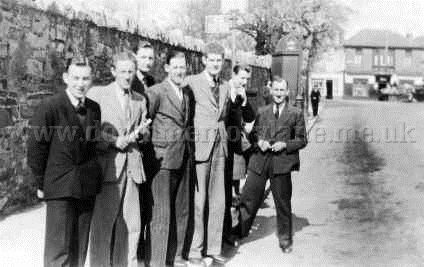 ANTRIM HIGH SCHOOL 1272
No it's not a hold-up, it's the pupils and teacher of Antrim High School rehearsing Chicago in 1975.
The only two known are centre with a Tommy gun Freddie Davis and to the right with the striped jacket is Kenneth McCrea.
ANTRIM HOCKEY CLUB 1371
Waiting for the bus outside Phoenix Park, Dublin in 1947 we have the Antrim Hockey Club down for the day.
From the left are Morris Hillen, "Bucky" Baird, Bob Fawcett, George Clarke, Billy Jarden, Norman Wallace and Billy "Wuff" Allen.
ANTRIM HOCKEY TEAM 1377
Here are the Antrim Hockey Team winners of the Irish Junior Cup 1946 - 1947 and mighty proud they are.
At the back W. Crawford, G. McBurney, B. Jardine, B. Fawcett, G. Clarke and J. Hannan.
Seated are J. Baird, M. Hilland, W. Allen, R. McNally and R. Nicholl.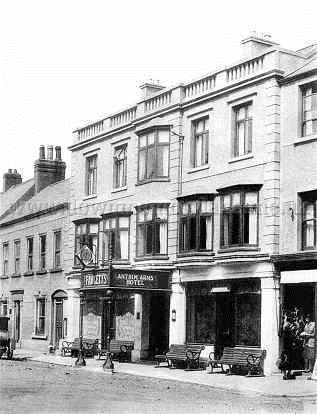 ANTRIM ARMS HOTEL 1361
This is the Antrim Arms Hotel in High Street which was owned by Fawcett's looking very smart having just had a face lift in 1905. No traffic problems here and at Barr's shop on the right we have two ladies, one with a fur collar having a leisurely chat.
A.B.D. MEMORIAL PIPE BAND 1874
Standing on the steps to the entrance of the ruins of Antrim Castle in 1941 we some of the members of A.B.D. Memorial Pipe Band.
At the back on the left is Ernie Smith, Unknown, Unknown and Matt Quigley. In front are John Cochrane, Unknown and Noel Hood.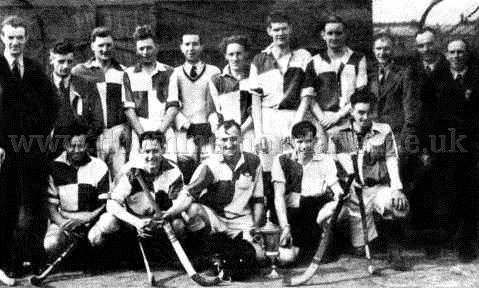 ANTRIM HOCKEY CLUB 1368
All eager to start their match are the Antrim Hockey Club. At the back are George McBurney, John Glover, Billy Jarden, Willie Ludlow, Unknown
and Roy Rayland. At the front we have Jimmy Hannon, Sammy Wallace, Bob Fawcett, Jackie Patterson and Tom Allen. The year is unknown.
ANTRIM HOCKEY CLUB 1290
Winners of the Irish Cup in 1947 is Antrim Hockey Club.
Standing are N.Wallace, H.McCormack, W.Crawford, J.Hannan, R. McNally, J. Baird, W.A. Jarden, B. Fawcett, S. Wallace, W. Rodgers and T. Hannan.
Kneeling with the cup are R. Nicholl, G. Clarke, W. Allen (Capt.),G.McBurney and M. Hilland.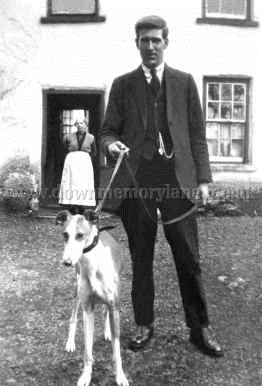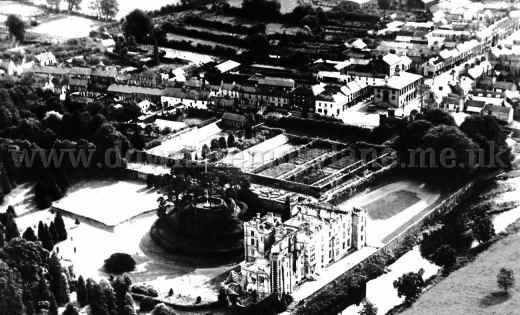 ONE MAN AND HIS DOG 1302
Holding proudly onto the lead of his beloved dog is John Scott with a great shine on his shoes.
The lady at the door is unknown and so is the year.
ANTRIM CASTLE 1346
This aerial photograph shows Antrim Castle in November 1922 one month after the great fire. You can see the side entrance for the gentry to come out and admire the river and then to walk through the grounds.
In front of the Castle you can see the walled gardens with the greenhouses'. Beyond that is Castle Street and the Market Square leading to High Street.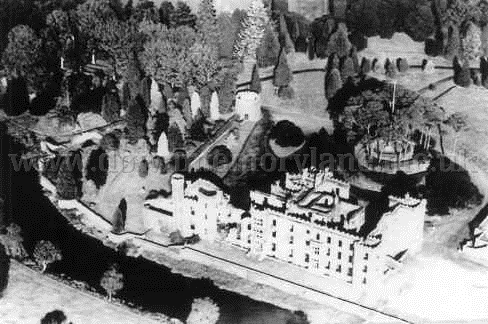 ANTRIM CASTLE 1347
This aerial photograph shows Antrim Castle in November 1922 one month after the great fire.You can see the side entrance for the gentry to come out and admire the Sixmilewater river and then to walk in the grounds which you can see in great detail. The circular building which stands just off from the castle was the band room especially built by the Viscount for Massereene Brass and Reed Band.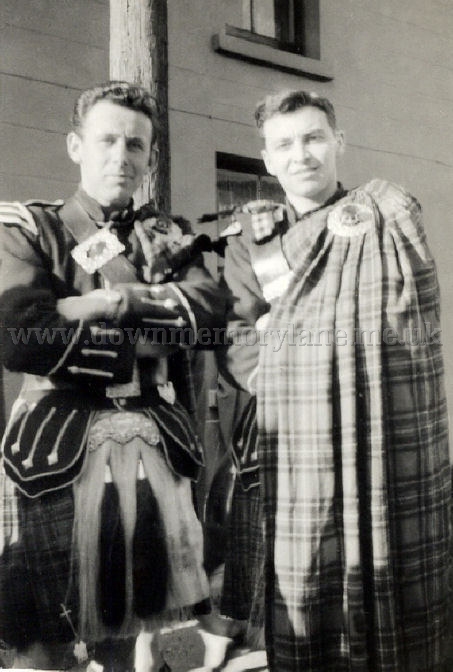 A.B.D. MEMORIAL PIPE BAND 1331
This is Matt Quigley and Bobby Cameron at Portrush in the 1960's.
Apparently back then the band used to go along in the summer on the excursion trips.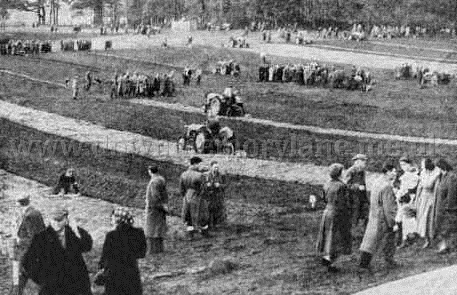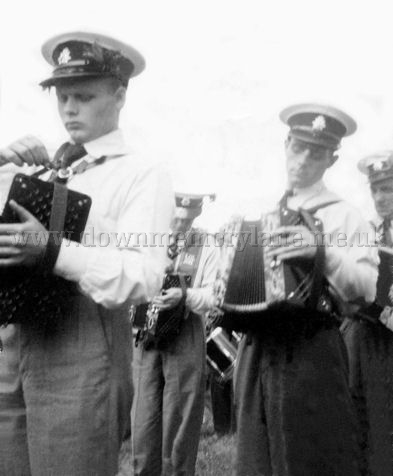 A.B.D. MEMORIAL PIPE BAND 1875
Just turning on to Church Street we have the A.B.D. Memorial Pipe Band. Leading the band is Dennis Young then Matt McCullough, Stephen McHill,
Tommy McCosh, Raymond O'Neill, Raymond Elliott and the rest are unknown. Behind the band are Dougie Lynn, Gerry Law and Bobby Young.
ANTRIM ACCORDIAN BAND 2098
Checking the straps of his accordian is Sammy McQuillan and playing behind him is Dennis Hunter who belonged to Antrim Accordian Band.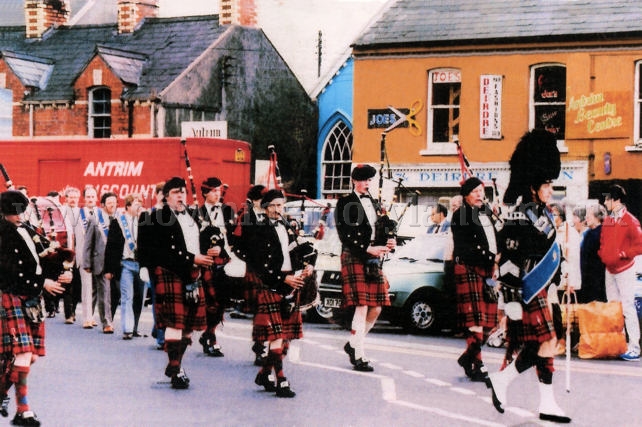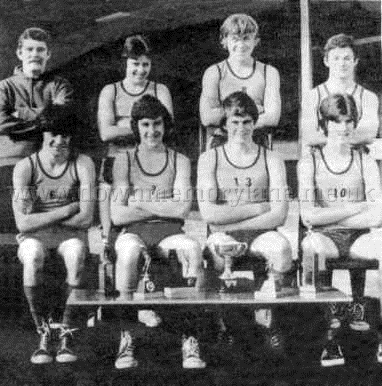 ANTRIM CASTLE SHOWGROUNDS 1275
Watching the Ploughing in the Tractor section at Antrim Castle Showground's in 1938 on the right is Mrs McCullough and beside her is
Mary Young with her daughter Margaret.
ANTRIM GRAMMAR SCHOOL BASKETBALL TEAM 1262
This is Antrim Grammar's unstoppable and unbeatable basketball team of 1975.
As you can see they won all before them including the Mid-Antrim Basketball League at under-13, 14 and 16 levels, all due to the excellent training by their coach Mr.A.Conn in the back row at the left. Next to him are P. Peoples, D. Graham and D. Steele, in front are G. Mccormack, R. Magee, R. Long, M. Irvine and R. Craig who for some reason is not in the photograph.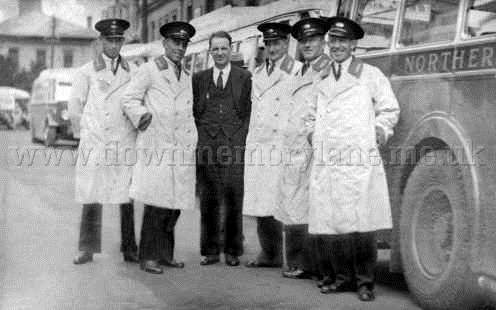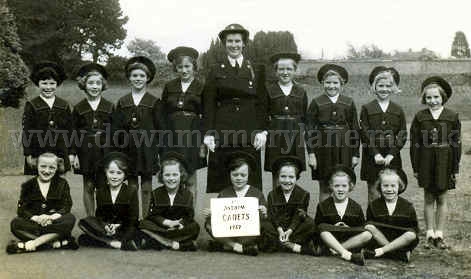 ANTRIM ARMS HOTEL 1364
Standing in High Street in 1929 we have Robert Fawcett with the Tour bus drivers all set to take his guests out around the North & South of Ireland.
In the background you can just see the Court House.
ANDERSON PORTRAIT 1281
This is Mary Anderson back in 1926 getting her photograph taken, Mary was 26 then and just engaged to be married three years later.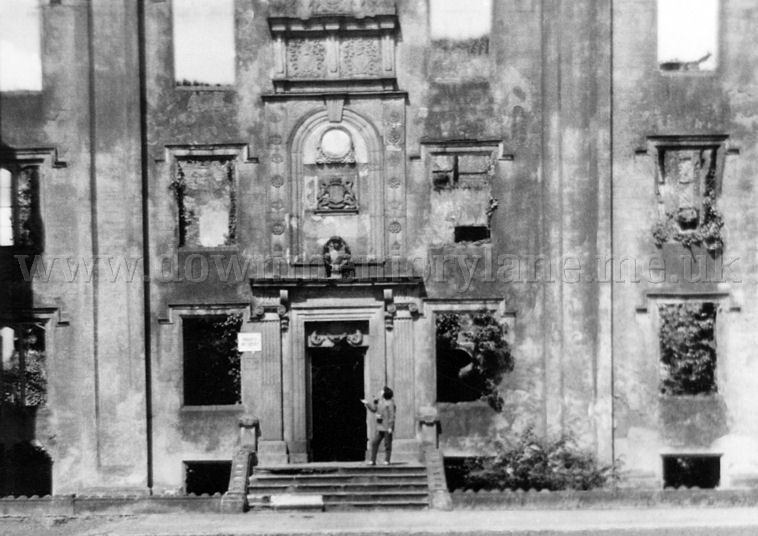 ANTRIM CASTLE 2479
Standing admiring the crests on the front of Antrim Castle is a tourist.
As you can see it was a beautiful building and you can see the lower windows where the staff worked.
ANTRIM CADETS 1380
Here we have 1st Antrim Cadets getting their photograph in Antrim Castle Grounds in 1957.
Back row Ann Coulter, Cynthia Fry, Miss McCarr, Miss Clarke, Mrs Telford, Elizabeth Witherspoon, Eileen McCloskey, Joan Cummings and Jean Barnes.
Front row has Kathleen Lynn, Unknown, Unknown, Norma Coulter, Mary Allen, Pat Cummings and Miss Brownlees.
To give you an idea of where the photo was taken the wall behind them has gone except for a small section containing the arch which you can just see
between Elizabeth Witherspoon and Eileen McCloskey,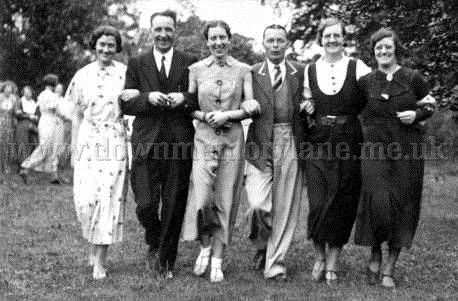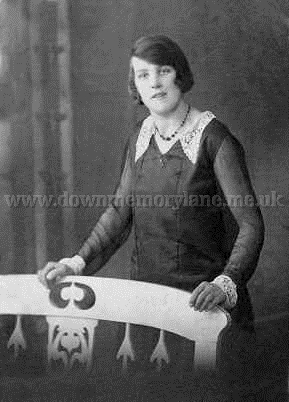 ANTRIM ARMS HOTEL 1365
Now I know you're going to say this isn't the Antrim Arms Hotel, well it's the gardens which belonged to the hotel which were behind the hotel. Remember there was no Castle Centre then in 1930 and that's how far the gardens went. In the background you can see some of the guests and the two men with the unknown guests in the foreground are on the left Robert Fawcett of the Antrim Arms Hotel and the other man was Gerry Patton. Gerry as you can guess was the Hotel's Tour Guide and Entertainer organiser. They had tours North and South six days a week and entertainment was provided for the guests at these included dances at which the local lads would flock to. A lot of the guests were ladies who came over from the Lancashire mills for their holidays here in Antrim. Yes, Antrim was more hip hop and lots to see then, then it is now. On the day that there were no tours they used to take the guests down to the Lough Shore and this was the that day Bob Fawcett and his chums waited for every week. That's because they would use Hannon and Wallce's fishing boats to row the guests up and down the river for sixpence, that's about 2 1/2 p today.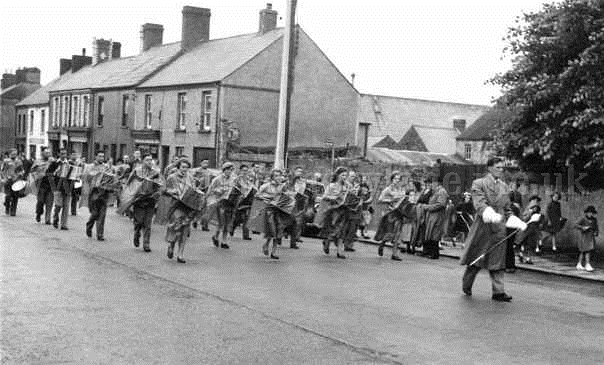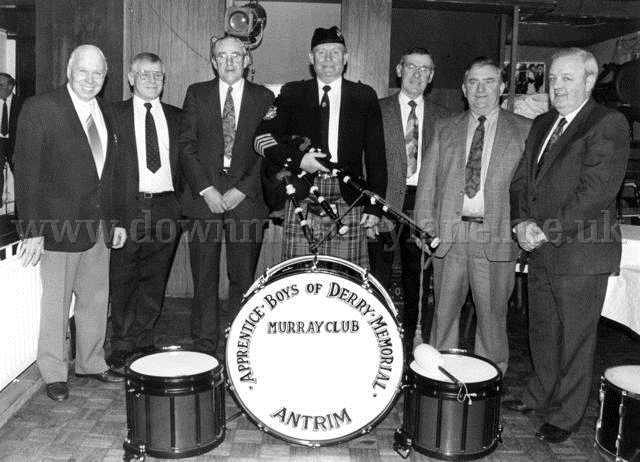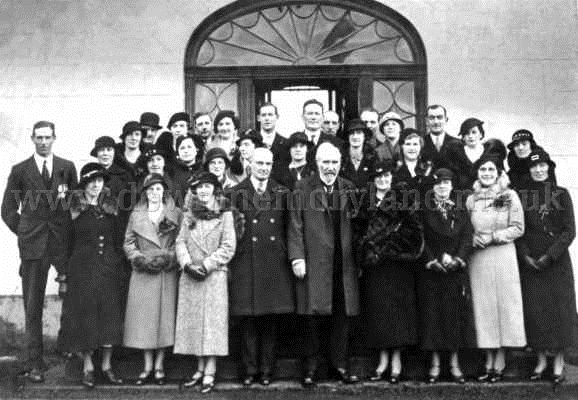 ARMISITICE DAY 652
Taken outside the Royal British Legion Hall at Riverside in 1934, the great and the good had gathered to remember the fallen on Armistice Day.
Standing in the centre is Mr.C.Burrows and on his left 3rd person form him is Jeannie Baird. Mrs N. Kirk and her Poppy Girls - including a young Tracy Gaynor who was a driver - are also in the picture.
A.B.D MEMORIAL PIPE BAND 1267
Standing proudly with his bagpipes is J. Noble in 1981. On his left is G. Carson, Matt Boyd and J. Steele. On his right is E. Smith, B. Jones and J. Wilson.
ANTRIM ACCORDION BAND 1410
Marching up Church Street we have Antrim Accordion Band and leading them is Mr. Nicholl.
The vacant space to the right is where two thatched cottages used to be and they are just ready to pass the Methodist Church which was once the Library.The members of the band are unknown and also the date.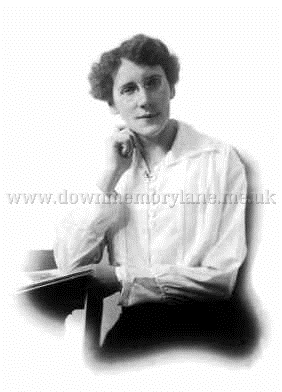 AUNT LUCY 805
This Sadie Bain's Aunt Lucy who left Antrim for the distant shores of Canada. Lucy sent this protrait photograph back and she is wearing a maple leaf brooch
The year is unknown.
ANTRIM ARMS HOTEL 2675
It's April 1938 and the people of Antrim wake up to a sad sight, this all the remains of the Antrim Arms hotel in High Street.
Thankfully no one died in the fire that completely destroyed the hotel.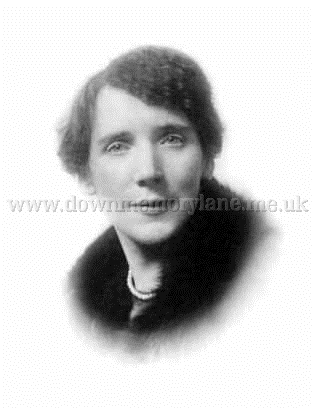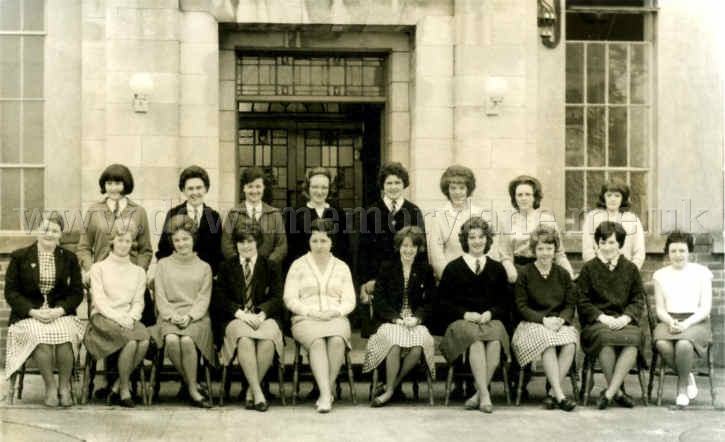 ANTRIM TECHNICAL COLLEGE 1025
No wonder they are smiling it's June 1964 and end of term for these students at Antrim Technical College.
Back row from left are Ester Reade, Oliva Kyle, May McKeown, Elizabeth Witherspoon, Rosemary McKee, Myrtle McVeigh, Sally Bovill and Isabel Gribbon.
In Front are Ruth Moore, Patricia Weir, Irene Clark, Hazel Campbell, Miss Smith (Teacher), Beth McCloud, Connie McKinstry, Edna Kellso, Philomena O'Brian, and Irma Brown.
ANYONE FOR TEA? 918
Now isn't this nice, tea, biscuits and cakes at the bottom of the garden and surrounded by an abundance of flowers on a sunny afternoon.The lady and the time and place are sadly unknown.
AUNT MAY 807
This Sadie Bain's Aunt May's portrait in 1919.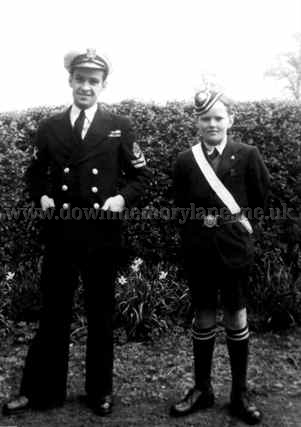 ANDY & HERBIE 1868
On the right is Herbie McCabe in 1950 standing smartly to attention to get his photograph taken, beside him very relaxed is Andy Taggart.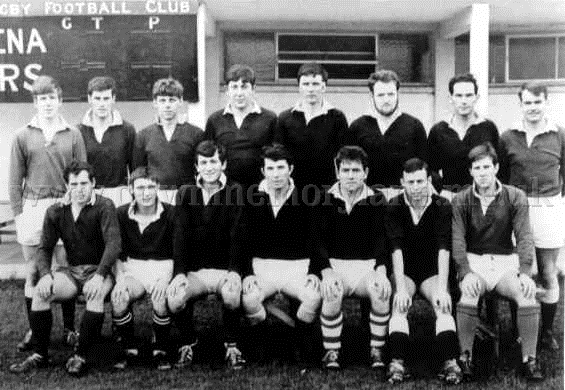 ANTRIM RUGBY CLUB 505
This picture of the Antrim Rugby Club squad is deceiving - for you would hardly guess it from the stern expressions, the mood was really upbeat on this cold November afternoon in 1968, because the local boys had actually just beaten old rivals Ballymena 6 - 3!.
At the back (from left) you can see Brian Simpson, Ken Edgar, Bobby Stewart, Bob West, Hugo Fleck, Jim Nolan, Roddy Armstrong and Dennis Boal.
Seated at the front are Arnold Sears, Chris Miller, Dave Russell, Raymond Peoples (Captain), Jim Purdy, Robert Irvine and Phillip Scott.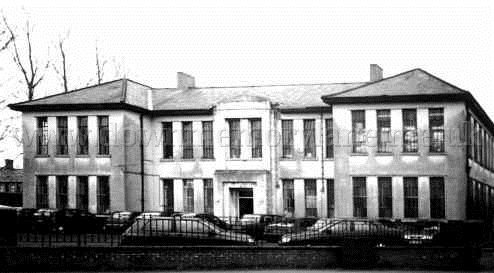 ANTRIM TECHNICAL COLLEGE 593
The building some loved and some tried to forget " The Tec ".
Sadly the building had to make way for Tesco's supermarket.
The year was 1993.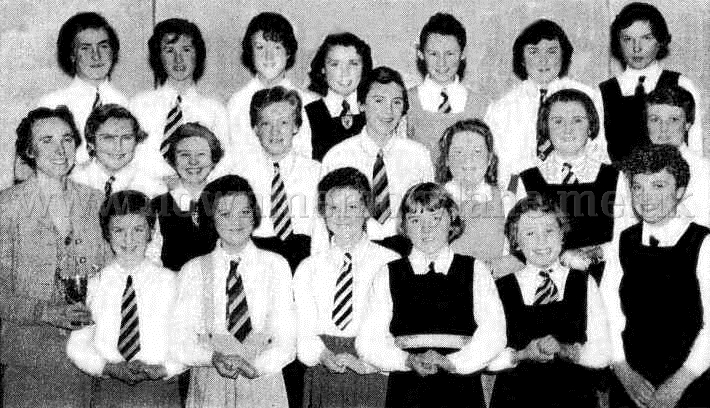 ANTRIM PRIMARY SCHOOL CHOIR 850
No wonder these young ladies from Antrim Primary School are smiling - they had just won the "Ballymena Weekly Telegraph" cup for their choral prowess in the class for borough and rural schools at Ballymena Festival in February 1957.
In the back row we have Unknown, Doris McIlveen, Margaret French, Margaret White, Vera Kennedy, Margaret Reid and Mildred Allen. Beside Miss Bell in the middle row is Stella Lynn, Eleanor McCabe, Maya Nutt, Joyce Hamilton, Brenda Morrow and Rose McBride.
The front row consists of Unknown, Dorothy Cummings, Unknown, Annie Ritchie, Hetty Kelly and Jennifer Allen.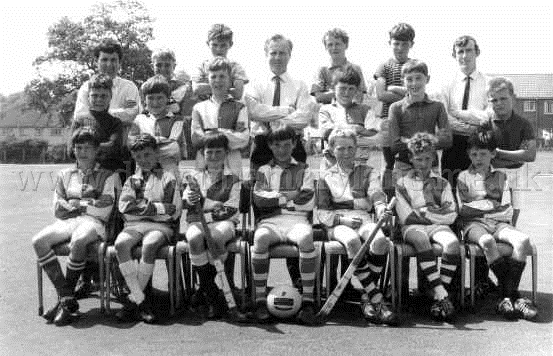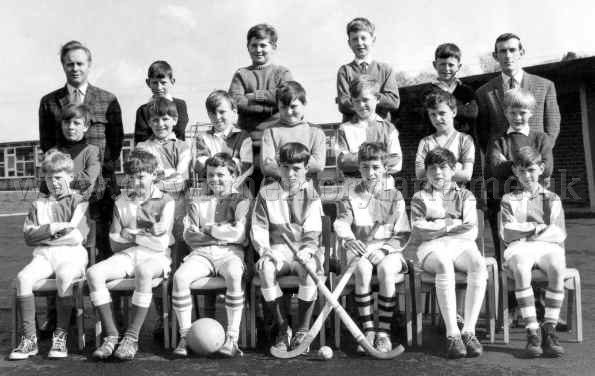 ANTRIM PRIMARY SCHOOL FOOTBALL & HOCKEY TEAM 516
Here we go back in time to 1968 for this shot of the Antrim Primary School Football and Hockey Teams. Standing at the back we have Mr. Swan, James Orr, Alfie Beresford, Paddy Marks - himself a former player, headmaster and mayor, John McKinney, Joe Quinn and Mr. McGarvey.
The young charges standing are Peter Wilson, Granville Neil, Robert Nelson, Ian McCally, Leslie Gawn and Gary Whitley. Then seated in front are Morris McClean, John McMeekin, Steven Mailey, Robin Clarke (Captain), Jim Bennet, Thompson McCrub and Norrie Sullivan.
By the way Robin Clarke went on to be an apprentice for two years at Man Utd but got homesick and came home. Here he played for Glentoran and Coleraine before damaging his knee and having to give up football.
ANTRIM PRIMARY SCHOOL FOOTBALL & HOCKEY TEAM 510
This team is Antrim Primary Football and Hockey Team in 1956 and were all in P6.
Standing at the back we have Paddy Marks, Stevie Mailey, Samuel Adair, Alistair Shaw, Dougie Mailey and Mr Garvey.
The middle row consists of Ken White, David Huston, Allen Cameron, Sidney Grey, John Smyth, John McMeekin and Kenny Pearce.
Seated at the front are Jim Bennet, Kennt McKeown, John Armstrong, Robin Clarke, Jimmy Hegarty, David Foster and Billy McKeown.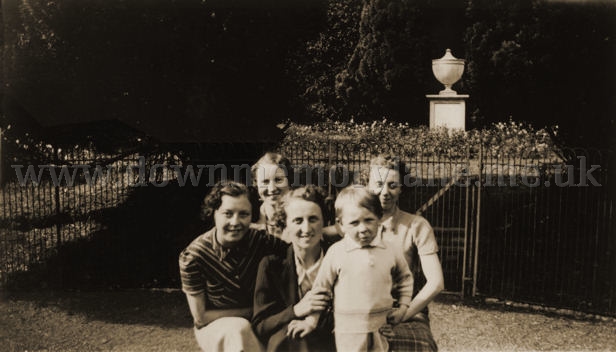 This photograph was used by the BBC in the Countryfile series on the 3rd June 2012.

My thanks to Alan Cameron for providing the missing names from this photograph and the history of some of the boys.
Robin Clarke went on to play for the International School Team, he then spent a few years at Manchester United. Next is Jimmy Hegarty who became a professional Golfer with a third place finish in the Irish Open. The Mailey brothers became senior hockey players for Antrim,well done to all these lads. Now to the Principal Paddy Marks who went on to enjoy a long career in local politics including a couple of stints as the Mayor of Antrim. Now his career must have rubbed off on one of the young lads for he too in later years became the Mayor of Antrim, his name is John Smyth middle row 5th from the left.
ANTRIM CASTLE GROUNDS 2858
Having their photograph taken in front of the graveyard in antrim Castle Grounds back in 1937 are at the back on the left is Anna Baird and Unknown.
In front are Unknown, Evelyn Baird and Tom Baird.