ANTRIM HOME GUARD 0146
F.Row: Unknown, Unknown, Frank Rayford, Jimmy Clarke, Stephen Henry, Billy Craig (Captain), Tommy Thompson, Warren Beggs, Dick Burrowes, Joe Knox and Tommy ?
2nd Row: Robert McNally, Sam Ankatell, John Wallace, Edgar Wallace, Sam Fletcher, Charlie Knox, Crawford Rea, Tom Kelly, Harry Scott, Percy Collins and Billy Cromey.
3rd Row: Robert Donald, Billy Taylor, Billy Simpson, Bob McClennan, Sammy McClennan, Jack McElrea, John Fletcher, Wayne ? and Charlie Donald.
B.Row: Billy Greg, Jimmy Adair, Unknown and Stanley Young. Date of photograph is 1st October 1944.
ANTRIM ARMS HOTEL 0010
Taken before the spring of 1938 as Antrim Arms Hotel was then destroyed by fire. The three storey hotel in 1902 boasted it had the largest dining room in Antrim at the time seating 100 people. This was a publicity photograph to promote the hotel and the tours that they ran as it was then owned by Sam Facwett. They ran tours all over the North & also ran tours down to Dublin.
Did they have Lady Coach drivers then ? because if you look closely at the coach on the left you will see a lady behind the wheel. By 1929 the hotel had catered for over 6,000 tourists, most of these would have been mill workers from Lancashire.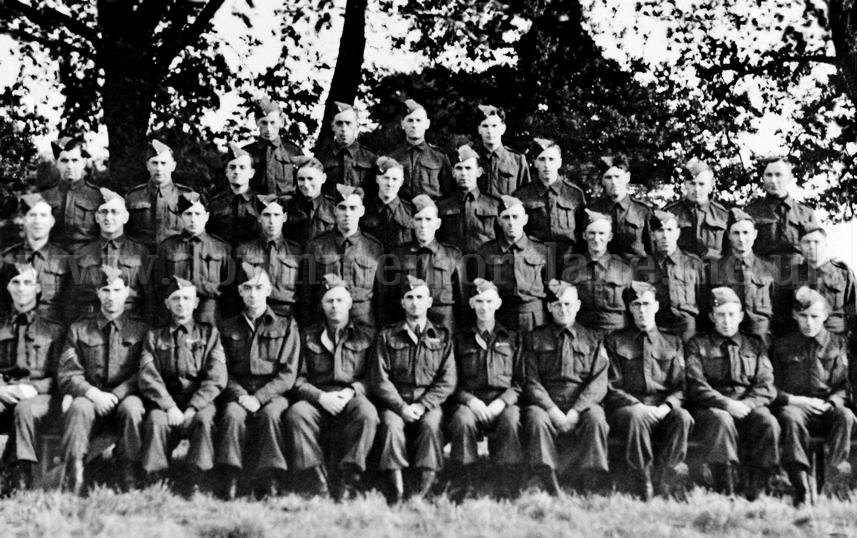 ANTRIM HOME GUARD 0391
This is the 14 -15 Platoons "B" Company, 1st October. 1944.
Back Row: D.Flemming, H.Coulter, T.Smith. S.McKelvey, J.Geddis, J.Shannon, W. Molyneaux, D. Fee, Cpl. A. Wright, J. Wilson.
2nd Row: S. Craig, W. McClure, G. O'Neill, M. Wilson, F. McCrreight, D. Cupples, T. Adair, T. Crowe, J. Beck, J. Reid, R. Steele, E. Crowe.
1st Row: Sgt. A. McQuilken, J. Kane. R. Nicholl, Cpl. J. Wallace, E. Campbell, Cpl. J. Craig, A. Reid, H. Campbell, Sgt. J. McMaster, Sgt. N. Entwistle, Sgt. F. Granger, Sgt. C. Johnston.
Front Row: 1/Sgt. S.L. Clarke, S/Sgt A. Creight, C.S.M. A. Forsythe, Lt. W. A. Reilly, Capt. W. Craig, Lt. D. Stirling, C.Q.M.S. J. McIlveen, P/Sgt. R. Reid, Sgt. J. McMeekin, 1/Sgt. C.J. Brims, Sgt. S. Holmes.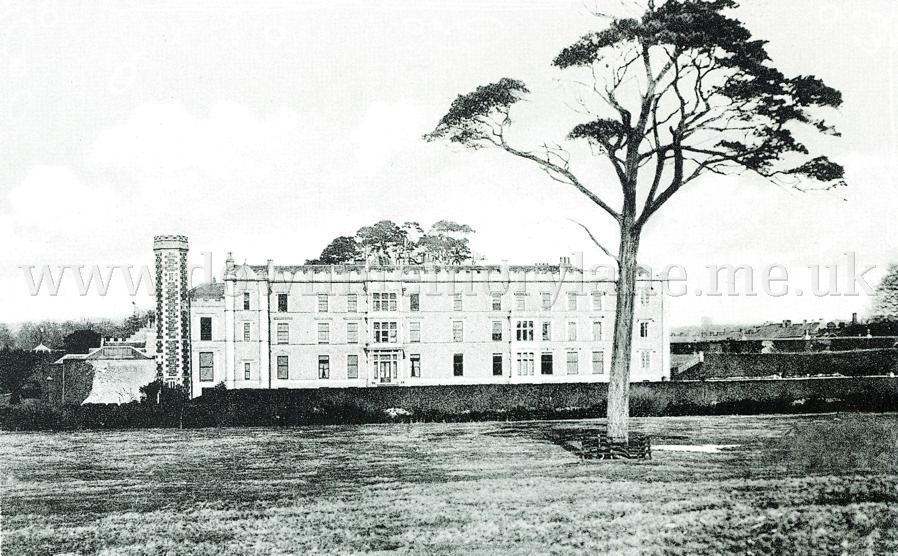 ANTRIM CASTLE 0178
This view of the Castle just gives you and idea of the size it was. They started building it in 1610 in various stages until 1666 and was shaped like a half 'H' with the main block facing East and two long wings. It was remodelled in mock-Gothic style between 1812 and 1813. Also more renovations were made in the Victorian period. To the right of the picture you can see part of the extensive walled gardens and also the greenhouses. To the extreme left of the picture an arched wall which lead to the Pleasure garden.. The photograph is dated 1919.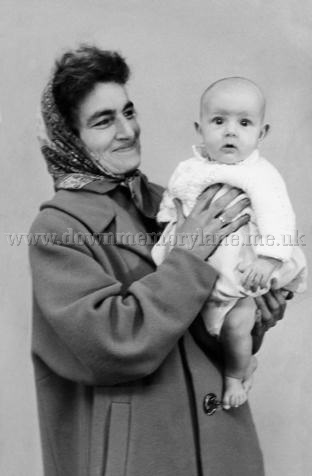 A MOTHER'S LOVE 2189
This is Norman Young back in 1963 having his photograph taken.
Holding him is his mum Mary and just look at the love in her eyes for him.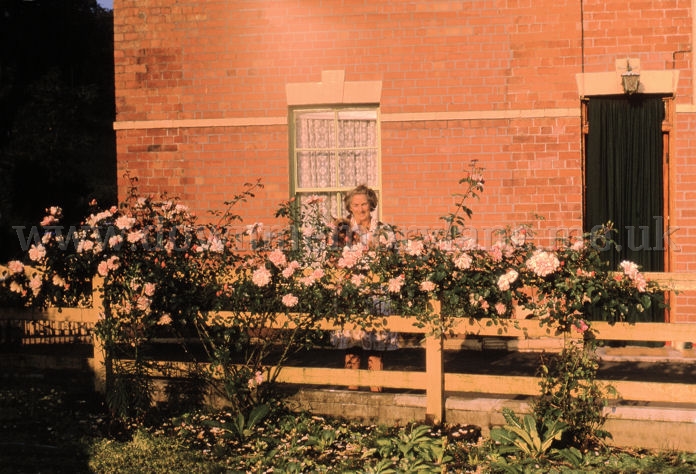 ABBEY VIEW 2678
Here we are out at Muckamore and standing outside her home at 1 Abbey View is Jean Adgey holding her dog.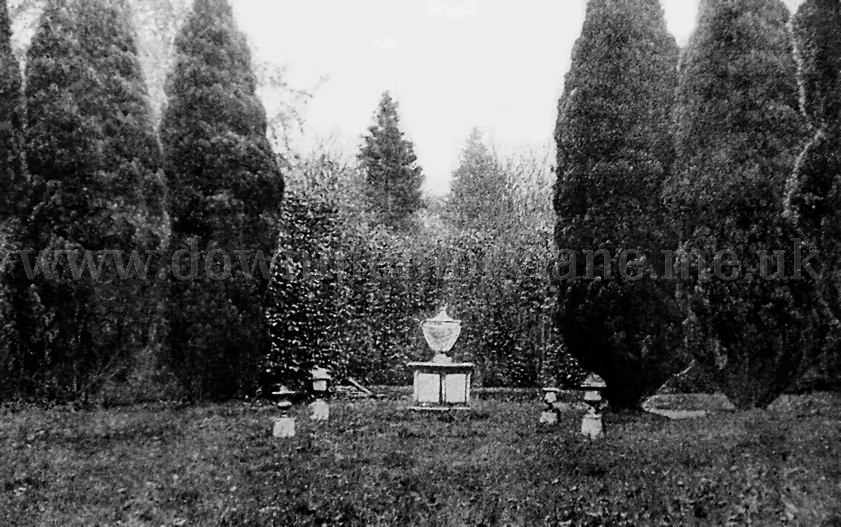 ANTRIM CASTLE GROUNDS CEMETERY 2729
The date of this photography is unknown and shows the cemetery in the Antrim Castle Grounds.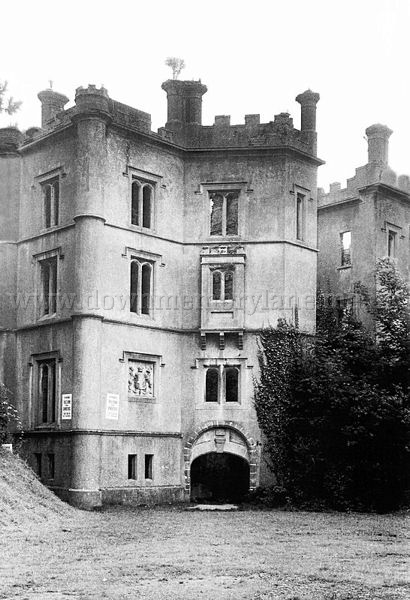 ANTRIM CASTLE 2747
This is the side of Antrim Castle that the gentry did not see, for here is the entrance for all the staff and deliveries. The blackened upper part of the castle was caused by the fire, but it was standing for a very long time by the young trees growing out of the chimney pots. The castle was still sturdy then and could have been saved as a major tourist attraction, but it was not to be for Antrim Borough Council decided it was not to be and bulldozed it down.
ANTRIM TECHNICAL COLLEGE 1862
This is part of a series of five photos of the students of Antrim Technical College taken in 1964.
This is because the original photo was 900cm long (3'). sadly I do not have any names yet. (Photo 1)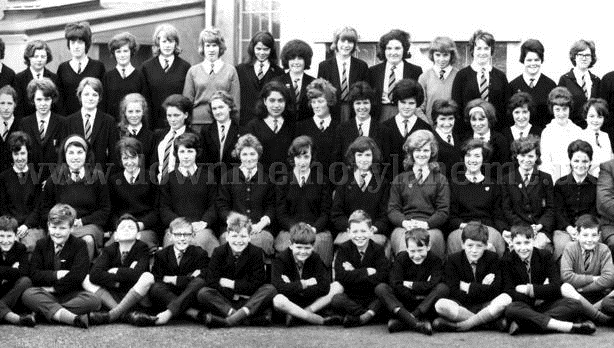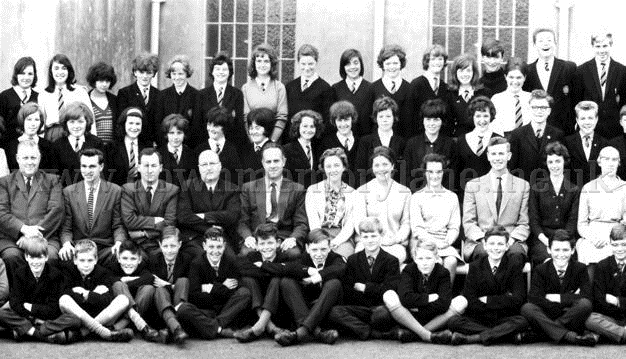 ANTRIM HIGH SCHOOL HOCKEY TEAM 2140
This is Antrim High School Hockey team in 1975.
In the back row are Mrs Mahon (Teacher), Lorraine, Jackie Brady, Josephine Crossan, Alison Busby, Janice Service and Geraldine Freeburn.
Seated are Heather Winters, Debby McAuley, Ruth Vennard, Cherry Davis and Della Franklin.
ANTRIM TECHNICAL COLLEGE 1864
This is part of a series of five photos of the students of Antrim Technical College taken in 1964. Seated are John Andrew (Vice Principal), John Hall (Metalwork), Mr Hunter (Geography), Cecil Ramsey (English), Mr Brownlees - Mechanical Drawing, , Unknown, Unknown, Unknown, John Bell (Principal), Murial Dinsmore [now McMaster] (French), and Mrs Coulter (Science).
Seated on the ground from the left is Michael Anderson, Eric Ammann who went on to become a aircraft engineer. Perhaps Eric was infulenced by his favourite Teacher Mr Hall who taught metalwork. then David McCullough, Unknown, Unknown, Alan French, Thomas James Beattie, Noel Bell and the rest are unknown.(Photo 3)
My thanks to Thomas James Beattie and John Hall for a lot of the names.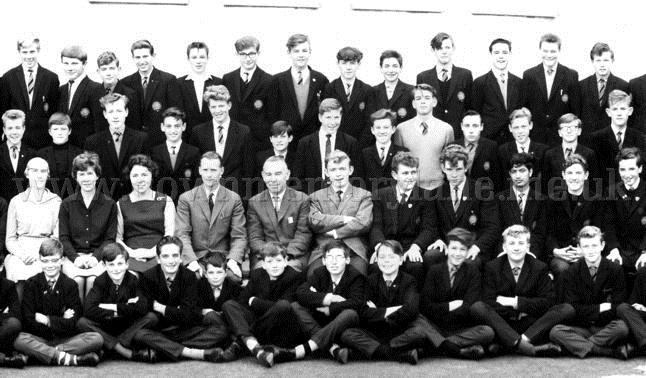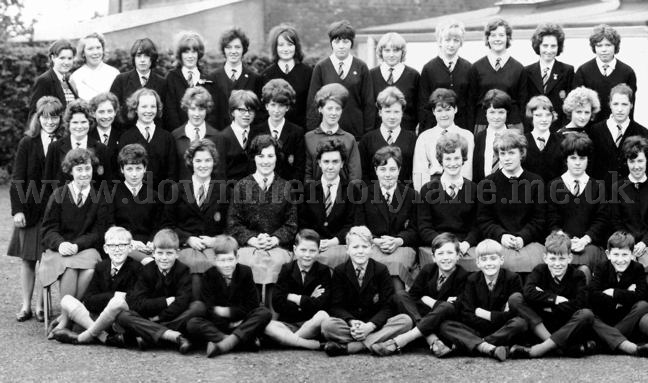 ANTRIM TECHNICAL COLLEGE 1866
This is part of a series of five photos of the students of Antrim Technical College taken in 1964.
3rd row from back and from left to right No2 is Bertie Terrill no 3 is Edmund Kelly no 4 is Roy Buckland no 5 unknown No6 is Mels Janse, No 7 is Randall Logan and no 12 is Frank Peacocke
This is because the original photo was 900cm long (3'). sadly I do not have all the names yet. (Photo 5)
ANTRIM FOOTBALL TEAM 1756
This photograph of a local football team which is unknown was taken in 1911 in an alley somewhere in Antrim. The only person known is on the left at the front and his name is Johnnie McCartney and he lived in Riverside. Johnnie was also a boxer and won numerous medals, he had a chum who was also a boxer called Victor Pollack. When WW1 broke out Johnnie like thousands of other young men raced to join up. Johnnie joined the Royal Irish Rifles as a Rifleman number 341. Sadly like all other young men Johnnie was killed in action on the fields of Flanders in Belgium on the 8th August 1917. There were many small battles fought then during the Battle of Passchendaele and ironically Johnnie could have been in the Battle of Menin Road Bridge.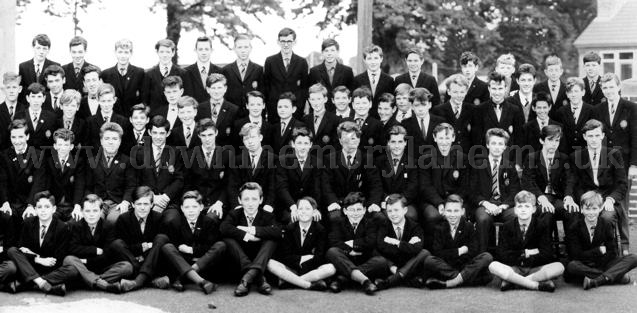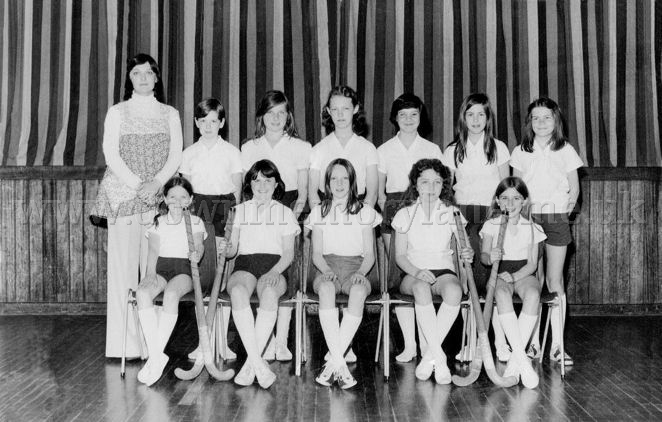 ANTRIM TECHNICAL COLLEGE 1865
This is part of a series of five photos of the students of Antrim Technical College taken in 1964. This is because the original photo was 900cm long (3').
3rd row from back and left to right no 13 is S Boville , 14 is Subash Treon , 15 unknown and 16 is Bertie Terrill
2nd row from the back and from left to right we have no 14 (the big boy ) George Duncan, no 15 is Jim Mcquillan , then John Coulter
The Teacher Miss Caldwell who taught Book Keeping and is seated 2nd from the left.5th is Woodwork Teacher and 6th is Mr Kennedy - Maths and Sports (Photo 4)
ANTRIM TECHNICAL COLLEGE 1863
This is part of a series of five photos of the students of Antrim Technical College taken in 1964.
This is because the original photo was 900cm long (3'). sadly I do not have any names yet. (Photo 2)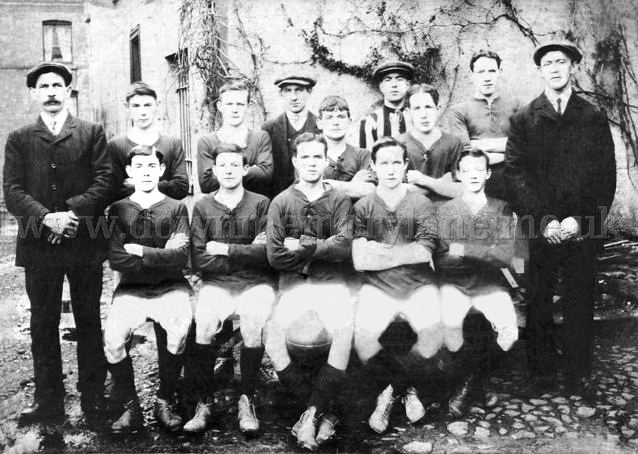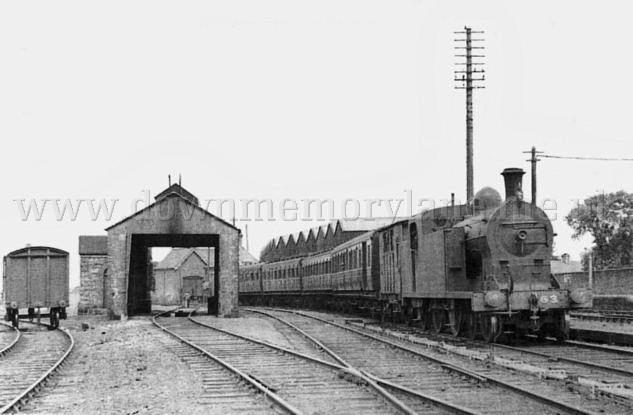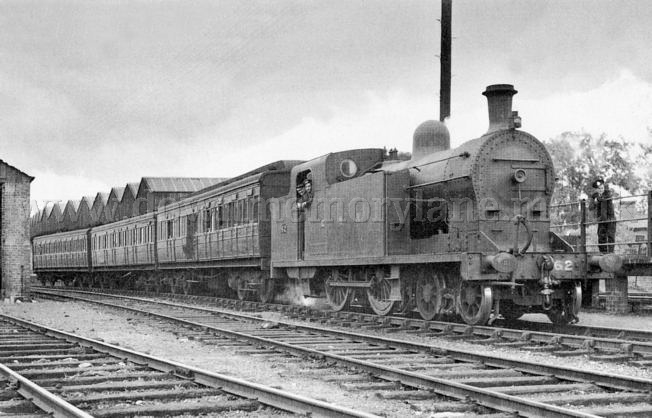 ANTRIM RAILWAY STATION 1758
It's 1.28pm on the 26th June 1937 here at Antrim Station and the Great Northern T2 class No.63 is ready to depart to Great Victoria Street in Belfast via Knockmore Junction. Being in Antrim had its advantages for you could also go to Belfast on the NCC route via Bleach Green to York Road Station.
Back then the station was a thriving business as you can see by the goods yard next to the main line.
ANTRIM RAILWAY STATION 1761
Antrim Station 10th June 1949 and the train is the 1.55 p.m. to Great Victoria Street Station in Belfast.
The locomotive is a GNR T2 Class 4-4-2T No. 62.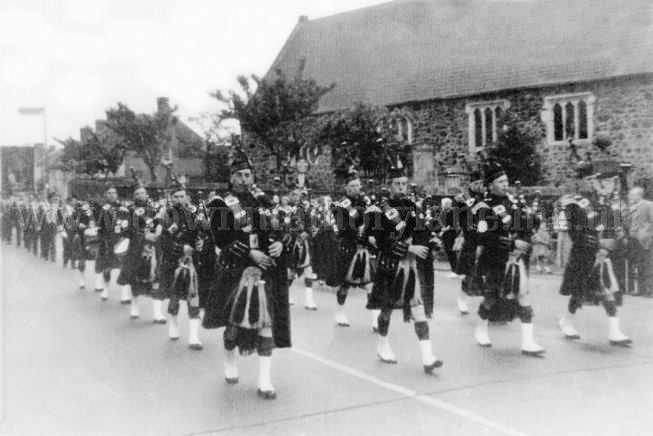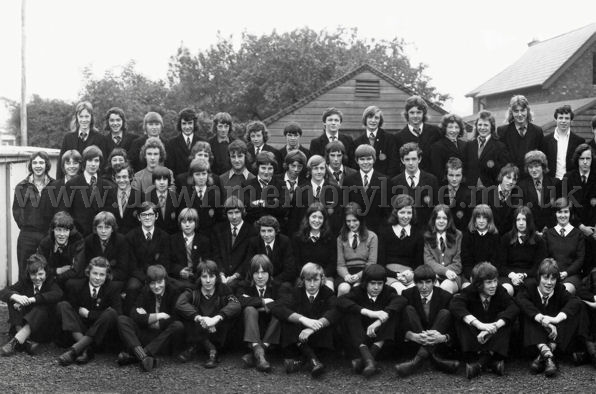 A.B.D. MEMORIAL PIPE BAND 1895
A.B.D. Memorial Pipe Band marching down Church Street with All Saints' Parish church in the background.
The front row from the left we have Robin Steele, Greer Woods, George O'Neill and Frankie Owens. The first three in the next row are Bobby Cameron, Matt McCullough and Davie Hamill. The first in the 3rd row is George Carson.
ANTRIM TECHNICAL SCHOOL 1720
This is part of a series of five photos of the students of Antrim Technical School taken in 1974.
This is because the original photo was 900cm long (3'). sadly I do not have any names yet. -(Photo 1)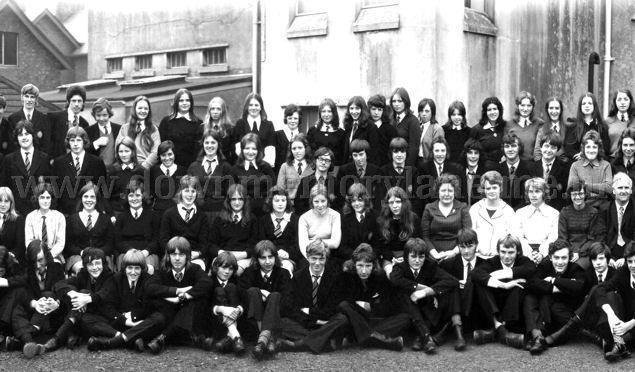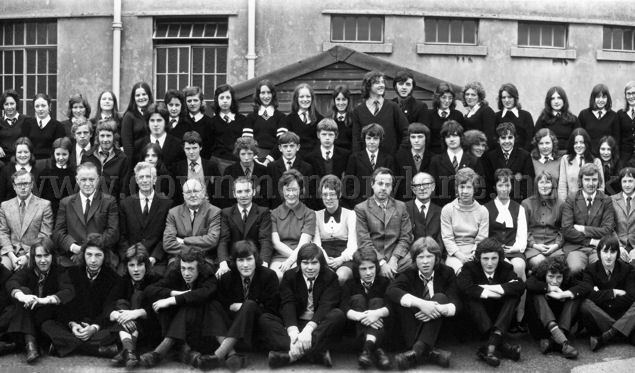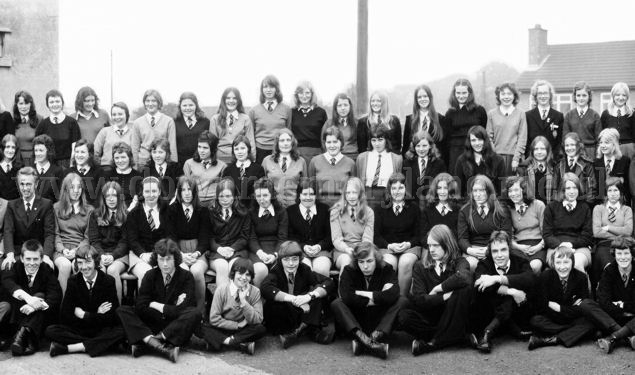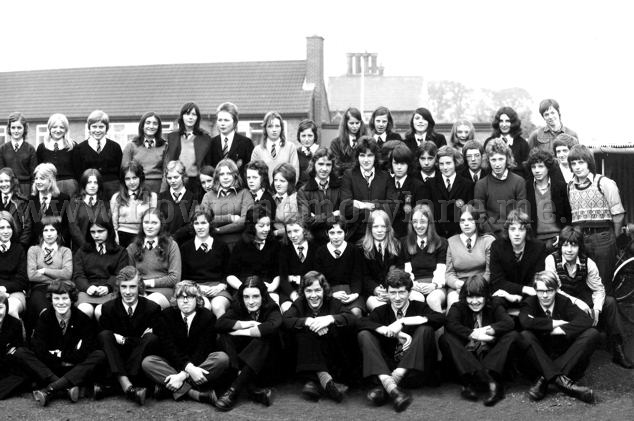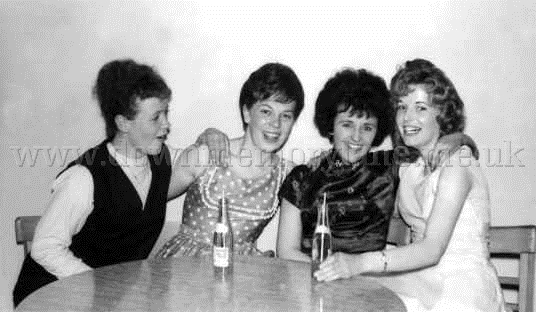 ARE YE DANCING? 1158
The lads at the dance at Muckamore Abbey Hospital in the 60's are certainly spoilt for choice.
Sure you wouldn't know which one of these lovelies to ask up for a dance.
Well lads here's their names Eileen Nulty, Marie Hemming, Ann McVeigh and Kathleen Peel.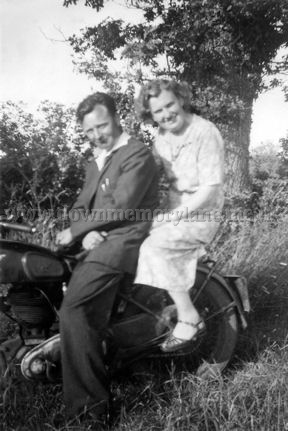 A BICYCLE MADE FOR TWO 1500
Sitting astride the motorbike is Willie McClenaghan and behind him is Sadie Murphy, the year is unknown.
As you can see the bike only takes two so who took the photograph?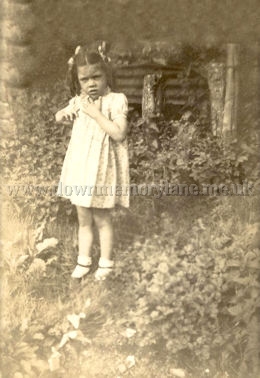 ANNE KNOX 1485
Standing her back garden which was in Church Street we have Anne Knox in 1945.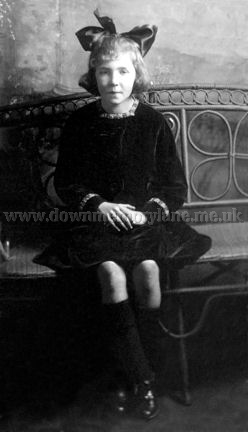 AGNES SCOTT 1799
This is Agnes Scott aged 12 in 1924.
Agnes when she grew up married Jack McElrea who lived in the Frenchman's house in Castle Street.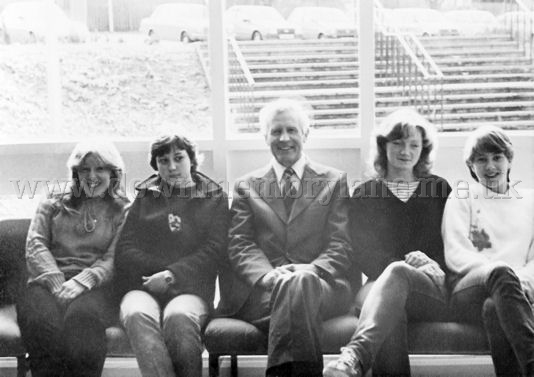 ANTRIM TECHNICAL SCHOOL 1954
Sitting here with four of his pupils on what seems to be a "Jeans Day" is John Bell the Headmaster of Antrim Technical School.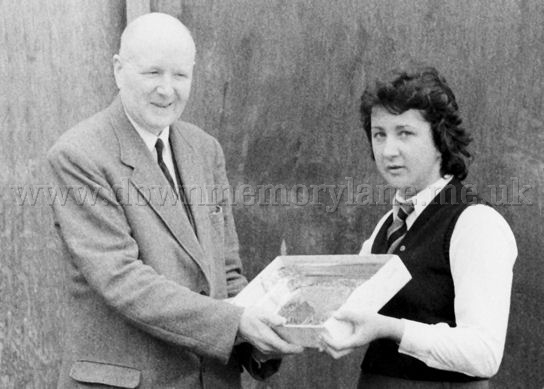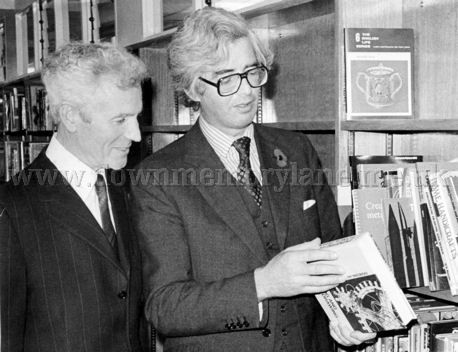 ANTRIM TECHNICAL SCHOOL 1955
This is Mr Ramsey a teacher at Antrim Technical School receiving a present from one of the pupils. Could this be a retirement present?
ANTRIM TECHNICAL SCHOOL 1956
Here we have John Bell Headmaster of Antrim Technical College with Lord Melchett examining one of the many books in the library.
The occasion was the opening of the new Antrim Technical College in Fountain Street.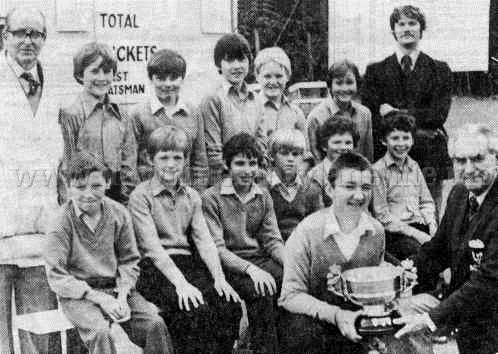 ANTRIM HIGH SCHOOL CRICKET TEAM 1078
No wonder the boys of Antrim High School in 1982 are all smiles they are the winners of Antrim Festival Sports cricket competition after beating rivals
Antrim Grammar School. Here the captain of the team Daryl Patterson is being presented with the "Sir Harry Mullholland Cup" by Ferguson Grainger,
president of Muckamore Cricket Club.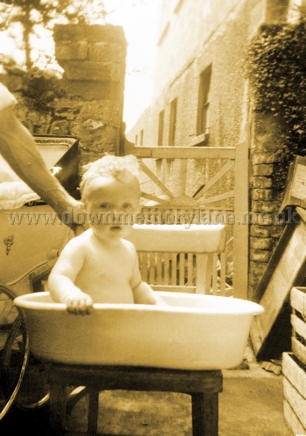 A HELPING HAND 2224
Here in the backyard during the summer is Eugene Madden at 9 months having a cool bath in 1958. Lucky him I used to washed in the sink! still I wish I had a photo now. Eugene is getting a helping hand to hold the chair steady while in the background his is Silver Cross pram, the Rolls Royce of prams back then. Anyone back then who could get an old one and using the springs and wheels make a gider (soapbox) and have the smoothest ride ever!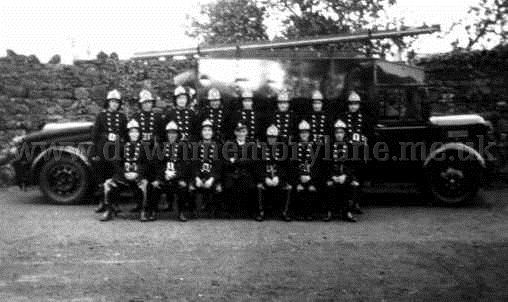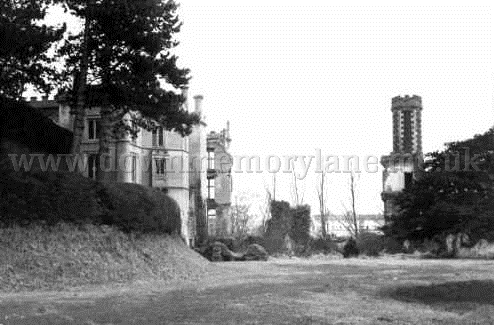 ANTRIM CASTLE 0631
This striking shot of Antrim Castle, which was taken in 1962, lets you see where the building stood in relation to the Italian tower and the motte. As you can see the motte is still beautifully tended and spared from mindless vandalism which blights it today. Sadly, however, this picture also shows how the grand old house had been allowed to fall into steep decline since the fire four decades previously. Within a few years centuries of local history were to be demolished forever when the bulldozers tore the castle to the ground. In the distance behind the tree are the houses of the Firfields Estate.
ANTRIM HOCKEY CLUB 1114
Proudly displaying their silverware we have the Antrim Hockey team of 1966.
Standing Billy Crawford, Peter Thompson, Michael Campbell, Paddy Marks, Alvin Carson, John Creighton, John McKee, Brian McCabe & James Carson.
Seated we have Francis Baird, Alan Crawford, Billy Harkness, Crawford Carson and Robert Mailey.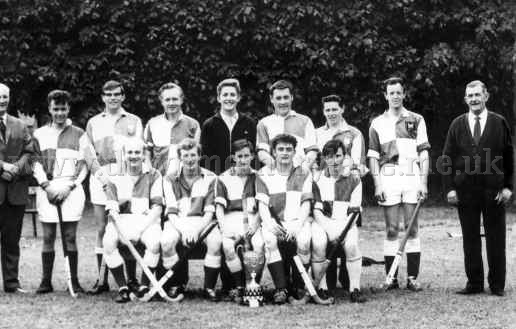 ANTRIM FIRE BRIGADE 835
This is the Antrim Fire Team in 1951.
In the centre of the front row is Section leader Pat Bradley on the his left is John Cochrane and on his right is his brother Michael Bradley. At the back 6th on the left is James George, the rest of the men are unknown. Back then there was no fire station and the engine was kept up at Baird's.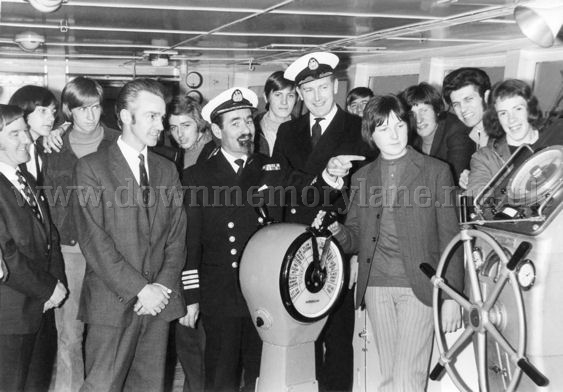 ANTRIM TECHNICAL SCHOOL 1957
Having a guided tour of a ferry is Metalwork teacher John Hall with pupils from Antrim Technical School. On the far right of the photograph is Ronnie McNeely.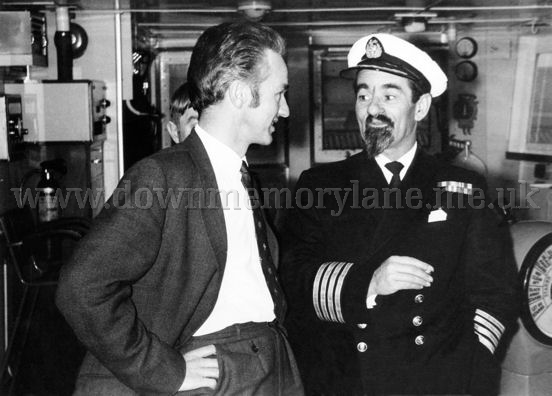 ANTRIM TECHNICAL SCHOOL 1958
Here we have John Hall a teacher speaking to the capain of a ferry whilst on a tour of the ship with pupils of Antrim Technical School.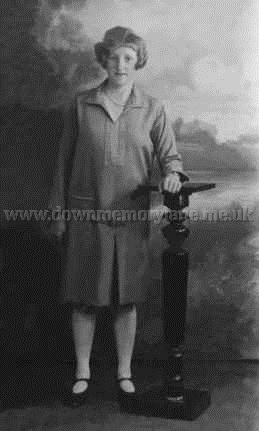 ANNIE NEESON 0125
Standing for her portrait photograph to be taken is Annie Neeson in 1925.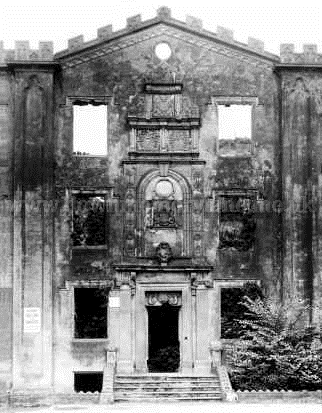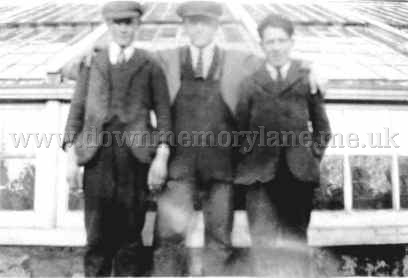 ANTRIM CASTLE 632
Taken in 1965 you can see the vandalism that has been done to the front of the castle.
The balustrades are all gone and also the frieze above the door has been damaged.
ANTRIM CASTLE 291
These men are the gardeners and behind them is one of the greenhouses.
They are unknown along with the date.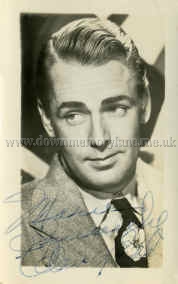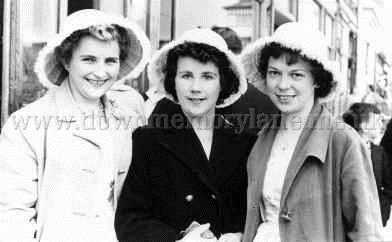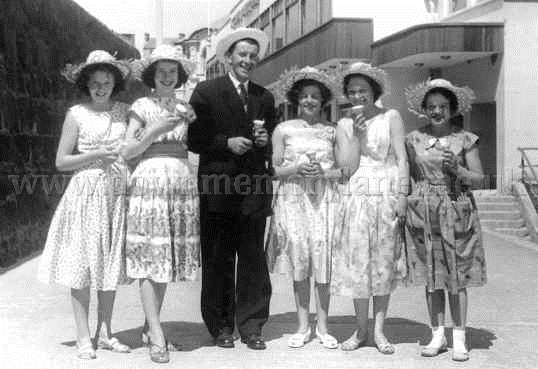 ANTRIM HILLBILLIES 1161
The most famous spot for getting your photograph taken at Portrush was here and you went to Grimason's Studios in Bath Street to collect your photo.
This is the early 60's and the girls are all dressed in their summer frocks and their hillbilly hats while the men still wore a suit and tie!
From the left we have Kathleen Peel, Molly O'Hara, John O'Hara, Patsy Clarke, Marie Hemming and May Peel.
ANTRIM BELLES 1160
These three lovely Antrim Belles out for the day at Portrush in the 60's all geared up with their holiday hats on.
As you can see they were not ' Kiss me Quick' hats because Stella Lynn, Celia Kirkwood and Marie Hemming would have no problem!
ALAN LADD 221
This is a copy of the genuine photograph and belongs to Mrs.Marie Abercrombie who when she was a slip of a girl wrote to him for his autograph and this is what he sent her.
It reads as follows: MARIE
SINCERELY
ALAN LADD
Date of the autograph is unknown.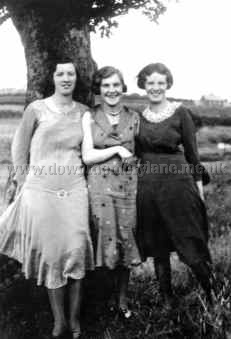 ANTRIM GIRLS 1073
These three lovelies of Antrim are just out for a walk in 1935 and possibly looking but only looking! They are Aggie McQuilken with her sister Annie and their best friend Jeannie Brownlees.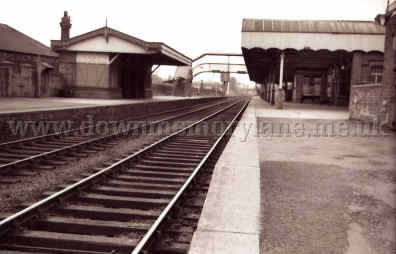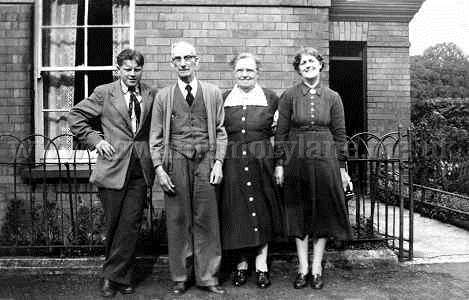 ABBEY VIEW 1082
This is 110 Abbey View at Muckamore these houses were originally for the mill workers.
Standing outside their home we have on the left and on the right Archie McQuilken and Mary McQuilken. In the centre we have Uncle George and Aunt Ell who were here on holiday from America. The year is unknown.
ANTRIM RAILWAY STATION 1357
This is Antrim Railway Station in 1959.
In the background is the old passenger bridge which in some respects was much better than the new one.
If you are on the new one when it rains you will get wet, while with the old one it had a canopy keeping you dry.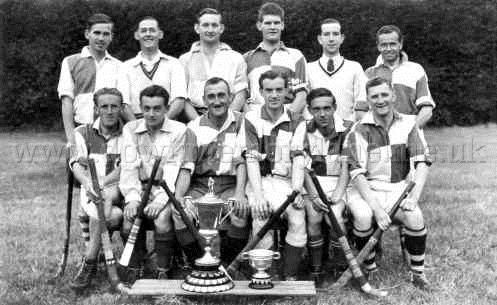 ANTRIM HOCKEY TEAM 1378
Is there no stopping these guys of Antrim Hockey in 1947 having already won the Irish Junior Cup they have now won the County Hospitals Cup.
Standing we have G. McBurney, G. Clarke, B. Fawcett, B. Jardine, R. McNally and R. Nicholl.
Seated in front are J. Baird, M. Hilland, W. Allen, N. Wallace, T. Allen and W. Crawford.