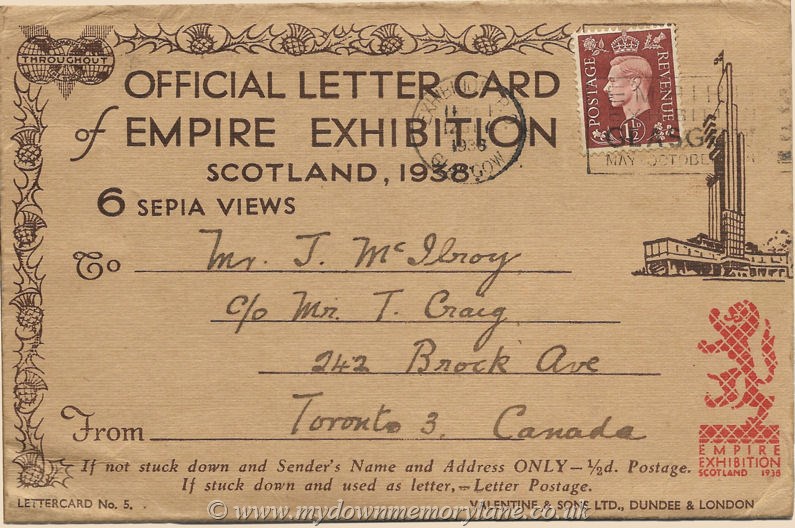 Pages:
EMPIRE EXHIBITION
3878
Inside this letter are six sepia showing different views of the exbition and they are shown below.
As you see the letter was addressed to Mr J McIlroy (Johnny) and posted in Glasgow on the 12th July 1938. Written inside was the following:
Spending to day at the Exhibition, this is the warmest day we have had for two months. Helen is with me, we had a nice crossing Glasgow is much nicer than Belfast. I hope you are getting along well & not feeling the heat. Love Uncle Bob. Kind regards to Mr T. Craig.
The Empire Exhibition in Scotland 1938 was an international exposition held at Bellahouston Park in Glasgow, from May to December 1938. The Exhibition offered a chance to showcase and boost the economy of Scotland, and celebrate Empire trade and developments, recovering from the depression of the 1930s.
Sad to say with all this hope for bigger and better things, for just over a year later WWII will have started.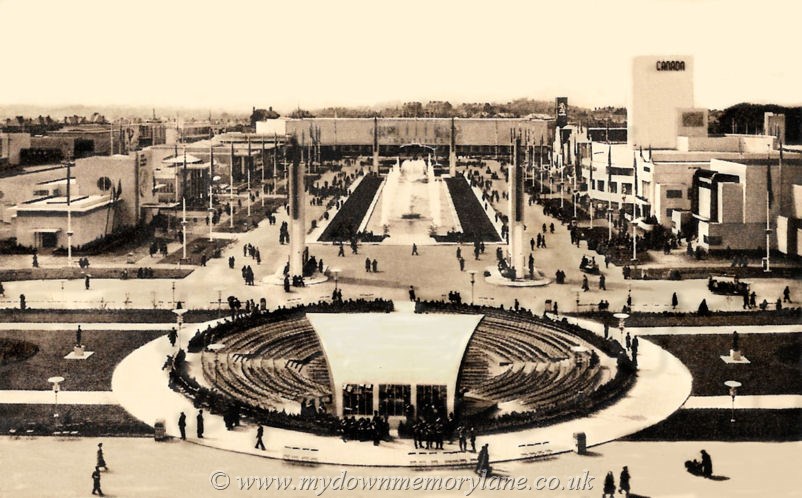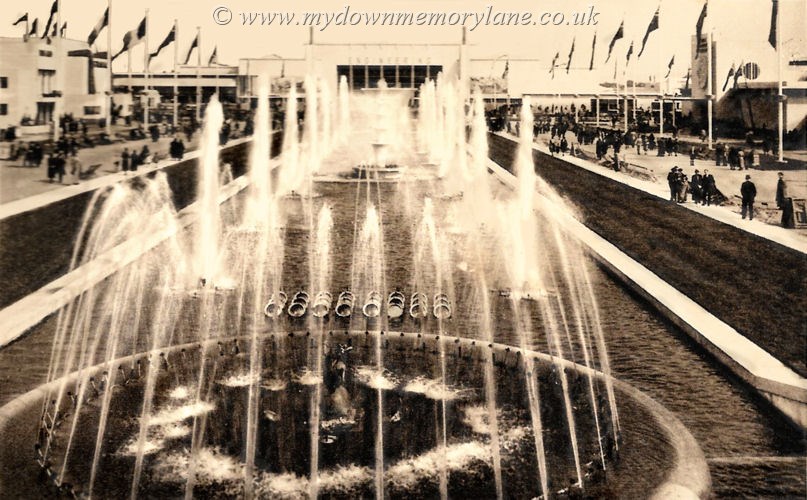 EMPIRE EXHIBITION 3877
This view shows you the Bandstand, Dominions and Colonial Avenues, the large building in the background has the words INDUSTRIES, to the right is the French car sign Peugot again to the right is a large building with the word Canada on the wall.
EMPIRE EXHIBITION 3878
Here in this section of the Empire Exbition in 1938 the Lake fountains and colonial avenues must have been amazing. So much to do and see.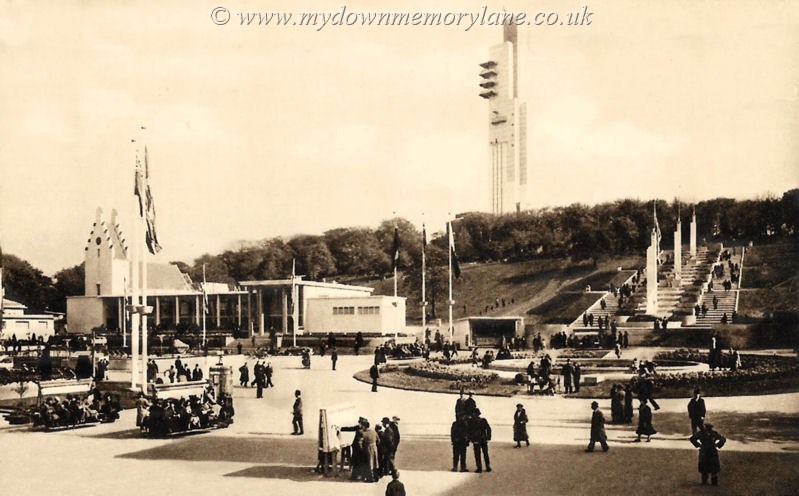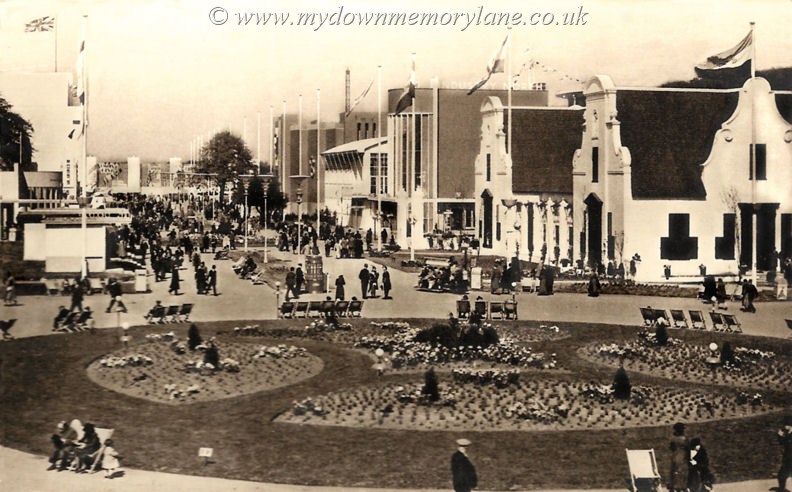 EMPIRE EXHIBITION 3878
This is the North Cascade and Tower, I presume you can go up the tower for you would great views. At the bottom in the centre of the photo there is a warden showing the people a place on the map, slightly to the right of them is a policeman having a chat with one of the wardens. To the extreme right is another warden with his hands on his hip looking down at something on the grass. While people are walking up the steps beside the cascade of water tumbling down.
EMPIRE EXHIBITION 3878
This is Kingsway at the exhibition and just look at the crowds and deckchairs when you need to rest. The parents sitting on the deckchairs (bottom left) need to watch their little girl for the notice says Don't walk on the grass and she can't read yet.
EMPIRE EXHIBITION 3878
This photo shows the Scottish Avenue on a bright sunny day at 4.20pm in the afternoon.
On the buildings on the left one is displaying Crawford's Rich Tea Biscuts, the next is looking for people to live in Canada and another showing Seagers Gin which was made in England.
EMPIRE EXHIBITION 3878
This is the Atlantic Restaurant at the Empire Exhibition in Scotland 1938.