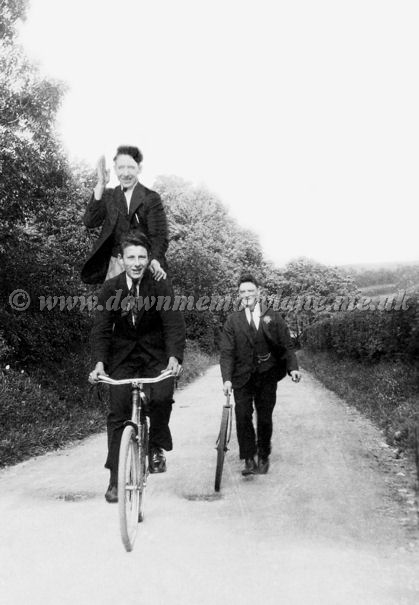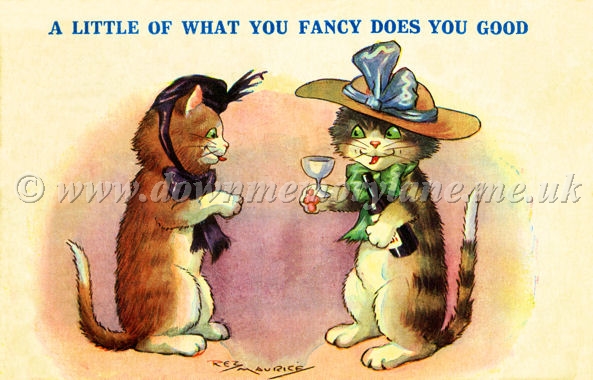 BOYS WILL BE BOYS 3317
Men it seems never grow out of having fun and being 'Boys' again as this photograph proves along a lane in Randalstown.
On the bike we have Joe and James Michael while pushing his bike wheel with a set of bike forks is Lean Mullan.
POSTCARD 3320
I love postcards and the thrill of turning it over and seeing a message written on it which of course brings the postcard to life and this one is no exception.
This postcard was posted in Randalstown on the 18th October 1932 at 5.15pm. It is addressed to 'Mr. D. Magill c/o Mrs E Powe (his landlady), 6 Kirke Park, Methilhill, Windy Gates, Fife, Scotland.'
The message reads: 'Dear Father, Hope you arrived safe and having a good time. I am sending Hugh's address. So please send him a card.
871. Rfn. H. Magill - A Mc Coy. 2nd Rill. R. - British Barracks - Khartoum South - Sudan. Mary'.
This tells you this is a daughter writing to her father on holiday to let him know not to forget his son and send him a card, a thoughful sister.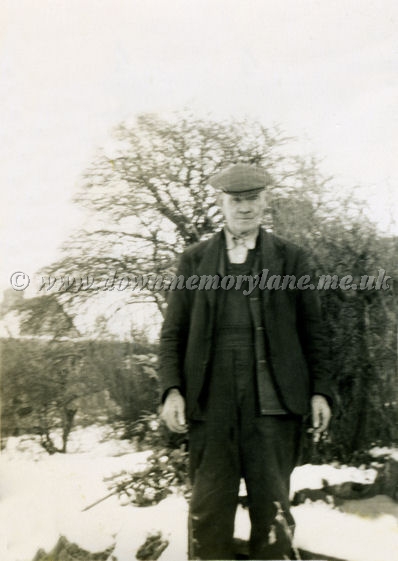 DAN MAGILL 3381
This is Dan Magill from Randalstown standing in his back garden well wrapped up against the bitter cold as you can see by the snow on the ground.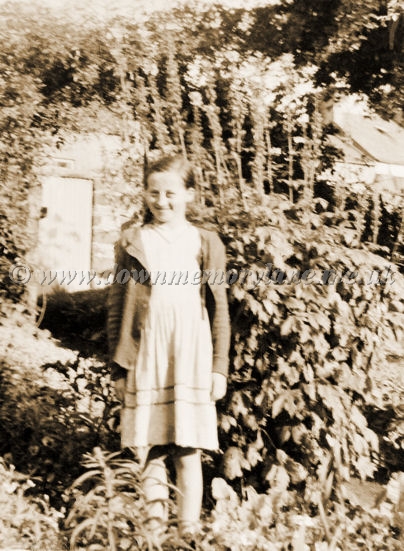 SARAH MAGILL 3382
Here we have on a lovely summers day Sarah Magill smiling away. Now I wonder the reason Sarah is smiling is that she came through the door behind her and has found the "Secert Garden."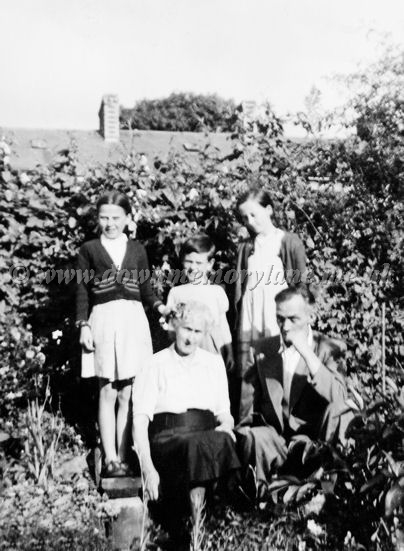 THE MAGILLS 3383
Here in their back garden enjoying the sun are some of the Magill family from Randalstown. At the back on the left is young Sarah Magill then Danny
Magill Jnr and the girl in Unknown. In front on the left is their grandmother Jayne Magill and next to her, her son Danny Magill young Danny's father.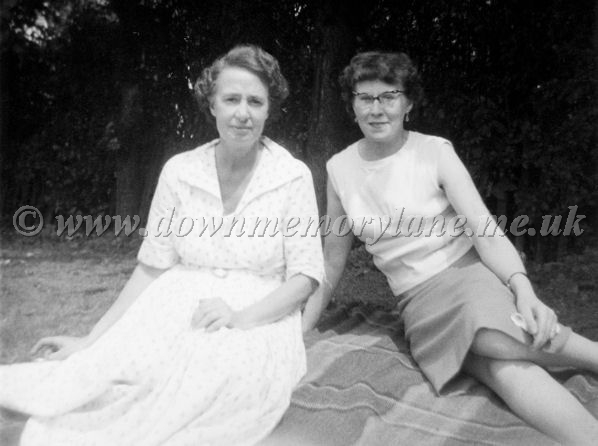 BEST FRIENDS 3389
Sitting on a rug enjoying a bit of sun are best friends on the leftMary Elizabeth Magill and her best friend Doris who had a nickname with two words each starting with a 'D'.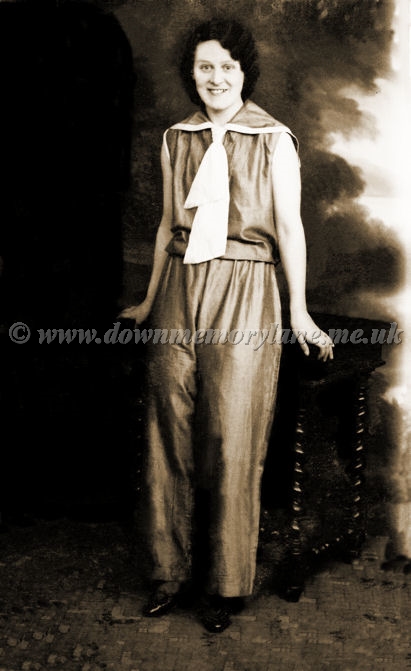 SADIE McKAY 3429
This is Sadie McKay who lived in Randalstown but had travelled to Belfast to the studio of Charles Howell at 33 North Street on the 14th March.
Now Sadie looks very lovely in her outfit, Sadie must have been a great follower of fashion for in 1936 trouser outfits had become the height of fashion.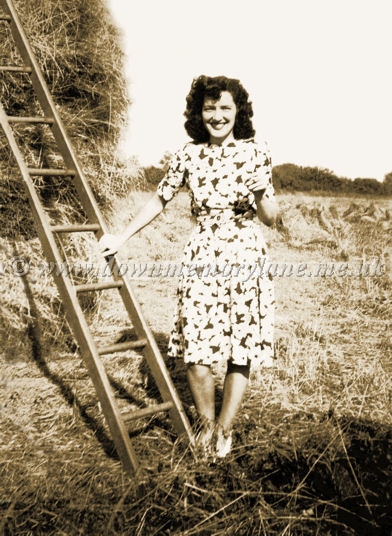 JEAN McCALL 3437
In this hay field back in 1947 is Jean McCall who was a friend of Lizzie Clark. The ladder Jean is holding on to is for the farm workers to climb and build up the haystack. Behind Jean you can see the sheaves of hay stacked together to dry out and then piled together to make a haystack. Now Jean certainly was not there to work and if the farmer was about he would have definitely have chased her out of the field, not for trespassing but for smoking!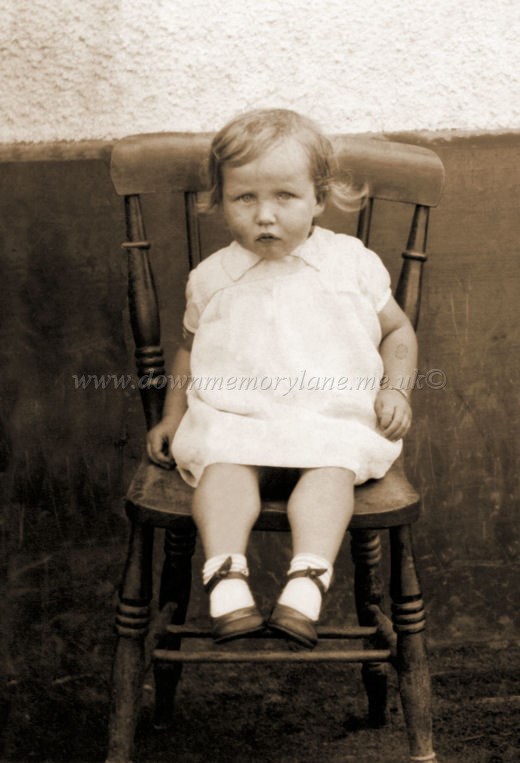 AGNES MILLER 2416
Sitting patiently outside the shop in Groggan, Randalstown for her mummy is Agnes Millar.