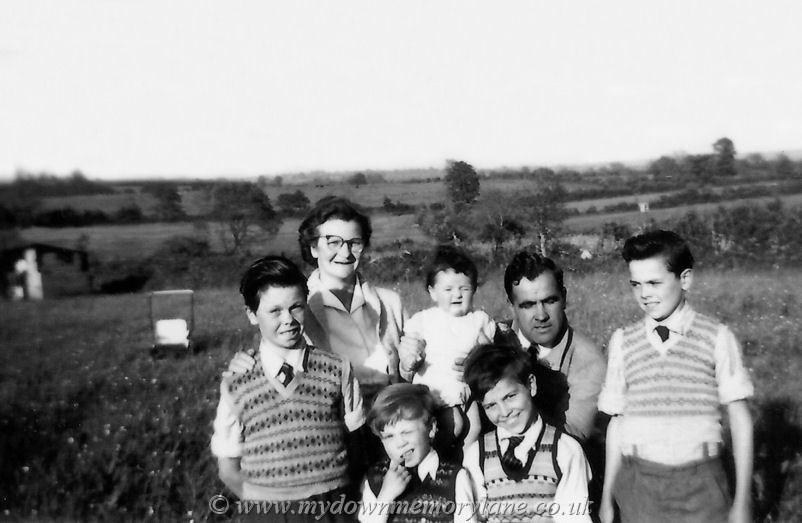 SELFRIDGE FAMILY 2849
Here we are at the home of the Selfridge family in Magherabeg back in 1959. Just look at those fields, I just loved playing in the fields such great times then. At the back on the left we have good old mum Elizabeth then Molly and dad Andy.
In the front are Wilbert and I remember wearing sleevless jumper like that, then David, John and Raymond. As you can see Raymond is wearing braces the ones that hold up your trousers. My mother used to buy the short trousers at least two sizes bigger to get more time out of them and the braces kept them up.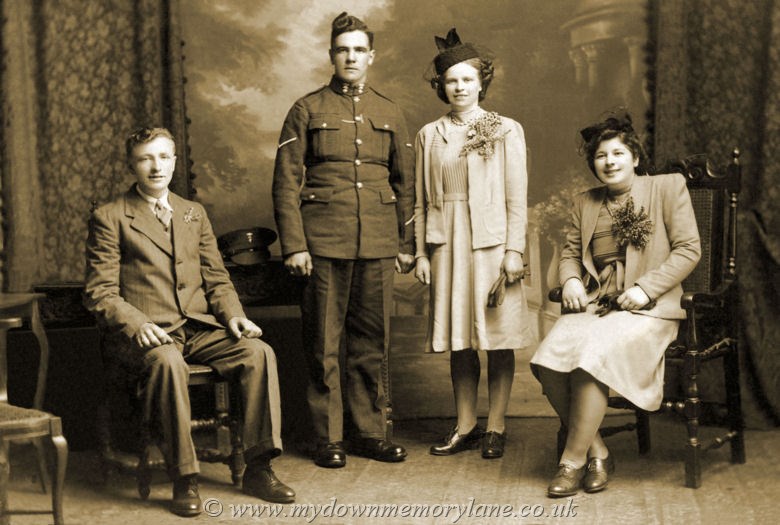 SELFRIDGE WEDDING 21823
It's 1943 and we are here in a studio for a wedding photograph to be taken.
On the left is the Best man Willie John McDonald, Groom Andy Selfridge who was in the Enniskillen Fusiliers and a corporal, his lovely Bride Lizzie McDonald and finally Bridesmaid Rachel Selfridge.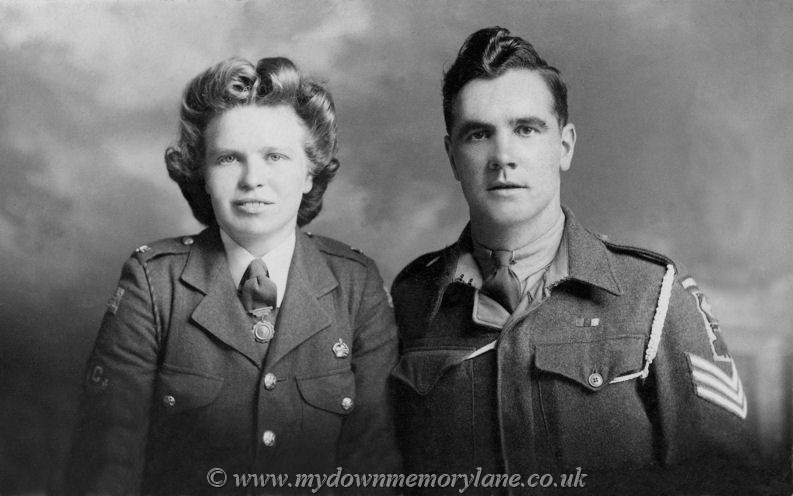 SELFRIDGE 1730
This photograph taken during World War II we have wife and husband Lizzie and Andy Selfridge. Lizzie from her uniform was in the A.T.S. but what the badge is on her tie and her sleeve is unknown.
Of Andy all we know is he was a sergeant, his regiment was the Enniskillen Fusiliers.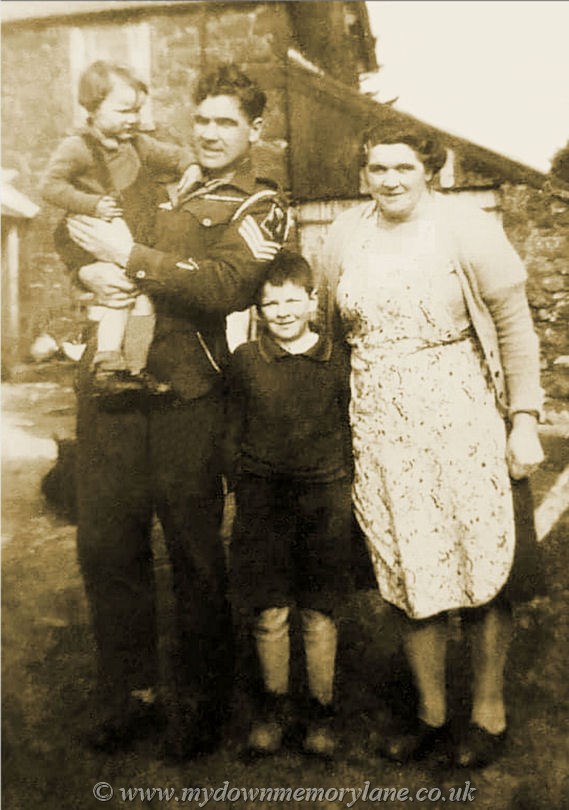 ANDY SELFRIDGE 2818
This is some family reunion for having been given some leave in 1941 Andy Selfridge a sergeant in the Enniskillen Fusiliers headed straight for home in Craig's Cullybacky. In his arms is his young sister Elizabeth Selfridge while next to him is his youinger brother James Selfridge. Now last but of course not least for here was the real reason Andy came home was to see his Mum Madge. Little did Madge know but Andy would be in Italy July 1944 still fighting on.
ANDY SELFRIDGE 2851
Having his photograph taken is Andy Selfridge a sergeant in the Enniskillen Fusiliers.
When you look at Andy you can see the strain and stress in his eyes. The reason for this is the photograph was taken somewhere in Italy 1944.They were fighting the enemy in World War Two.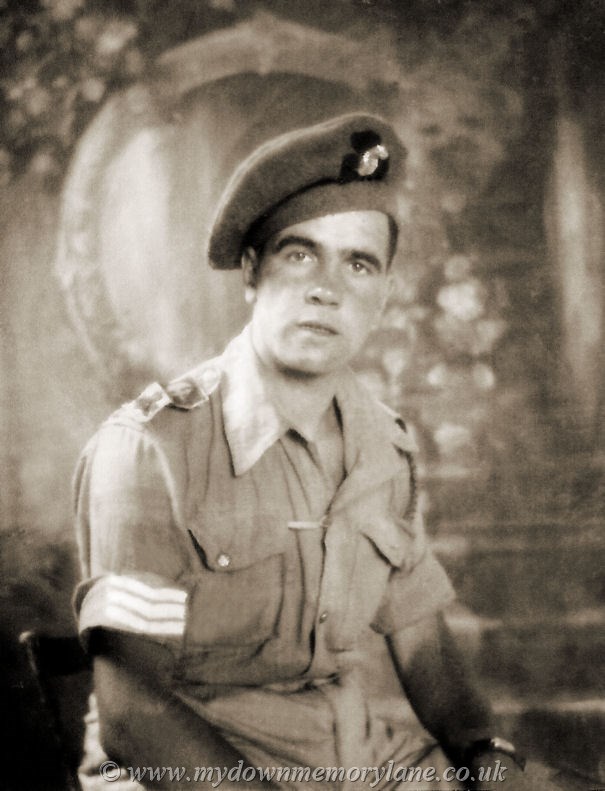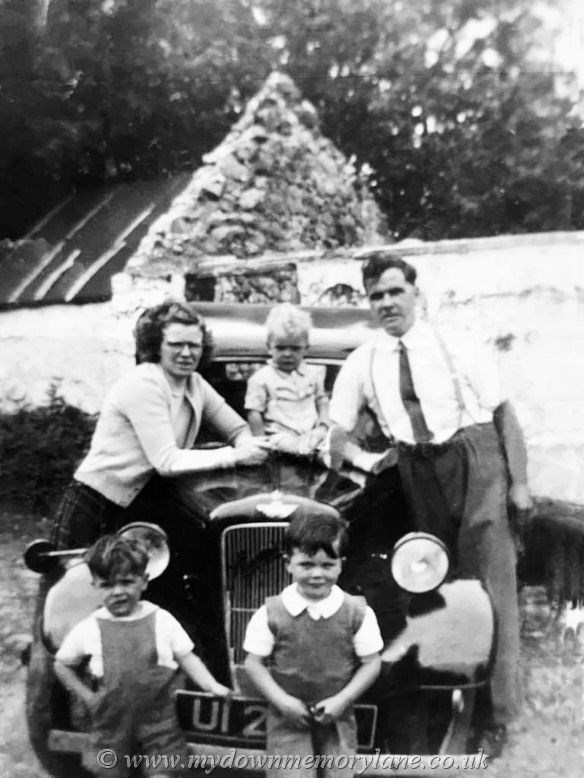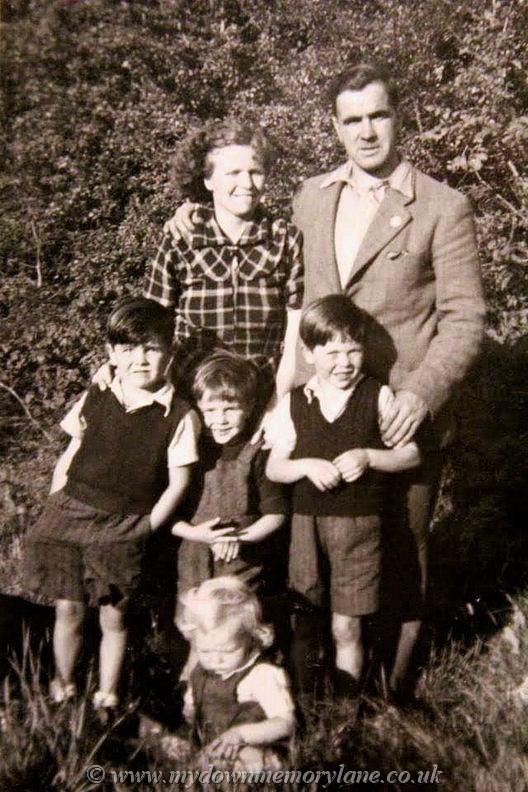 SELFRIDGE FAMILY 3545
Here Magherabeg Randalstown in 1952 in front of the old Austin is Wilbert and Raymond is on the left with parents Andy and Lizzie Selfridge. Their son John is sitting on the bonnet.
SELFRIDGE FAMILY 3546
Out for a walk is Andy & Lizzie Selfridge with their sons Raymond John and David. Taken at Magherabeg Randalstown in the mid fifty's