DROGHEDA TOWN 3763
This is part of the town of Drogheda and as you can see there are quite a places of worship around the town.
"The tall spired one is the façade of St. Peters is an imposing structure in the French Gothic Revival style, built of local limestone. It is one of the most notable buildings on West Street in the town centre of Drogheda. The building from 1793 was partly incorporated into the present building. The tower of the church is very similar to that of St. Patrick's Church in Dungannon, County Tyrone. A detail image of that building is held at the Highlanes Gallery, illustrated on a mid 19th Century (ca. 1861) map of the town created by Isaiah Rowland CE.[3] The Church is famous for housing the National Shrine to St. Oliver Plunkett, who was martyred at Tyburn in 1681. The shrine is most elaborate and contains the preserved head of the saint. Another showcase displays his shoulder blade and other bones as relics. Also on exhibit is the cell door of Newgate prison in which he spent his last days. The Church is a huge tourist attraction but signs urge silence and remind people that they are in a sacred place
In the foreground is Saint Peter's Church of Ireland stands on a site that has been a centre of worship since beige the founding of Drogheda. Thru church was established on the north side of the River Boyne also before 1186 and was given by Hugh de Lacy to the Augustinian canons of Llanthony Prima in Monmouthshire, Wales.[1] Even before then there may have been an earlier Christian church on the site, since traces of old tiles found in the church yard are similar to those at Melifont."
In the background you can see a chimney stack with smoke coming out of it, the is the local Linen mill and to to the right is part of the Boyne railway viaduct.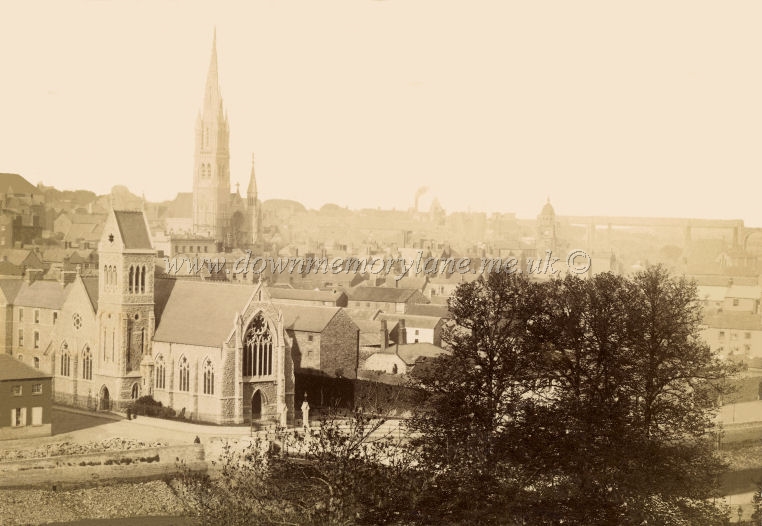 Pages: