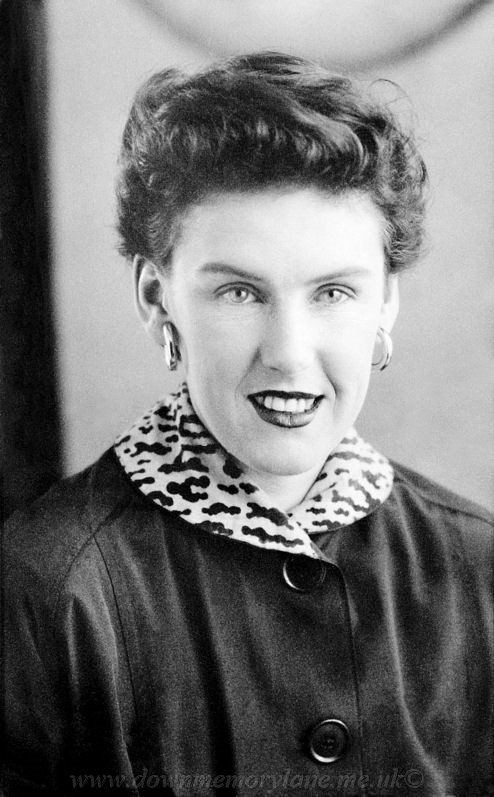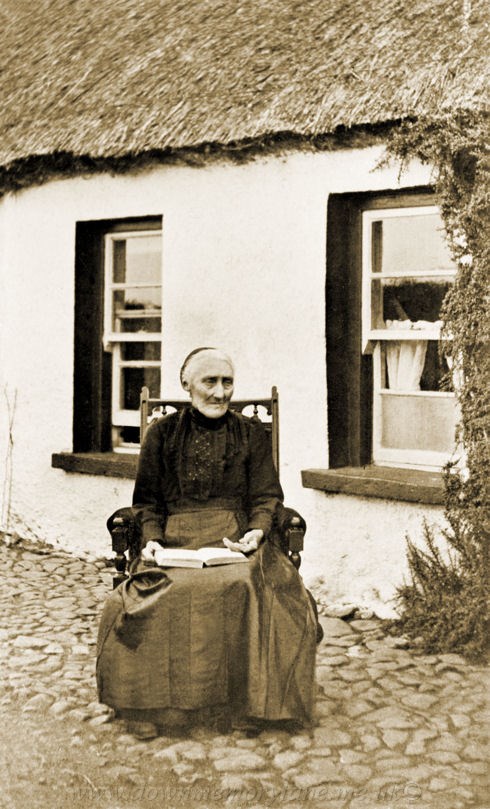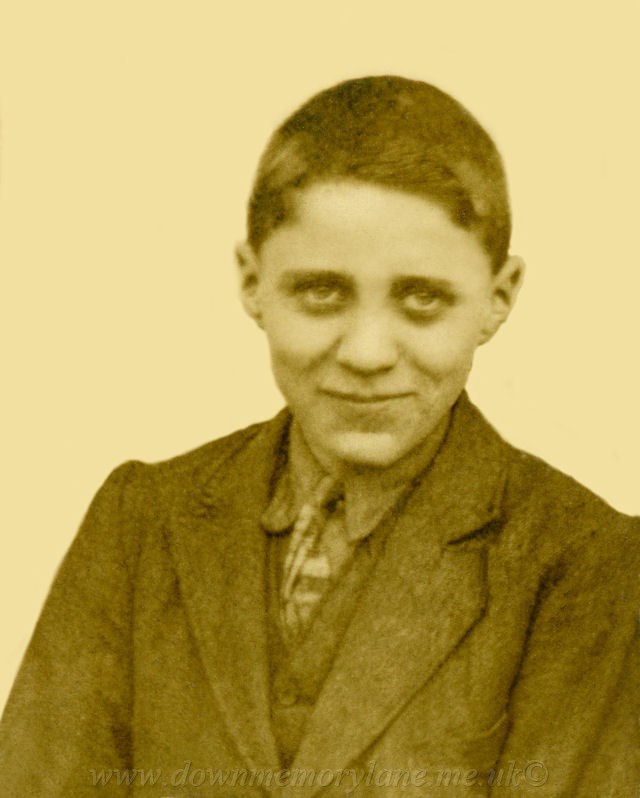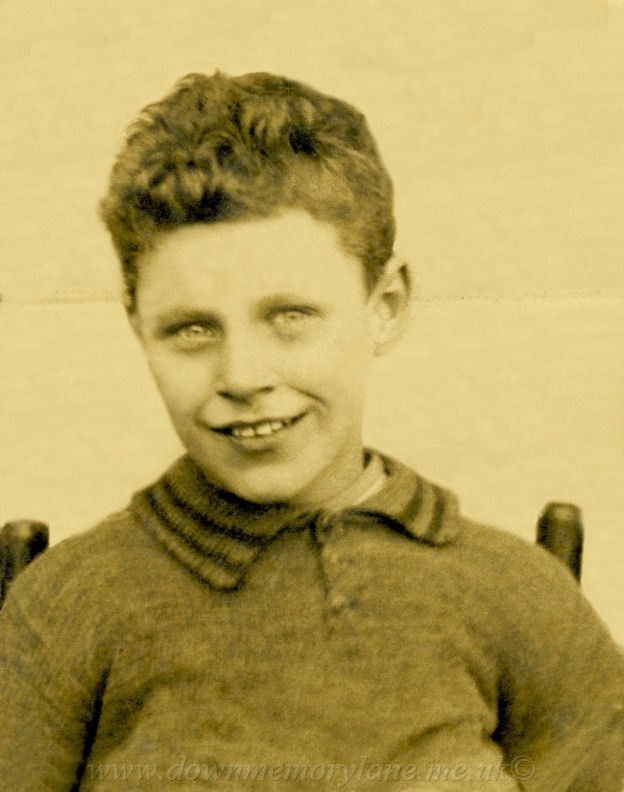 IVAN WHITTLEY 3158
Smiling for the camera for his school photograph is young John Whittley.
JOHN WHITTLEY 3159
Seated for his school photograph is shy looking John Whittley.
SARAH WHITTLEY 3160
Standing in her back garden with a lovely smile on her face is Sarah Whittley nee Scott.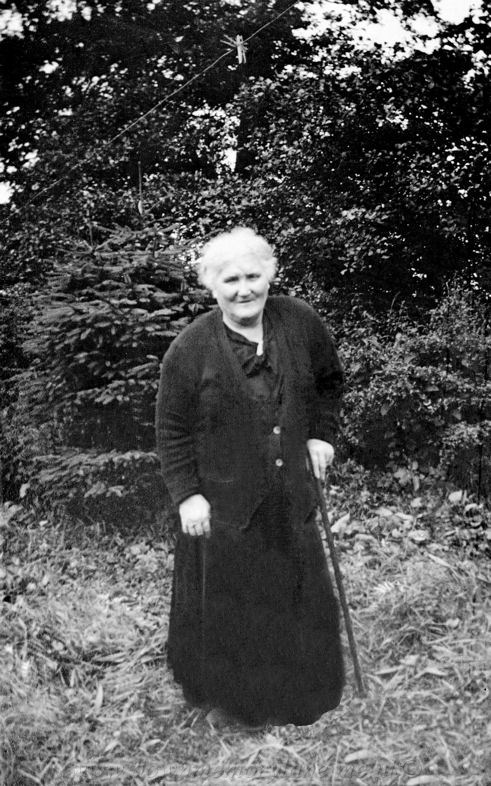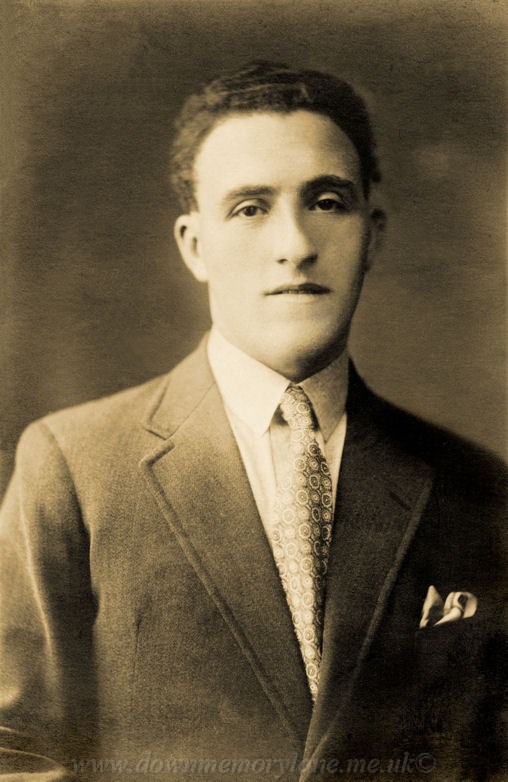 WHITTLEY 3167
This well dressed man in the studio photograph is a Whittley, sadly I do not know his first name.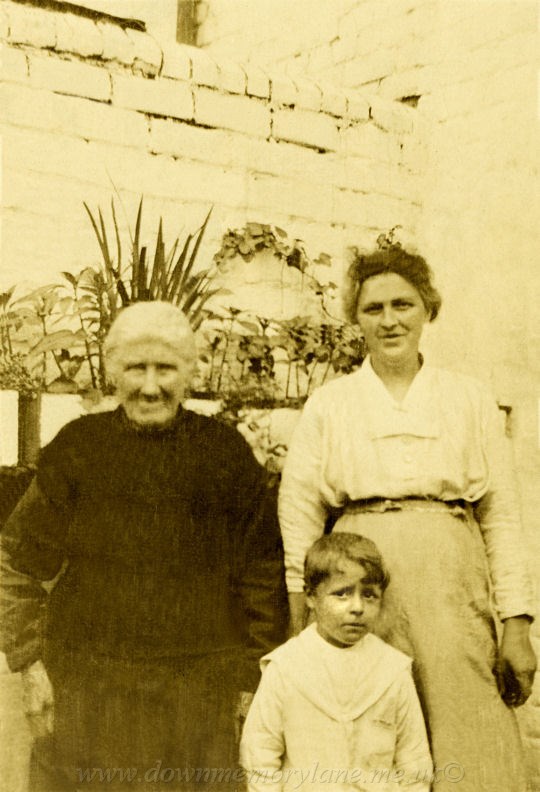 BACK YARD 3170
Standing in her whitewashed back yard is Mary Ann Whittley while the mother and son are Unknown.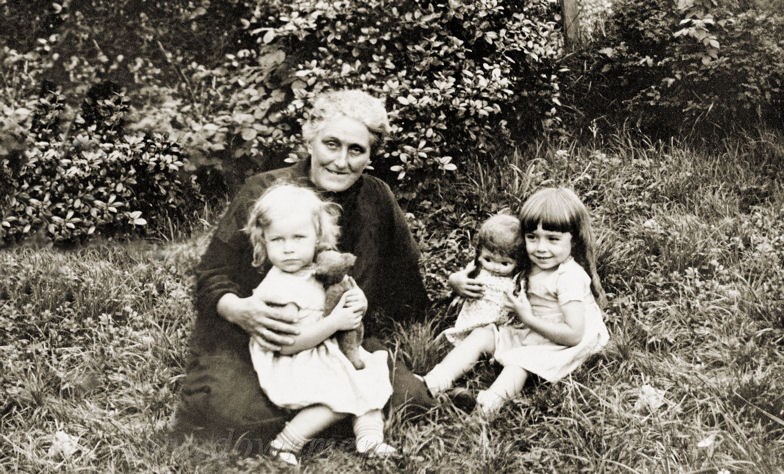 MARY ANN WHITTLEY 3184
Sitting here enjoying the chidren is Mary Ann Whittley, on her lap is Sarah Heron holding tightly to her well loved Teddy, the other little girl with dolly in Unknown.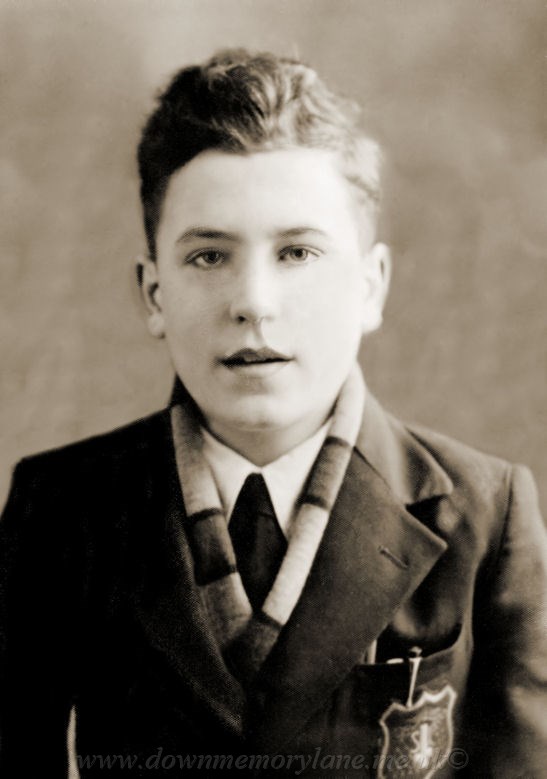 WILLIAM WHEATLEY 3223
This school photograph taken on the 12th January 1948 is of William Wheatley at 14 years old in Newcastle Upon Tyne.
You might wonder why I am using this photograph, well William known to his friends as Bill has been living in Antrim for now on 53 years.
Now a little birdie has told me the Bill will be 85 years old on the 4th January 2019.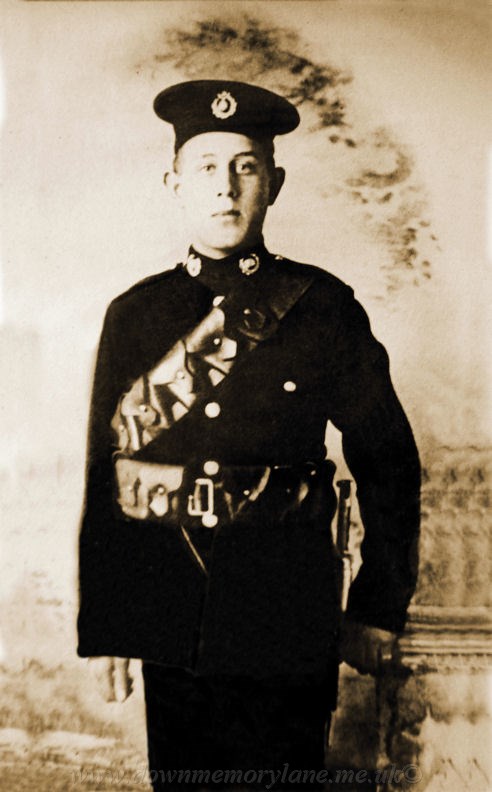 JOHNNY WILSON 3420
Standing proudly to attention while having his photograph taken in a Studio in 1918 is Johnny Wilson from Posy Row on the Rathmore Road in Antrim.
Johnny was a Royal Marine and served in the First and Second World Wars and survived, Johnny is now resting in Plymouth Cemetery.
Johnny like many thousands of men in the North & South of Ireland fought in both the wars when, if they had wanted did not have to fight for there was no conscription here and yet they all volunteered to fight for what they considered a just cause and many paid the ultimate sacrifice.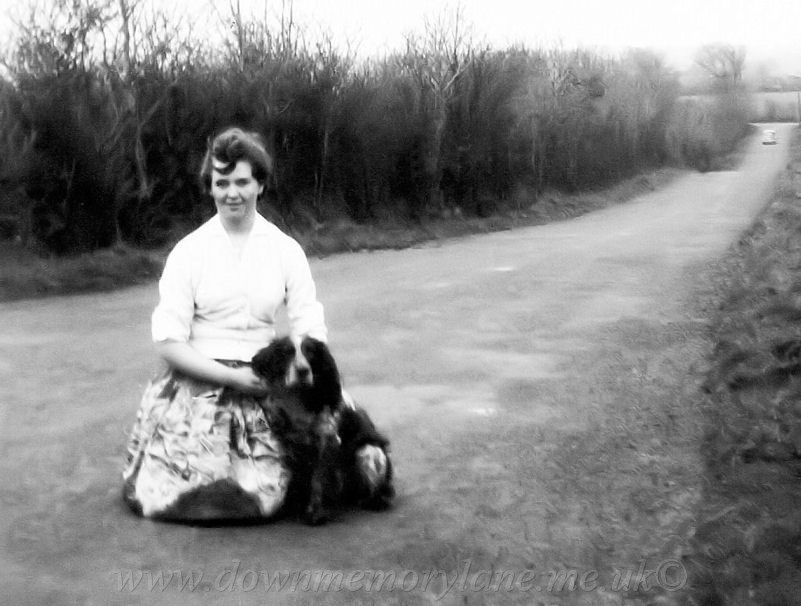 SANDRA WALLACE 3549
This is Sandra Wallace kneeling down in the middle of the road with her faithful spaniel, good job the car in distance is driving away.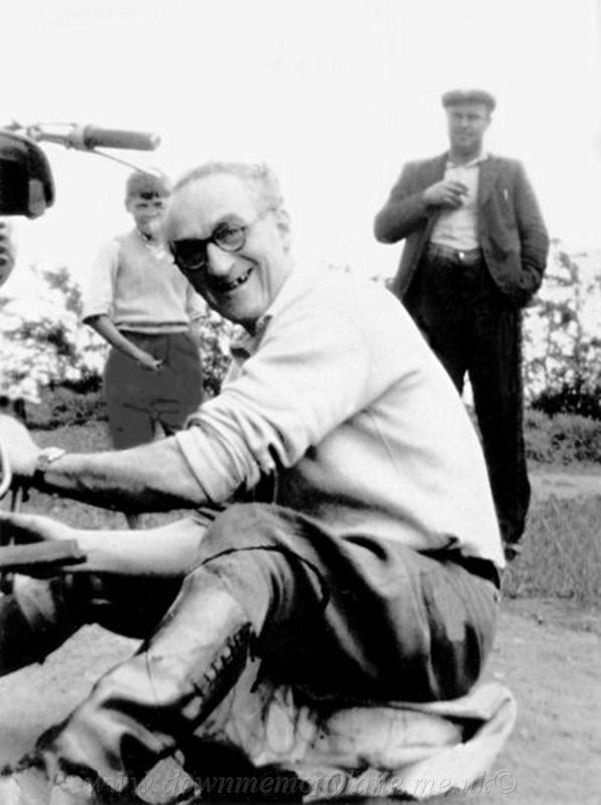 STANLEY WOODS 3745
Here sitting on the Ballysculty road near the Seven Mile Straight road is Stanley Wood in 1951 fine tuning his bike for a race. Stanley was one of Ireland's greatest motorcycle racers, Stanley was born in Dublin in 1903 and by the time he retired to Minerstown in Co. Down in 1974 he had won 37 Grand Prix races including 10 Isle of Man TT's and 8 Ulster Grand Prix's. In addition to road racing Stanley completed in Trials, Grass Track, Sand Racing, Speedwall, Ice Racing, Scrambles and hill climbs.Standing behind on the left is Sam McComb and on the right is William McComb.
My thanks to Ed Cunningham who has now gone home of Ontario, Canada for this photograph.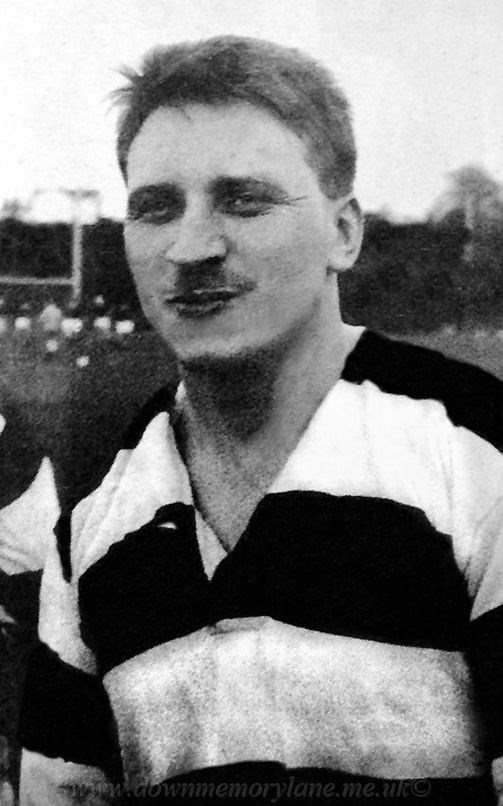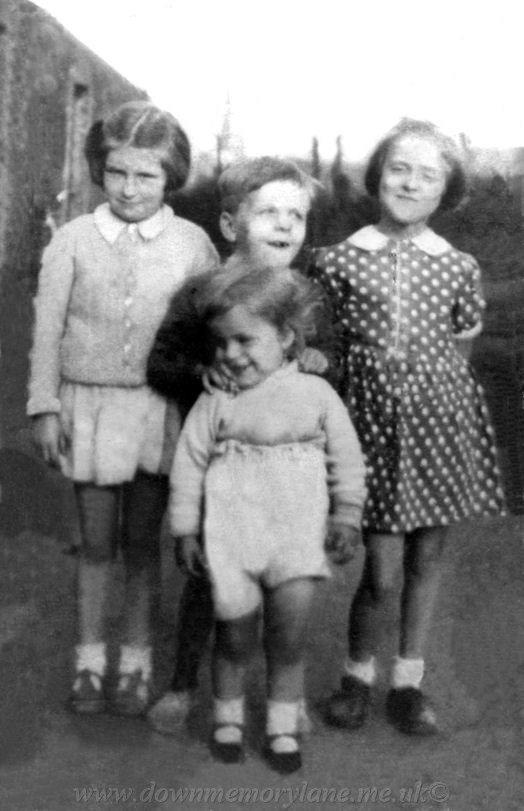 THE WARWICKS 1068
This is Evelyn Warwick in 1939 along with her brother Desmond, sister May and in the front little David Warwick.
JIMMY WALLACE 240
This is Jimmy Wallace wearing his International Football Shirt.
Date of the photograph is unknown.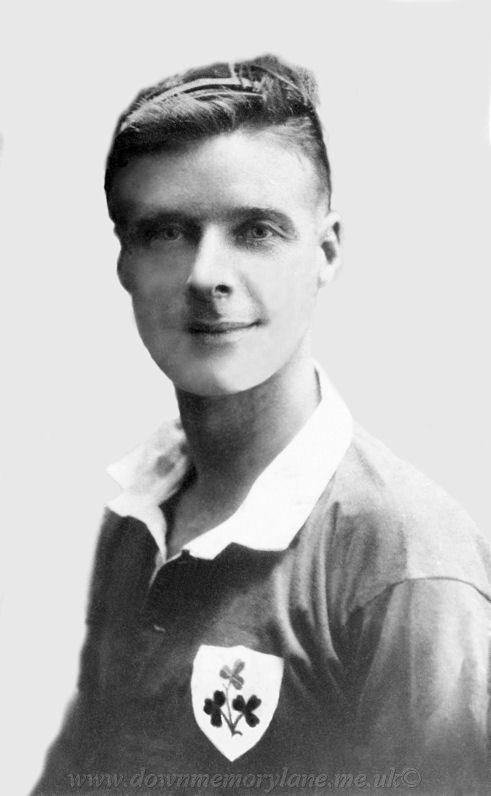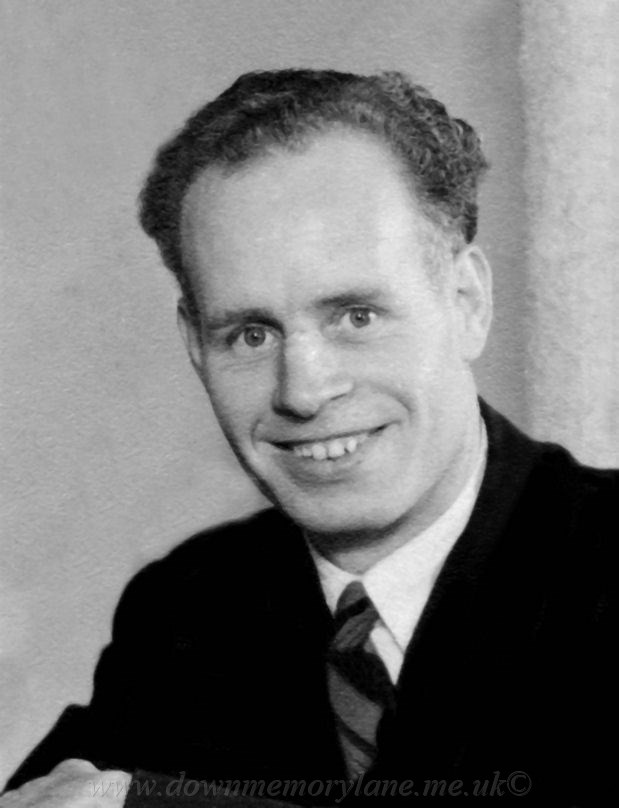 BILLY WALLACE 2132
This is Billy Wallace and no wonder he is smiling for this was the winning smile in a local competition. Billy's prize? it was a Hairbrush and Comb!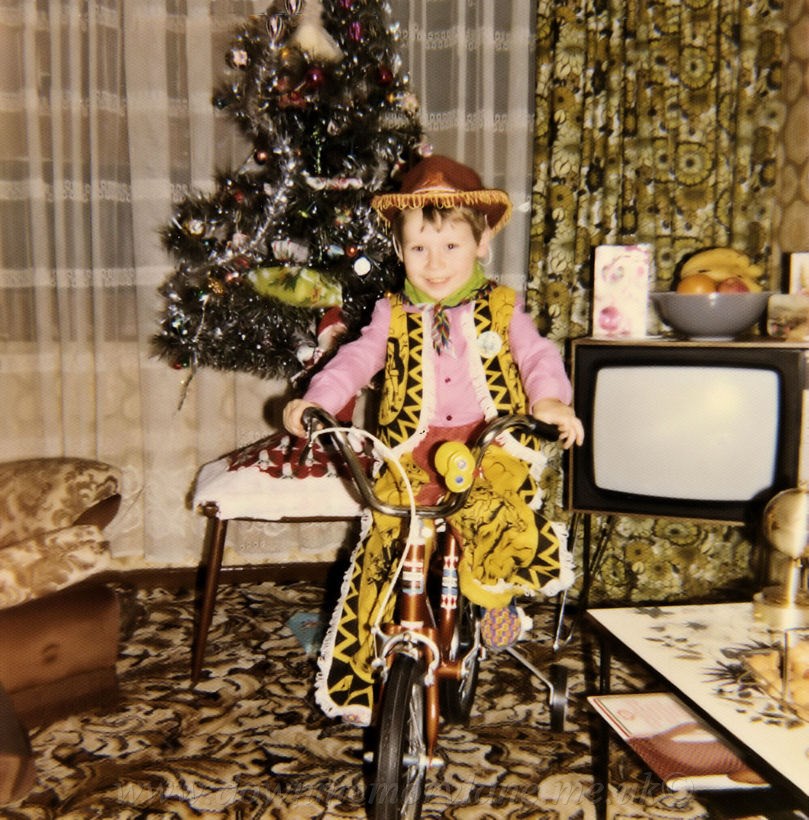 CHRISTMAS 2755
It's Christmas morning, very early at it's still dark out and Jeffery Wright is all smiles for he got what he had asked Santa for,a cowboy outfit, slippers and a new bike with stablizers! Jeffery's that excited he doesn't even see the biscuits on the table.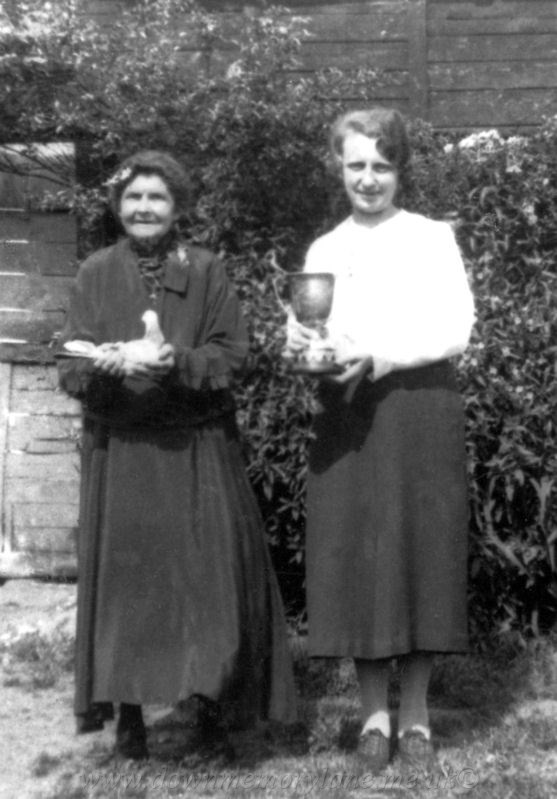 PIGEON WINNER 922
Holding the the prize winning pigeon in 1940 is Granny Whiteside and holding the winners cup is Sarah Whiteside.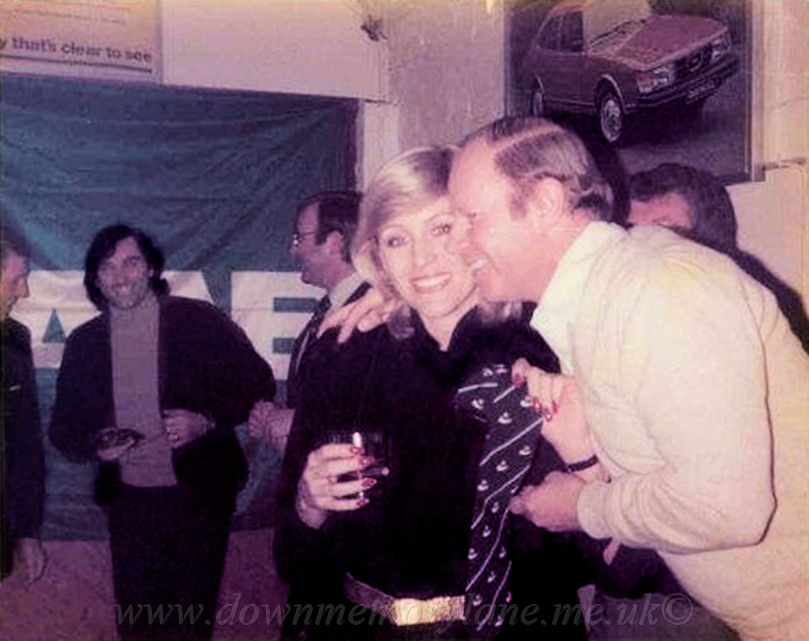 SAMMY WALLACE 3821
Well-known Antrim Man Sammy Wallace is pictured here with former Playboy bunny Angie Best at a function in Antrim Hockey and Rugby club at the start of the 1980s - and he seems reluctant to let her go! Sammy, who lived in Massereene Street, had been a versatile sportsman I his prime, having played soccer and hockey at a high level. Angie was in town with hubby George, who she had married in 1978. The pair parted company in 1986, five years after she gave birth to son Colum, but she would be forever asssociated with the Northern Ireland player.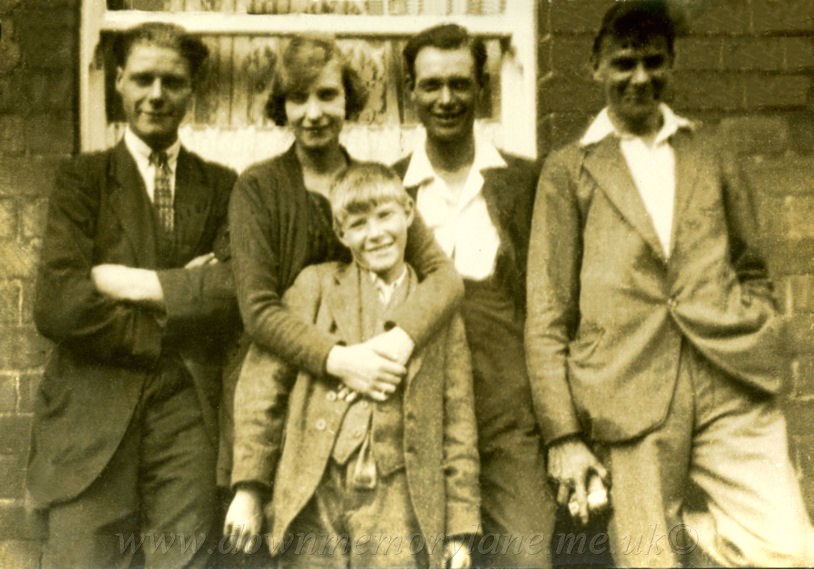 MASSEREENE STREET 241
Standing outside their house in Massereene Street are in front Samuel Wallace, behind May Wallace, to her right is Jimmy Wallace and the two men either side are unknown. Date of the photograph is unknown.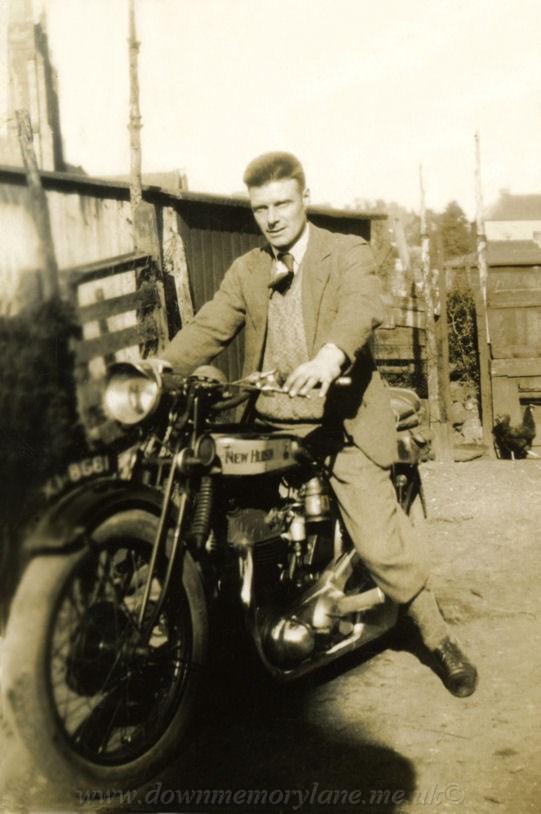 MASSEREENE STREET 245
Here's Jimmy Wallace on a motorbike in the lane at the back of Massereene street. He is sitting astride a " New Hudson" possibly model 31 with a side valve engine producing 46cc.
In the background you can see a hen, it was one of many belonging to Mrs.Allen.
Date of the photograph is unknown. The information on the bike was given to me by Mr. Sankie.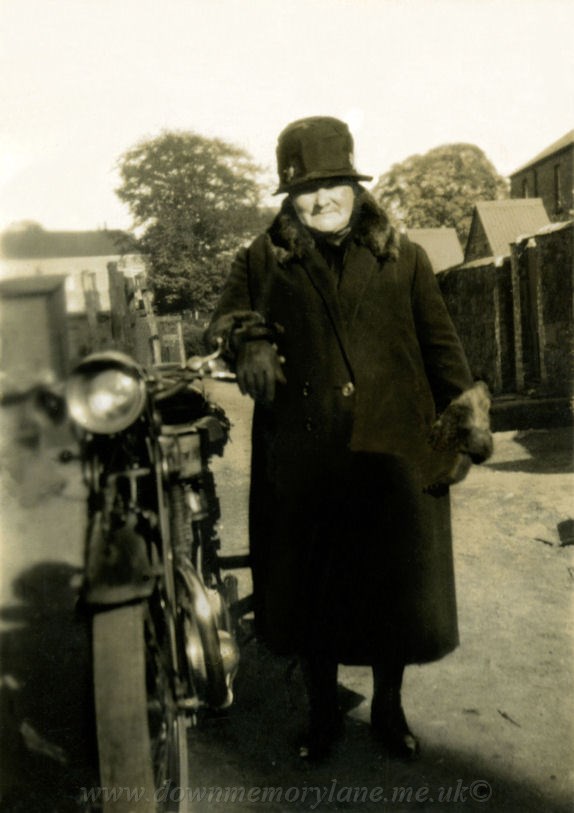 MASSEREENE STREET 244
All set and ready to go but not on the motorbike is Katherine Wallace in the lane at the back of Massereene Street. Katherine was just going to Church as it was a Sunday.
Date of the photograph is unknown.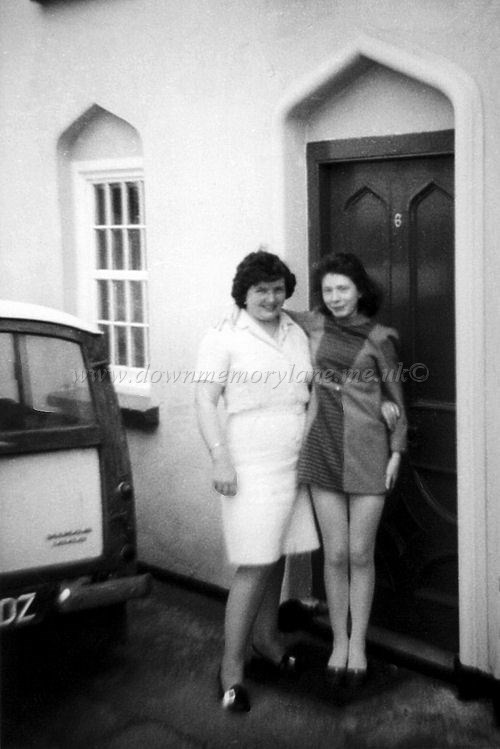 MY MUM 2134
This is Mrs Joesphine Wallace with her daughter Maire in 1971. The photograph is slightly blurred due to the photographers hands shaking. I wonder why?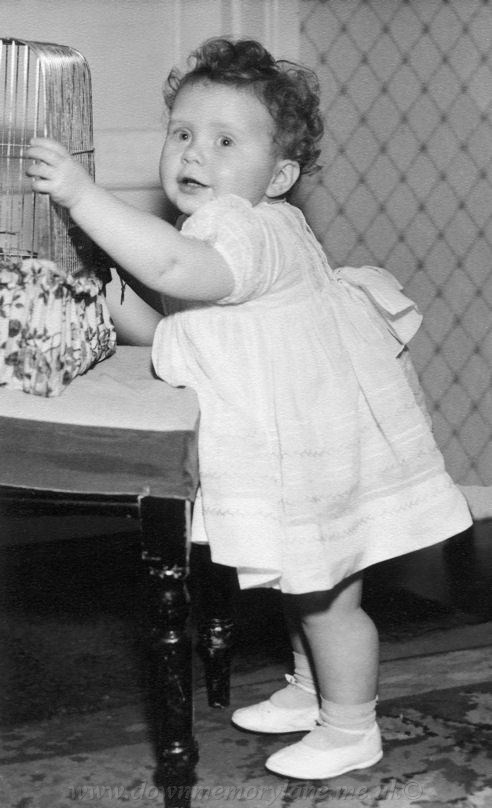 MARIE WALLACE 2157
"But Mammy why can't I play with the budgie?"
Says little Marie Wallace now over a year old, back on the 1st February 1958.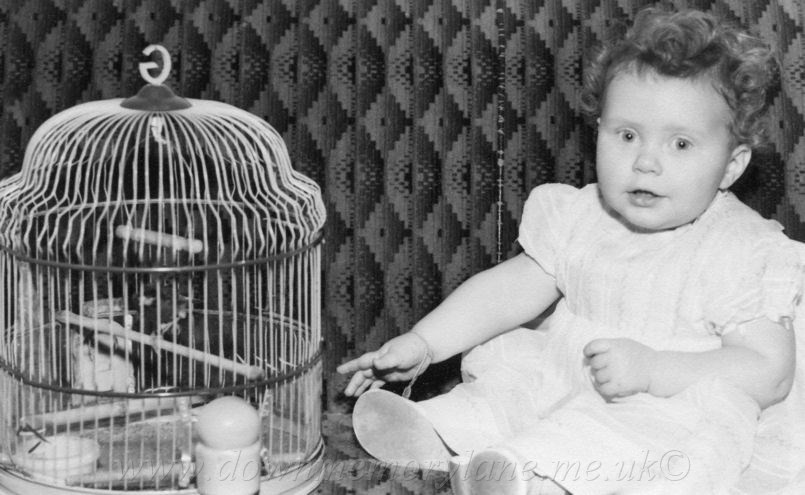 MARIE WALLACE 2158
It's the 1st February 1958 and Marie Wallace is telling the photographer
" That bird might think he's a Pretty Boy, but I KNOW I'm a pretty Girl!".
Believe me folks Marie still is.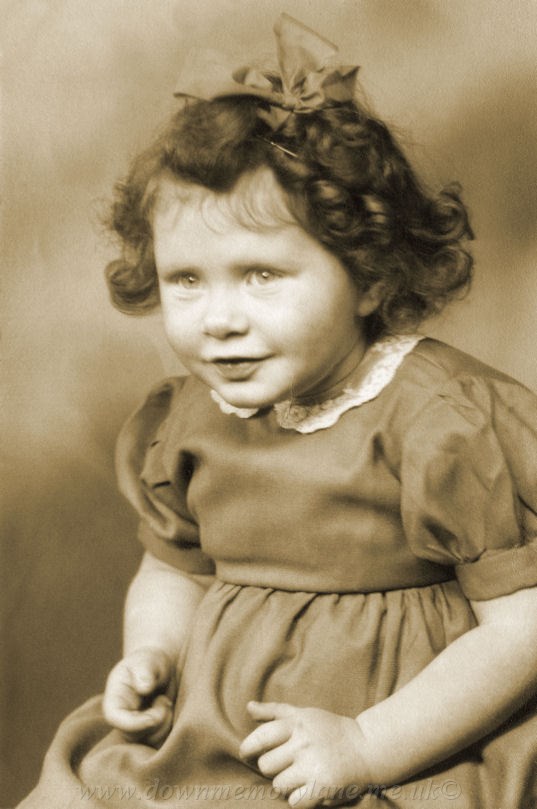 MARIE WALLACE 2159
"Hello I'm Marie Wallace, I'm two years old and I sent a letter to Santa asking for a Doll". Marie told the photographer in 1959.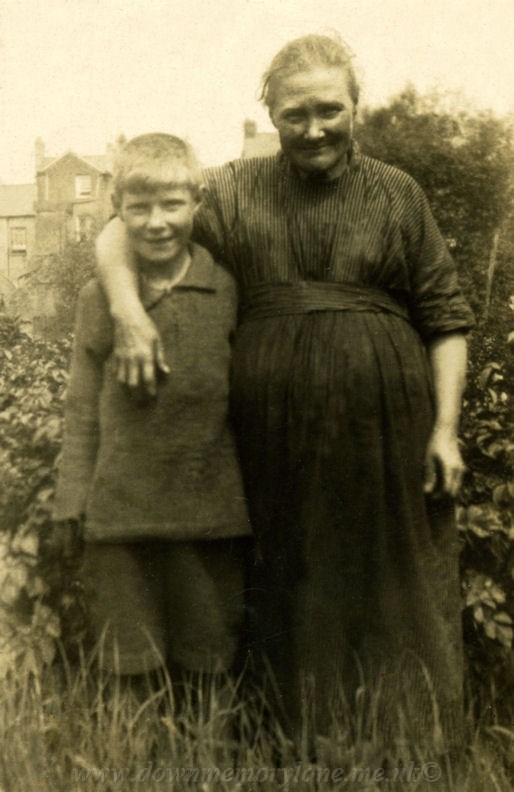 MASSEREENE STREET 247
Standing in their back garden at the back of Massereene Street is Samuel Wallace with his mum Katherine Wallace in 1927.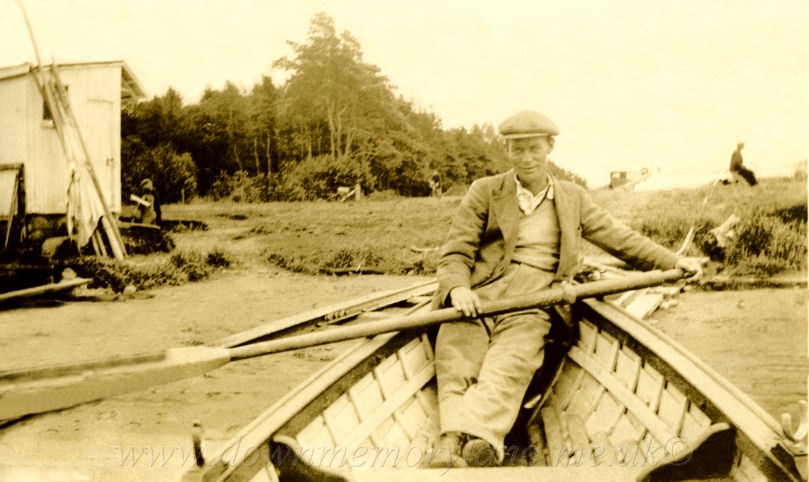 LOUGH NEAGH 246
Here is Bristow Wallace relaxing in his boat at the slipway on the Sixmilewater river in August 1934. Just above Bristow to the right you can see an old square type car.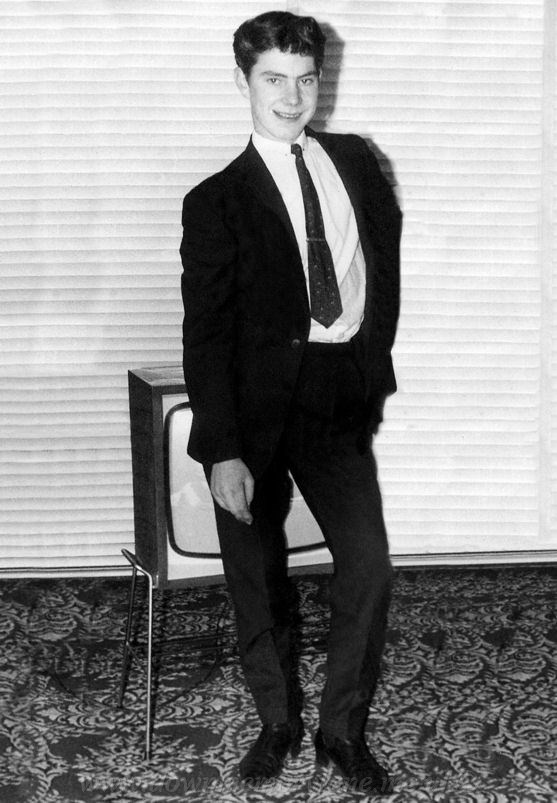 KEN WILKINSON 1653
Here's a young Antrim man who later in life became well known in the area, it is of course our own Ken Wilkinson.
Standing in front of the good old black and white telly in the early 1960's Ken has on his 'Winkle Pickers' (shoes) which today are back in fashion.
Pages: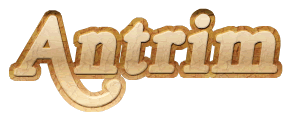 MARY ANN WHITTLEY 3151
Sitting outside her thatched cottage home is Mary Ann Whittley nee Beattie thinking of times gone by while reading the good book. Her daughter Sarah went on to marry into the Herron family.
EVA WHEATLEY 3083
This is Eva Wheatley nee Rainey who lived at Old Springfarm Road and at the time of the photograph was expecting her 3rd child. A little birdie told me that a couple of months back Eva celebrated her 80th birthday, I bet she does not look any different !
ADRAIN WATSON 3493
So who is the Antrim Rugby player (right) with the 1980s haircut and moustache? It's Adrian Watson who has long since kicked the whiskers into touch!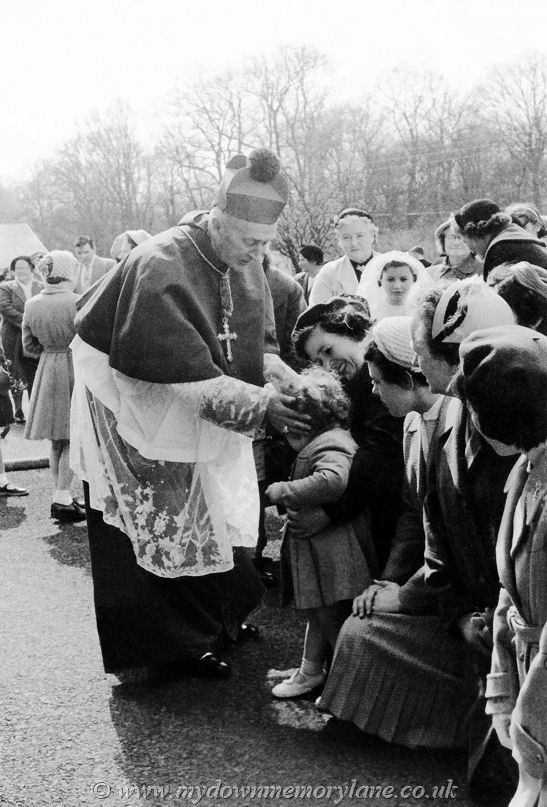 HELLO CURLY 2160
After a Communion service at St Macnissi while the Bishop was mixing with parishioners in 1958.
The Bishop spotted Marie Wallace came over and said "Hello Curly" and blessed her.