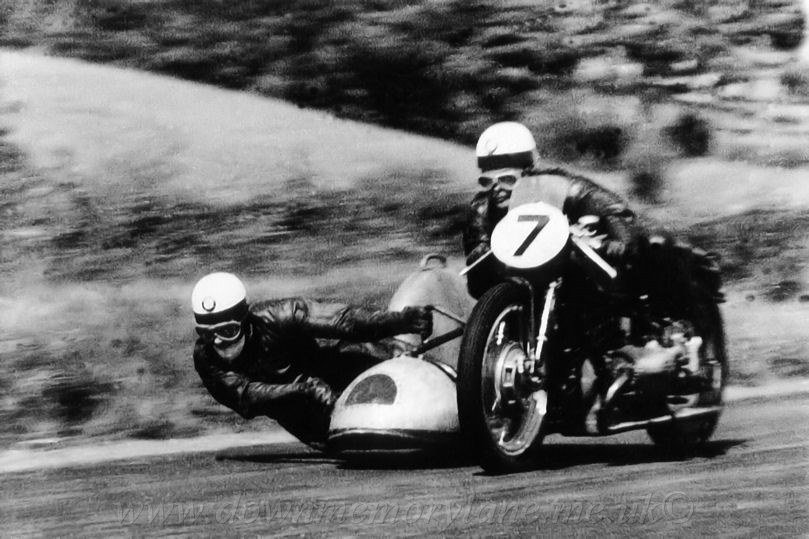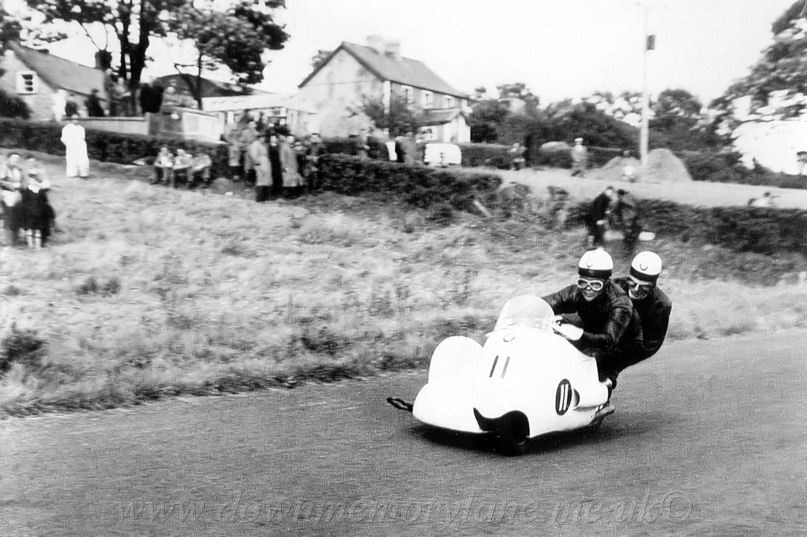 ULSTER GRAND PRIX 2972
Racing round the Quarry Bends at Dundrod in the 1956 Ulster Grand Prix is Walter Schneider and Hans Strauss on their 500cc BMW.
My thanks to Ed Cunningham who has now gone home of Ontario, Canada for this photograph.
ULSTER GRAND PRIX 2971
Racing round the corner on their 500cc BMW in the 1954 Ulster Grand Prix is Willie Noll and Fritz Cron. -My thanks to Ed Cunningham who has now gone home of Ontario, Canada for this photograph.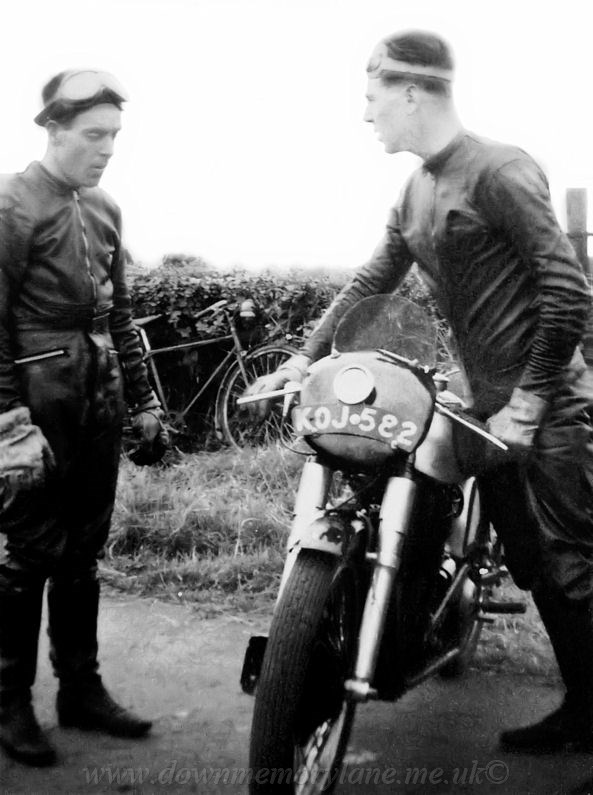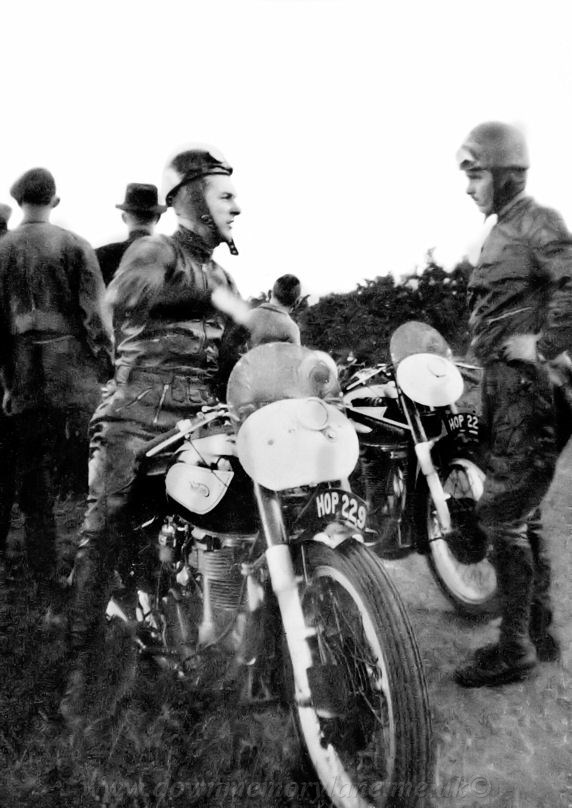 ULSTER GRAND PRIX 2813
Taking a break from their testing prior to racing in the Ulster Grand Prix in 1948 here on the Seven Mile Straight are Louis Carter and Rex McCandless.
ULSTER GRAND PRIX 2806
This is the Seven Mile Straight at Quakerstown road in 1951 and this Geoff Duke on the left talking to Ken Kavanagh while out testing their bikes.
They were in the Ulster Grand Prix in August the 16th to the 18th and they finished 1st and 2nd in both the 350cc and 500cc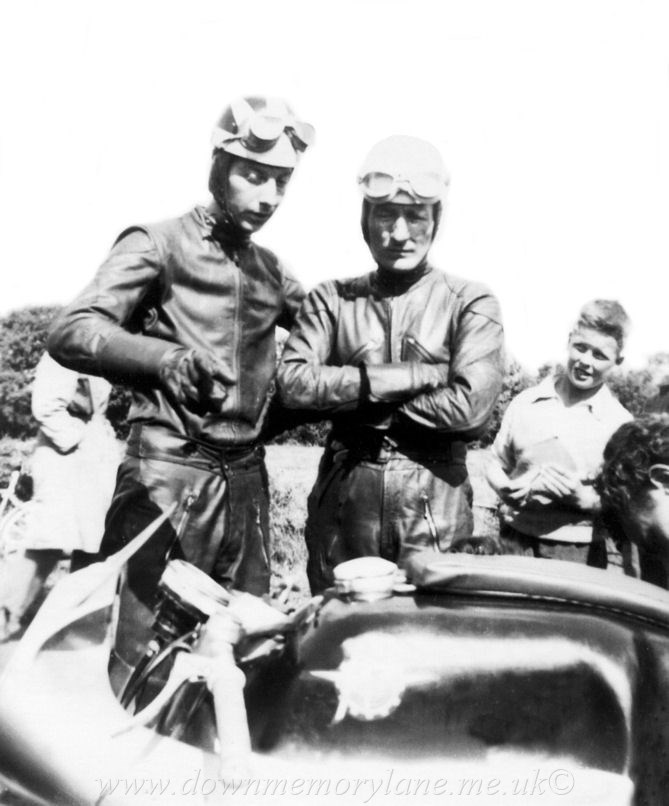 ULSTER GRAND PRIX 2821
Here Bill Lomas and Les Graham are discussing the 500cc M.V Agusta at Ballysculty Road while on the Seven Mile Straight in 1952.
Hovering in the background is a young lad hoping to get their autographs for his book. If you know this lad or you are the lad please let me know.
My thanks to Ed Cunningham who has now gone home of Ontario, Canada for this photograph.
My thanks to Ed Cunningham who has now gone home of Ontario, Canada for this photograph.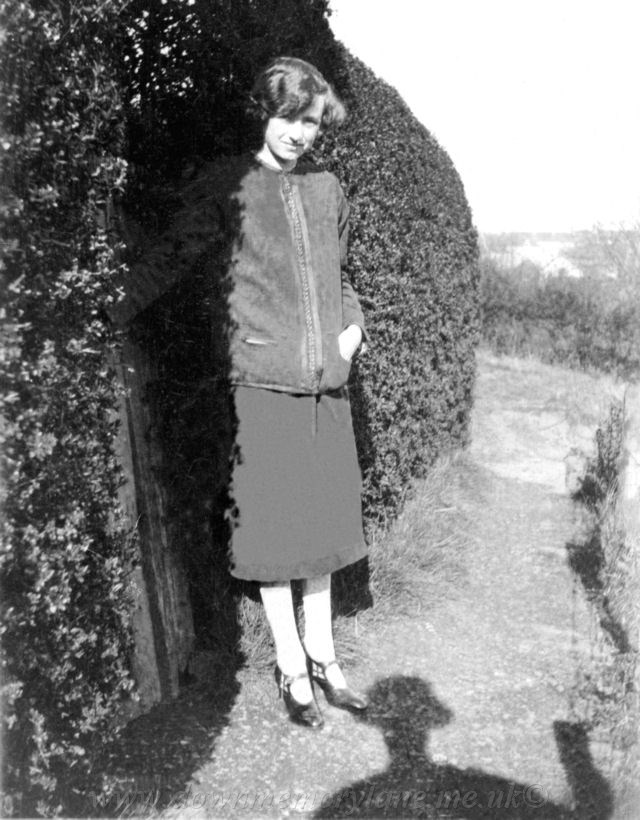 UNKNOWN 311
The lady is standing next to gate entrance in the hedge, in the background is a pathway and in the distance some houses. The shadow in the foreground is from the lady taking it. Both the lady, place and date are unknown
UNKNOWN 333
The two people in the photograph are unknown but he is carrying either running or Golf shoes in his left hand.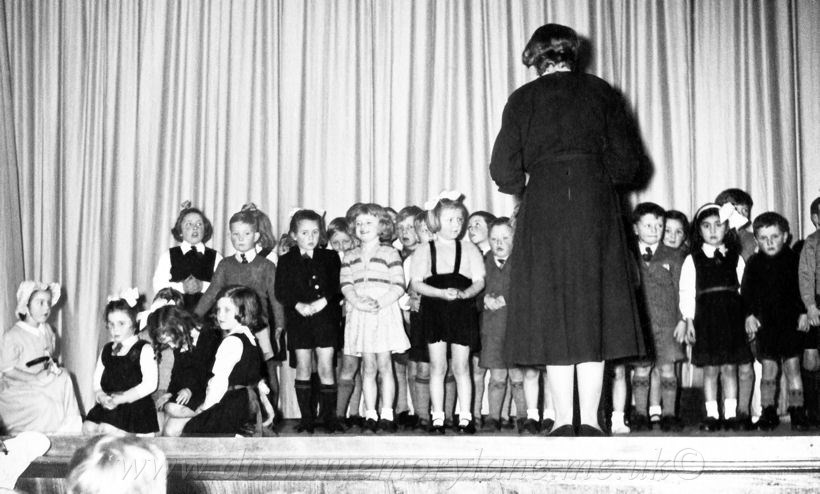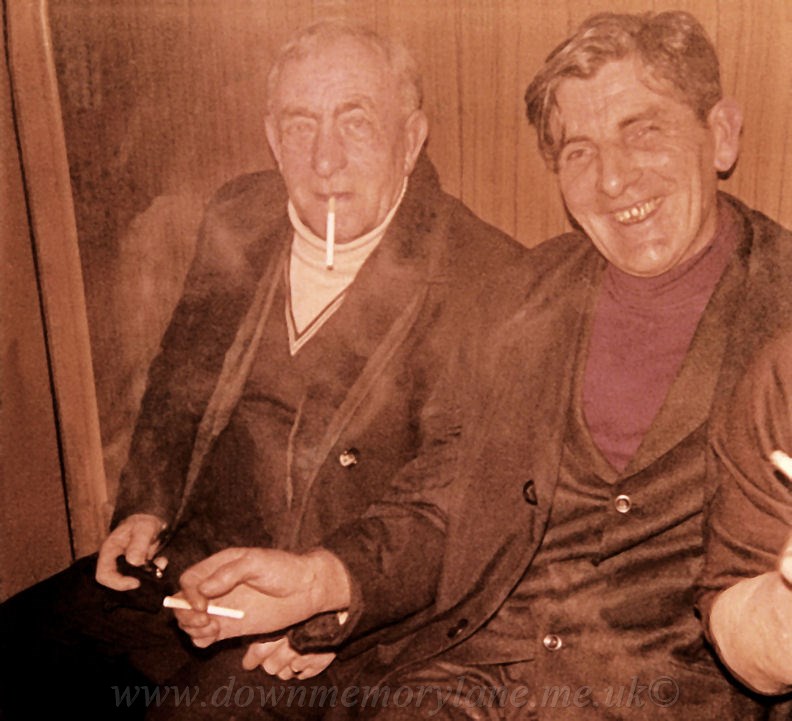 UNKNOWN 798
This photograph was taken possibly in 1954 at the Protestant Hall in Railway Street Antrim.
The schoolchildren and why they are there is unknown, but you can see to the left a girl dressed like Bo Peep?
UNKNOWN PORTRAIT 902
I wonder what this beautiful unknown girl with eyes to drown you is reading ? Isn't her linen blouse with the lace lovely?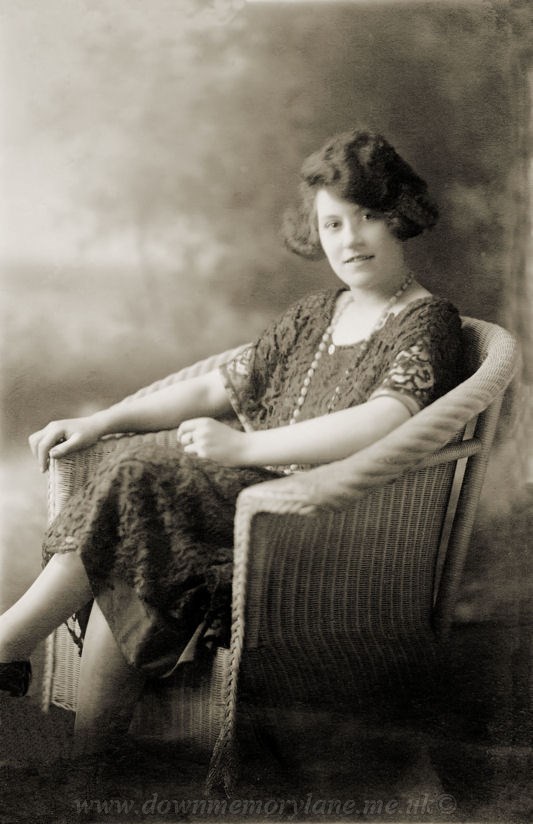 UNKNOWN PORTRAIT 900
Just look at this photograph - she is a photographers' dream, sadly she is unknown.
Look at the quaint little shoe broach - the Mother of Pearl buttons and the beautifully embossed pattern on her linen blouse.
UNKNOWN PORTRAIT 901
This unknown girl looks like she would be a handful for her parents. Probably wanting to do that awful dance the Charleston!
What next Rock and Roll !!
UNKNOWN 313
The two ladies, the place, the date plus the dog are all unknown.
UNKNOWN 312
Here's a little chappie enjoying himself on the beach at Portstewart, he's not lost but I don't know his name. The weather can't be that great as the people behind him all have coats on. The three dark figures in the background on the promenade are three old ladies all dressed in black.
UNKNOWN 353
At the moment the lady and the baby along with the place and year are unknown. Yet someone took the time to take their photograph.
UNKNOWN PORTRAIT 2489
This beautiful studio photograph taken in 1895 of this couple who sadly I do not have their names, they could possibly related to the Parks or the McComb's. All I can say is that they came from the Antrim area and where married, they would not have stood so close to each other with her hand on this shoulder.
UNKNOWN PORTRAIT 899
What is she thinking for she is thinking with those wistful eyes, large black bow in her hair and pearl buttons on her blouse.
This girl is now a nobody for the sake of two words.
ULSTER BAR 1940
Here we are inside the Ulster Bar in 1975 and through the haze of smoke we have Billy Laughlin and Robert Houston. Back then on a busy night you didn't need a cigarette you just breathed in the layer of thick smoke!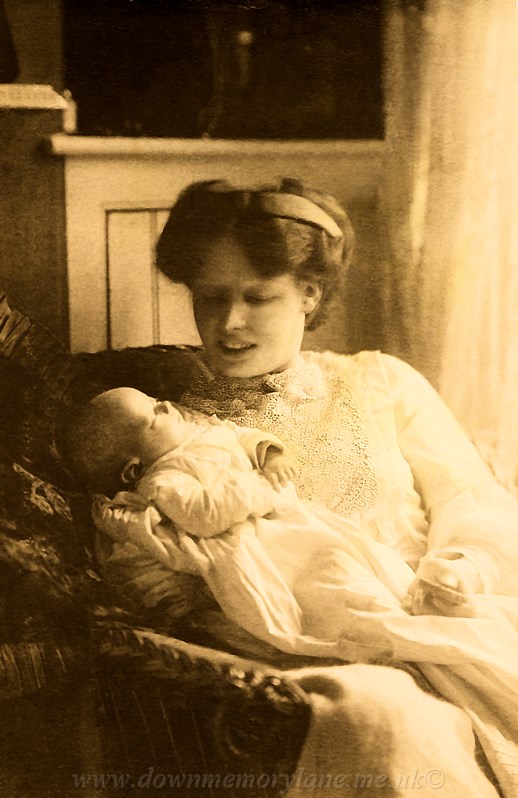 UNKNOWN FAMILY 3025
This lovely old photograph taken in their back garden of an elderly couple with a girl who could be their granddaughter are sadly unknown at the moment.
UNKNOWN A MOTHERS LOVE 3241
As the morning light streams through the window just look at the love in this mother's eyes for her baby, such tenderness that only a mother would have for her new born.
UNKNOWN GIRL GUIDES 3217
The studio photograph was taken in the 1900's of these two Girl Guides who could be mother and daughter. Sadly their names are unknown to me unless you know better, also can anyone tell me what the white sashes are?
UNKNOWN 3164
Taken in a studio this photograph of this smartly dressed young man his identity is unknown to me.
The photograph was in an album belonging to an Antrim family so he was from Antrim.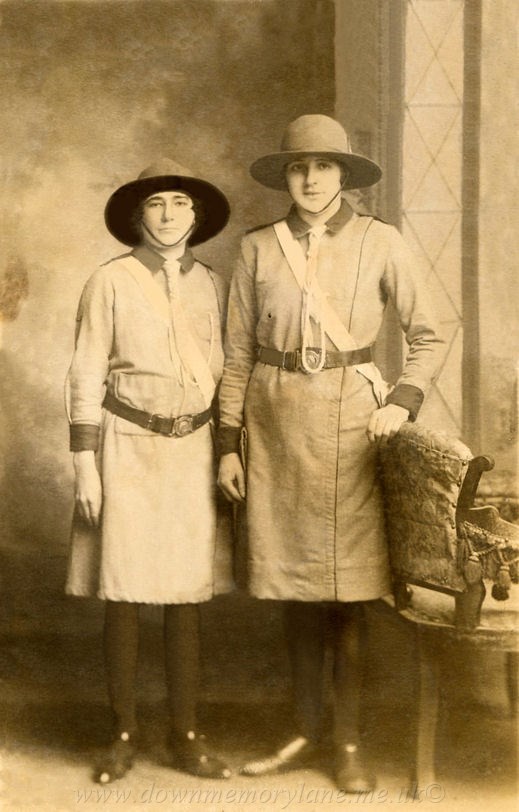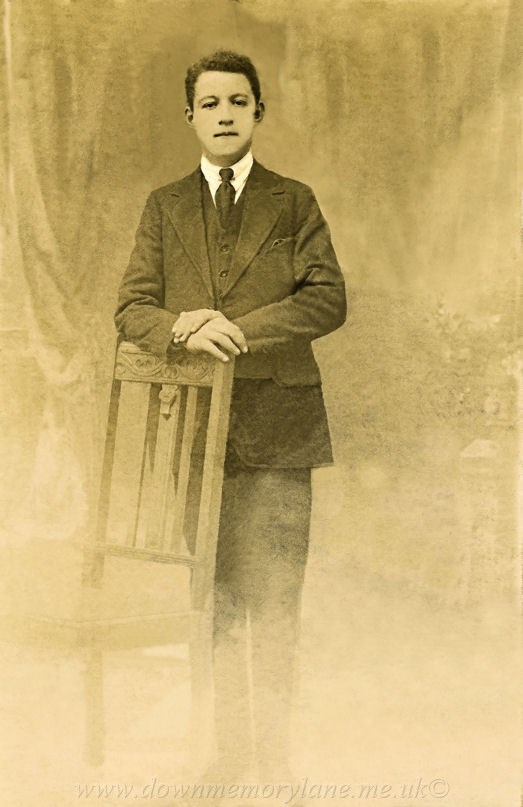 UNKNOWN PORTRAIT 894
Having taken the time and effort to dress nicely and pose for the photographer they forget to put her name on the back.
UNKNOWN 3181
This studio photograph of the lovely young girl who is unmarried and wearing a crochet dress is sadly unknown.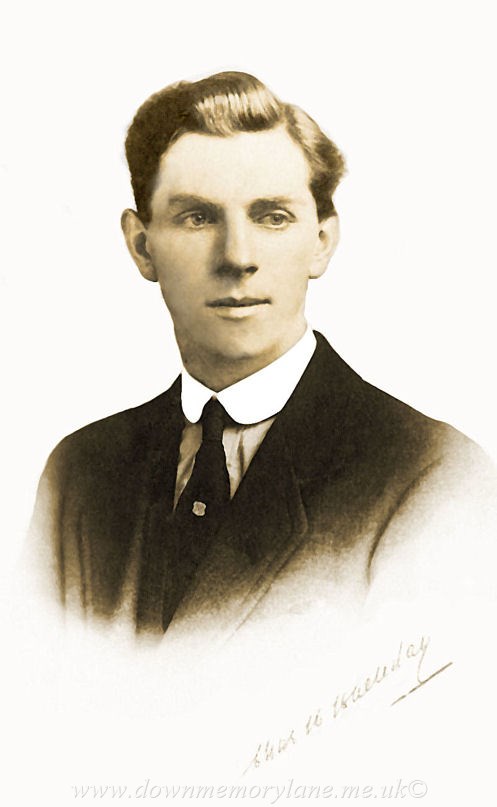 UNKNOWN 3199
This well dressed young man in this photo is at the moment Unknown who had travelled to Chas Halliday & Co studio's of 14 Queen's Arcade Belfast.
UNKNOWN 3216
The lady in this studio photograph is unknown but when you look at it you know it has a story to tell with her tiny waist and hand made blouse.
Her eyes have a haunted look and there is sadness in her face. Does the black bow in her hair gtive us a clue, has she lost her sweetheart in the Great War or was it the fashion back then, if only pictures could talk.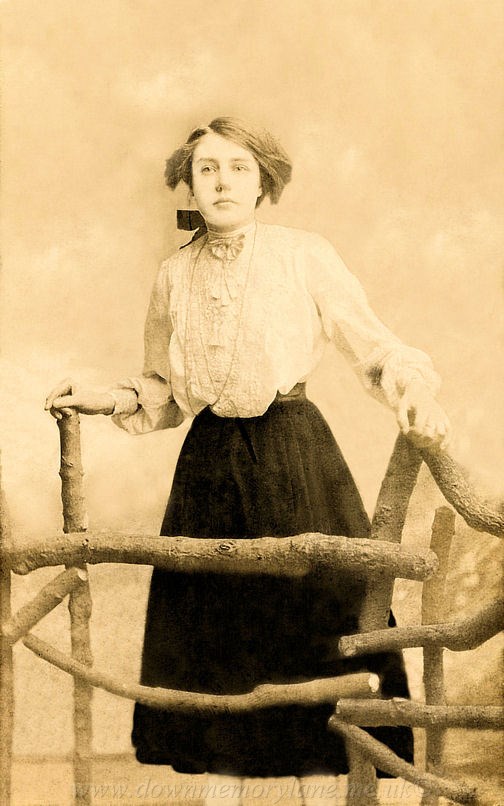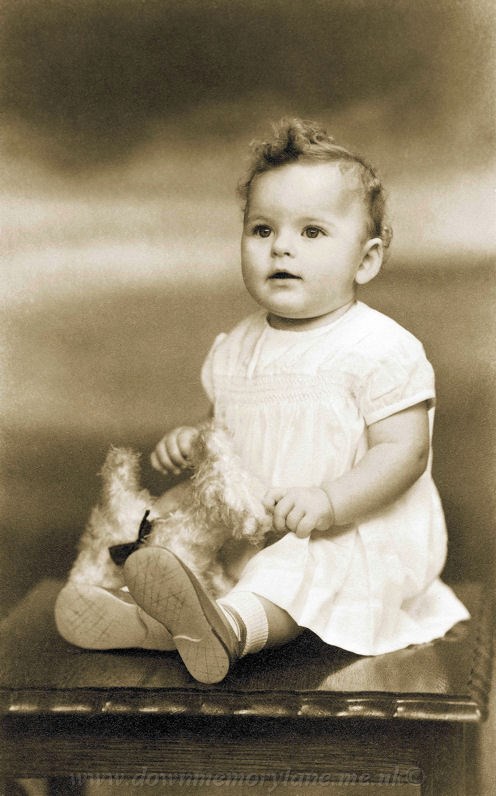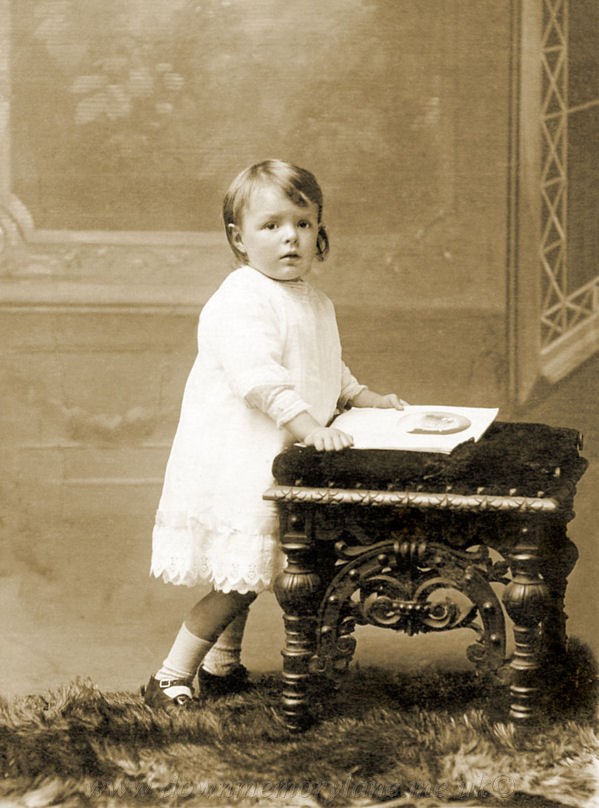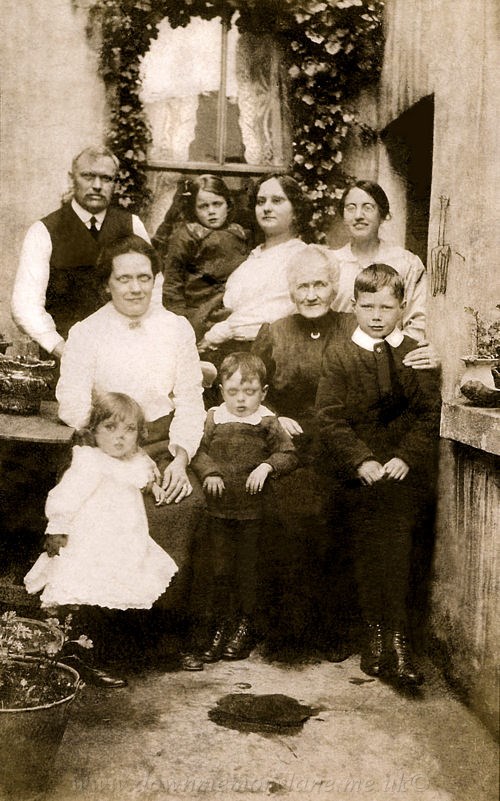 UNKNOWN BABY 3212
Just look at this beautiful photograph of this baby and sadly he or she is unknown to us. Now good shoes back then were made of leather including the soles. Now the shoes heels are corrective ones to help the feet, but see the crisscross marks on the soles, they were done deliberately so to stop the soles being slippery. Let's see if we can put a name to the baby and reunite them with the photograph.
UNKNOWN CHILD 3148
Found in an Antrim Family Album this little is Unknown, but if you know better please let me know. This lovely portrait photograph taken in a Studio of this little girl with such a cute face.

UNKNOWN FAMILY 3147
Found in an Antrim Family Album this family is Unknown, but if you know better please let me know. I would think they would be from a modest income family, the father looks like he could possibly be a manager/foreman or a clerk, the clothes could be their everyday ones or their Sunday Clothes, for back then even a pair of shoes was very dear. Now the mother on the left has mascara all round her eyes and she has done the same to the little boy and girl, anyone know the reason? Also can anyone tell me what is the object hanging on the wall please. Now someone in the family loves flowers for they have even used the bucket.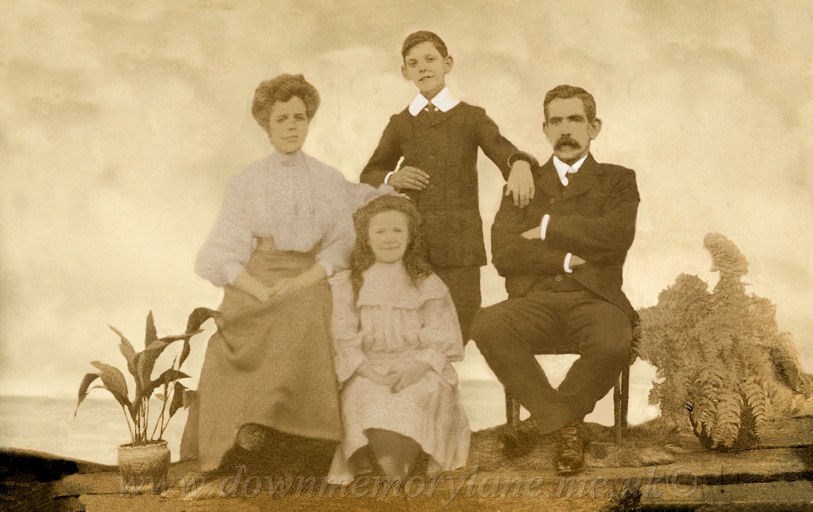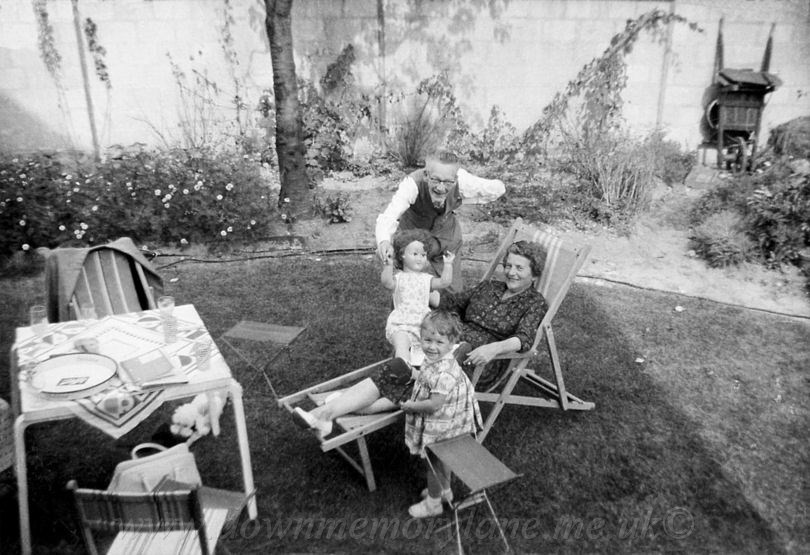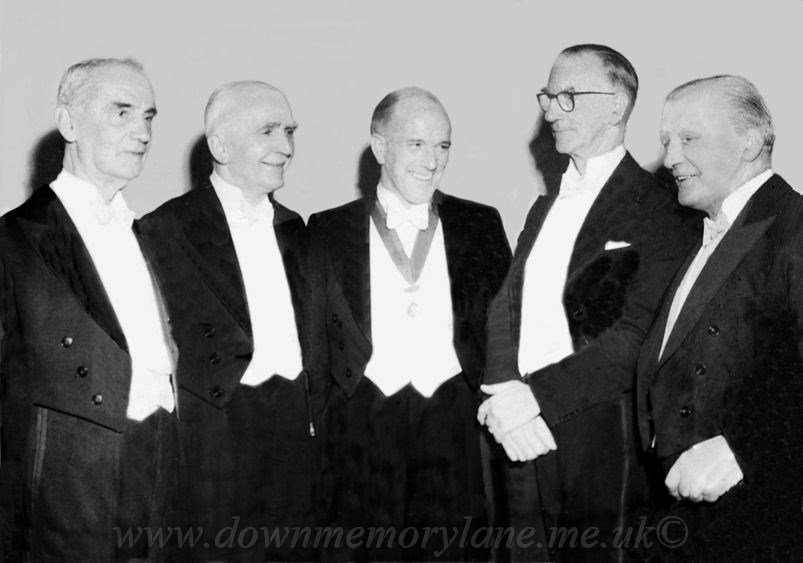 UNKNOWN GRANDPARENTS 3244
In their back garden Grannie here seems to be having a break from minding their Granddaughter so Granddad has taken over in the hope of tiring her out.
At the moment the Granddaughter's name in unknown and so is her Grandparents, unless of course you know better and let me know.
UNKNOWN FAMILY 3242
Here we have this lovely old studio family photograph of yesterday who took the time and effort to have it taken only to do as a lot of us do. We don't write the information on the back of the photo, not just Mom, Dad, brother or sister but there full names so the generations of tomorrow will know.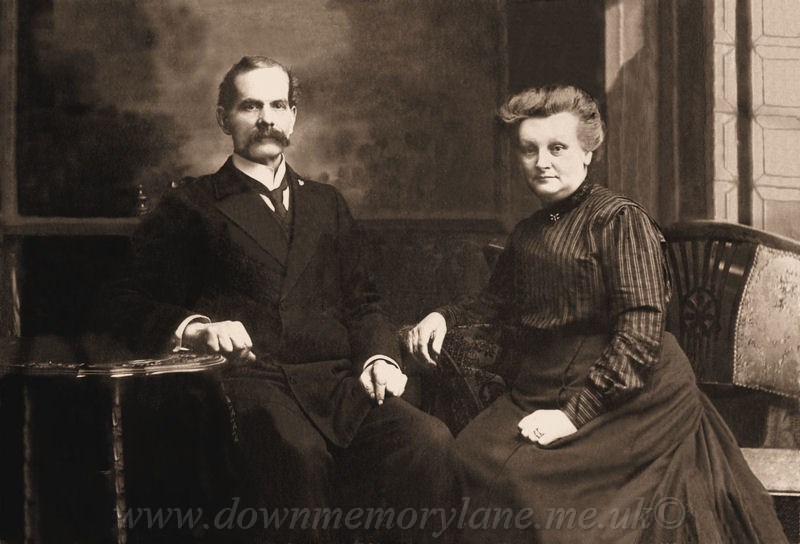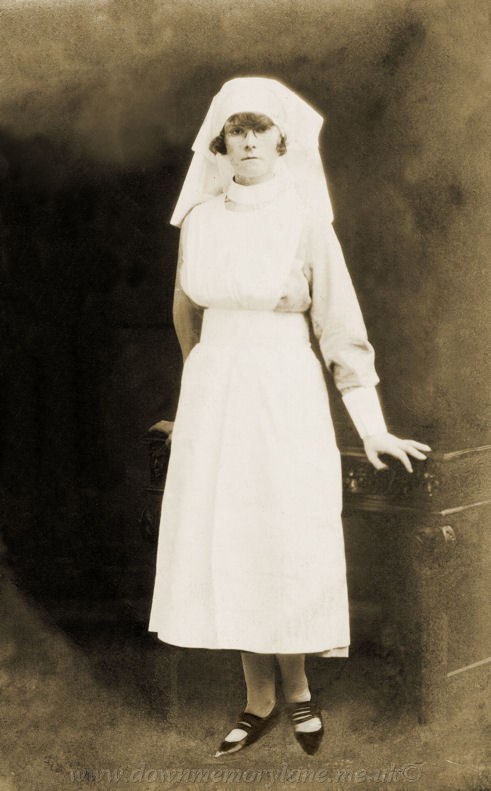 UNKNOWN OUTING 3243
Look at these happy faces posing for this photograph which looks like a family reunion with the lady in black in the centre I would say organised it. Going by the style of clothes and hats I would say it was around 1923 just the same as my mother's photos. Now does anyone know this happy bunch,if you do please let me know.
UNKNOWN HUSBAND & WIFE 3247
This great photograph taken in a studio of a husband and his wife, both are Unknown after all the time and effort they went to get it taken. Yet it only takes a few minutes to write everything on the back and they would have been part of their family history, instead of being tossed to the one side.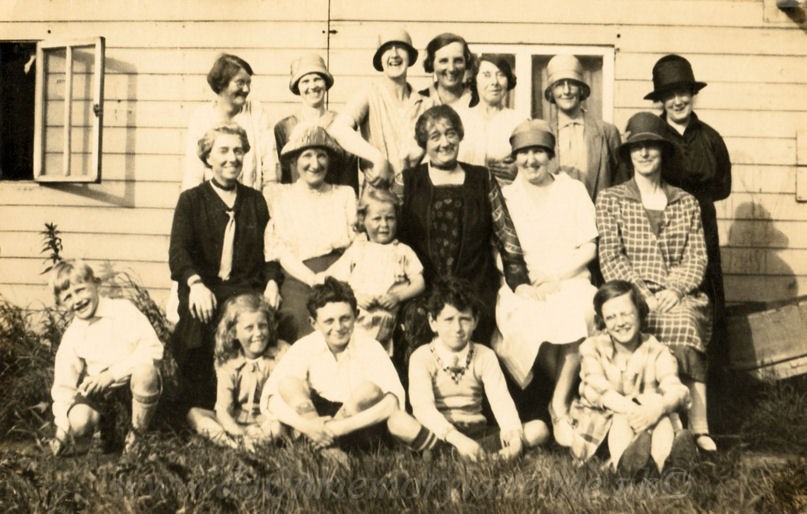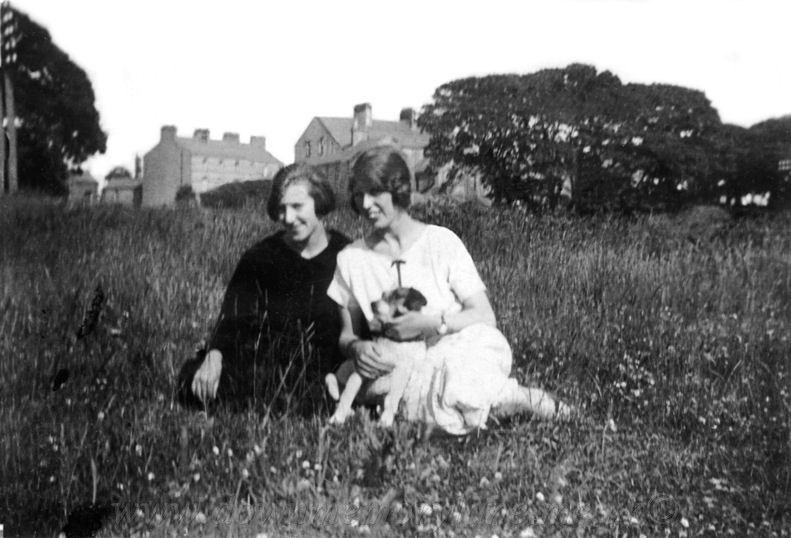 UNKNOWN NURSE 2982
This nurse is sadly unknown to me at the moment taken during the First World War period.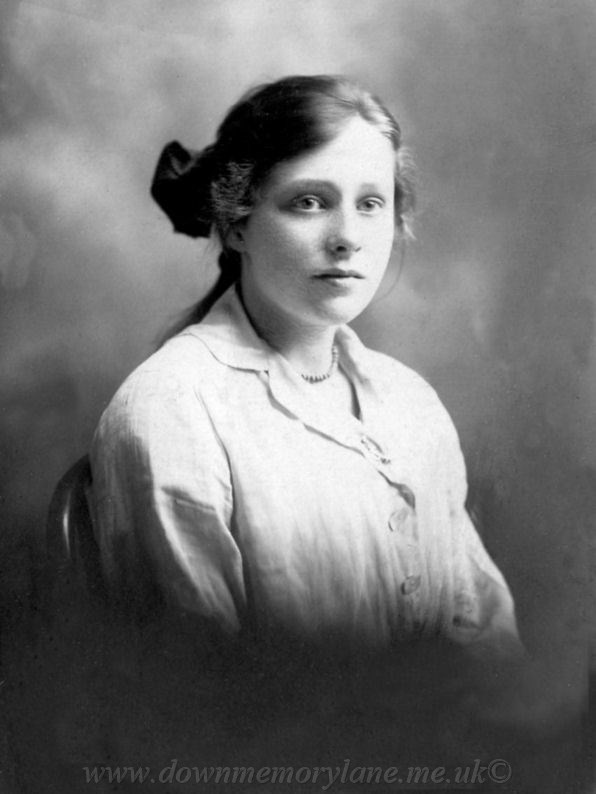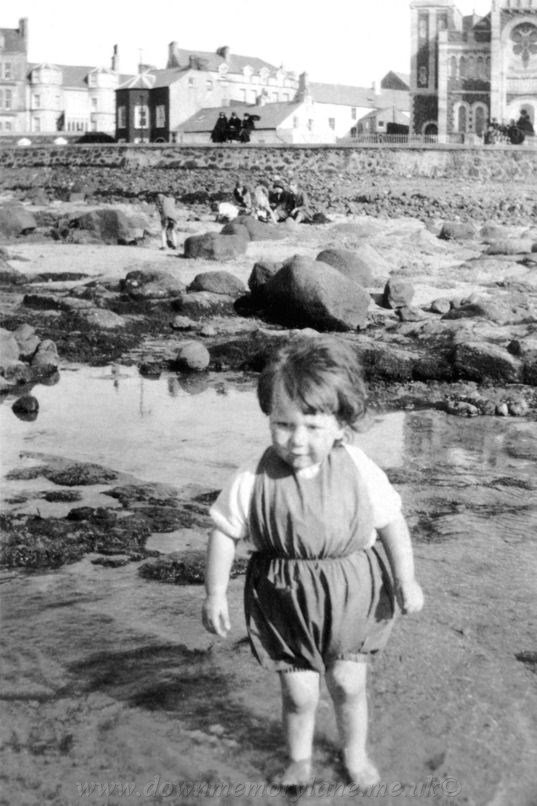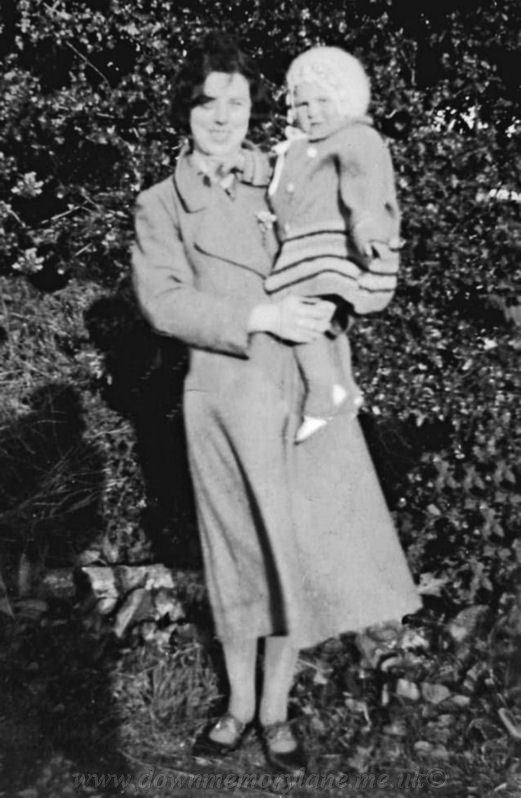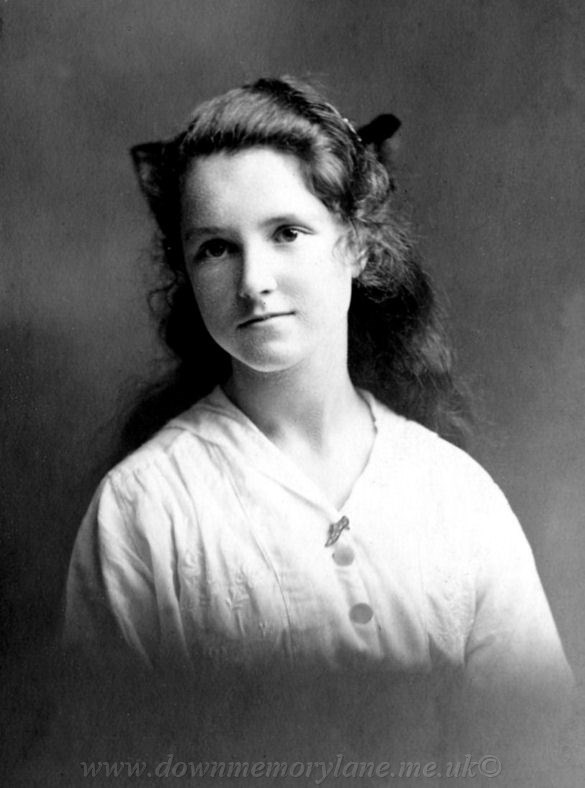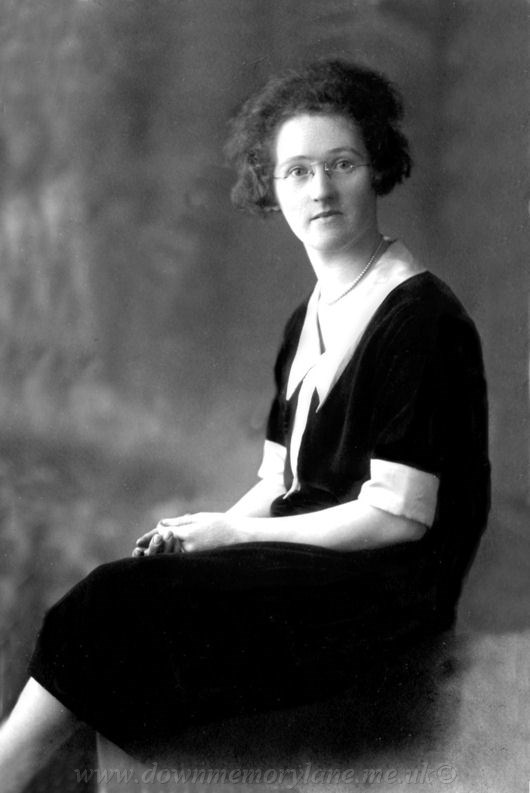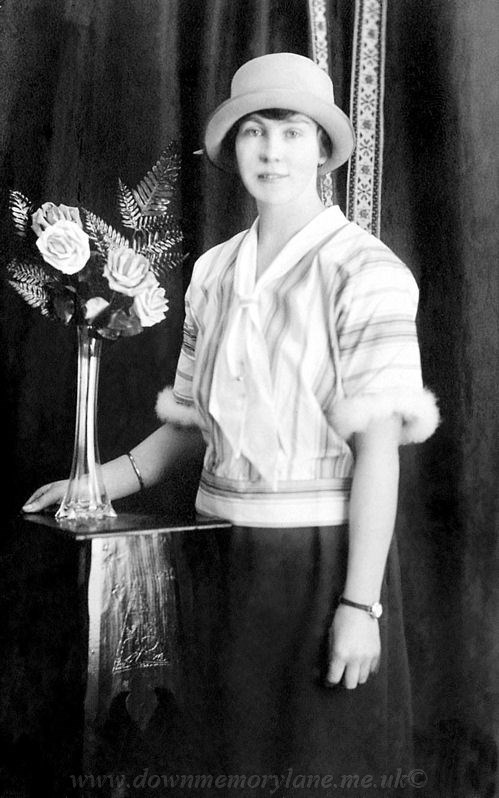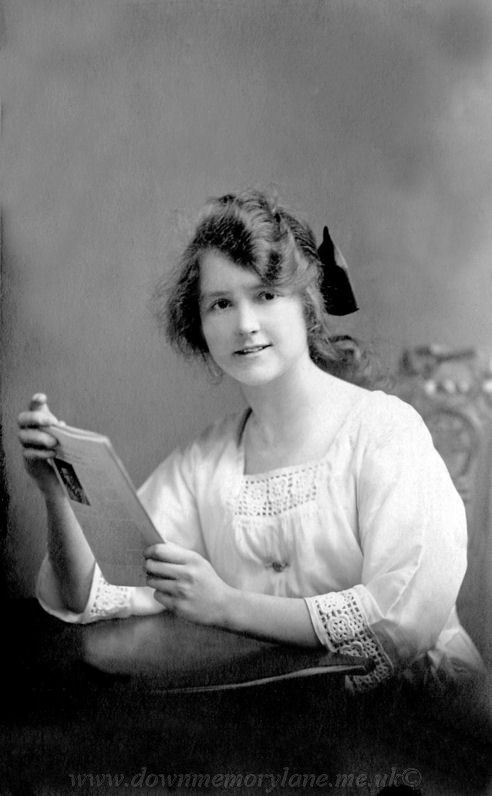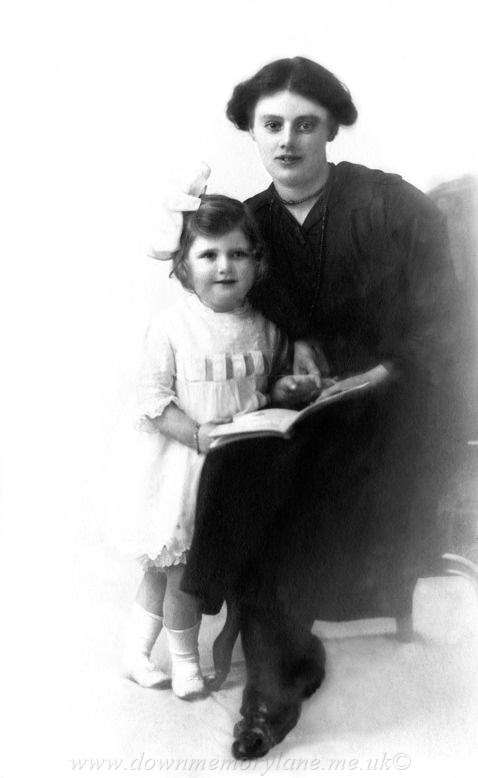 UNKNOWN PORTRAIT 888
This beautiful portrait of a mother and her daughter is sadly unknown.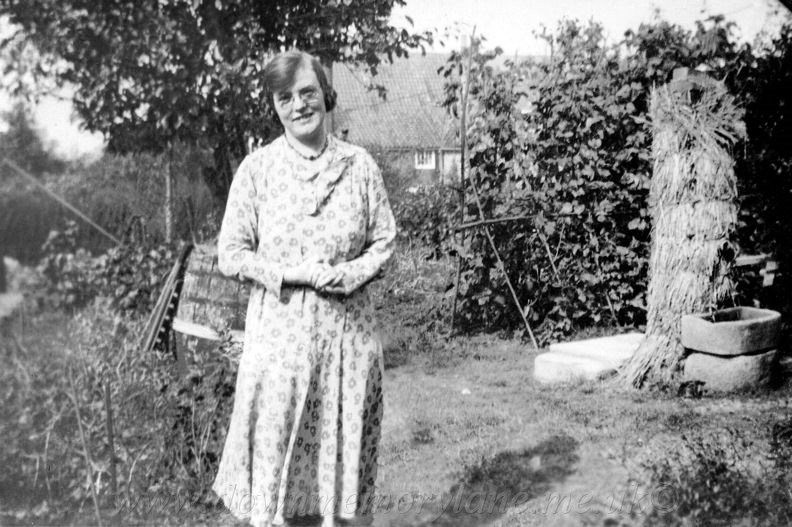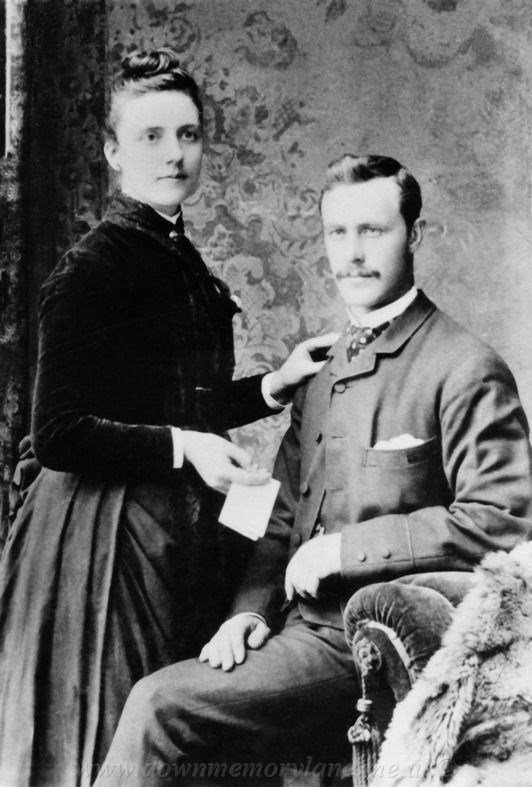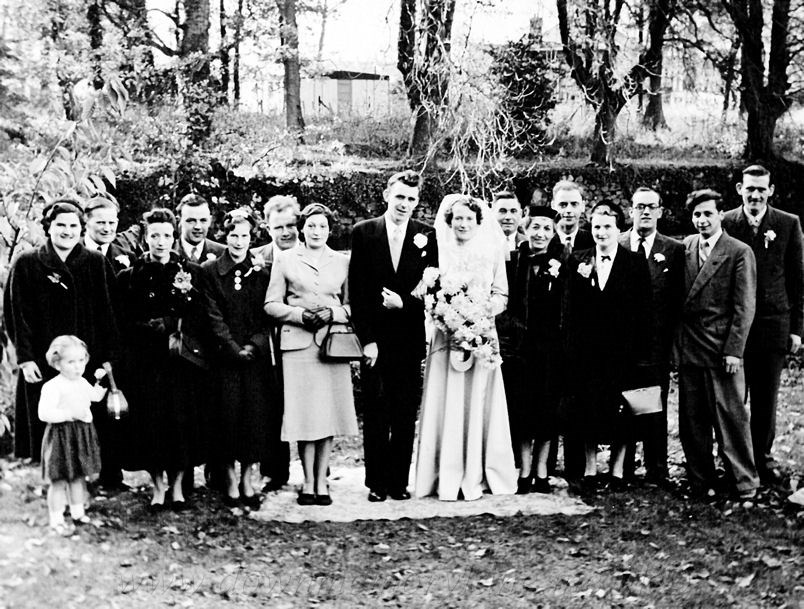 UNKNOWN WEDDING 3698
Here on the pathway of All Saints' Presbyberian Church in Antrim getting their photograph taken is a proud father and his daughter the Bride who looks lovely with her buttoned up the front wedding dress and her massive bouquet of carnations. Sadly I do not know who they are, but if you do please let me know and I will send you a copy without the watermark.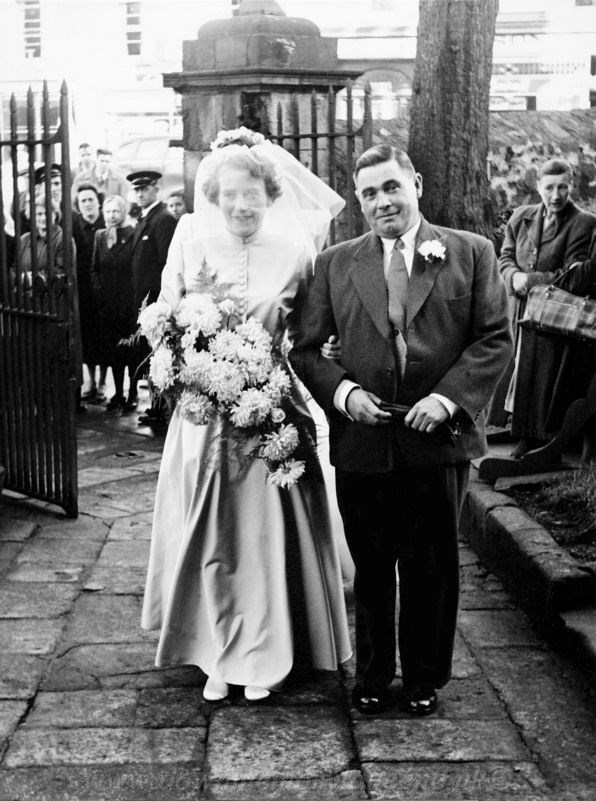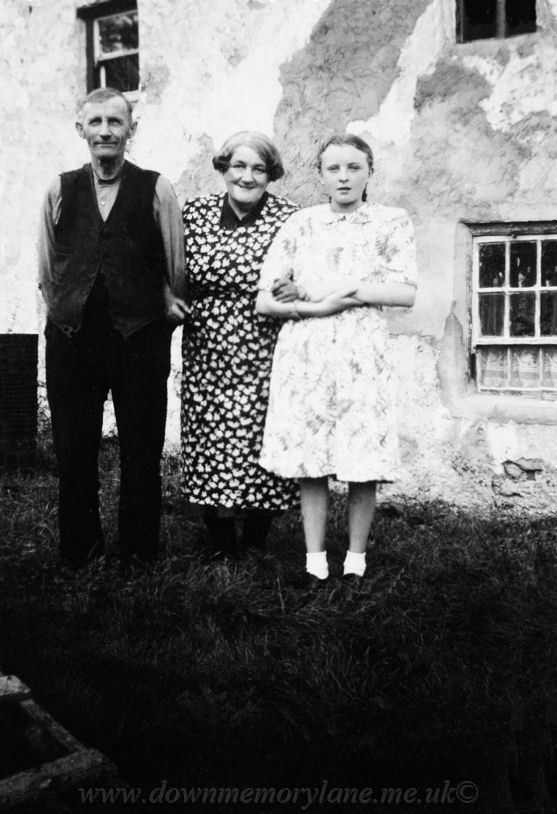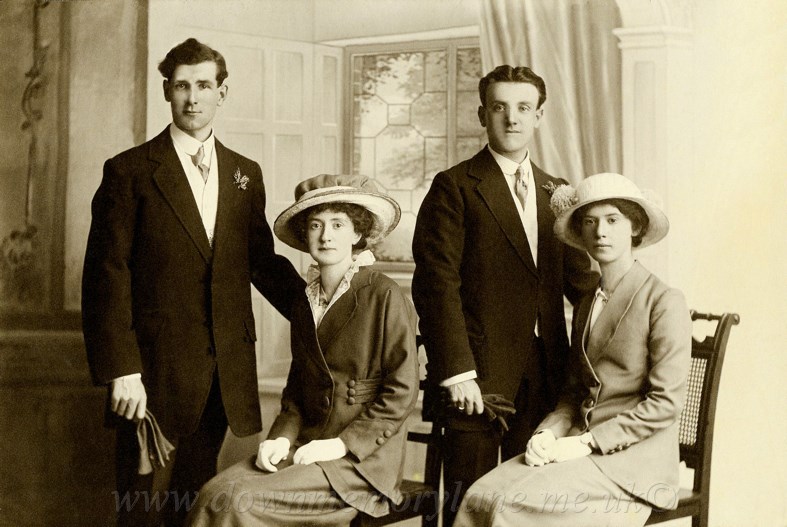 UNKNOWN WEDDING 3133
Sadly the people in this beautiful wedding photograph are unknown when you look at how imaculate they are all dressed, once again this came from Antrim.
The wedding party went to Belfast to have this photo by Abernethy Photographer by Royal Appointment to the late Queen Victoria of 29 High Street.
Pages: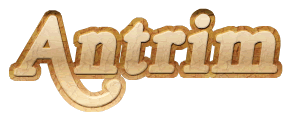 My thanks to Ed Cunningham who has now gone home of Ontario, Canada for this photograph.
UNKNOWN GROUP 3154
These five gentlemen with white bow ties attending a special event are unknown to me including the event, but if you do please let me know.
UNKNOWN 942
The lady in the back garden and year are unknown. The photograph must have been taken during the winter for the pump behind her is wrapped in hay to stop it from freezing and in the background a cottage.
UNKNOWN WEDDING 3699
Remember the Bride and her father to the left, well here she is married with her husband and guests at their reception. The ground must have been muddy for they are standing on a tarpaulin. Now I thought you might recognize the groom and the guests and if you do please let me know and I will send you a copy without the watermark.