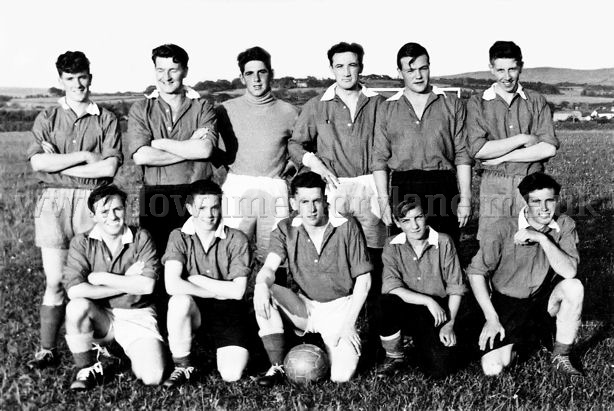 BALLYHILL FOOTBALL TEAM 2783
These youthful fit looking lads from 1956 all belong to Ballyhill Football Team from Crumlin.
Standing at the back from left are John Connor, Bobby McVeigh, Rex Cummings, Davy Nesbitt, Alex McBride and Stanley Coulter.
In front we have Bertie Coulter, Neily McBride, Vernor McBride, Archie Smiley and finally Willie Coulter.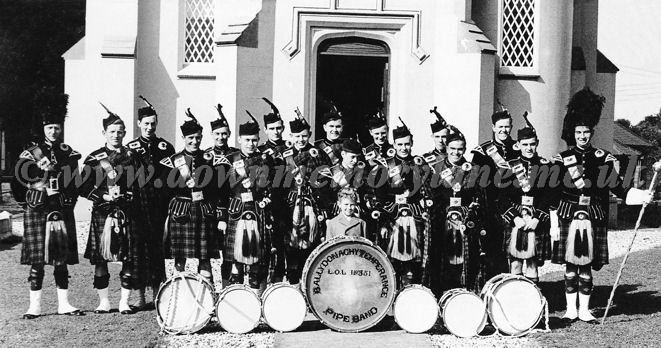 BALLYDONAGHY TEMPERANCE PIPE BAND 3450
Standing outside the Presbyterian Church in Crumlin we have Ballydonaghy Temperance Pipe Band L.O.L. 351 and they used to meet in Mount Orange hall.
In the back row from the left is Colin Law, Willie Shiveral, Eric Haire, Sammy Bickerstaff, Unknown, Curly, Andy Pinkerton, Norman V Campbell, Ledlie Bickerstaff, John Scott.
In the front row are Clem Davies, Ronnie Stewart, unknown, Jim Costello, Bleary, Herbie Ingram, Jim Glendenning and finally behind the big drum Ray Stewart,

Pages:

.
My thanks to Ed Cunningham now of Ontario, Canada for this photograph.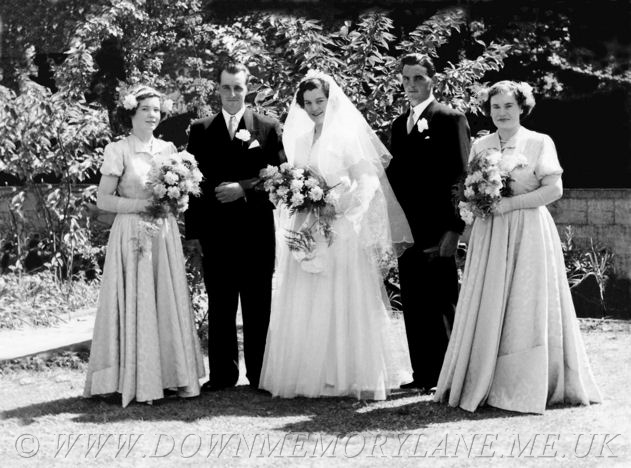 BILL WEDDING 3762
Here we have a lovely Wedding group photographed by J. J. Morrison of Crumlin in the early 60's.
On the left is Bridesmaid Agnes Robb, then the Groom Sam Bill with his lovely wife Mary Bill (nee Robb). Next to Mary is the Best Man who is Unknown and finally the other Bridesmaid Dorothy White. The Bride & Groom now live in New Zealand. Now if anyone knows the name of the best man please let me know and I will send you a large copy of the photograph without the watermark.