SADIE McCARTNEY 3255
This is Sadie McCartney back in June 1962 outside 109 Abbey View Muckamore kneeling down beside Beverley Warwick in her tartan aged 18 months.
SADIE McCARTNEY 3254
This is Sadie McCartney back in June 1962 outside 109 Abbey View Muckamore with Beverley Warwick in her arms aged 18 months.
ORR CARSON 3275
Here we have Orr Carson lived at Carson Entry of Church Street in the back garden holding a baby in its christening robe, sadly the baby is unknown.
EVA CARSON 3274
This is Eva Carson in the back garden of her home in Carson Entry of Church Street in Antrim.
Behind Eva is her pride and joy, her little garden which had not only vegatables but flowers as well.
CARSON WEDDING 3280
Just look at her wedding dress, the details that is on it makes it so beautiful and it would have been hand made and then her bouquet of Lilies with ferns. Now the Groom with his royal pose is John Carson and his lovely bride Eva Carson nee Rea and someone has given her a lucky horseshoe.
Now there mustn't have been any studios in Antrim or in the local area for the wedding couple went to the Ashleigh Studio at 112 Royal Avenue, Belfast
JAMES CARSON Jnr 3278
This is James Carson Jnr having a quiet smoke out the back. James job was a plumber and was always in great demand. He was also a member of the Antrim Hockey club and also an Irish International whose son Alvin used to cheer him on.
COUSINS 3279
These two cousins decided to go and have their photograph taken and we are so glad that they did.
Having been friends all their lives and even now they are married we have on the left Kathleen Costello nee Bates and Eva Carson nee Rea.
FATHER & DAUGHTER 3281
Relaxing and enjoying the sunshine is John Carson seated and in front of him is his daughter Mary Carson holding their dog who is unknown.
CRAWFORD CARSON 3282
Not too happy looking having his photograph taken is Crawford Carson in his all in one outfit and sandals.
CASTLE STREET 3303
Here we are in Castle of bygone days and on the right the house and next to it the shop was Johnny O'Neil and his two sisters Cassie and Jane.
Middle house was Jane Smyth and her four daughters Lily, Daisy, Jean and Minella. In the end house lived Vincent and Eileen Phelan. ( brother and sister ) Vincent was the local magistrate.
ANTRIM CASTLE 3304
Even as a burnt out shell Antrim Castle still stood then majestically and proud with all its facade back in 1953. Behind the children through the main entrance you can see a small arched doorway and through the the window to the right you can see a large arched entrance perhaps a corridor. Now to the children sitting on the steps at the back we have Alan Gillespie and in front is Patricia Wilson and her cousin Caroline McCrea who was here on holiday. The young chap that took the photograph is Desmond Gillespie who used a Brownie wooden box camera and it took skill to use it.
CASTLE STREET 3305
It's early morning here at the red brick houses in Castle Street in 1966 now cleaning the windows at number 11 is Jessie Gillespie while next door at number 13 is where the photographer Desmond Gillespie used to live until he got married and then moved next door. Now in the distance is something you would have seen on a regular daily basis but not now, the Coalman and his lorry.
WILLIAM JAMES McCORD 3197
This well dressed young man who had travelled to Chas Halliday & Co of 14 Queen's Arcade Belfast is William James McCord.
My thanks to Kelly Cook for this information.
CALVERT BROTHERS 3418
It's the early 1920's and we are here at Canaghliss out at Dundrod. This is the main road, no tarmac back then. Now these are the Calvert brothers John, Bobby, Charlie & Samuel astride the motorbikes with the boys on the back carrying double barrelled shotguns. I hope they are going to shoot hares and rabbits and not to a Wedding!
Take a look at the horns on the bikes and the tyres have white walls, can anyone tell me what type of motorbikes they are?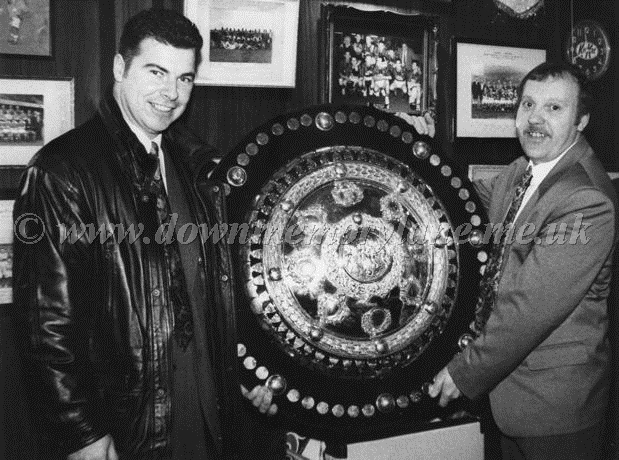 CLIFTONVILLE FOOTBALL CLUB 3561
Here we are in Cliftonville Football Club board room with myself Lawrence Hutchins along with an unknown Kells man holding up the famous
County Antrim Shield. Was it heavy? It certainly was and I was glad when the photograph was taken.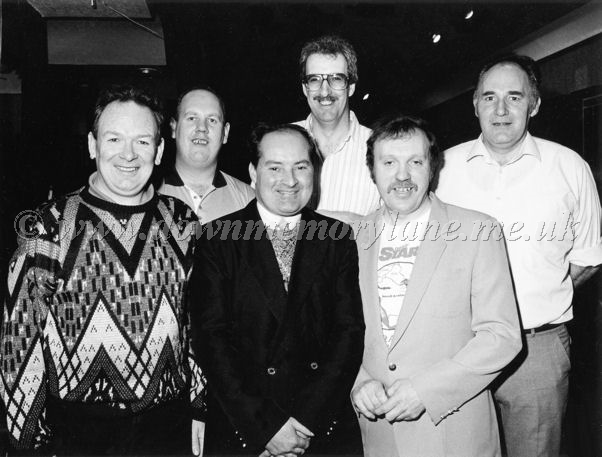 CHIMNEY CORNER SOCIAL CLUB 3563
Taken at the Chimney Corner Social Club whose supporters had organised a darts competition.
Included in the photograph are Geoff Whylie, Hugh Cochrane and Lawrence Hutchins.


W.E.CHARLES 0802
This is Mr. W.E. Charles at his presentation dinner on him leaving Massereene National School..
On his right is Mrs.Collis and serving the tea is Mrs.Agnes McElrea.
W.E.CHARLES 0803
This is Mr. W. E. Charles Headmaster of Massereene School being presented with a radio and a table lamp on his retirement by Miss Bell. At the back we have Mr Leslie (teacher) Rev Hawkins. The two other ladies are teachers also back in 1953.

Pages:
WILSON CLYDE 1057
Standing proudly with his winning cups and rosettes for his Pigs and Ploughing is Wilson Clyde in 1960.
WILLIAM CRIEGHTON 1926
Sitting on his tricycle smiling for the camera in the 1940's is William Creighton. William has no problem showing off his tricycle which was a Raleigh and a bell to tell people he was coming. Taken in the back garden of their house in Castle Street and you can see they were growing vegetables.
BOBBY CAMERON 2365
This is Sam Ankattell's yard off High Street in Antrim back in 1952.
Now sitting astride Jack Brett's racing Porcupine works A.J.S. who had just returned from practice for the Ulster Grand Prix is Antrim man Bobbie Cameron. Probably wishing the bike was his!
RIVERSIDE 821
Deep in thought is Charlie Clarke in August 1955 outside his house in Riverside. Perhaps he is thinking he is racing along the Dundrod circuit.
RAM'S ISLAND 541
The Lady dressed in the black shawl with a bonnet and sitting under the window to you right is Jane Cardwell. She is holding a broom made of twigs. This was the Cardwell thatched cottage that she lived in for 50 years. The lady in the doorway and the lady in the garden are unknown. The year is around 1930.
RAM'S ISLAND 540
Here we have Jane and Robert Cardwell who lived for decades in relative seclusion on Ram's Island in Lough Neagh. Robert was a fisherman by trade and his flowing white beard was familiar to everyone who made a living on the choppy waters. They lived in a simple thatched cottage, the ruins of which still stands today. The couple moved to the island in 1883 and were occasionally joined in the summer months by Lord O'Neill and his guests who stayed in a grand old holiday cottage. Robert died in 1929, and Jane followed him home in 1933 at the grand old age of 102.
RAM'S ISLAND 542
This is Jane Cardwell in 1925 when she lived on Ram's island.. Jane went to live there with her husband Robert Cardwell in 1883, She died in 1933 at the age of 102 after living on the island for 50 years.
CLYDE WEDDING 3813
Here we have the Groom Robert Clyde, his New Bride Doris Clyde nee McKittrick in the wedding car all set to off to the reception, then their honeymoon and the rest of their lives together which they have for on the 3rd March 2015 it was their Golden Wedding Anniversary.
CONGRATULATIONS
These three wedding photographs were sent in by their Grandaughter Julie Anne Cairns.

CLYDE WEDDING 3811
Included in the wedding Group (from the left) are the groom's parents Samuel and Mary Clyde of Kilbegs Road Antrim, next the Best Man Desmond McKittrick who was the Bride's twin brother,the late Rev Megahey, Groom Robert Clyde with his lovely bride Doris Clyde McKittrick,then the late Rev Thomas Blackstock, Bridesmaid Carol Neely nee Cyde the Groom's sister, then the Bride's parents Albert and Phyllis McKittrick. In the front we have the flower girl Evelyn Pake now Gilliland.
The photograph was taken at Knock Methodist Church in Belfast on the 3rd March 1965.
CLYDE WEDDING 3912
Here signing the registery book is the Bride Doris Clyde nee McKittrick, beside her on the left is her husband Robert Clyde and next to him is the Best man, the Bride's twin brother. Beside the bride on the right is the Bridesmaid Carol Neely nee Cyde the Groom's sister, and finally the flower girl Evelyn Pake now Gilliland on the 3rd March 1965.
CHIMNEY CORNER FOOTBALL TEAM 3816
This Chimney Corner football team for the 1953 - 1954 season and coach look a happy bunch while the little girl wonders what is going on.
Standing are: J Clarke, MR McVeigh,J Hannan, T Tweedy, R Corbett, J Greer and trainor I Blair.
Kneeling are: Wm McAteer, S Quin, their mascot K Quinn, T Clarke, D Fisher and F Skelton.
CHIMNEY CORNER FOOTBALL TEAM 3820
Chimney Corner is becoming famous for producing winning teams and here once more they have done it again.
This proud team has just won the Steel & Sons Cup for the year 1975. Sadly none of the people are known to me but if you do please let me know and I will send you a copy.
CHURCH STREET 3150
This Church Street in the early 1900's with thatched roofs on either side of the street. It must be after 12 o'clock for these boys are enjoying their school break, their school was to the left just out of the picture and called Antrim National School.
MASSEREENE FORGE 1507
This is the famous Massereene Forge in Bridge Street and standing in the doorway is Jimmy Coulter with a horse in 1929.
As you can see they had plenty of work between shoeing the horses to mending ploughs, cartwheels and even bicycles. The big hoops behind the bike were for the rims of the wheels for carts and wagons. Behind Jimmy you can see a window and here comes an amusing story, apparently Jimmy and his father were short tempered and two young local lads who will remain anonymous found a broken pane in the window and when Jimmy or his dad were shoeing the horses they would shoot peas at the horse with their peashooters to make the horse jump.
It took a while for Jimmy and his dad to catch on and when they did, they chased the lads up High Street but didn't catch them.
Now if you have an amusing story to tell from the past, let me know and I might be able to put a photo to it.
MASSEREENE FORGE 2728
This is Mr Coulter standing with a pony outside the Massereene Forge where he works in Bridge Street Antrim.
MARKET SQUARE 1985
Here is John Coulter who has been in the wars sitting with his faithfull dog Tony holding a piece of string Seen here at the rear of the Co-op shop which was in Market Square next to the Police Barracks in 1954.
MARKET YARD 1603
Holding on to the horse in the market yard is Sam Campbell and astride the horse is a very daring young Scots girl whose name is unknown.
As it is a working horse it would not be too clean so they have put a cloth on the horse for her to sit on but now she is showing her knees and worst of all her bloomers!
MOYLENA HOUSE 1617
In the doorway of the house at Moylena near the Beatling mill is John Campbell. Astride the motorbike is Jack Campbell who was an Ulster bus driver. The year is unknown.
MASSEREENE HOSPITAL 3231
Standing in front of an ambulance outside the Massereene Hospital we have on the left Unknown, then James Carson and Sister Mary Carson.
This brand new Ford ambulance is being supplied to 'The Red Cross and St. John's by James Carson of James C. Carson Auto's who had a Ford Dealership.
The photograph was taken in the early 1900's.